In This Place Of Horror …Tears For The Waning Ambrosia Of Jos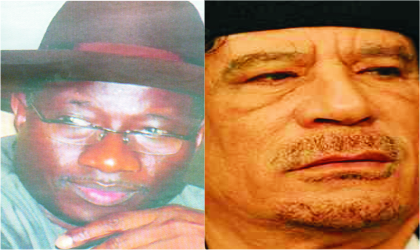 Elected Pope Benedict XVI in April 2005, upon death of Pope John Paul II, Joseph Ratzinger found a compelling desire to visit two areas that truly defined his person, his native Germany in August 2005 and to Poland in May 2006. And of all places in Poland the new Pope chose Oswiecim, also called Auschwitz by the Nazis and Adolphus Hitler's most notorious death camp
There, hit by the memory of human lives lost, Pope Benedict lost his voice. But when he eventually found it, visibly moved to tears, he wondered allowed saying: "To speak in this place of horror, in this place where, unprecedented mass crimes were committed against God and man, is almost impossible and it is particularly difficult and troubling for a Christian, for a pope from Germany.
" In a place like this", the pope continued ' words fail, in the end, there can only be a dead silence, a silence which itself (is) a heartfelt cry to God. Why, Lord did you remain silent? How could you tolerate all this?
Painfully, after what seemed a long pause, Pope Benedict went further to ponder on the propriety of silence in the words: ' In silence, then, we bow our heads before the endless line of those who suffered and were put to death here, yet our silence becomes in turn a plea for forgiveness and reconciliation, a plea to the living God never to let this happen again".
The moving speech is merely an attestation to the value God expect man to attach to the lives of fellow men , an expectation which appears to be vanishing from one of Nigeria's once mostly peaceful cities with ambrosia to tempting to ignore. Today, not only is Jos gradually becoming what Pope Benedict XVI called, …This Place of Horror" it  is succeeded in raising vital questions about the quality of unity Nigerian professes as a people.
On Sunday, March 8, 2010, a day many predominantly Christians inhabitants in Jos south, like other Christians, consider a day of worship some Hausa-Fulani fighters, believed to be Moslem fundamentalists attacked Dogo-Na-Hawa, Ratsat and Jeji villages in Forondistrict of Jos South Local Government Area of Plateau State
After the attacks on the Berom Villages as early as 2am, no fewer than 300 dead bodies of mostly women and children littered the area. That massacre took place while a dusk-to-dawn curfew imposed on the city since after the January crisis, in which more than 350 died, was still in place.
Clearly, by nature of the attacks and number of people killed, that it had an ethno-religions colouration could not be completely ruled out. That was perhaps why former Libyan strongman Muammar Gaddafi suggested the breaking –up of Nigeria along religion lines, as was the case between India and Pakistan.
Expectedly, the competition to berate the Libyan became the only test of patriotism among the political class, while the many deaths and how to halt the vicious circle must wait.
Why kill Gaddafi for our sins of silence? Who in this country does not know that religion has been taken to such a disturbingly choking level that makes nonsense of the secular nature of our constitution? Why are we pretending not to know that former President Ibrahim Babangida in 1991 created Jos North Local Government  Area specifically to favour the predominantly Hausa/Fulani Moslems while leaving the South to remain in contention? One and half versus half.
Why are we so quick to condemn Gaddafi and yet too slow in calling for release and implementation of the reports of the various panels of enquiry set at different times to address the near frequent instances of bloodbath and senseless killings?.
These questions have become necessary because the March 7, 2010 would not be the first time mindless sadists have made nonsense of human life, akin to  those of the Oswiecim death camp which Pope Benedict XVI decried.
Between September 7 and 17, 2001 when the first ethno-religious riot occurred in Jos, more than 1,000 persons were killed but not one person was punished for such inhumanity to man. Those, who were today vilifying Gaddafi were born, but none moved as quickly and with the same vigour that we now sense in trying to over blow the oneness Nigerians share as a people, only to prove the Lybian wrong.
Lets be remained of what the sages often warn against and that is that, the greatest incitement to crime is the hope of escaping punishment. " And because that was  the case and seeing that the death of 1,000 earned no one any punishment, in 2004, the Plateau boiled again. Following clashes in Yelwa, more than 500 were reportedly killed, but the best then president Olusegun Obasanjo could do was to declare a state of emergency. Again, none was held accountable.
Since 500 lives were not worth quarreling over, hiding under disputes over council elections, same masterminds of the mayhem shook Jos North and in that crisis 700 lives were lost. Again, nothing tangible was done except the familiar enquiries which reports hardly leave the dingy chambers of the cockroach-infested book shelves of history, often forgotten by time.
As if begging for positure action, on January 17, this year, a minor dispute over a plot of land reportedly claimed as many as 350 lives, although no official casualty figures were released.
In the attacks on villages in Jos south, more than 300 lives were feared to have been lost although Christians leaders said the figure was far higher than 500.
In all these as usual, nothing tangible was done. Instead in every attempt at halting the near frequent killings, those trusted to do right end-up being a Portuguese committee, a group of people who individualy cannot do anything but would meet and resolve that nothing could, indeed be done.
Such has been the fate of a one peaceful city and great tourist paradise because of the pleasant climate condition and more. And so, it took these number of deaths for  the Governor of Plateau State, Jonah Jang and other before him to make public reports of various panels and commission on the matter.
It is only now, just only now, that Nigerians have come to know that the Prince Bola Ajibola Commission had, in fact, indicted the Hausa Community for its complicity in the 2008 crisis in which 700 lives were lost.
That the report has also blamed the crisis on acts of violence initiated by some Hausa/Fulani Moslems.
But something close to why the Ajibola report never  saw daylight can now be found in the caliber  of very prominent people that the commission insisted police must investigate more deeply. Such people include the then deputy Senate President and Champion of Obasanjo third term agenda, Ibrahim Nasiru Mantu, former minister of State for Information and Communications, Ibrahim Dasuki Nakande, Sheikh Sani Yahaya Jingir, Alhaji Saleh Hassan , Sheikh Jengre, Danladi Pasali and Nazif Mohammed, among others.
If all the other reports had been made public and recommendations implemented, were necessary, perhaps the killing of this year would have been avoided. That is why, I find it most annoying that Governor Jonah Jang, who could not summon the courage to make public the Ajibola report up until recently, could blame the recent killings on complicity by some soldiers, saying that he made calls to alert the army of a likely attack, but as chief security officer did nothing to fore- stall the looming massacre.
My Agony is that those often paid to fight, maim and kill the innocent or even get killed in the process, never ever includes children of the so called " Big men", the untouchable lot, who fund the killings because theirs are either schooling in Ghana, South Africa, Europe or America.
Even worse is the fact that human life means little to them since such deaths never ever include their own. But now unmasked, what those in high places should do, is not to waste precious time demonizing Gaddafi for saying what many would want to voice but can't, and instead push for the implementation of the reports.
Here's where Acting President Goodluck Jonathan must demonstrate a strong political will to halt the Jos vicious circle, by insisting that the law takes its full course, not minding whose hoxse is gored.
That way, Jos will no long be , "this place of Horror" but return to its glorious days as the dreamy Tin City that cherished human life, leisure, friendship and indeed peace. We should not wait for more killings, restart another blame game and wish it off for yet another bloodbath.
Gaddafi is not the enemy. We are our own enemy because, over the years, unable to make what is just strong, we have continued to make what is strong just as Blasie Pascal cried out in his pensees'
Sadly that what our silence over the rift between Hausa/Fulani Moslems and Christians in Jos South on the Plateau appears to me . Gaddafi too.
Again, RSG Begins Unveiling, Flag-Off Of Nine Key Projects, 'Morrow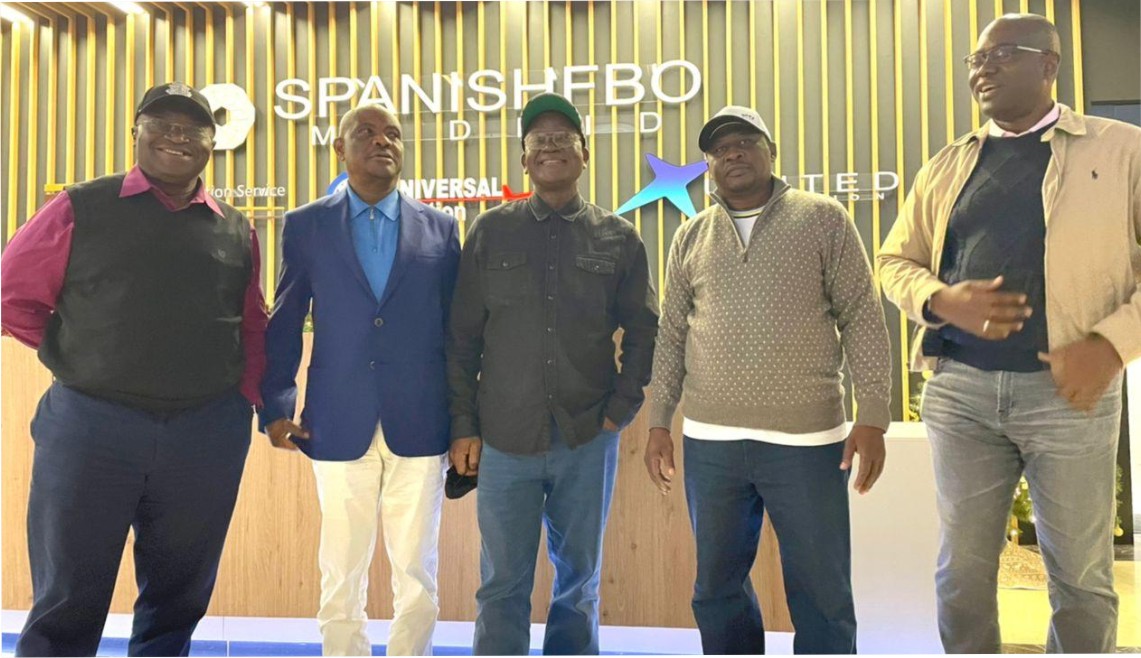 The Rivers State Government has rolled out the drums to herald another phase of official commissioning of key projects embarked upon by the Governor Nyesom Wike-led administration in the state.
A statement by the state government said that the process is in continuation of the commissioning and flag-off of projects by Governor Nyesom Wike.
It indicated that Rumuola flyover would be commissioned tomorrow, while the GRA flyover would be commissioned on Saturday.
The also stated that the government would commission the Ezimgbu Road on Monday, December 13, 2021; with another commissioning of Tombia Road Extension scheduled for Tuesday, December 14, 2021.
The statement said that the governor would commission the Safe Home, Borikiri, Port Harcourt on Wednesday, December 15; while on Thursday, December 16, 2021, the governor would commission the Odokwu internal roads.
Also, the governor would continue the flag-off of key infrastructure projects with Chokocho-Igbodo Road slated for Monday, December 20, 2021; Oyigbo-Okoloma Road on Wednesday, December 22, 2021; and Magistrates' Court Complex, Port Harcourt on Thursday, December 23, 2021.
Wike Justifies N7bn Libel Suit Against THISDAY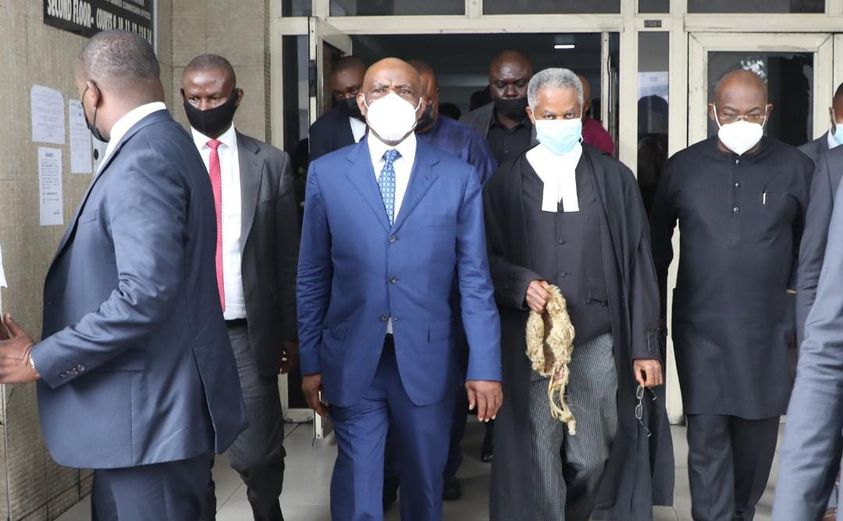 Rivers State Governor, Chief Nyesom Wike, yesterday, appeared before the state High Court in Port Harcourt, to testify as a witness in an N7billion libel suit against THISDAY Newspaper.
Wike said he was in court to seek justice and clear his name as a person from the malicious publication by THISDAY Newspaper, which portrayed him as deceitful, untrustworthy person, who exerts subterranean influences on judicial matters and over court sittings in Port Harcourt.
It would be recalled that Wike had in August, 2020, slammed a N7billion suit being damages for libel written and published in THISDAY's Tuesday, June 23, 2020 edition captioned, "With Wike, Obaseki Meets His PDP's Waterloo; Almost."
The defendants in the suit are THISDAY Newspapers Limited, Leaders and Company Limited, Davidson Iriekpan, Chuks Okocha and Adibe Emenyonu.
Wike, while testifying as witness in suit No. PHC/1505/CS/2020 before the court presided over by Justice A. Enebeli, asserted that the defendants maliciously and falsely portrayed him as an unreliable friend/person.
"When you say somebody cannot be trusted; that cannot be a fair comment. When you say somebody is influencing the Judiciary, that cannot be a fair comment", the governor said.
In his written statement on oath, Wike had stated that the defendants had accused him of influencing the decision of the court sitting in Port Harcourt that granted an injunction restraining Godwin Obaseki from participating in the primaries of Peoples Democratic Party (PDP) in Edo State in 2020.
He stated that the defendants maliciously accused him of undemocratically exerting influence on the primaries process of PDP in Edo State in aid of his ally, Omoregie Ogbeide-Ihama, who was the beneficiary of the court order restraining Obaseki from participating in the PDP primaries.
The governor, who told the court that he was not even aware of the aforementioned suit by Ogbeide-Ihama against Obaseki, said the publication was reckless, false and without regards for the truth.
According to him, contrary to well-known journalistic tradition and practices, the defendants did not investigate properly to ensure the information they relied on was accurate.
"They did not seek to verify the facts from me or in any manner oblige me with the opportunity to state my own side of the story before proceeding to make the false publication" the governor argued.
Wike stated that the defendants further denigrated him before the entire world as a fake democrat, who engages in meddling in the internal affairs of All Progressives Congress (APC) in order to get at his political foe, Chibuike Amaechi.
The governor explained that he was not a member of the APC and has had no hand in the internal crisis which has bedevilled the party both in Rivers State and all over Nigeria.
"By the letter of Messrs E.C. Ukala and Co., Solicitors, under the hand of Emmanuel C. Ukala, SAN, dated 23rd June, 2020, the defendants were given opportunity to retract, and recant the publication as well as to offer apology for the false publication but the defendants spurned the opportunity and ignored the letter completely."
The governor, while responding to claim by lawyer to the defendants, Turudu Ede, SAN, that the essence of the lawsuit was to intimidate and harass his clients, said the whole essence of the suit was to get justice and clear his name as a man of substantial character, honour and repute.
"The essence of the suit is to get justice since they (defendants) refused to retract the publication or apologise. So, I sued them to clear my name."
Speaking to journalists outside the court, one of the lawyers to Wike, Mr. Mark Agwu said his client was in court to seek legal redress.
"To challenge him as a person, it means you have made him untrustworthy, a deceit, a cheat, an influencer of the court, because the publication they made was that he had a role to play in influencing the outcome of that Federal High Court case. Nobody will take that lightly, and especially for a man who believes in the rule of law", Agwu added.
The court adjourned the matter for further hearing to 12th, 13th and 14th of January, 2022.
$130m Fraud: Rivers Sues Saipem SPA, Saipem Contracting Firm, Others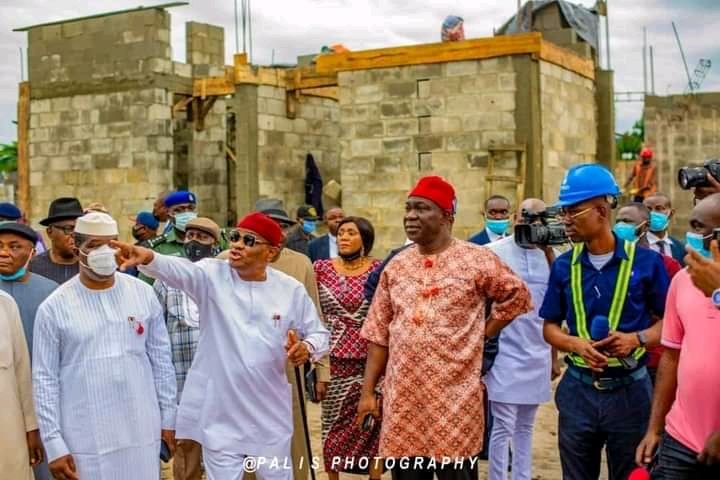 The Rivers State Government has charged two construction firms, Saipem SPA and Saipem Contracting Nigeria Ltd, to court over an alleged conspiracy to cheat and with intent to defraud the state of the sum of $130million, being advanced payment for the construction of the OCGT power plant in Port Harcourt.
In a 16-count criminal charge filed by the Director of Public Prosecution, C.F. Amadi for the Rivers State Attorney General, the state alleged that after collecting the said sum as advanced payment between 2011 and 2018, the defendants have not kept their obligation under the contract.
Others charged alongside the companies were Walter Peviana; Kelechi Sinteh Chinakwe; Giandomenico Zingali; Vitto Testaguzza and Davide Anelli, who are directors and officers of the companies.
The defendants are charged with various offences ranging from conspiracy, cheating and obtaining credit by false pretence, contrary to Section 518 (6) and (7) and punishable under Section 518 of the Criminal Code, Cap 37 Vol. 2 Laws of Rivers State of Nigeria, 1999, section 419A and punishable under Section 419 (A) (1) (b) of the Criminal Code, Cap 37 Vol. 2 Laws of Rivers State, amongst others.
Already, the Rivers State Government has issued a fiat to the law firm of Godwin Obla (SAN) to prosecute the matter before the state High court.
The defendants are equally charged for the offence of false Statements by Officials of Companies contrary to and punishable under Section 436 (b).
The prosecution specifically accused the defendants of obtaining credit of $130million by false pretences or other fraud contrary to Section 419A and punishable under Section 419 (A) (1) (b); obtaining credit of $20,467,942.00 by false pretences or other fraud contrary to Section 419A and punishable under Section 419 (A) (1) (b), obtaining credit of N7,000,000,000.00 only by false pretences or other fraud contrary to Section 419A and punishable under Section 419 (A) (1) (b).
They are charged for obtaining credit of N318,640,173.54, by false pretences or other fraud contrary to Section 419A and punishable under Section 419 (A) (1) (b); attempt to cheat $97million contrary to Section 508 and punishable under Section 509; attempt to cheat $15million contrary to Section 508 and punishable under Section 509; conspiracy to receive a credit of $97million by false pretences contrary to Section 518 (6) and punishable under Section 518; cheating $11million contrary to Section 421 and punishable under Section 421; cheating contrary to Section 421 and punishable under Section 421; cheating N110, 097, 416.51 contrary to Section 421 and punishable under Section 421; cheating by collecting sums attributable to shared facilities already paid for in AFAM Phase I in AFAM Phase II contrary to Section 421 and punishable under Section 421.
Obtaining N20, 467, 942 contrary to Section 421 and punishable under Section 421; obtaining credit of $60,168,936.00 by false pretences or other fraud, contrary to Section 419A and punishable under Section 419 (A) (1) (b); obtaining credit of $1,512,034.00 by false pretences or other fraud contrary to Section 419A and punishable under Section 419 (A) (1) (b) all of the Criminal Code Law of Rivers State, Cap 37 Vol. 2 Laws of Rivers State of Nigeria 1999.
According to the Proof of Evidence attached to the charge and the statement made by the Head, Power Generation/Mechanical of the Rivers State Ministry of Power, one Mr Temple Azunda M., the facts constituting the case in hand are as follows:
Saipem SPA and Saipem Contracting Nigeria Limited and other officers of the duo, herein the Defendants, are Italian companies which services have been retained by the Rivers State Government, herein RSG, in several projects, prominent amongst which is the AFAM Phase II Power Plant Project.
By an initial tripartite agreement made on the January 20, 2010, the RSG under the auspices of the Rivers State Ministry of Power entered a contract with Saipem Contracting Nigeria Limited, Saipem SPA for the construction of the OGCT power plant in Port Harcourt at a total cost of $119million consequent upon which the Rivers State Government made advance payments, in instalments, to Saipem Contracting Nigeria Ltd and Saipem SPA amounting in total to a sum of $130million in all which the Defendants have acknowledged receipt of.
The Defendants were to be given an initial mobilization of 20per cent of the total contract sum which the RSG paid.
It was part of the initial agreement – and indeed a condition sine qua non – that, to access the 2nd tranche of payment of 25per cent from the Rivers State Government, the Defendants would mandatorily have installed the Gas Turbine into the foundations as referenced in ATTACHMENT 1 to VO 007 which states that:
CONTRACTOR shall be entitled to a payment corresponding to 20per cent of the VO No. 007 LS PRICE upon mobilisation to site and commencement of bush clearing activities at SITE.
Upon commencement of bush clearing activities at the site, the contractor shall issue the invoice relevant to the above payment and the owner shall pay such invoice within 14 days from its issuance.
The parties agree that no deduction for recovery of advance payment shall apply on the payment due to the contractor for invoices issued by the contractor in accordance with this paragraph.