Former IMT Rector, Njeze, Goes Home, April 8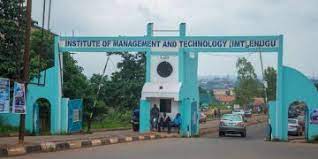 The late former Rector of Institute of Management and Technology (IMT), Enugu, Igwe Callistus Njeze, and traditional ruler of Umuavulu, Abor, Udi Local Government Area of Enugu State will be interred on April 8.
Dr Clara Anidi, IMT's Director of Research and Development, confirmed the development to The Tide source in Nsukka yesterday.
She said that the late don, popularly known as Odalije in Abor before he became the traditional ruler of Umuavulu, died on Jan. 27, at the age of 78.
According to her, as part of the funeral rites, IMT management will hold a valedictory session for the late erstwhile Rector on April 7.
She said that the session billed for the Institute's main campus would enable the staff members and students to pay their last respect to the educationist who contributed immensely to making the institution what it is today.
Anidi said that Njeze would be remembered among other achievements for his efforts to rid IMT of cultists because he had zero tolerance for cultism.
"The institute was rid of cultists under Njeze's watch. He dealt decisively with any students or staff found guilty of cultism.
"His zero tolerance for cultism and anti-social behaviours made students to embrace hard work and discipline," the director said.
She said it was also during the administration of Njeze, that IMT in 1991 engaged more workers to fill numerous existing vacancies.
"Many vacancies in the institute were filled by Njeze which helped to promote academic and administrative excellence through quality teaching and learning.
"Many of the IMT management staff members now, including my humble self, were employed during the administration of the late Njeze," the director added.
Northern Senators' Forum Seeks Lasting Solutions To Insecurity
Chairman of the Northern Senators' Forum, Sen. Aliyu Wamakko, (APC-Sokoto) has called for lasting solutions to tackle the menace of insecurity in the country.
Wamakko made the call while briefing newsmen after the caucus' closed-door session, held in Abuja, last Wednesday.
He said: "We must continue to find more solutions that can be applied to the security challenges.
"Of course, there are many ways of finding a solution. I know we are using the security outfit very well, but there are other ways of finding lasting solutions to the challenges, facing our country today.
"We are concerned as Nigerians and as northerners.
"This country has to be as free as possible, so that every Nigerian can move freely to do their normal businesses without any fear or security challenge, "he said.
He noted that at resumption on June 22, the forum would hold another meeting which would be aimed at strengthening the decisions taken so far.
Reps Seek End To Abuses In Orphanages
The House of Representatives has appealed to the Federal Government to end incessant abuses in orphanages across the country by the operators.
This followed the adoption of a motion by Rep. James Owolabi (APC-Lagos) at yesterday's plenary in Abuja
Speaking on the motion, Owolabi said that many orphanages were not registered, making it impossible for the authorities to ascertain the actual number of children in their custody.
He said that the unregistered orphanages were also involved in illegal operations such as child trafficking and nocturnal abuse of children.
He said it was the responsibility of government to protect the lives and property of citizens including orphans.
The House therefore, urged the Ministry of Humanitarian Affairs, Disaster Management and Social Development to collaborate with relevant agencies of government towards ending the abuse.
It mandated the committee on Women Affairs to ensure compliance.
Ganduje Restates Commitment To Community Policing In Kano
Gov. Abdullahi Ganduje of Kano State has reiterated his commitment to continue partnering with stakeholders in the security sector to ensure the state is safe and peaceful.
Ganduje made this known when the Nigeria Police Force Community Policing Agenda, appointed him as its National Patron.
In a statement issued by the Chief Press Secretary to the Governor, Mr Abba Anwar in Kano, Ganduje said:"we have community policing at the village, ward , local government, emirates levels.
"We chose 16 young people from each of the 44 local governments areas of the state for constabulary training," he said.
Responding, the National Secretary of the association, Amb. Ibrahim Aboki said that the governor was nominated for his efforts in strengthening community policing.
"This is a man of honesty, integrity and philanthropy, the able and amiable dynamic leader and a "Goal Getter:
"The security champion, we are presenting to you, an award and a letter as a National Patron.
"We duly acknowledge your role in pioneering, promoting and consolidating all security formations, security agencies and special constabularies," he said.