50th Anniversary: 'Dick Tiger's Mausoleum Undergoing Renovation'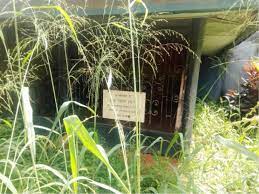 The family of the great African boxer, Late Richard Ihetu, famously known as Dick Tiger, on Thursday said they were upgrading his tomb to a mausoleum to meet international tourism standards.
Dick Tiger, who held the World Middleweight and World Light Heavyweight Championship titles in the late 1960s, died on December 14, 1971 at age 41 from liver cancer.
Dick Tiger, who hailed from Amaigbo, Nwangele Local Government Area of Imo, fought in 81 professional boxing matches, winning 61 with 26 knockouts, drew three, but lost 17.
Mr Richard Ihetu Jnr., the first son of the boxer, told The Tide source in Aba yesterday that the arrangement would coincide with the late boxer's 50th death anniversary.
"Concerning the tomb, something is on the pipeline for my father's 50th death anniversary.
"I am upgrading his tomb to a mausoleum and after the renovation some of his boxing photographs would be used to decorate the mausoleum.
"During December and Easter periods, although it is not yet developed into an international tourist centre, people out of curiosity, always come there to ask for Dick Tiger's tomb.
"Some persons land in Amaigbo and the next thing they do is to ask to see the tomb of Dick Tiger.
"I am already working on it and soon the place will be a centre that people will appreciate. I am financing it personally because I hate bureaucracy," he said.
Ihetu Jnr said his father, although an Imo son, loved, invested and lived in Aba with his family for most of his life.
He, however, expressed regret that though his father brought honour to Aba, Aba, the city he lived in and Abia, the state, had not honoured him and his memory.
"This place is like his taproot because he learnt everything he knew here.
"From Aba, they picked him to Calabar and from Calabar to Lagos and other places and everything he had as property are in Aba.
"What he did is after every assignment, he would return to meet his family here because of the love Aba people had for him, I don't think he ever thought of even leaving this city," he said.
Ihetu Jnr said Aba had some great men like his father, Nnanna Kalu, Ugorji Eke, the Ekennas and the Anyaehies in the sixties, but expressed regret that poor infrastructure pushed many notable residents away.
He said the boxing competition, which Michael Okpala (Power Mike) instituted in the honour of his father, stopped because of lack of funding, but said willing sponsors could revive it.
Ihetu Jnr said that in spite of the honour his father brought to Nigeria, his countrymen appeared not to remember him, but appreciate foreigners.
JAMB Decries Use Of Fake Results For Admission
The Joint Admissions and Matriculation Board (JAMB) has decried the high level of forgery of A Level certificates used for the registration.
JAMB Registrar, Professor Is-haq Oloyede, who raised the alarm, recalled that the Board had commenced the 2023 Direct Entry registration on Monday, 20th February but immediately suspended it following the discovery of the plethora of devices and machinations to circumvent and compromise the standard of A 'level qualifications required from DE candidates.
He disclosed that out of 148 candidates verified by Bayero University Kano (BUK), only 6 were found to be genuine.
"By implication 142 of the results were forged. Oloyede said. Bayero University, Kano (BUK) has also consistently brought to the fore the high rate of forgery of A'Level qualifications for DE.
"It was discovered that in previous years, some candidates used unacceptable and forged A' level certificates/ qualifications to register for Direct Entry and eventually got admitted. For example out of 148 candidates verified by BUK, only 6 were found to be genuine. By implication 142 of the results were forged.
"The Board, concerned stakeholders and institutions are working assiduously to detect such and the ones already found are being dealt with according to the provisions of the law.
"In order to further checkmate the anomaly and to also prevent recurrence of such irregularity, the Board has decided that the 2023 DE registrations will not only be restricted to JAMB (Professional Test Centres (PTCs) but will also be done under strict supervision," Oloyode said.
"The Board has provided additional guidelines to all DE registration outlets (JAMB-owned centres), Officers of the Board and candidates on the 2023 Direct Entry registration exercise:
"At the point of registration, all candidates must fill in Registration/Matriculation Number of the previous school attended where the qualification was obtained; Subject(s) of qualification; Awarding Institution; Institution actually attended", he said.
'Nigerians Have Lost Confidence, Trust In INEC'
As post-election crisis gathers momentum, the European Union Election Observation Mission (EU EOM) to Nigeria's 2023 general elections has declared that Nigerians have lost confidence and trust in the Independent National Electoral Commission (INEC) owing to lack of transparency and operational failures.
The EU EOM Chief Observer, Barry Andrews, made the assertion at a Media Briefing to present the Mission's second preliminary reports, in Abuja, Monday.
Andrews noted that although Nigerians had great appetite for democracy and keen to engage in various civic activities, their expectations were dashed.
According to him, the apathy recorded at the governorship and states House of Assembly elections conducted last Saturday was a clear consequence of failures by political elites and "unfortunately, INEC."
Andrews said: "Obstruction and organised violence limited the free expression of the will of the voters, despite efforts by civil society to promote democratic standards.
"Throughout the Mission, we saw that Nigerians have a great appetite for democracy and are keen to engage in various civic activities. However, in many parts of the country, their expectations were not met.
"Many were disappointed and we witnessed voter apathy that is in part, a clear consequence of failures by political elites, and unfortunately, also by INEC.
"Positively, INEC introduced some corrective measures ahead of Saturday's polls, allowing a timely delivery of sensitive materials and improved use of election technologies, yet, the institution continued to lack transparency."
The Mission also observed that voting started early with INEC ad-hoc officials present and ready to serve voters, but the exercise was unfortunately, disrupted by "multiple incidents of thuggery and intimidation of voters, polling officials, observers, and journalists".
The Mission noted that Lagos, Kano, and other States in the Southern, Northern and Central parts of the country were mostly affected, adding that the election was equally characterised by casualties, fatalities, as well as vote-buying, which according to the observers, further detracted from an appropriate conduct of elections.
"EU EOM observers also saw misuse of administrative resources, including through various financial and in-kind inducements to voters, giving an undue advantage to the party in power.
"Furthermore, the protracted deadlines for candidacy disputes created uncertainty for voters and electoral contestants alike, while clear underrepresentation of women as candidates demonstrated a stark lack of internal party policies to support constitutionally prescribed inclusion
'Youths To Benefit From Climate Change Innovation Hub'
The Clerk to the National Assembly (CNA), Sani Tambuwal, has expressed optimism that the recently established National Climate Change Innovation Hub would help in harnessing the potential among Nigerian youths towards addressing climate issues.
The CNA stated this during the commemoration of the 2023 Commonwealth Day with the theme 'Forging A Sustainable And Peaceful Common Future' held at the instance of National Assembly management, in Abuja, Monday.
Represented by the Deputy Clerk, National Assembly (DCNA), Barrister Kamoru Ogunlana, Tambuwal observed that the ongoing Russia-Ukraine war and other climate issues in the world if not properly managed, would posed great danger to world peace and a sustainable future.
He assured that Federal Government had put measures in place to address some issues on climate change through the establishment of youth climate change hub to harness their ideas and include them in decision-making process as well as develop long-term vision for zero gas emissions.
In her presentation, Mrs. Rabi Audu stressed the need for concerted efforts from all stakeholders towards forging a sustainable and peaceful environment.
Audu also urged the youths to engage in activities and programmes that would promoter innovations and inclusivity for all.
According to her, governments and parliaments have to increase opportunities for schools across the Commonwealth countries, adopt higher education partnerships and development programmes that would lead to economic growth, social inclusion and environmental conservation.
While noting that the establishment of more programmes like the Commonwealth of Learning (COL) would aid the attainment of these, Audu further stressed the need for Commonwealth member countries to establish technical and vocational education that would help in gainfully equipping the youths with skills to further tackle high rate of youth unemployment.
Some of the students who participated in the programme tasked parliaments across Commonwealth member States on the need to hold their governments to account particularly on the areas of public spending, international crisis, investment sustainability and promotion of the benefits of inclusive and diverse representation in truly open societies.