Ex-Service Chiefs As Envoys?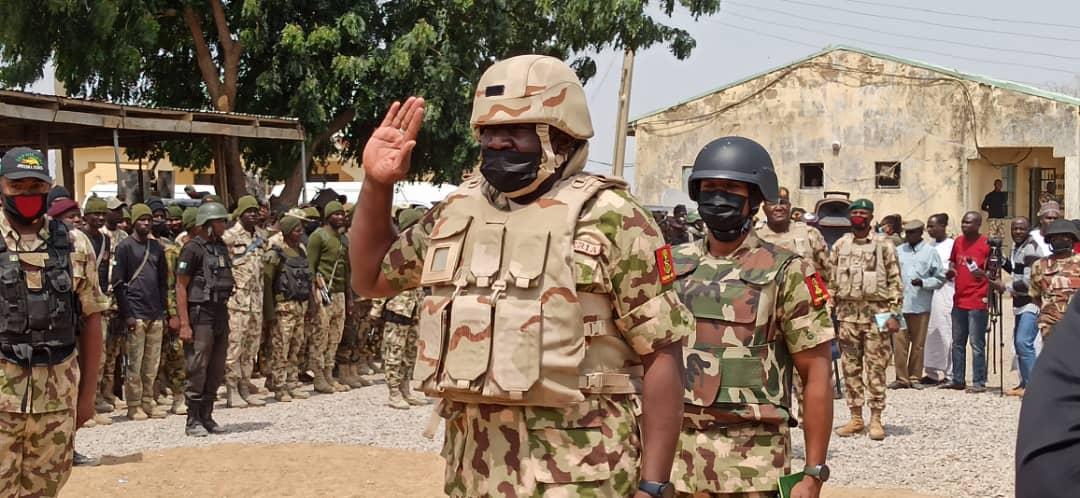 The appointment of immediate past Nigeria's service chiefs as non-career ambassadors is generating long-standing controversy in the country. Despite the discomposure, President Muhammadu Buhari has forwarded their names to the Senate for screening and confirmation. And as expected, the All Progressives Congress (APC) dominated Senate is very unlikely to upturn the President's decision to make the retired military chiefs representatives of Nigeria. Their appointments, in the first place, indicate that Buhari did not want them out of office.
The former service chiefs are General Gabriel Olonisakin, Lt. General Tukur Buratai, Air Marshal Siddique Abubakar and Vice Admiral Ibok-Ette Ibas. During their time in office, Nigerians ridiculed and derided them and asked that they be thrown out of the office for gross incompetence. The campaign had lasted more than two years since the service chiefs, appointed in 2015, were expected to have statutorily ended their military career.
When former President Goodluck Jonathan was in power, the insurgency was outstanding even when he handed over to the present administration. Nigeria was literally on fire as killings, bombings and maimings were the order of the day. The situation exacerbated under this government. The North East, North Central, North West, and of recent South West have all been undergoing unbearable circumstances.
As many Nigerians were slaughtered senselessly, and sometimes before their relatives, the military failed spectacularly to guarantee peace under their command. Kidnapping became the order of the day in all parts of the country, while highway robbery orchestrated a return. It was for that reason Nigerians wanted them out by all means. Federal lawmakers, governors, civil society groups, faith-based organisations, all pointed to the need for their sack. Officers serving under them sadly became demoralised as some had to quit the force altogether under different guises.
When eventually the service chiefs disengaged and were replaced by other experienced officers, the least expected of the Commander-in-Chief was to show aristocratic disdain for the public by appointing them ambassadors. We indeed seem confused by their appointments and urge Nigerians to request further details on the development. The reason is, there may be more to the nomination than meets the eye. It appears to us that Buhari sees them as absolutely indispensable?
These people just left office as a result of the bitter outcry by Nigerians. It is, therefore, expected that they would take a deserved rest and truly reflect on why Nigerians insisted they should exit the office. Rather than do that, the President decided to give them supplementary glory. There is nothing wrong with bestowing such appointments on people that are retired but not tired; however, these officers have retired and are tired. Assuming that they were not tired, it would have been a different ball game.
The Nigerian Senate that has the constitutional mandate to screen and declare them fit for the position or otherwise and even countries where they are likely to be posted to should reject them as ambassadors even though that may look like a tall order, particularly for the upper legislative chamber. Besides the fact that the appointments are incredibly awkward, hence, the need to be debriefed before being considered for such designation to office, our position is further hinged on the allegations of rights abuses and crimes against humanity levelled against them while they held sway as commanders of the country's military.
We also hold the view that President Buhari's administration has flagrantly flouted the recommendation of the erstwhile Presidential Advisory Council on International Relations (PACIR) which pegged the percentage of non-career ambassadors to 25 as against career ambassadors of 75. But as it stands now, the number of non-career ambassadors has surpassed that of the career ambassadors. Non-career diplomats are almost 60 per cent while the career is 40 per cent.
This development has been trailed by widespread condemnation, with many Nigerians suggesting that the President's decision was aimed at shielding the former military officials from possible prosecution, especially by the International Court of Justice (ICJ) in line with Article 29 of the Vienna Convention which protects diplomats from arrest and grants them immunity against civil and criminal prosecution.
The allegations against the military chiefs include the 2015 massacre of more than 350 members of the Islamic Movement in Nigeria (IMN), a Shiites sect, violent attacks on members of the outlawed Indigenous People of Biafra (IPOB), last October's shooting of innocent Nigerians who took part in the #EndSARS protest at the Lekki Toll Gate in Lagos, and the extra-judicial killings in Oyigbo, an Igbo settlement in Rivers State, among others.
It should be noted that the diplomatic world is the turf of some professionals, hence the need to have several career ambassadors. The addition of the erstwhile service chiefs shows disdain for professional advice. The government has no reason to frustrate diplomats who had been waiting patiently to ascend the ladder to the last rung by bringing in men who failed in their last tour of duty. If cleared by the Senate, we hope they are not posted to countries that are vital to the interests and development of Nigeria since they are extremely inexperienced.
The military chiefs should be asked to go home and tend to their duties and not prevent others who are deserving of the appointments. Though they were not the first officers to be appointed ambassadors after retirement, having been preceded in such role by the likes of Brig-Gen. George Kurubo, the first Chief of Air Staff, Brig-Gen. Babafemi Ogundipe, a former deputy to General Aguiyi Ironsi and Brig-Gen Oluwole Rotimi, past governor of the old Western State, the officers are completely unfit for the job.

Making Women's Voices Count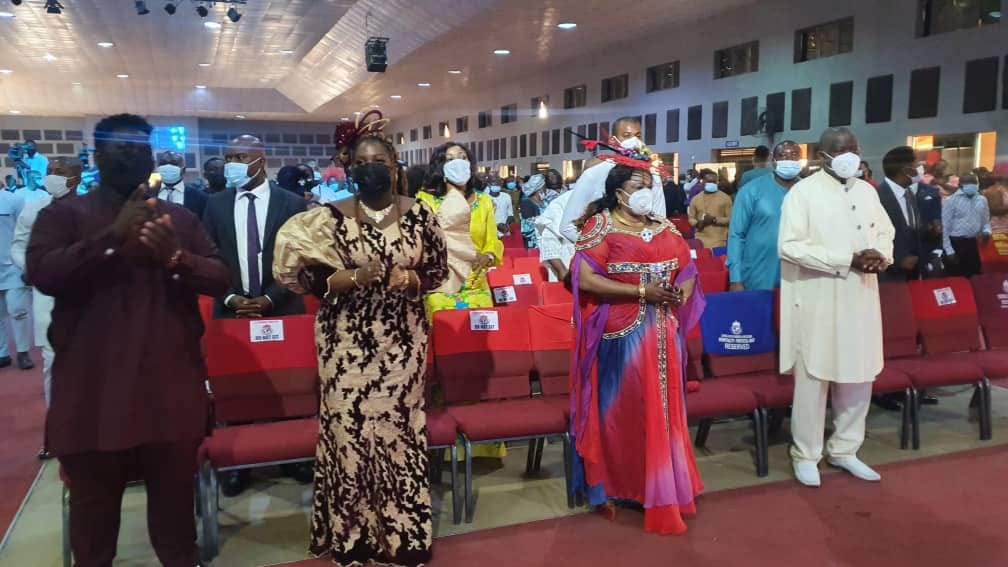 For more than 100 years, the 8th of March is set aside annually to commemorate the International Women's
Day. Organisations, governments, charities, educational institutions, women's groups, corporations and the media organise events globally to mark this day and commit to upholding achievements on gender equality and women empowerment.
International Women's Day is a time to reflect on advancements made to call for change and to commemorate acts of bravery and devotion by women, who have played an incredible role in the history of their countries and communities. The world has made unprecedented advances, but regrettably, no country has achieved gender equality.
The theme of this year is "Women In Leadership: Achieving An Equal Future In A Covid-19 World".  This theme provides an ample opportunity for the celebration of the enormous accomplishments by women and girls around the world in shaping a more equal future and recovery from the Covid-19 pandemic.
This year's Women's Day is somewhat unique. As the world slowly recovers from a devastating pandemic, an opportunity is offered to finally end the exclusion and marginalisation of women and girls. But to do that, immediate action is required. Women must be allowed to play a full role in shaping the pivotal decisions being made right now as countries recover from the Covid-19 pandemic.
To actualise this, the deep-seated historic, cultural, and socio-economic barriers preventing women from taking their seat at the decision-making table have to be broken down to ensure that resources and power are more equitably distributed. For instance, across the world, women remain concentrated in the lowest-paid jobs, many in extremely vulnerable forms of employment.
As the Covid-19 crisis persists, women are nearly twice as likely as men to lose their jobs. Indeed, the pandemic dramatically increases the poverty rate for women and widens the gap between men and women who live in poverty. It is, however, heartwarming that the United Nations Development Programme (UNDP) has begun to work with countries to address these inequalities.
Statistics indicate that certain legal constraints have kept about 2.7 billion women from accessing the same choice of jobs as men. Also, as of 2019, less than 25 percent of parliamentarians were women. Sadly, one in three women experiences gender-based violence, still. For those reasons, we have to make 2021 count for women and girls universally.
It is common knowledge that women's full and effective participation and leadership in all areas of life drive progress for everyone. Yet, they are still inadequately represented in public life and decision-making, as revealed in the UN Secretary-General's recent report. Women are Heads of State or Government in 22 countries, and only 24.9 percent of national parliamentarians are women. At the current rate of progress, gender equality among Heads of Government will take countless years.
Women are also at the forefront of the battle against Covid-19, as front line and health sector workers, as scientists, doctors and caregivers, yet they get paid 11 per cent less globally than their male counterparts. An analysis of Covid-19 task teams from 87 countries found that only 3.5 percent of them had gender parity.
Despite the limitations, we see positive results when women lead. Some of the most efficient and exemplary responses to the Covid-19 pandemic were led by women. And women, especially young women, are at the forefront of diverse and inclusive movements online and on the streets for social justice, climate change and equality in all parts of the world. Regardless, women, especially under 30, are less than 1 percent of parliamentarians worldwide This is why this year's International Women's Day is a rallying cry for Generation Equality to act for an equal future for all.
Like their counterparts in different parts of the world, Nigerian women encounter a lot of problems of inequality. They have always struggled against gender discrimination and gender-based violence. The culture of patriarchy and male chauvinism has not helped as it leads to exploitation and marginalisation of women in private and public lives.
Women make up about 49 per cent of the Nigerian population and nearly one out of four women in sub-Saharan Africa is a Nigerian. While this presents potential human resources that can be harnessed to enhance economic productivity, the disparities in social and economic opportunities between men and women have never been starker.
According to the World Poverty Clock, the number of Nigerians who are extremely poor — those living on under $1.90 a day —  is now 94 million and rising, making the country the poverty capital of the world. Startling as this data may be, the true scale of the problem of poverty in Nigeria only becomes more apparent when the fact is considered that women, who make up slightly less than 50% of Nigeria's population, account for more than 70% of those in extreme poverty.
Hence, poverty is a gender issue. So too are the massive inequalities spiralling out of control — across wealth, health and every other socio-political determinant in Nigeria. Recognising the centrality of gender to these issues is not only critical to fully appreciate the scale of the challenges, it is the most effective route to achieving shared progress and prosperity in Africa's most populous country.
Unfortunately, Nigeria has the lowest number of female parliamentarians in sub-Saharan Africa and ranks 133rd in the world for female political representation. Women own only 20 percent of enterprises in the formal sector and only 11.7 per cent of Board Directors in the country are women. Although it must be acknowledged that the country has made some progress in closing the gender gap in certain areas i.e. primary school enrollment rates, gender equality remains in a deplorable state and these statistics reveal that there is still so much work to be done.
We, therefore, advise that if Nigeria is to meet the sustainable development goal of ensuring women's full and effective participation and equal opportunities for leadership at all levels of decision-making in political, economic and public life, there is an urgent need to adopt a more holistic approach to the inclusion of women that comprise various stakeholders in society.
As we observe the 2021 International Women's Day, the Nigerian government has to take the lead by championing initiatives and implementing policies that advance the cause of women while the private sector should adopt codes of conduct that strongly acknowledge the necessity for gender diversity. Civil society, on the other hand, has the duty of holding the government and private sector accountable as well as embarking on initiatives to enlighten and empower women.

Beyond Buratai's Revelation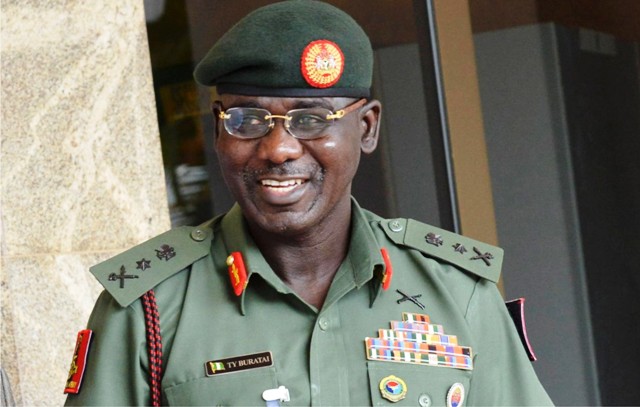 As the extremist Boko Haram sect steps up at tacks in Nigeria's North-East region, the former Chief of Army Staff, Tukur Buratai, had made a shocking prediction, saying Africa's most populous nation would most likely continue to suffer terrorist attacks for the next 20 years.
The former Army chief made the remark when he appeared for screening as a non-career ambassador before the Senate Committee on Foreign Affairs chaired by Senator Mohammed Bulkachuwa. He attributed Nigeria's inability to solve the myriad of security problems facing the nation to logistics and insufficiency of funds.
He said: "Unless certain things are done, this insecurity will continue because the truth must be told, it may take another 20 years for the country to surmount the problem of insurgency and that is the truth." According to him, the Boko Haram insurgents through indoctrination are winning more and more communities to their side, aside from the problem of ungovernable spaces in the area and across the country.
His words: "My state (Borno), is an epicentre, where this indoctrination has penetrated so deep. They (insurgents) have won the communities to their side. That is why they (communities) keep Boko Haram. So, it is complex, it requires a whole of government approach to solving this, military action or activity is just one aspect. One mistake that we have been making is assuming that only the military can solve this. It is not. There are political, social, economic aspects that need to be addressed.
"Development should be progressive, there should be road everywhere, there should be employment, schools, hospitals all over. Yesterday (Wednesday), I counted five local government areas in Borno State that do not have a good access road to those places. In North-West, North-Central, there are so many ungovernable spaces, which the insurgents are penetrating. The places don't have schools, hospitals and so on and education is very fundamental."
It is most embarrassing that these confessions were made by the immediate past Chief of Army Staff who had never failed to promise Nigerians in his heydays in office that Boko Haram's extinction was a matter of days. Buratai's declaration only implies one thing and that is security in Nigeria has collapsed and the military has failed. There are no pretexts about that fact.
The question is: if it will take more than 20 years to defeat Boko Haram in the country, what had the service chiefs been doing for the more than five years they were in office? It simply meant they were doing nothing other than misleading Nigerians and contending that Boko Haram had been technically defeated or even decimated. It is reprehensible that Buratai would make those assertions after the nation had invested so much in human and capital resources in the war. No wonder not much has been achieved in the anti-insurgency combat more than a decade since it began.
The Minister of Defence, Major- General Bashir Magashi (rtd) may have corroborated Buratai's statement when he recently proclaimed that weaponless Nigerians should defend themselves against bandits and other criminal elements including perhaps insurgents. Unfortunately, this is where we have found ourselves.
Magashi's call is particularly more embarrassing in a country where it is unlawful to purchase and carry firearms. So, Magashi is asking Nigerians to violate the law of this country and look for firearms anywhere they can get them to protect themselves? It is startling that our governors and lawmakers failed to challenge the minister and draw the attention of the President to his statement.
Buratai's revelation is a huge responsibility for Buhari to increase the tempo of the anti-terror war in the country. Though some Nigerians consider the former army chief's pronouncement as condemnable and hypocritical because it was overdue and might serve as a boost for the terrorists, thus, heightening the existing insecurity in the land, it is an eye-opener to the authorities and a reminder of the need to entirely remake our usual approach to the war.
We are certain that this disclosure may not be unusual to the Federal Government as the former army chief must have given the President a broad hint of the development while in office. Since the information is in the public domain, it is expected that Buhari will act swiftly. Government's presence in all ungoverned spaces in the country is expedient. Also, there is an urgent need to consolidate control over those areas that were previously held by Boko Haram. This will guarantee that the terrorists don't easily operate from there.
Retiring service chiefs have to desist from making declarations in contradiction to earlier claims of military successes made while in office to forestall a repeat of Buratai's "true confession". More importantly, Buhari has to radically reform the military and commence a sweeping investigation of military procurement over the past five years, which has been running into billions of dollars annually. Such investigations may uncover fraudulent arms deals that cost the nation so much money.
The problem at hand requires a well-galvanised national approach to surmount considering that it is more of an asymmetric-cum hybrid warfare as against the conventional ones that can easily be confronted and defeated. Therefore, there must be synergy among all the security agencies as lack of it is equally responsible for the lingering security defiance we face.
We must advise that playing politics with the insurgency would create a festering wound that could consume all facets of Nigeria's resources. This is what is happening now. Specifically, we think that Nigeria should have a national counter-insurgency strategy hinged on economic development, and the military strategy can pick up from there.
Since our country is faced with one of its worst security challenges from independence in 1960, stringent efforts must be made to break the stalemate in this war against insurgency. At this point, we must face reality and tell ourselves the home truth. The military needs to be innovative and creative to counter the ravaging terrorists.

WTO: Congrats, Okonjo-Iweala!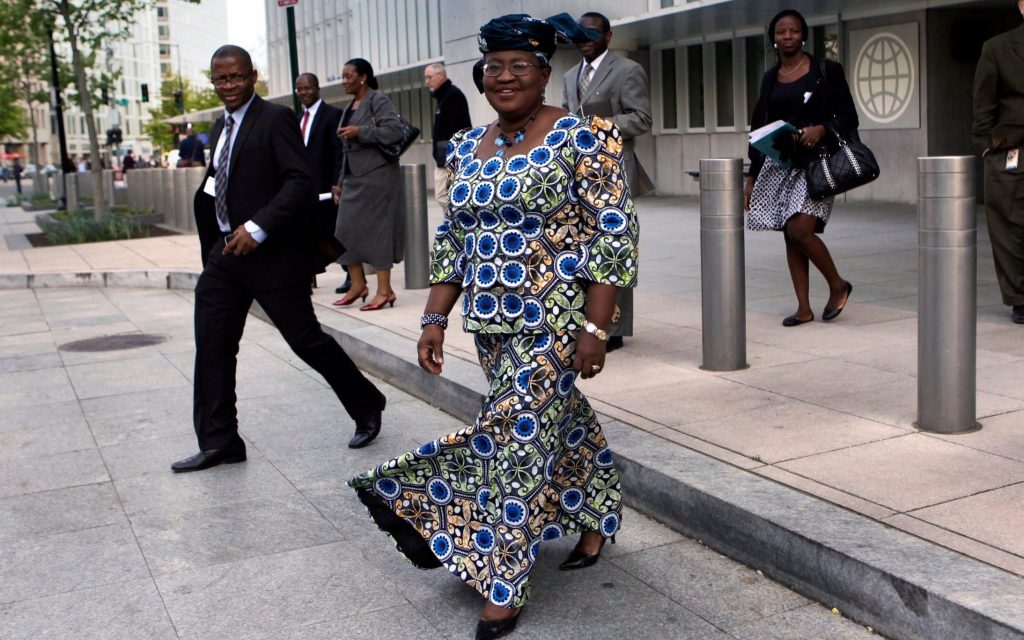 History was made on Monday, February 15, 2021, when Nigeria's former Finance and
Foreign Affairs Minister, Dr Ngozi Okonjo-Iweala, emerged as the Director-General (DG) of the World Trade Organisation (WTO) through a consensus agreement of the General Council of the Organisation. By this appointment, she became the first African and the first woman to clinch the position.
No doubt, Okonjo-Iweala's appointment has elicited pride among Nigerians, Africans and women worldwide. She overcame stiff competition from an initial field of eight candidates, including another female, Yoo Myung-hee, the South Korean backed by the United States during ex-President Donald Trump's administration. As she assumes office, her renewable term will expire on August 31, 2025.
The WTO is a global multilateral international organisation that promotes, monitors and adjudicates international trade. Along with regional and bilateral arrangements, the WTO shapes the overall expectations and practices of states regarding international trade. WTO was established in 1995 as a successor organisation to the General Agreement on Tariffs and Trades (GATT), which was created in 1947 to facilitate freer trade on a multilateral basis.
Okonjo-Iweala deserves all the encomiums. We salute her courage to dare and also admire her success despite the strong opposition initially from powerful forces within the organisation. She is not new to exalted and tasking positions having served at the World Bank; chairperson of the board of Global Alliance for Vaccine and Immunisation (GAVI) and also served in the board of Standard Chartered Bank. She was also selected to join the board of Twitter in June 2018.
Her antecedent as a negotiator speaks volumes of her capacity to navigate the affairs of WTO and deliver on her mandate for member-countries. With her leadership of the WTO, Nigeria stands at the threshold of history not only for the woman who has become the first female and African director-general of the global organisation but a unique opportunity for the country to get back to its glorious days of non-oil exports such as cocoa, palm oil, groundnut, coal, etc.
Figures from the National Bureau of Statistics (NBS) show that revenue from the non-oil export has continued to dwindle and faced with huge uncertainty. In Q4, 2019, for instance, non-crude oil exports were reported at N1.1413 trillion or 23.9 per cent of total trade, and N1.1383 trillion, representing 27.9 per cent of total exports as of Q1, 2020. But by September 2020, non-crude exports had slumped to just N154.578 billion from N185.734 billion as of August of 2020.
An indication of her prowess was demonstrated when, as a finance minister during Olusegun Obasanjo's presidency, she negotiated the cancellation of Nigeria's foreign debts. She also led reforms that enhanced transparency of government accounts and strengthened institutions against corruption, including the implementation of the Government Integrated Financial Management System (GIFMS), the Integrated Personnel and Payroll Information System (IPPIS) and the Treasury Single Accounts (TSA).
But it is pertinent for us to point out to the new DG that there is much work to do at WTO. With challenges arising from the Covid-19 pandemic, US-China stand-off, among other matters that may arise, Okonjo-Iweala certainly has a lot on her plate. However, we believe that she can rise to the occasion. As part of her first steps forward, she is expected to swiftly demonstrate her capacity to unite countries whose relationships have been strained due to 'bad blood' engendered mainly during Trump's government.
As the trade organisation plans to have its first ministerial conference under her regime, it is most likely she will be saddled with intense responsibility to prove, between now and December 2021, when the meeting will hold, that she is indeed the expected 'messiah,' especially as WTO has existed without a director-general since Roberto Azevedo left. She must replicate her unblemished traits in her new task.
She must move to ensure a successful and inclusive undertaking of multilateral negotiations which had been pending for 25 years and desist from being seen as a tool of the superpowers. Most importantly, Okonjo-Iweala must ensure that the interests of developing economies, especially those of Nigeria and Africa are taken along, mainly now that the African Continental Free Trade Agreement (AfCFTA) has come on stream. Thirty-one members have signed up.
The sad reality is that international trade — transactions in goods and services between countries — is heavily skewed against developing countries. Getting out of the rut requires grit and creative policies. Okonjo-Iweala will need to tap from her diplomatic skills from her time at the World Bank, where she was once managing director, to curb the propensity of rich nations violating the rules while coercing Third World countries to abide.
We commend President Joe Biden of the United States of American (USA) for significantly withdrawing his country's objection to the emergence of Okonjo-Iweala as DG of the trade organisation. Biden's position indicates a shift and an important turnaround in the relations between Africa and the US. The Nigerian President, Muhammadu Buhari, is equally lauded for being in the vanguard of the campaign for the emergence of the former finance minister.
There is no doubt that Okonjo-Iweala will once again make Nigerians proud by re-enacting her track record of achievements at the WTO and thus open new opportunities and goodwill for more Nigerians to be given the privilege to serve on the global stage. We join world leaders to congratulate the colossus as she assumes duty and wish her a fruitful and memorable tenure.