YPP Mobilises Youths For Future Elections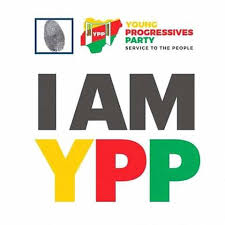 The Young Progressives Party (YPP), has urged Nigerian youths to rally round the party to forge a common front in pursuit of a better Nigeria.
National Chairman of YPP, Comrade Bishop Amakiri, made the call at the special national convention of the party held in Abuja,  at the weekend tagged "Ballot Revolution – YPP Generation Now".
Amakiri said the nation currently needed urgent intervention as all socio-economic and political indicators were not favourable to the citizens.
He said that the economy had been on a free fall with increasing poverty due to several obnoxious policies of government.
He noted that the road to economic and political emancipation had never been easy but that they were possible to achieve, and must start now.
"The time has come for us to replicate the patriotic and resilient spirit of great African leaders such as Sir Abubakar Tafawa Balewa, Dr Nnamdi Azikiwe, Chief Obafemi Awolowo, Sir Ahmadu Bello and Sardauna of Sokoto.
"Others are Nelson Mandela, Kwame Nkrumah, Thomas Sankara, Julius Nyerere, Jomo Kenyetta and Steve Biko, just to mention a few.
"Taking over political leadership at all levels won't come through endless confrontations with our political oppressors who have refused to listen to us, but through a coordinated synergy.
"This synergy is aimed at ending the reign of political mediocrity that has kept the nation in the state of perpetual backwardness; this can only be achieved through #BallotRevolution.
"Cost of governance and closure of our land boarders without adequate capacity for sustainable production contributed to the poverty and other negative results the country has recorded in recent time," Amakiri said.
According to him, the EndSARS protest against police brutality came barely two weeks after the party's Advocacy Walk for Good Governance on incessant PMS price increase in September.
He said that the EndSARS protests were an indirect approach used by the people to protest against bad government and we were against extreme force used to disperse the protesters.
Amakiri also said that the party would continue to demand for urgent electoral reforms in the country as it was the only way the party could win elections at the grassroots being the root of governance.
Also speaking at the event, Chief Ifeanyi Ubah, the only serving senator of YPP, said the party was going through a re-reengineering process to guarantee quality leadership tomorrow.
"We will educate you on how we are going about the revolutionistic movement that will usher us into the mainstream.
"Today we are number four, but by the grace of God in two years time, we will be number one in Nigeria.
"You can take me off but don't take my word off; I have a reason for being in this party.
"We are the choice of all the major parties but let me not say so much until we unveil the engine room," Ubah said.
The News Agency of Nigeria (NAN) reports that one minute silence was observed in honour of those who lost their lives during the #EndSARS protests in many parts of the country.
The party also used the occasion to ratify the election of new national executive members and the approval of the new party logo.
eNaira, BVN, TSA, NIN Should Give Investors Comfort, Buhari Insists
President Muhammadu Buhari, yesterday, in Riyadh, Saudi Arabia, said initiatives to drive the digital economy and fight corruption in the country should give investors "a lot of comforts".
Among the initiatives mentioned by the president are e-Naira, Treasury Single Account (TSA), Bank Verification Number (BVN), and National Identification Number (NIN).
Speaking at the fifth Edition of Future Investment Initiative Summit holding in Riyadh, Saudi Arabia, Buhari said his regime would keep encouraging public and private initiatives that increase investments in health, education, capacity building, youth empowerment, gender equality, poverty eradication, climate change, and food security.
A statement from the Presidency quoted the Nigerian leader as urging more interest in infrastructure such as healthcare and education, which "present enormous opportunities for investors in a country our size.
"Digital economy in Nigeria has many potential for investment, as it has remained the fastest growing sector in both 2020 and 2021. Nigeria has many opportunities for investment in broadband, ICT hardware, emerging technology and software engineering.
"We have recently approved the national policy on Fifth Generation (5G) network. Our aim is to attract investors in healthcare, smart cities, smart agriculture among others. The benefit of real time communication will support all other sectors of the economy," he noted.
To further improve and reposition the economy to attract investors, the president said, "e-Naira, the electronic version of our national currency, which puts us on track to become the first African country to introduce a Central Bank Digital Currency" was launched on October 25, 2021.
"We believe this and many other reforms will help us increase the number of people participating in the banking sector, make for a more efficient financial sector and help us tackle illicit flow of funds.
"To further strengthen our anti-corruption drive, increase accountability and transparency, we have centralized government funds through a Treasury Single Account, and ensuring that all Nigerians with a bank account use a unique Bank Verification Number (BVN).
"These initiatives, coupled with our nationwide National Identification Number (NIN) exercise, reinforce our efforts to tackle corruption and fraud. We believe that this should give investors a lot of comforts."
Buhari attributed growing social unrest to inequalities and unfair policies that exclude the majority from opportunities for participation, admonishing world leaders and global investors to prioritise inclusive and humane policies.
He said, "By so doing, it will go a long way in reenergizing the global economy in a post-COVID-19 era.
"Nigeria is Africa's largest economy and most populous nation. Our economic reforms which focus on 'humane' investments are ideal for investors looking to have profitable returns while positively impacting the citizenry."
Cancer: Jonathan, Others Seek Homegrown Solution
Former President Goodluck Jonathan, yesterday, recommended the implementation of homegrown solution to tame the scourge of cancer in Nigeria.
According to him, such measures would ensure that the nation makes significant progress in cancer management and treatment.
He also stated that Africa bore a heavy burden of cancer, with a significantly high mortality rate, adding that a recent projection by the World Health Organisation (WHO) indicated that over 70 per cent of cancer deaths occur in low- and middle-income countries, many of which were in Africa.
Jonathan stated this in Abuja during the 28th annual Lift Above Poverty Organisation Development Forum, a non-governmental organisation committed to the social, health, and economic empowerment of poor and vulnerable persons in Nigeria with the theme: 'Promoting community-based cancer control programme in Nigeria'.
He said, "A recent projection by the World Health Organisation indicated that over 70 per cent of cancer patients occur in low and middle-income countries, many of which are in Africa.
"The reason for this most times may be due to late detection and referral for treatment, poor access to treatment thus account for the high mortality rate in poorer countries.
"These delays in diagnosis and proper referrals lead to a situation where a high percentage of cancer cases arrive at the point of treatment at advanced stages of the disease when it is difficult to recover from or even manage.
"Cancer management is quite expensive and a technology-dependent endeavour, but homegrown solutions such as the community-based LAPO C4 present us with hope.
"With the required effort and manpower, we can evolve a system that works for our peculiar environment and give us the best possible outcomes and reduce the possibility of loss of lives.
"I believe that LAPO Community Campaign for Cancer Control was born out of the need to galvanize people and resources around the critical issue of early detection of cancer as well as its proper management and treatment.
"The community-based approach to creating the early detection awareness campaign and controlling the spread and management of cancer from the bottom up as proposed by LAPO is quite laudable.
"This is because it promises to deliver better treatment outcomes through early diagnosis and referrals. I believe that a collaborative and community-based health care system will go a long way to improve our health sector.
"I believe that as more stakeholders key into this initiative there will be an uptick in awareness and pooling of resources to effectively manage and treat cancer. A strategic awareness campaign such as this will also go a long way towards eliminating the fear and misconceptions people generally have that cancer is a death sentence."
NHRC Urges Police, Others To Locate, Rescue 'Missing' Journalist
The Executive Secretary of the National Human Rights Commission (NHRC), Mr Tony Ojukwu, has urged the police and other security agencies in the nation's capital to do everything within their powers to locate a missing journalist.
This is just as journalists, editors and media owners across the country have charged security agencies to immediately locate and secure the release of Tordue Salem, a Vanguard Newspaper's House of Representatives Reporter, who reportedly went missing on October 13 in the Federal Capital Territory, Abuja.
Ojukwu's call is contained in a statement signed by the Deputy Director, Public Affairs in the commission, Mrs Fatimah Mohammed.
He expressed sadness over the news of the National Assembly Correspondent who has been missing for 15 days.
"There is no place for enforced disappearance in modern history", he said, describing the act as one of the worst human rights violations which leave the victims, family members and the society traumatised.
"It is needless for the family members of the journalist to go searching for him in hospital mortuaries and police stations if the security situation and intelligence gathering was better.
"NHRC stands for press freedom and will continue to advocate for same.
"A free press is important because people are able to express themselves in a constructive manner such that the views and concerns of ordinary people are also heard," Ojukwu said.
He added that journalists serve as the watchdogs of any society and should be allowed to do their work without harassment and intimidation.
Ojukwu further said that the role of a journalist is crucial in a democratic society like ours.
He described Salem as a journalist who has passion for his work.
"He has painstakingly reported human rights issues as well as educated the masses on their rights since his days with the LEADERSHIP Newspaper.
"Enforced disappearance is one of the hazards associated with the practice of journalism in Nigeria" Ojukwu added.
He, therefore, called on the authorities to respect the rights of journalists.
He also urged the journalists to always work within the ambit of the law and ethics of the profession.
He assured the family members of the commission's support to ensure that Tordue Salem is found and reunited with them.
The FCT Commissioner of Police, Babaji Sunday, last Monday, assured that officers are looking for the journalist.
Sunday said the case was reported at the National Assembly Police Station and that he directed the immediate transmission to all Areas and Divisions.
"We are seriously on the matter. However, we have not received any information about kidnap or demand for ransom.
"My men have not received any information about any corpse on the road or abandoned corpse from the mortuary. We are searching," the CP added.
The commissioner made the remark while responding to the demand by journalists under the auspices of FCT Council of the Nigeria Union of Journalists (NUJ), during a protest march to the police command headquarters in Abuja, led by its Chairman, Emma Ogbeche.
The journalists took the protest to the Force Headquarters where they delivered same demand to the Inspector General of Police.