Reliefs For Flood Victims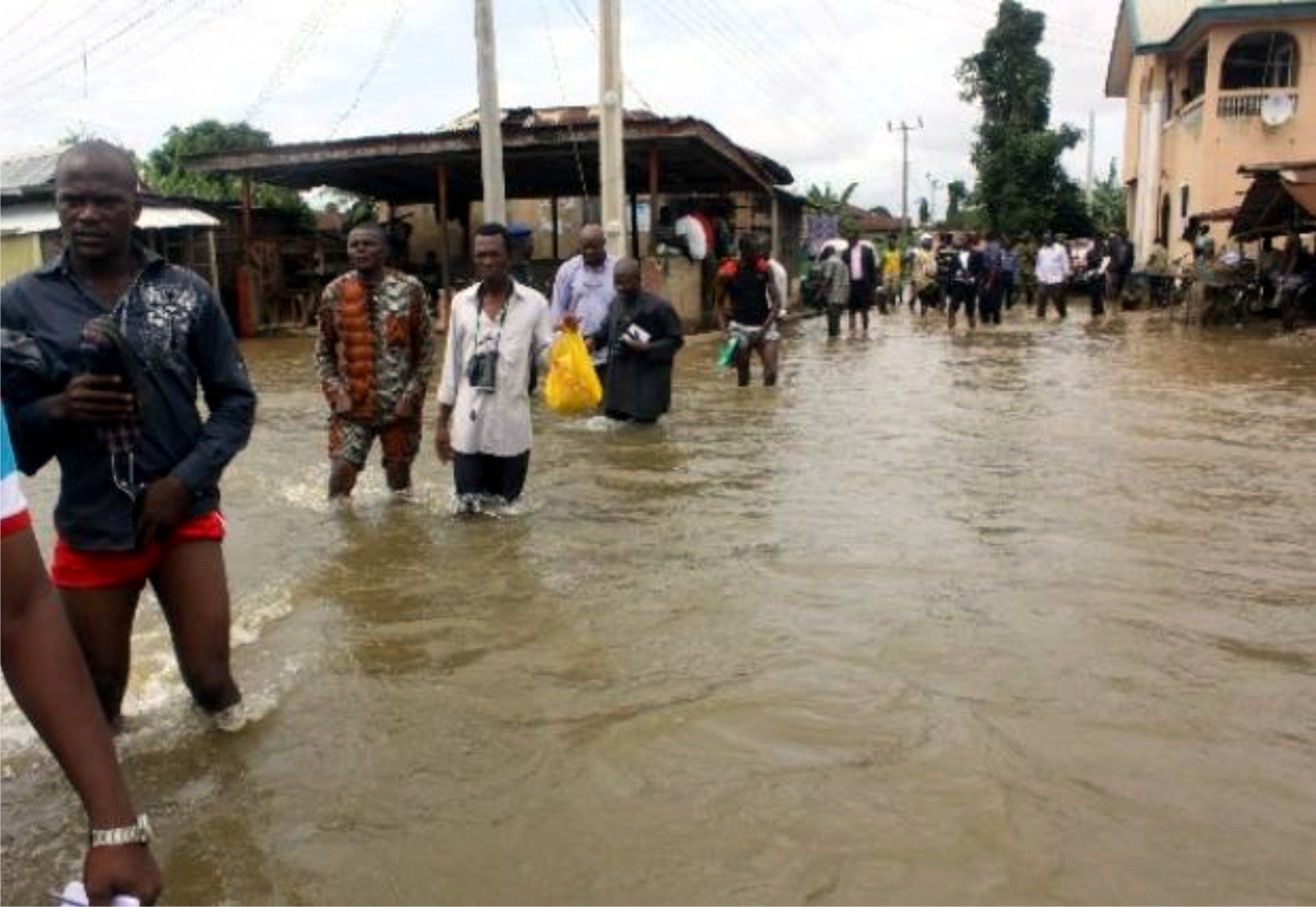 A dominant Nigerian problem is the diffident attitude by the authorities to issues of critical concern to the progress and sustenance of the citizenry. Hence, the citizens, especially the unremarkable people, have over the years constantly paid for leadership ineffectuality and deficiency in very huge magnitude.
An example is the recurring huge fatalities and massive devastation wreaked by yearly flooding across the country. Despite public commotion over the unnecessary occurrences leading to the disaster and exacerbate the situation, governments at all levels have often either exhibited a do-nothing attitude or paid outright lip service to the threats and advice from experts and professional bodies. Thus, the gamut of the loss of lives and properties to floods remains high, with the concomitant ripple effects on the socio-economic life of the country.
In May this year, the Nigeria Hydrological Services Agency (NIHSA) issued an alert that at least 102 local government areas in 28 states in the country were at risk of copious flooding. Similarly, in March 2012, 32 out of the 36 states were affected by flooding, in which more than 360 people were killed and almost two million displaced.
Then in 2016, more than 92,000 were displaced as flood wreaked havoc across the country. In 2017, the figure almost tripled as an estimated 250,000 Nigerians were sacked from their homes. Described as phenomenal, the 2012 flood reportedly impacted more than seven million people, with over 2.3 million persons displaced and 363 persons killed. The flood devastated about 597,476 houses in 34 states, with estimated damage and loss put at N2.6 trillion.
A similar disastrous episode observed in 2018 left in its wake pains, sorrow and wailing. It involved 2,321,592 people, killed 199 and displaced 722,741 persons. It equally destroyed over 100,000 houses. The catastrophe inflicted on the citizens by flood in 2019 was no least unbearable, as more than 130,934 people were affected, with 48,114 persons displaced and 126 people killed, just as 29,356 houses were wrecked.
An earlier admonitory by the NIHSA that the current flood level which it put at 7.02m sighted at Niamey, Niger Republic, posed a precarious threat to the country, seems to be a prediction that holds true with the states it named to be at greater risk already experiencing a hard time. The states are Kebbi, Jigawa, Kano, Sokoto, Niger, Kwara, Kogi, Anambra, Edo, Delta, Rivers and Bayelsa.
For example, reports on severe flooding this year showed that in Jigawa State, which witnessed the worst flooding in 34 years, at least 50,000 houses were destroyed in 17 out of the 27 local government areas in the state, with more than 100,000 hectares of rice farmland washed away. A total of 40 people lost their lives. In Kano, the worst-hit area was Danbatta, where around 7,000 houses were destroyed and four deaths were recorded. The death toll in Kebbi and Sokoto States were six and 15 respectively.
Despite early warnings each year, there is skimpy interest by the government at all levels to put resources where they are urgently needed. Rather, the government prefers to buy mattresses and other sundry items, enrich a few contractors and political sycophants rather than put money in research efforts that can yield results needed to prevent the flood from occurring in the first place.
The most immediate effect of this problem is that it might compound the already bad issue of Internally Displaced Persons (IDPs). That is already happening. In the areas most affected, suffering, hunger and diseases of epidemic proportions are already in waiting. In our view, and considering what is already on the ground in IDPs' camps scattered across the country, this will be one headache too many.
Sadly, states often adopt cosmetic measures such as clearing drainages amid rainfalls instead of taking pre-season, concrete, enduring and far-reaching actions to prevent flooding. It is inexplicable and depressing that increasingly the authorities are finding it difficult to think out of the box and proffer enduring solutions to flooding, which has made death so cheap for the common people.
Rivers State in particular is always found on the list of states to be flooded annually yet the government has not done more than the provision of relief materials. Unfortunately, several communities in the state were submerged in the water this year with very little help for the victims. Thus, we urge the state government in its usual charismatic manner to take the bull by the horn and be more proactive in proffering a lasting solution to perenial flooding in the State.
A state emergency response agency should be established to cater for disaster victims and end the dependence on the Federal Government for assistance, that never really comes.
We similarly urge local governments in the state to set up structures for assisting flood casualties since federal agencies only intervene at a stage of the flooding which may be too late. We suggest that both the local government councils and the state government jointly mitigate flooding at the preliminary stages to avoid colossal disaster.
Residents can also assist the government to prevent flooding of urban areas by desisting from building on water channels, avoid dumping of refuse in the drains and clear their drainages to accommodate volumes of water after each rainfall. The Sole Administrator of the Rivers State Waste Management Agency (RIWAMA), Bro Felix Obuah, has so much to do in this regard.
To call on the international community and donor agencies for aid each year flooding occurs may appear an attractive way out, but whatever comes from those sources will remain what they are meant to be – palliatives. The ultimate solution, therefore, is for the Nigerian authorities to do what they necessarily and urgently have to do to check this perennial disaster that is becoming a stigma because of the primitive approach to managing it.
October 15, 2021, was Global Handwashing Day, an international awareness day devoted to boosting people's perception of handwashing with soap as an effective and affordable way to stave off diseases and preserve lives. Washing hands with soap and water has proven to be a vital ingredient for access to health, education and gender equality.
The 2021 theme is "Our Future Is At Hand – Let's Move Forward Together". The Covid-19 pandemic has prompted the world to respond to the importance of soap-based handwashing. As the pandemic progresses, investments necessary to improve hand hygiene are needed to help society avoid Covid-19 gloom and build a healthier, more resilient future.
In 2008, over 70 countries took part in the first World Handwashing Day. It was attended by more than 120 million children from around the world. All the children washed their hands with soap. Since then, people have commemorated this day to spread awareness about hand washing, build sinks, taps, and flaunt the simplicity and value of clean hands.
Keeping the hands clean can restrain a series of respiratory and diarrheal diseases that may incredibly affect health. The day also advances knowledge about the positive implications of clean water and the provision of soap in public schools, health care facilities, and other public places, and it became even more valuable after the outbreak of the Covid-19 pandemic.
Unfortunately, despite the worldwide concern for hand hygiene, many remain without access to soap and water. For example, in African countries, only about one-quarter of households have facilities for hand washing using soap and water. Through the Covid-19 response, countries, partners and communities are investing to enable others to wash their hands more often.
In several countries, the authorities have installed hand-washing facilities at bus stations, markets and health care facilities. In particular, Zambia has taken one step further by introducing mobile hand washing stations with slopes and levers that can be used with knees, feet or hands for people with disabilities.
Indigenous solutions are emerging throughout Africa. For instance, in Ghana, a taxi driver installed an automated hand washer in his car for passengers. In Kenya, nine-year-old Stephen Wamukota invented a hand-held washing device that uses a pedal lever. The challenge now is to scale up those innovations and others, and this is where public-private partnerships and financial incentives can play a key role.
In June 2020, UNICEF and WHO launched the Hand Hygiene for All (HH4A) initiative, in which 40 countries, including 22 African countries, developed roadmaps towards universal health coverage. Partnerships with the private sector and civil society are critical to the successful implementation of these standardised procedures.
As Nigerians joined the rest of the world to observe the Handwashing Day, the Minister of Water Resources, Engr Suleiman Adamu, cautioned that the war against diseases could not be won without fitting hand-washing with soap. He also explained the essence of the day, saying that Nigerians have to suck in the culture of hand washing in their everyday activities.
He said, "Handwashing is a 'first-line' defence in preventing outbreaks and reducing the toll of both current and future pandemics. Handwashing with soap also helps to ensure the sustenance of efforts to end Neglected Tropical Diseases (NTDs) such as river blindness, lymphatic filariasis, onchocerciasis, soil-transmitted helminths and schistosomiasis."
Here in Rivers State, the event was appropriately marked with the Commissioner for Ministry of Water Resources and Rural Development, DrTamunosisiGogo-Jaja, clarifying that handwashing contributes 40 per cent to the preservation of people against diseases. He made this clear when he announced the 2021 world event and launched the campaign against the exposure of bottles and sachet water to sunlight in Port Harcourt.
Gogo-Jaja stated that handwashing made positive contributions during the pandemic and required everyone to get used to washing their hands. We support the initiative of the Rivers State Government and call on residents to always abide by all laws and regulations aimed at improving health and life expectancy in the state and do what is needed to remain healthy.
We urge all levels of government, partners and communities in Nigeria to deepen their strategies to improve access to clean water and sanitation. Handwashing with soap and water is one of the most cost-effective ways to reduce disease transmission. Everyone should remember the slogan: "Each second, save lives – wash your hands" to prevent the spread of Covid-19 and other diseases.
The federal government's "Clean Nigeria: Use the Toilet" campaign to stop open defecation in the country by 2025 should be revitalised and supported. Promoting hygiene as an integral part must be inclusive, with a focus on handwashing at critical times to disrupt the faecal-oral pathway of disease transmission.
In addition, federal, state and local governments may provide households with meagre loans through co-operatives or similar institutions for domestic pipes and sinks. This will contribute to achieving the global objective of Hand Hygiene for All by 2030. Considering that 1.37 billion people (18% of the world's population) do not have hand washing facilities in their homes, we can say with certainty that this issue matters greatly.
Addressing Food Crisis In Nigeria
Nigeria joined the rest of the world in commemorating the United Nations World Food Day (WFD) on October 16, 2021, amid budding concerns of rising global hunger, and mounting evidence of the links between conflict, poverty and food insecurity. It is believed that this is the most widely celebrated event by the UN involving about 180 countries.
WFD was established by the United Nations Food and Agriculture Organisation (FAO) in 1945 and is acclaimed on 16th October of every year in over 180 countries to bolster global effective action to end hunger, malnutrition and poverty, and ensure that everyone at all times and place, has physical and economic access to nutritious food.
Collective action across many countries is what makes WFD one of the most observed days of the UN calendar. Hundreds of events and outreach activities bring together governments, businesses, non-governmental organisations (NGOs), the media, and the public. They promote worldwide awareness and action for those who suffer from hunger and for the need to ensure healthy diets for all.
This event has taken a divergent theme every year to spotlight on areas that require action and offer a common objective. The 2021 theme is "Our Actions Are Our Future: Better Production, Better Nutrition, Better Environment, Better Life", with the goal of actions to make sustainable and healthy diets affordable and available to all.
Over the years, the WFD observance in Nigeria has been a laudable event that highlights the government's strategic support and assistance both in addressing emerging challenges and in promoting far-reaching interventions to guarantee food security in the nation. Yet, Nigeria's food system is faced with severe challenges, making it hard to provide citizens with supportable, nutritious and safe food. Despite the unlimited agricultural resources, Nigeria is not a food-secure country.
The country has a bright future in terms of food security, and the potential for sufficient food is huge. However, in the past few years, it has been importing large quantities of food. According to the National Bureau of Statistics (NBS), between 1990 and 2011, Nigeria imported about N1.923 trillion worth of agricultural products annually. The value of food imported daily within the period was about N1billion while it exported a paltry N127.2 billion.
This has been somewhat attributed to the significant disruption of farming activities by the Covid-19 movement restrictions during the planting season and abnormal rainfall patterns leading to flooding of farmlands. The farmers/herders clashes and in recent times, banditry and kidnapping are additional threats to agricultural productivity. Banditry and kidnapping particularly are at an alarming rate in the North-West, the primary wheat cultivation region.
Borno, Bauchi, Yobe, Kano, Jigawa, and Zamfara States are the major wheat producers and these states are undergoing military operations in the fight against terrorists and bandits. These restrictions make it difficult for farmers to access their farms. The unfortunate events have led to a spike in food prices reflected in the food inflation rate of 22.7 per cent in April, according to the NBS.
Growing food is a responsibility of states, councils and the federal authorities to save the country from the brink of famine. They have to be committed to increased food production and refocus on security. This will create new opportunities to pique economic growth and prosperity. As part of activities to mark the day, the Rivers State Government unveiled plans to embark on an aggressive agricultural development across its 23 local government areas.
The 2021 WFD celebration in the state was held at the Rumuodomaya Farm in Obio/Akpor with the theme: "Safe Food Today For A Healthy Tomorrow." Governor NyesomWike was lauded for establishing the Rivers State Cassava Processing Company in Afam, Oyigbo council area. The plant will process 45,000 metric tons of cassava tubers into 12,500 high-quality cassava flour for companies and provide over 3,000 jobs.
Also, the state-of-the-art automated abattoir under construction in Mgbuosimini, the proposed veterinary clinic and laboratory in Rumuodomaya, the Benue/Rivers rice initiative, the Covid-19 Action Recovery Economic Stimulus, and the Borikiri Jetty to boost deep sea fishing are other commendable initiatives by the Wike administration to boost agriculture in the state.
Agriculture must be considered as a business. Hence, the policy instrument should be focused on a government-enabled, private sector-led engagement as the main growth driver of the sector. Further, Nigerians have to be galvanised to take to agriculture. The Chancellor of Landmark University, Bishop David Oyedepo, is applauded for incentivising students who desire to study agriculture in the institution. This model deserves emulation.
Despite the avowals, Nigeria still relies on imports. It imports basic foods, including rice, wheat, frozen poultry products, palm oil, vegetable oil and fruits. According to data from the NBS, in the first quarter of 2021, Nigeria's agricultural imports exceeded exports by N503 billion. This is risky. Soon, it may not be able to fund this consumption pattern again. A country that cannot feed its citizens is courting disaster, as hunger provokes anger.
In recent times, the Federal Government's unrestrained penchant for domestic and foreign loans has been variously criticised as unhealthy for Nigeria's economy. Many economic experts have particularly expressed worries over Nigeria's rising debt profile especially debt service-to-revenue ratio as well as foreign exchange liquidity constraints. These worries were recently exacerbated by the resolve of the Federal Government to borrow N5.01 trillion to finance the 2022 proposed budget.
While presenting the 2022 Appropriation Bill of N16.39 trillion to the joint session of the National Assembly, penultimate Thursday, President Muhammadu Buhari had said that the 2022 budget would be financed by borrowing to the tune of N5.01 trillion. The 2022 budget proposal contains capital expenditure of N4.89 trillion, a non-debt recurrent expenditure of N6.83 trillion, personnel cost of N4.11 trillion and debt service of N3.61 trillion.
The total federally distributable revenue is estimated at N12.72 trillion in 2022 while total revenue available to fund the 2022 budget is estimated at N10.13 trillion. This includes Grants and Aid of N63.38 billion, as well as the revenues of 63 Government-Owned Enterprises (GOEs). This shows that the 2022 budget has a deficit of about N6.25 trillion, approximately 3.39 per cent of GDP. This is slightly above the 3 per cent ceiling set by  the Fiscal Responsibility Act 2007 (FRA). A budget deficit occurs when expenditure exceeds revenue.
While we agree with the President that the huge expenditure budget may be compelled by the need to overcome current security  challenges and accelerate post-recession growth, we are concerned that the Federal Government's resort to borrowing to finance the 2022 fiscal gaps is not good enough for the nation's economy that is already suffocating under the huge burden of foreign loans.
We say this because Nigeria's budget deficit has risen to N20.64 trillion. Data from the budget office, covering 2016 to 2020 show that more than N7.97 trillion was borrowed from foreign and domestic sources to fund the budget deficits. This, to us, is not healthy for our economy. 
Although the President and some economic experts are quick to say that the debt level of the Federal Government is still within sustainable limits, and that the borrowings are tied to some specific critical development projects and programmes, we are worried that the continuous running of the nation's economy on budget deficit is capable of mortgaging the future of the country. 
It is, therefore, imperative that the Federal Government devises various means of improving the revenue profile of the country. While some of the revenue generating initiatives contained in the 2022 budget are commendable, a key focus area may be to explore avenues to diversify export revenue sources away from crude oil, which currently accounts for more than 80 per cent of total foreign exchange receipt.
Concerted and coordinated efforts are also required to improve the policy environment and address insecurity to boost domestic investment and attract foreign direct investments. The government also needs to ensure speedy ratification and strategic implementation of the Africa Continental Free Trade Agreement (AfCFTA) to position Nigeria as a choice investment destination in Africa. 
Meanwhile, it is expected that a robust implementation of the Petroleum Industry Act (PIA) would promote investment in the oil and gas sector, stimulate economic growth and sustainability. Also important is the need to widen the nation's tax net to accommodate more taxable Nigerians. Here, we recommend the resuscitation of toll gates on federal highways to shore up the revenue profile of the government. 
It is also incumbent upon the three tiers of government to be guided by the recent revelations by the Chairman, Federal Inland Revenue Service, Muhammad Nami, that despite having 41 million taxpayers in the country, compared to South Africa's four million taxpayers, Nigeria earned far lower than what South Africa generated from Personal Income Tax.
The FIRS boss said, "Our total taxpayers today are in the region of about 41 million people and the total Personal Income Tax paid last year was less than N1trillion by 40 million people. If you also compare that with South Africa where they have a total population of about 60 million people, with just four million taxpayers, the total Personal Income Tax paid in South Africa last year is about N13trillion. You can now see that these things are not adding up.
"The number of billionaires in Lagos alone are more than the number of billionaires in the whole of South Africa but yet, what we generated as Personal Income Tax by Lagos State Government is just less than N400billion". Nami's revelation might just be another eye opener for the government at all levels that Nigeria has enough wealth to finance its budget and sustain its economy without borrowing.
With the nation's over-reliance on crude oil income to fund the budget, the government may be stretching itself too far in producing enough revenues to fund essential projects. And with the growing borrowing, the future of the country is dreary. We need more investments in the non-oil sectors of the economy.
For the economy to progress and achieve greater significant growth, a reasonable level of budget execution is necessary. But if the government continues to violate existing debt laws, the 2022 budget may go through the disastrous fate of previous budgets. Also, there is a need for migration of businesses from the informal to the formal sector of the economy for easy inclusion in the tax net.
Beyond this, the government must fight against insecurity throughout the country, which hinders local and foreign investment and stabilise the exchange rate policy regime. Let it reduce unemployment and inflation rates. It should spend less on consumption and more on productive sectors of the economy.