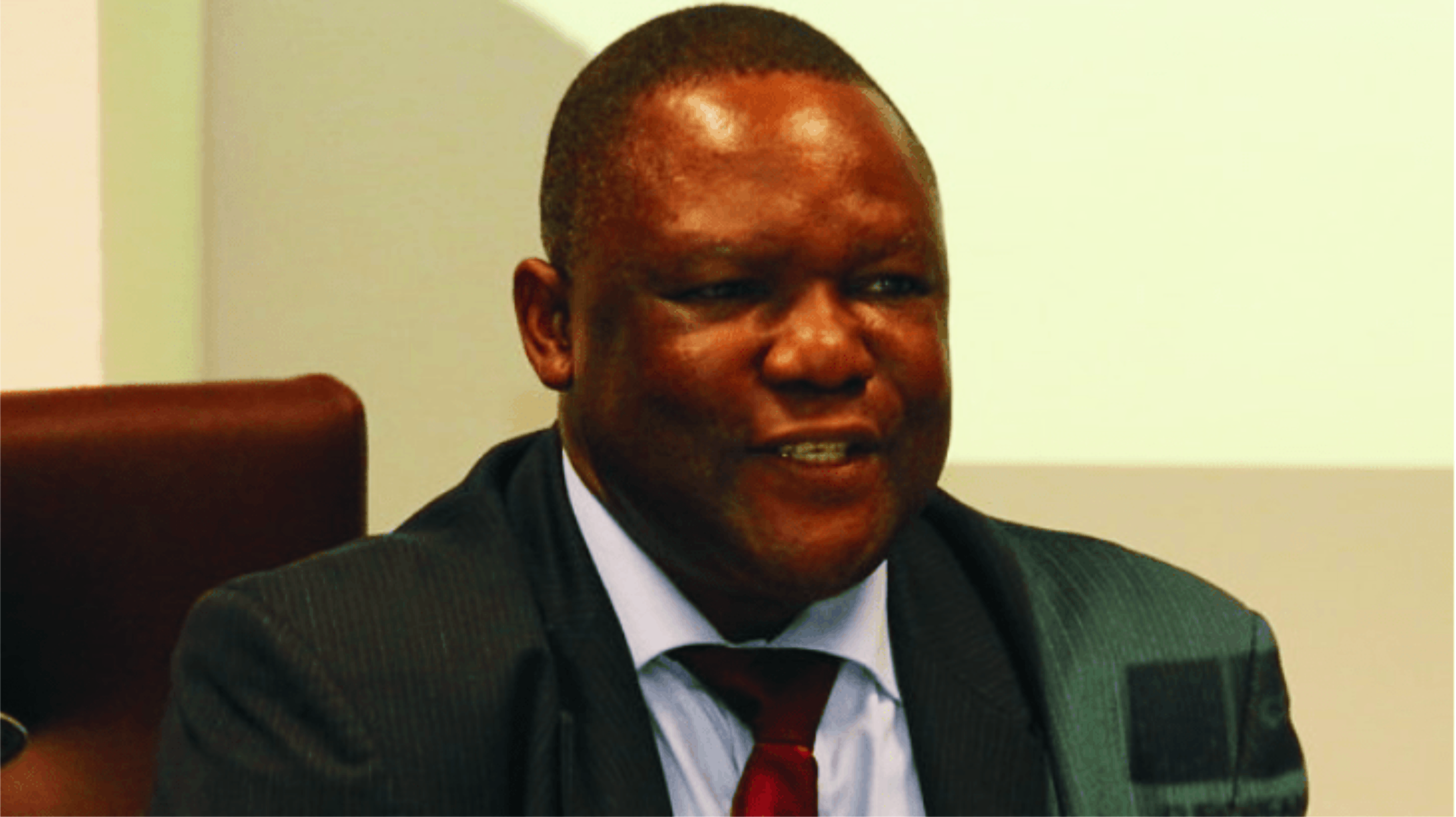 Any Nigerian with a deep inner perceptive capacity would appreciate the early warning signal or whistle blown by a former Deputy Governor of the Central Bank of Nigeria (CBN) Dr Obadiah Mailafia. For saying what he did with regards to the Boko Haram and herdsmen enigma, a radio station which carried his view was fined N5 million under the Hate Speech law. He was also invited for a chat by the Department of State Services (DSS). In a recent interview with newsmen he was quoted as saying: "The fact that I am outraged by all the killings and genocide doesn't make me a radical".
Maybe our security operatives are more interested in smoking out radicals who raise alarm over the state of insecurity in the country, than they are in those who terrorise people in pursuit of some hidden agenda. No doubt, the security situation in Nigeria is becoming such an enigma that some Nigerians rarely have confidence in the nation's security apparatus. Rather, the unexpressed opinion of many people is that some groups and organizations are seeking for some radical changes in Nigeria through unconstitutional means. To allow religious sentiments to undermine democratic ideals would be to place stability in jeopardy.
What we can learn from the defunct apartheid policy as practised in old South Africa is that while it is natural for "birds of same feather" to be together, fortune hunters become predators under the guise of political unity. In the Nigerian situation, there is a suspicion of some hidden agenda, fuelling and spreading insecurity, with Boko Haram, ISWAP, herdsmen, etc, serving as harbingers of the shape of things to come. While vigilante groups in some parts of the country are being asked to surrender fire arms in their possession, no such policy affects Boko Haram, ISWAP and herdsmen who carry intimidating weapons. Obviously, suspicion would incline towards some religious undertone!
Ranging from marriages, political groupings, to other relationships and interactions, being "unevenly yoked together" is a foundation for instability and failure. There are fundamental differences and inequalities among human beings and people feel more at home in the midst of their own kinds. Individual identity, peculiarities and uniqueness derive from culture and environment of origin which are not arbitrary but natural. In spite of individual differences, there are usually points of mutual understanding and cooperation.
Important in Mailafia's recent interview is the fact that "peace is impossible without justice in human associations and interactions. His opinion that "a state governor" is a commander of the marauding Boko Haram terrorists, demands to be looked into by an impartial and professional security outfit. Often, in our intolerance and conceit, we tend to believe that others must be like us, or see things the way that we do. Neither should unity be misconstrued as uniformity. The essence of democracy is freedom to choose and to be ourselves, while holding on to what values that we extol as individuals. But a situation of compulsion of choice or value is dictatorship.
Nation-building demands that already existing foundations must form the basis of mutual interactions, without destroying one, to support another. It is in the ability to manage diversities and differences rather than widen them for political purposes, which makes an astute statesman. What we find is that groups of people who benefit from parasitic political arrangements would hardly allow changes which would deprive them of such unjust advantage. Thus unending agitations and insecurity would continue to brew in society.
The pattern of insecurity in Nigeria, with special reference to Boko Haram phenomenon, points towards a sustained, clandestine sponsorship, for political purposes. Whatever may be the possible political purposes, suspicion goes towards unjust imposition of unconstitutional arrangements in the country. It is quite unethical and retrogressive to suppress one man's ability or freedom in an attempt to boost the position of another. Neither should a nation tolerate ruthless struggles and acts of terrorism for political, religious or economic exploitation of one group by another.
Progress shows itself in the improvement of what already exists, rather than suppress what some one else has, by intimidation. People who seek for a separate existence from where they feel unwanted or marginalised and exploited usually have some moral justification for their demand. Similarly, those who resort to terrorism in their demands must have some reasons for choosing the path of violence. In the case of Boko Haram terrorists, their demands are not made clear.
Suppression is as unnatural as oppression is a ready tool to deal with unreasonable demands. The price which a nation can pay for suppression and oppression can entail unexpected surprises. It is for the avoidance of such unexpected surprises that Mailafia raised an alarm, saying "Nigeria 'll die if we all keep quiet" (Ref. The Tide newspaper, Friday, Aug. 28, 2020.
Despite all human shenanigans and cunning, nature demands that all dues be rendered to their exact owners. When such restitution and balancing are not brought about early enough and peacefully, what follows next is usually a disaster. Much have been said about the state of instability and insecurity in Nigeria. There have been calls for a thorough overhaul and changes in the nation's security system. Perhaps, not many Nigerians would have far-reaching perceptive capacity to foresee the shape of things to come.
What Mailafia did in raising an alarm or blowing a whistle is an act of patriotism. Like he said, his name, Mailafia, means a man of peace. There are other Nigerians who foresee a possible assault on the peace and security of the nation. To use religion to seek political ends can place a nation in a prolonged state of insecurity. Logical evidence point towards this possibility. Nowhere in history has blood sustained power.
Dr Amirize is a retired lecturer from the Rivers State University, Port Harcourt.
Bright Amirize

Africa And Protection Of Children's Rights
Africa's foremost sage and rights activist, Nelson Rolihlahla Mandela, on 2nd August, 1996 groaningly emphasized, "Africa is renowned for its beauty, its natural heritage and prolific resources – but equally, the image of its suffering children haunts the conscience of our Continent and the world". Similarly, at the launch of the Blue Train, Worcester Station, South Africa on 27th September, 1997, Mandela ardently expressed, "The true character of a society is revealed in how it treats its children". Yet again, at a luncheon hosted by the then United Nations Secretary General, Kofi Annan, another pride to the Continent at the Special Session of the UN for Children, New York City on 9th May, 2002, Mandela exploded, "History will judge us by the difference we make in the everyday lives of children".
From these remarks, Mandela aristocratically, foresightedly fixated his eyes on the future of the society considering children as the leaders of tomorrow. Orchestrating the garbage-in, garbage-out recipe, invariably – whatever investment made in a child today extensively determines the society's future. Unfortunately, the wellbeing of children particularly in African countries leaves much to be desired. The pertinent question precisely to leaders is; what future is in view vis-à-vis investment in children in the society outside their own?
To lend a hand, the pathetic conditions children in most public schools find themselves cannot be overemphasized. The psychological effects alone are awful. Some pupils even sit on bare floors owing to shortage of chairs. That's where there are actually classrooms. Above all, children's hawking defiantly to Article 28 of United Nations Convention on Child's Rights (CRC) particularly during school sessions poses another question for parents, guardians and governments. Calculably, the Convention hit thirty years this year, 2019.
For emphasis, Article 28 states, "All children have the right to a primary education, which should be free, and different forms of secondary education must be available to every child. Discipline in schools should respect children's dignity. For children to benefit from education, schools must be run in an orderly way – without the use of violence. Any form of school discipline should take into account the child's human dignity".
Correspondingly, an Italian renowned educationalist, Maria Montessori (1870-1952) remarkably avowed, "Early childhood education is the key to the betterment of society". Could this consequently imply the society is deservedly reaping what it sowed by oversights of some fundamentals in the past? For example, the number of children and teenagers consistently participating in protests in the recent times in Nigeria's federal capital is worrisomely, a pointer to out-of-school large population. The ugly situation unconsciously presents a clue of high numbers of supposed pupils and secondary school students roving the streets. Concisely, this is abysmal failure on the system.
By Article 1 of the CRC, "Everyone under the age of eighteen has all the rights in the Convention". Article 2 elaborately provides, "The Convention applies to every child without discrimination, whatever their ethnicity, gender, religion, language, abilities or any other status, whatever they think or say, whatever their family background".
The CRC is the first legally-binding international agreement setting out the civil, cultural, economic, political and social rights of every child, regardless of their race, religion or abilities. The provisions and principles of the CRC guide UNICEF in its operations with 54 Articles and three Optional Protocols. Equally, the Convention spells out the basic human rights that children everywhere have: the right to survival; to develop to the fullest; to protection from harmful influences, abuse and exploitation; and to participate fully in family, cultural and social life.
An Optional Protocol on the other hand, is an accord that complements and adds to an existing human rights treaty. For this reason, only States that have already agreed to be bound by a parent treaty may choose to be parties to optional protocols. However, it is fundamentally pertinent to note that whilst the Convention protects children from harmful and exploitative works, it doesn't prohibit them from helping out at home in ways that are safe and commensurate to their age. Notwithstanding, under no circumstances would children's work jeopardize any of their other rights, particularly the right to education.
The Unitarian Universalist – United Nations Office (UU-UNO) through its "Every Child is Our Child" (ECOC) programme has supposedly recorded laudable feats in ensuring that vulnerable children reach their full potential by providing them with opportunities to attend school and receive all necessary medical attention.
Splendidly, UNICEF–Nigeria has been in the lead of avid crusades on the protection of children's rights in the country especially through public enlightenment programmes. Similarly, President Muhammadu Buhari's Primary School Pupils' Feeding Programme; a policy for promoting child-education is a booster. From investigations, the feeding-programme has remarkably, strategically increased the population of pupils in schools it is operative. Nonetheless, a lot still needs to be done. Government at all levels should make it a priority to provide standard learning environments alongside competent teachers and teaching materials.
Commendably, the Inner City Mission; an arm of Christ Embassy Church, established and efficiently manages a standard school – The Inner City Schools for indigent children in the society. Other corporate organizations can considerately join forces as a social responsibility. The bad news – any untrained child may turn into a terror later against the entire society including the trained ones, thus, an undesirable convergence point.
Permit me to sum up with Nelson Mandela's remarks in 2003 at the University of Witwatersrand, South Africa. The noble said, "Education is the most powerful weapon which you can use to change the world". Conceivably, the Boko-Haram and other deadly sects in Nigeria may not have come into existence if past leaders did the needful by making child-education appealing in the society. Possibly, amongst the sects today could have been scores of eminent medical doctors, lawyers, scientists, professors and other professionals had the governments avidly promoted child-education accordingly.
Umegboro is a public affairs analyst.

Barring any last minute intervention, members of the organized labour will on Monday, September 28, commence an indefinite strike action over the recent adjustment in prices of Premium Motor Spirit (PMS) and electricity tariff.
The workers under the umbrella of Nigeria Labour Congress (NLC) and the Trade Union Congress (TUC) faulted the increase of the price of PMS from the official N145 per litre to N151.56 and almost a 100 per cent increase of electricity tariff, saying it will add to the excruciating hardship in the country. The labour unions further argued that the hike, coming in the midst of the COVID-19 pandemic, was not only ill-timed but also counterproductive.
Knowing how our life in Nigeria revolves around these two key items, one can imagine the ripple effect the price adjustments will have on virtually every aspect of our economy. Some prices of food items and other commodities have already skyrocketed, transporters have increased their fares, property owners will definitely increase their rents. School owners will also take a cue and ambush parents with adjusted fees when schools eventually resume. Of course, all these make nonsense of the paltry N30, 000 recently added to workers' salary which some state governments are still finding it difficult to pay.
However, given the federal government's reasons for the latest price increases, it will be advisable the leaders of the labour unions reconsider their decisions to down tools as the government seems to mean well for the nation this time. According to President Muhammadu Buhari, the COVID-19 pandemic which had affected economies globally, compelled his administration to make some necessary far-reaching adjustments for long-term gains.
He said government's fixing or subsidizing PMS prices, would mean a return to the costly subsidy regime with the potential return of fuel queues, adding that there was no provision for fuel subsidy in the revised 2020 budget and assured citizens of the government's determination to remain alert to its responsibilities by preventing marketers from raising prices arbitrarily or exploiting them.
The Minister of State for Petroleum Resources, Timipre Sylva, had earlier explained that removal of subsidy was not a political decision but had become inevitable, especially with the effect of the COVID-19 pandemic, the low crude oil prices and curtailing of Nigeria's production output by OPEC, which had constrained government's revenue. "We have cut production to 1.412 million barrels, which has halved our earnings," he disclosed.
These are convincing, cogent reasons for the price adjustment if you ask me. Nigeria does not exist in isolation and so is bound to be affected by global occurrences, particularly in the oil sector which is the mainstay of our economy. It has been severally argued that as long as the nation continues to export its crude oil only to import the refined oil for our huge local consumption, we shall continue to leave at the mercy of international oil price determinants. Meaning that the current N151.56 per litre might not be the last price increase because if crude oil price goes up or down, it will reflect at the pumps.
Indeed, it's baffling how an oil producing nation like Nigeria, Africa's largest oil producer with about 200 million population and an estimated 12.8% annual demand and consumption of petroleum cannot boast of a single functional refinery.  Records have it that the country has spent about $25 billion in turnaround maintenance of the existing major refineries vis-à-vis Warri, Port Harcourt and Kaduna refineries in the past 25 years, yet the facilities are still moribund. Thousands of workers at these refineries go to work, earn salaries and allowances and are duly promoted for doing nothing; not because they do not want to work but because the plants are down.
Over the years back, the Federal Government has issued 45 licenses to private companies for the construction of refineries, including modular refineries. All the licenses issued till date have a combined capacity to refine 2.15million barrels of crude oil a day and we were told that the refineries, when completed, will turn Nigeria into West Africa's refining hub and cut billions of naira spent yearly in importing refined products. Apart from Dangote refinery, said to be coming on stream soon, not much has been heard about others.
Rather, we continue to thrive in the business of exporting our God-given crude oil to other countries that may not be blessed with the natural resource, but have patriotic, selfless leaders, who consider the good of their countries above every other thing and have invested enormously on infrastructures like refineries to make lives better for their citizens. An analyst once likened what happens in Nigeria's oil sector to a farmer who after planting, nurturing and harvesting his yams, takes them to a faraway community to sell at a giveaway price. He later goes back to the same buyer who has cooked and pounded the yam to buy food to feed his family at an exorbitant price. Can this farmer be considered to be wise?
So instead of embarking on strike just for the sake of it and making the already bad situation worse for the citizens, labour leaders  should come up with ideas on how to  have functional refineries in the country, dialogue with the government on best ways to implement those plans. They should constantly engage the authorities on this. They can give the government an ultimatum on when to get the agreed plans executed so that the issue of fuel importation will be a bygone in the country. Failure of the government to keep to the bargain, labour can take whatever legal action to press home their demands and they will definitely have the support of many Nigerians.
So instead of insisting on reversal of the petrol pump price which might not be in the best interest of the citizens and the nation, the labour unions should see to it that all governments' plans to cushion the effect of the subsidy removal are carried out. They should ensure that the nationwide roll-out of cleaner and cheaper alternative to petrol; the introduction of new funds for Nigerians at cheaper rates by the Central Bank of Nigeria; the adequate monitoring of the prices to ensure that marketers do not reap off the populace and other palliative measures promised by the government should be effectively implemented.
By: Calista Ezeaku

Edo Poll: INEC Presents Certificates Of Return To Obaseki, Shaibu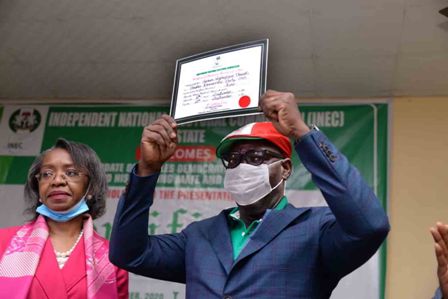 The Independent National Electoral Commission (INEC), yesterday presented Certificates of Return (CoRs) to the winner of last Saturday's governorship election in Edo State, Governor Godwin Obaseki, and his running mate, Mr Philip Shaibu.
The Tide source reports that the ceremony took place at the Collation Centre, at the State headquarters of INEC in Benin.
The Edo governorship election Returning Officer, Prof. Akpofure Rim-Rukeh, had on Sunday declared Obaseki of the Peoples Democratic Party (PDP) winner of the governorship election in the state.
Rim-Rukeh had declared Obaseki winner after polling 307,955 votes to defeat his closest opponent, Pastor Osagie Ize-Iyamu, of the All Progressives Congress (APC) who garnered 223,619 votes and 12 other candidates.
The INEC National Commissioner in charge of Edo, Bayelsa and Rivers, Mrs May Agbamuche-Mbu, presented the certificates of return to both the governor-elect and the deputy governor-elect.
Agbamuche-Mbu said that the presentation of the CoRs was a statutory obligation of the commission which must be carried out within seven days after its declaration of a winner.
"This occasion is only made possible because of the successful conduct of the governorship election last Saturday, September 19.
"INEC, I believe, has played its humble part but we have always maintained that a successfully conducted election is a collective effort, and so it has proven to be," she said.
In his acceptance speech, Obaseki thanked God and Edo people for a peaceful election, adding that history had been made in the state.
Obaseki said INEC's National Chairman, Prof. Mahmood Yakubu, should receive most of the accolades for his steadfastness and ability to withstand pressure, adding that using his intellect in introducing technology for the election should be hailed by all.
"Despite all the criticisms, the ability of INEC to view results as the counting is taking place in polling units is one innovation we will implore INEC to maintain and improve on", he said.
"Because it has introduced different element of transparency in the way we conduct election in Nigeria
"I am using this opportunity to extend a hand of fellowship to my brother, Osagie Ize-iyamu, and other colleagues in the APC to work with us to move Edo forward.
"On a specific note, I want to use this occasion to call on former National chairman of the APC Adams Oshiomhole that the fight is over, to come and join in building the house where he was part of laying the foundation.
"We have no malice; the only thing we disagreed on is on the approach in moving Edo forward.''
Obaseki, who also commended President Muhammadu Buhari, said the president would be remembered as the father of democracy in Nigeria.
"This is because he had a choice to ensure and insist that his party wins in the state but he rose above partisan politics, and insisted the right be done," he said.
According to him, I want to finally thank his royal majesty, Oba of Benin, Oba Ewuare II, for his fatherly role, for the prayers for peace, and for being that symbol we all look up to.
Earlier in his address, the state Resident Electoral Commissioner of INEC, Mr Johnson Alalibo, said the ceremony was just another fulfilment of the provisions of the law.
"My joy knows no bound as I am standing here to present this welcome address, having conducted an election without any loss of life," he said.
Alalibo commended the candidates, security personnel and the entire people of Edo for their display of professionalism and maturity during the election.
According to him, this election has already been adjudged as one of the best and it shall so remain in the annals of our history.