Retirees Drags Cross River State Government To Industrial Court Over Non-Payment Of Gratuity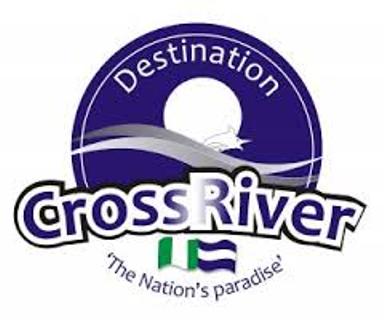 Top ranking retired civil servants in Cross River State, including permanent secretaries, have allegedly concluded arrangements to drag
the State government and the Accountant General to National Industrial Court in Calabar for refusing to pay them their gratuities since 2014.
Our correspondent gathered that some retirees have not been paid since 2014, the  development which has prompted many of them to be embarking on peaceful protests occasionally to Governor's office, but protests yielded no result.
It would be recalled that late last year, a twenty-six-year-old man, Mr. Joseph Odey, also staged a one-man protest with a placard, 'Your Excellency please pay gratuity, my family is distressed,' He had told newsmen that his late father put in 32 years of faithful service to the state and died as a school principal a few months before he was due for retirement.
On the planned litigation, a retired permanent secretary, who spoke to our reporter on condition of anonymity, said the court case was the last option since all entreaties and protests have failed, submitting that they were waiting for their legal adviser and solicitor to commence action.
He also alleged that some staff in the Accountant General's office were demanding gratification of about N200,000 to facilitate payment of gratuities.
But the Accountant General, Joseph Adie, in a chat, described as untrue the allegations that officers in charge of processing documents were asking each retiree to cough out a whooping N200,000 before such papers could be processed.
He said, "well, I want to assure Cross Riverians that nobody have told me that there is demand on pensioners to pay anything before they get paid. My office here is not aware of such demand.
"It is a grievous matter to ask a retirees and pensioners to begin to pay monies for their gratuities or whatever. It is an act of wickedness. In a situation like this, I must confess to you that I am not aware of that type of demand from anywhere, and I will be the last person to be a partaker. As we speak, we have cleared 2013," he said.
Explaining what could have caused the delay in payment, Adie, a Chartered Accountant, said "the highest allocation that came to the State was N3 billion and that at times, the State would receive as paltry as N1.1 billion and N1 billion respectively", but added that "even States with highest allocations were also finding it hard to pay as at when due."
"I am sure you will be surprise that even those States that have the highest allocation owe pensions. Some of them are not even making effort to pay, but we have tried. We are paying, in fact at a point, we were setting aside N200million every month for payment of gratuities.
On why some persons who retired between 2016 and 2017 had gotten their gratuities paid while those in 2015 and 2016 were yet to be paid, the AG said it was an express order from the Governor of the State that  some persons with critical health issues in that batch be paid.
"You know some people have health issues like spinal cord problem. Yes in cases like this, I get my special approval from the governor that such people be paid. They are only two on the line now but if he approves and there are no funds,  we still have to pray but the truth is that such are considered as special cases," he stressed.
From FRIDAY NWAGBARA, Calabar.
Host Community Set To Resolve Chieftaincy Tussles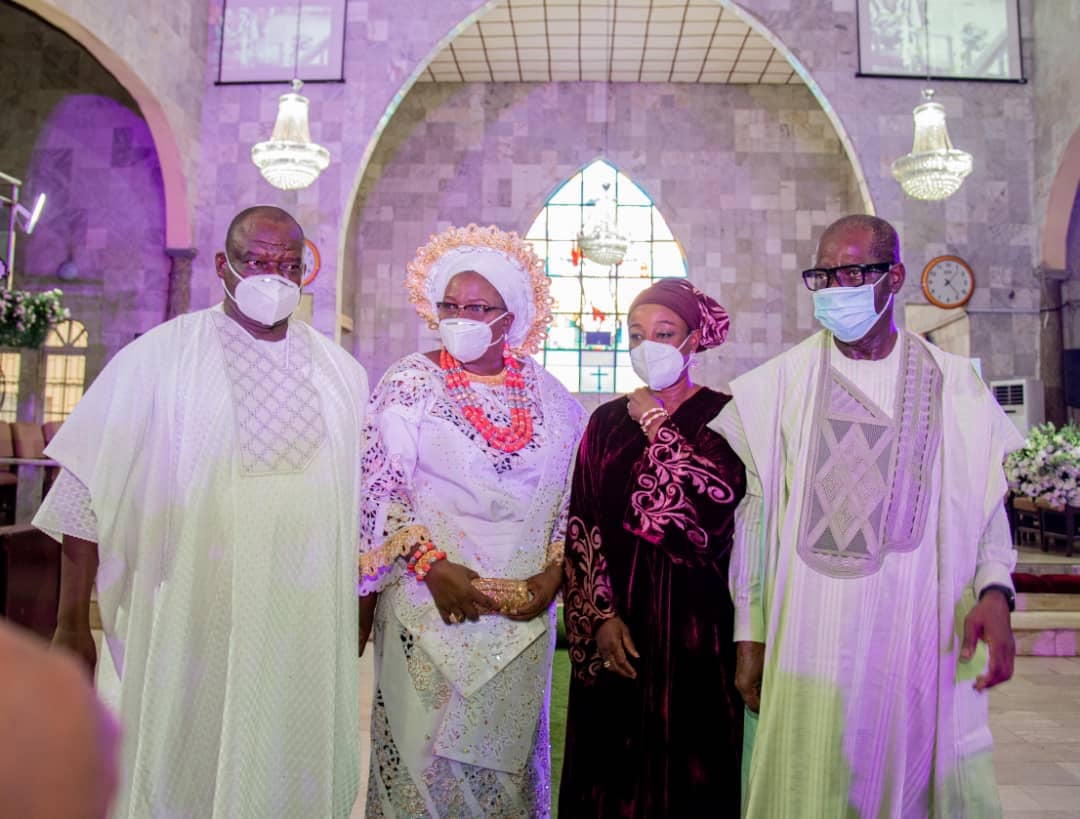 Otuasega community of Ogbia council area of Bayelsa State has said they were willing to resolve the protracted chieftaincy tussle bedeviling the community before August this year.
The Tide learnt this at the weekend by the community's interim leader and CDC chairman, Mr Igbuasi Gbanibebi.
Igbuasi who also doubles as the chief security officer of the SPDC's host community hinted that the community's leadership has resolved to end all contentious court cases on who becomes the Paramount ruler of the community.
He regretted that the suits instituted by the contenders to the throne, owing to the 2018 disputed chieftaincy election of the community have impeded development.
"We've decided as a community to withdraw all the cases concerning our chieftaincy election from court.
Though our tenure as CDC and community leadership would end by August this year, we're resolve to end all cases and install a paramount ruler before we leave office on or before August", he said.
"We're talking to the contenders to the throne, hopefully they're are cooperating, but should they refused, we would ask all of them to stop drawing us backwards and use the old traditional means or ask the clergy in the community to fast and pray, and then tell us whom God has ordained as our Paramount ruler", he added.
Igbuasi who also spoke on the prevailing peace in the community in the absent of a substantive monarch commended the joint task force, JTF, Police and the community's own vigilante service for sustaining the peace in the area.
Diri Solicits S'Korea's Partnership On Agric, Infrastructure Dev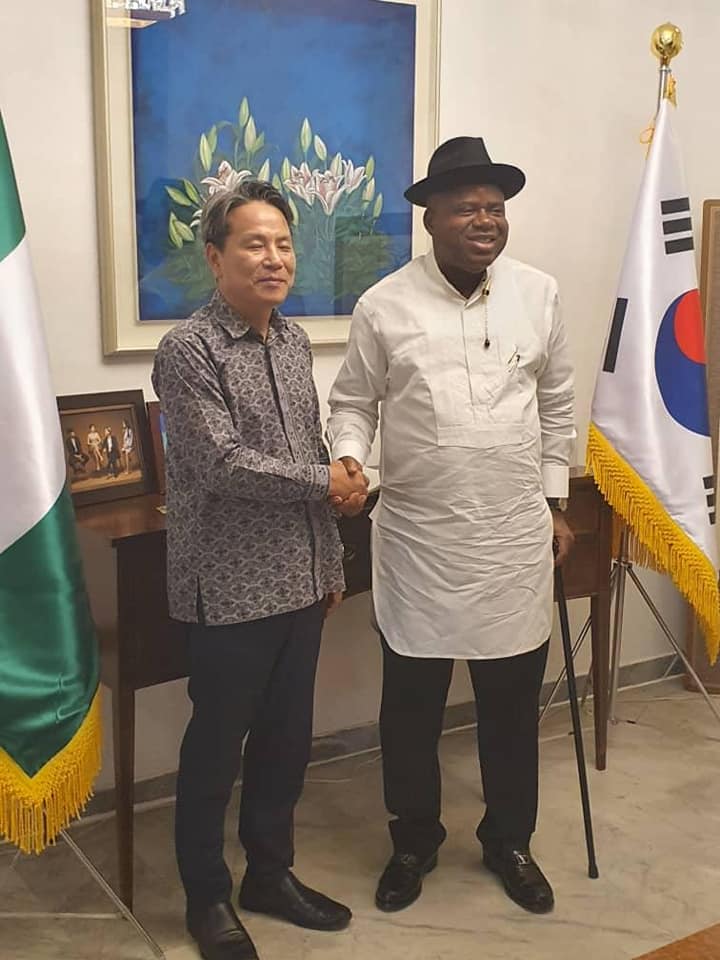 Bayelsa State Governor, Senator Douye Diri, has sought the partnership and support of South Korea in areas of agricultural, maritime and infrastructure development of the state.
At a meeting with the South Korean Ambassador to Nigeria, Kim Young-Chae, in Abuja, Governor Diri said given its maritime similarity with Bayelsa State, the state also needed the South Korean expertise and partnership in developing deep-sea fishing, aquaculture and rice cultivation.
His Chief Press Secretary, Mr. Daniel Alabrah, in a statement, quoted the governor as saying that the state was equally interested in partnership in education, science and technology as well as in oil and gas.
He said his administration pays serious attention to the issue of security as top priority and has conscientiously worked with the security agencies to make Bayelsa and its maritime domain safer than before.
"The purpose of this meeting is to explore areas of economic partnership and seek the expertise of South Korea in developing our state and its economy.
"Bayelsa has huge potential in agriculture and marine resources. We seek foreign investment in aquaculture and deep-sea fishing. Our terrain is good for aquaculture to thrive as well as rice cultivation and production with the large expanse of land already in Peremabiri and Sampou. We are trying to revive the culture of farming in our state. The government is interested in commercial farming as against the culture of subsistence farming that a lot of our people engage in", he said.
"The South Korean expertise is also required in the production of plastics, in science and technology and the oil and gas sector. Our administration is taking deliberate steps to open up the state. This can be done through massive road construction and development of infrastructure, including how to control the perennial flooding in our state. We seek your partnership and expertise too in this area", he added.
Governor Diri noted that such partnership would help in empowering youths of the state that would be given training in order to check youth restiveness and militancy.
By: Ariwera Ibibo-Howells, Yenagoa
Anambra Guber Poll: Bayelsa Deputy Gov Predicts Victory For PDP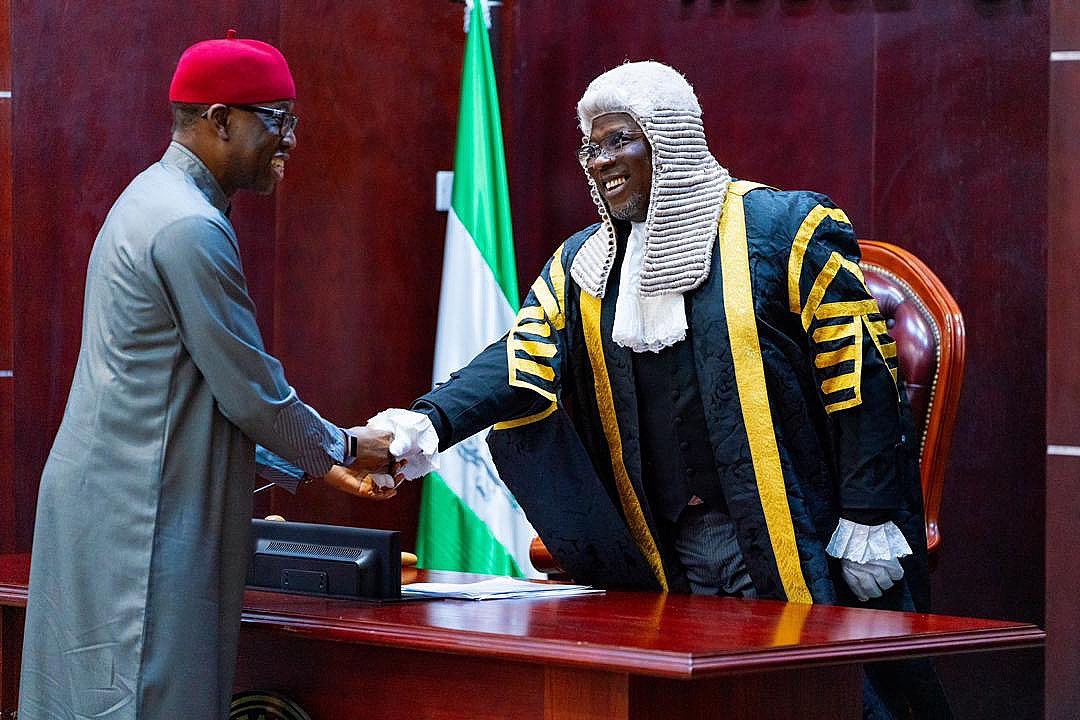 Ahead of the November 6 Governorship Election in Anambra State, the Deputy Governor of Bayelsa State, Senator Lawrence Ewhrudjakpo, has said that the Peoples Democratic Party, PDP, would coast home to victory in the south-east state.
Ewhrudjakpo expressed the optimism at the state Party Secretariat in Awka shortly after leading a committee to conduct the election of local government delegates for the forthcoming PDP primaries in Anambra State.
A statement issued by his Senior Special Assistant on Media, Mr Doubara Atasi, the Deputy Governor was quoted as, describing the exercise as smooth and successful, noting that 21 delegates were elected in the process.
Senator Ewhrudjakpo, who is the Chairman of the committee, disclosed that additional 21 physically challenged persons representing the 21 local government areas of the state were also chosen by members of the party.
While expressing delight at the show of unity and cooperation among the various stakeholders of the PDP in the state, he maintained that there were strong prospects, that the party has what it takes to win the November 6 election.
According to the Bayelsa Deputy Governor, the PDP delegates were elected in a peaceful, free and fair manner under the supervision of officials of the Independent National Electoral Commission, INEC.
He added that as a law abiding party, the PDP would soon conduct its primaries in accordance with the timeline provided by INEC and give whoever emerges as its flag bearer all the needed support with a view to winning the election.
He thanked the National chairman of the Party, Prince Uche Secondus, the Chairman, PDP Governors' Forum, Alhaji Waziri Tambuwal and Governor Douye Diri of Bayelsa state for giving him and members of the Committee the opportunity to serve the party.
"It has been a very successful programme. As you can see, there is no protest going on. Everywhere is peaceful and calm. So we have successfully completed the exercise, which was witnessed by INEC. Members of our party have freely elected 21 delegates of their choice and also 21 physically challenged persons to represent those who are going to participate in the primaries", he said.