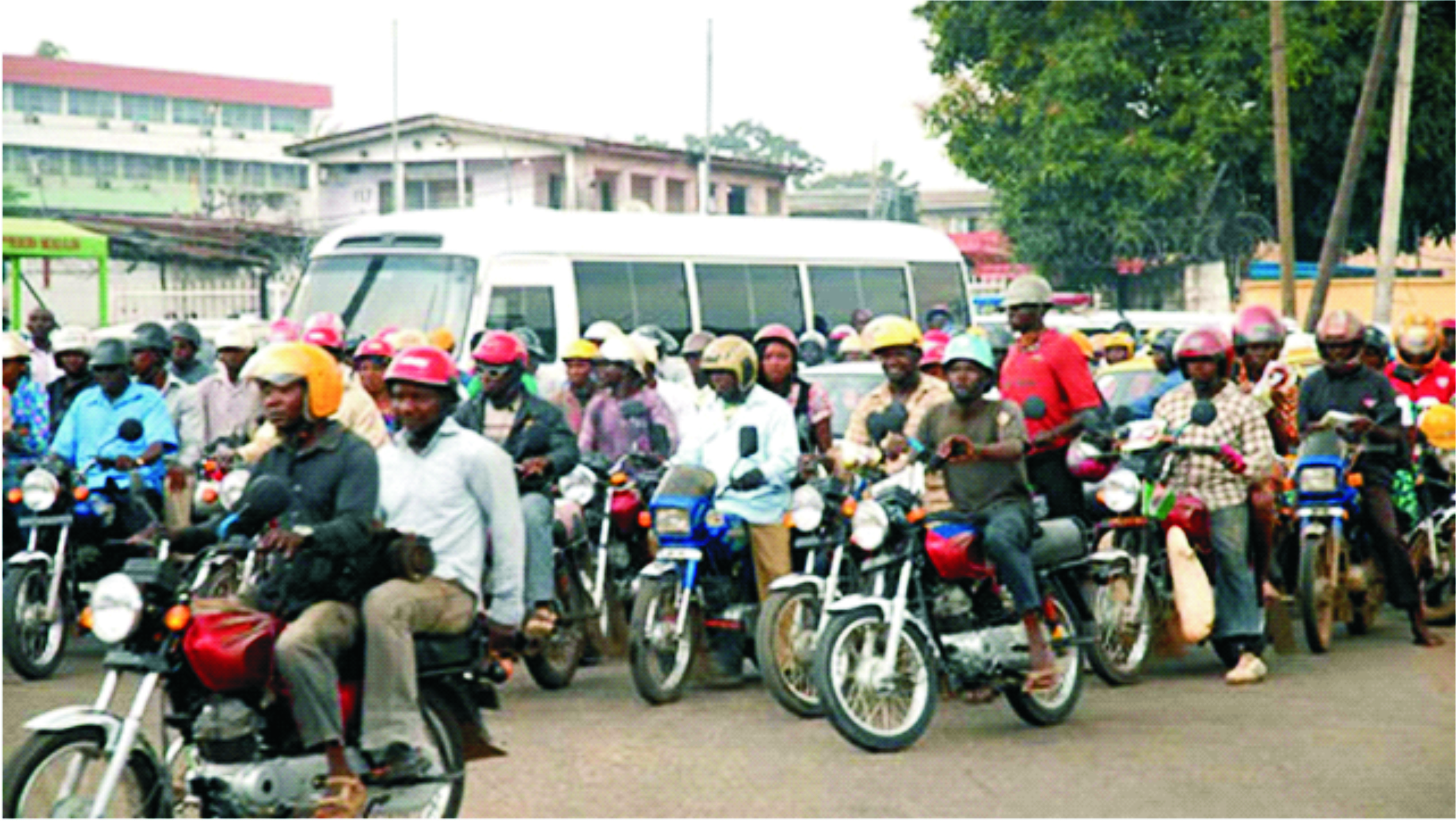 Recently, Lagos State Governor, Babajide Sanwo-Olu, outlawed commercial motorcycles (Okada) and tricycles (Keke Marwa) in the state, leading to pandemonium and criticisms from every nook and cranny of the state. From government's side, the action was targeted at reducing the crime rate in the society.
Admitted, most of the heinous crimes are perpetrated in collusion with Okada operators which clearly manifested recently with the arrest of Okada riders with handguns and other arms concealed inside parts of their motorcycles, which could only be detected with eagle's eyes. Kudos to the Police Intelligence Response Team (IRT) led by DCP Abba Kyari. The group has continued to show expertise in the career and, therefore, deserve encomiums.
However, as the society is tensed up over the unemployment ratio, it must be noted that tricycle and motorcycle transportation have been bridging the gap in unemployment, and thereby contributing positively in a measure to security of lives and properties. The question is; if with the engagement of such a great population of operators, security challenges are pronounced in the society, what will happen when they do not have means of livelihood. Sensibly, there will be fire on the mountain.
To ban the masses' major means of livelihood without first providing alternatives is not ideal. Many of the operators opted for the vocation as a last resort after some ugly incidents knocked them out of the ring. Presently, there are no welfare packages for the masses and the microfinance banks that are supposed to support Small and Medium-Scale Enterprises (SMEs) do not help matters. Clearly, there are no sufficient job opportunities even for the employable class as are available in other countries. Many that are willing to work are roaming around.
Suffice it to say that Lagos State Government should responsibly plan it well; instead, it could put stringent measures in place towards organizing and monitoring it adequately for security reasons. Particularly, there should be compulsory registration of the operators and essentially, restricted in some designated routes. For operation in the highway, certainly, that's a no-go area.
However, what then becomes the fate of residents in the remote area that, due to bad roads, can with less difficulty move around through motorcycles. Suffice it to say that it goes beyond banning but putting necessary infrastructures in place. If there are good roads for vehicles to ply especially mini-buses, certainly, many commuters will not go for motorcycles or tricycles.
The ban similarly occurred in the federal capital territory leaving commuters to suffer in moving around since the long buses in the fleet of Abuja Urban Mass Transit Company are insufficient and, therefore, rarely available at needed times. Commuters are getting excessively stressed up in the Federal Capital Territory unlike before while going to work and other places. So, governments must always ensure that palliative measures are put in place before adopting radical policies so as not to imperil the same lives they intend to protect. Government is essentially about service to the people.
Without doubt, the operators will find themselves in extreme tight corner without any means of survival. If government had designated mini-buses with a hire-purchase scheme as a model, the motorcycle and tricycle operators could key in, and the idea would be unique but to chase out poor masses that are struggling to survive without any provision for them is unconsciously endorsing insecurity.
Absurdly, this is a society where a minister, or lawmaker goes around in official fleets worth over N100 million, yet, ordinary social facilities to the masses are unavailable. The outrageous allowances in the legislative arm is a no-go area. Government must ensure that its policies, no matter how good they may become in the long run, do not first drain the masses.
To expect every business to operate in a modern plaza is a positive plan, however, not realistic vis-à-vis different financial capacities. Rome, they say, was not built in a day. As a coin has two sides, so is any society. Hence, there is need for equilibrium to be able carry both sides along. Otherwise, democracy may shift to become a government of the affluent and for the affluent. So far, the masses are not participants in reality, but reserved valuable assets for campaigns just to get into power. After this phase, everyone is on his own.
Recently, a former 'distinguished senator', on Twitter, brashly justified his passion for insatiably acquiring luxury automobiles when the people in his locality are living in abject poverty. Not even a factory or serious business of his anywhere to create jobs for his people, but displaying customized posh cars with special numbers in the garage. Yet, during electioneering campaigns, the masses put their lives into it for little or nothing.
Recently, about 40 stout bank accounts in foreign and local currencies were allegedly traced to former Abia governor and serving senator, Theodore Orji, and his son, Chinedu (Speaker of Abia State House of Assembly) by the anti-graft agency which buttressed the point well. Imagine the ones yet to be traced!
No wonder many unoccupied estates littered in many places particularly in the FCT with no identifiable owners, possibly for fear of investigation. Nigeria's democracy presently reflects 'lootocracy' than democracy. Apparently, the military sold a looting template to the people, and not democracy as practiced around the world.
To sum, a society that neglects the masses in its plan cannot wake up with radical changes overnight, otherwise, the good policy may end up doing more harm than good. There are millions of adults willing to engage in one lawful endeavour or the other, but find themselves handicapped due to unavailability of jobs and capital. Ideally, any responsible and committed government must take cognizance of this, and put them in the blueprints prior to bans.
Umegboro, a public affairs analyst, wrote from Abuja.
Carl Umegboro

As Illegal Parks, Street Trading Return In PH…
As part of measures to restore the Garden City status of Port Harcourt, the Rivers State Governor, Chief Nyesom Wike,sometime ago, inaugurated a taskforce on street trading and Illegal motor parks.
The taskforce which was headed by a Director General had the mandate to stop operations of illegal street trading and motor parks that littered Port Harcourt City and its environs.
Rumuokoro, Diobu and some parts of Old Port Harcourt township were notorious in terms of illegal motor parks and street trading. These areas were chaotic with all manner of criminal activities being carried out.
However, few days after the establishment of the state taskforce, the menace vanished and orderliness reigned in the city. A drive from Rumuokoro to Mile 3 Park that took over 45 minutes under the then chaotic atmosphere could be achieved in less than 20 minutes.
On street trading in particular, the taskforce was able to eradicate all Illegal activities in the city. Most traders who abandoned their shops in Mile 3 Market in preference to street trading, returned to their shops as those found contravening the street trading laws were arrested and prosecuted.
Dissatisfied by the avalanche of allegations of bribery against officers of the taskforce, Gov Wike disbanded the Bright Amaewhule-led taskforce and promised to constitute another agency to pursue the noble objective of eradicating street trading and illegal motor parks.
However, few months after the dissolution of the state taskforce on street trading and Illegal motor parks, the menace has returned. Virtually all street particularly in Diobu area of Port Harcourt are being decorated with wares of all sorts.
Robert Bassey, a taxi driver, who spoke on the issue said some persons who benefit from the illegal motor parks have viewed the absence of the taskforce as a big opportunity to operate.
Bassey said: "Operators of the illegal motor parks make a lot of money daily. They were chased out of business by the taskforce, so now that the state government has dissolved the outfit, they are fully back to business.
"Not only the operators of the illegal motor parks benefit from the illegality. Take a careful look, you now find out that some private bus stops are also back to the stage. I will not mention names but you will see those begging some commercial bus drivers to stop at certain areas that were not among legal bus stops and after loading you see money being secretly given out in rapped up palms".
The cab driver described illegal motor parks as a very lucrative business venture run by die-hard individuals or group and that they are always there looking for an opportunity to operate.
He revealed that actions of the government like the taskforce that was set up by Gov Wike drastically reduced their operations.
"I have operated as taxi driver in Port Harcourt for over 30 years and I know their antics. Actions of government like the former taskforce put in place by Gov Wike drastically reduced their operations but did not eradicate the menace.
"What they do is to find ways of incriminating officials in charge such that you illegally allow them to operate or find ways to make government disband them", he said.
Another commercial bus driver, who identified himself as Bob Newman operates on Rumuokoro- Mile 3 Park route. He blamed park operators in Mile 3 Park for the problem.
"Oga, just enter the Mile 3 Park and you will find out that there is no space for buses and taxis. They have converted the whole big park to Market. So that is why we are parking and loading outside here.
"Imagine Mile 3 Park which is the largest park in Port Harcourt with over 75 per cent of the space converted to market. If we go there now to oppose them, the Government people will say we have come to make problem. So, we shall continue to operate here for our business", he said.
Another respondent, who simply gave his name as Mr. Mark and an official of the National Union of Road Transport Workers (NURTW)revealed that most Illegal motor parks are run secretly by some disgruntled officials or members of the transport unions.
"They have ideas about how parks are being run and employ stubborn persons as managers. The union is having this problem, but each time their matter comes for deliberation, they create confusion.
"The only solution is for the Governor to constitute a new taskforce so that they will be chased out of business. Otherwise, more and more of such parks" would spring up.
On the operation of illegal bus stops, Mark said uniformed officers, union members and some community boys are behind such.
At Ojoto-Azikiwe Round About which has turned to a street market few metres from the Ojoto market, Miss Clara Nwuche, who sells vegetables told The Tide that though some of them have shops but that there is more patronage by the roadside than in the market.
"What is the gain sitting in the shop without buyers when those who do not pay for shops make better sales here.
"Some of us on this road come from the villages with our stuffs, they sell them off in two hours' time and off to the village. The following morning, they return back. They don't have the money to rent shops in the market," she said.
Comfort Gigi, another street trader, said "No, we are not operating illegally here. We pay money every day and they allow us operate.
"The law is that we must clean the place after selling. They collect N300 and people with bigger Market pay N500 per day but the law is that we must keep the place clean.
Some residents yearn for the coming of the new taskforce promised by Governor
Wike, while dissolving the bribe-infested former one, promised to constitute a more disciplined outfit.
A public analyst, Boni Bontus, said the public encomium that followed the coming of the former taskforce was an obvious mark of public acceptance.
"Let our able Governor set up another one to continue with the job, otherwise the trend would continue to graduate to what we had even before the coming of Gov Wike's administration.
"It is not as if those behind these illegal motor parks and street trading don't know that what they are doing is wrong. You see it is like drug business. The cartels know it is wrong, but the kind of money they make on daily basis,you and I can't imagine.
"My problem is not with those drivers that are being lured to operate or the poor petty traders that make small, small money to survive with their families, but those behind the cartels. They go home with alot of money and tip some government people to turn away their faces.
"Immediately the cartel members are stopped, the game will be over for everybody involved. I trust Gov Wike.He has thorough knowledge of his environment and I believe that he is up to one good plan. What of course is the time? I think the best time is now".
He expressed the need for the engagement of persons of very credible character to man the new taskforce so that they would not fall prey to the antics of the cartels. According to him, some persons in Government are part of the cartels and know how to get through when their members have issues with the authority.
"If men of character are involved in the running of the new taskforce, it would be difficult to bribe them and make mess of this lofty idea of the state government.
The roads are getting tighter by the day and it is obvious that with the rush that is associated with the Yuletide, the problem would be more compounded.
With the commendable efforts of the present administration led by Gov Wike in road constructions, particularly the coming of more new flyover bridges, one can feel the serenity of the much-expected Garden City.
The disorderliness and chaos being promoted by the surging illegal motor parks and street trading in Port Harcourt and its environs, appear to be contradicting the lofty efforts of the state government.
By: Chris Oluoh

Fake News And Social Media Regulation
The issue of regulation of social media is now like a recurring decimal in Nigeria. Recently, efforts had been made by some federal lawmakers to push for the regulation of social media in the country through sponsoring bills aimed at curbing fake news on the Internet.
The Minister of Information and Culture, Alhaji Lai Mohammed, has not failed to use any given opportunity to canvas for the same course. Appearing before the House of Representatives Committee on Information, National Orientation, Ethics and Values to defend the 2021 budget proposal penultimate Tuesday, he said the nation is sitting on a keg of gunpowder regarding the issue of fake news, hence the need for the government to immediately begin to regulate the social media space.
Referring to the recent EndSARS protest across the nation he said, "They mobilised using social media. The war today revolves around two things. Smartphones and data and these young men don't even watch television or listen to the radio or read newspapers. We are sitting on a time bomb on this issue of fake news.
"Unfortunately, we have no national policy on social media and we need one. When we went to China, we could not get Google, Facebook, and Instagram. You could not even use your email in China because they made sure it is censored and well regulated."
The Tide had a chat with Rev Fr (Prof) Walter Ihejirika of the Department of Linguistics and Communication Studies, University of Port Harcourt, on the subject matter who called for caution in going about the regulation.
According to him, fake news (patently packaging fake information and dishing it out), violence videos and terrorism, cyber bullying are some of the negative fallouts of the social media technology which governments across the globe have been grappling with.
He pointed out that what many democratic nations have started doing is to mandate the major technological companies that promote social media to take some measures to ensure that all the negative aspects are not promoted.
"Incidentally, the way it is being presented here in Nigeria is as if the government wants to clampdown on the people, prohibiting them from expressing themselves on social media. It is not clear to us what kind of regulation is being proposed by the government. For now, all we have heard is the minister saying that they need to regulate the social media. But we don't know if what they mean is giving guidelines to technological companies to ensure that they don't carry on their platforms fake news, violent news, cyber bullying and other such things.
"So we need to get more clarity because at the heart of this social media regulation is the issue of transparency, detailing what constitutes fake news, how you identify fake news and so on and so forth. Without that, it goes back to arbitrary decisions which will no longer be good for freedom of speech which the social media gives. So if you are going to regulate it, you need to have clear principles of regulation."
The professor of Development Communication and Media Studies advised that the kind of social media regulation existing in China shouldn't be emulated by Nigeria because China's system of government is not democratic. Rather, it is a communist, totalitarian government where everybody is expected to conform to a certain way of life. Instead, he said, we should adopt what obtains in other democratic systems – which is to navigate between ensuring freedom of speech and, at the same time, trying to mitigate the negative fallouts of social media technology.
"So what should be done is first of all set up clear parameters for the technological companies that can help them to make an assessment about the news, check out some of these news even if they are published on their platforms. If they do some hard checks and find out that they are not real, they have to take it down. It's a very difficult issue because invariably, we are now delegating to technological companies, the responsibility of checking out what is true and what is not true; more so, as what is true for one person may not be true for another person."
He recommended that there should be increased media education aimed at helping people to know their responsibilities in the media, how to use the media responsibly, how to identify fake news and continued social mobilization campaigns to know the dangers of fake news.
The don said though it is the responsibility of the government to put in place proper rules and regulation for the smooth running of the society, they should not be so fast with legislation on social media regulation. Rather, our leaders should primarily put in place good governance where the citizens will feel at ease and at home in their country; where they know there is a sense of equity and justice in the society; where government is seen to be responsible; and where the people can trust the government.
For the citizens, he had this to say, "Every citizen should know the potential dangers of fake news to the well-being of the society. The more we spread fake news, the more we harm our social fabrics, we create enmity among the members of our society, and we weaken our structures and make it difficult for us to cohabit. Every citizen needs to have a rethink. Before you spread or share any information, video or picture, cross-check, be sure that it is really true."
In the view of the Chairman, Nigeria Union of Journalists (NUJ), Rivers State Council, Mr. Stanley Job Stanley, while it is true that some people abuse the social media, the government should not embark on the regulation exercise with the intention of gagging the media or social media users "because it is our right to express ourselves. Those who use social media have the freedom to tell what is happening in society."
According to him, "When you make a law that will deny people the opportunity to express themselves, then you are doing so with bad intention. The regulation should be done with a sincere mind."
He believes sincere, transparent regulation of social media will help in curbing fake news in the country as punishment meted to some culprits will serve as a deterrent to other intending fake news peddlers.
Stanley advised Nigerians to always ensure that whatever information they are sharing is genuine; form the habit of verifying the source of the information; should be very careful and don't believe everything they see on social media.
However, for Mrs. Meg Wilson, a teacher, fake news thrives particularly on the social media because the real information is not released to the citizens by those in government which has created a great trust deficit between the leaders and the led. In her words, "there is nothing like fake without the original. If you think social media dishes out fake news, give us the original, the authentic.
"Look at the issue of Lekki shooting, how Lagos State governor and the military have been going back and forth with the account of what transpired that fateful night. Is that not a way of fueling fake news? What can be more fake than telling us one thing and doing the opposite? Social media is one avenue that has helped people to ventilate and trying to take away our voice will not augur well for anybody.
"If you want to curb fake news, if you want the people to do your biddings, be sensitive to their plight, be open, be sincere, identify with them and they will be on your side naturally."
By: Calista Ezeaku

Checking Financial Leakages In NASS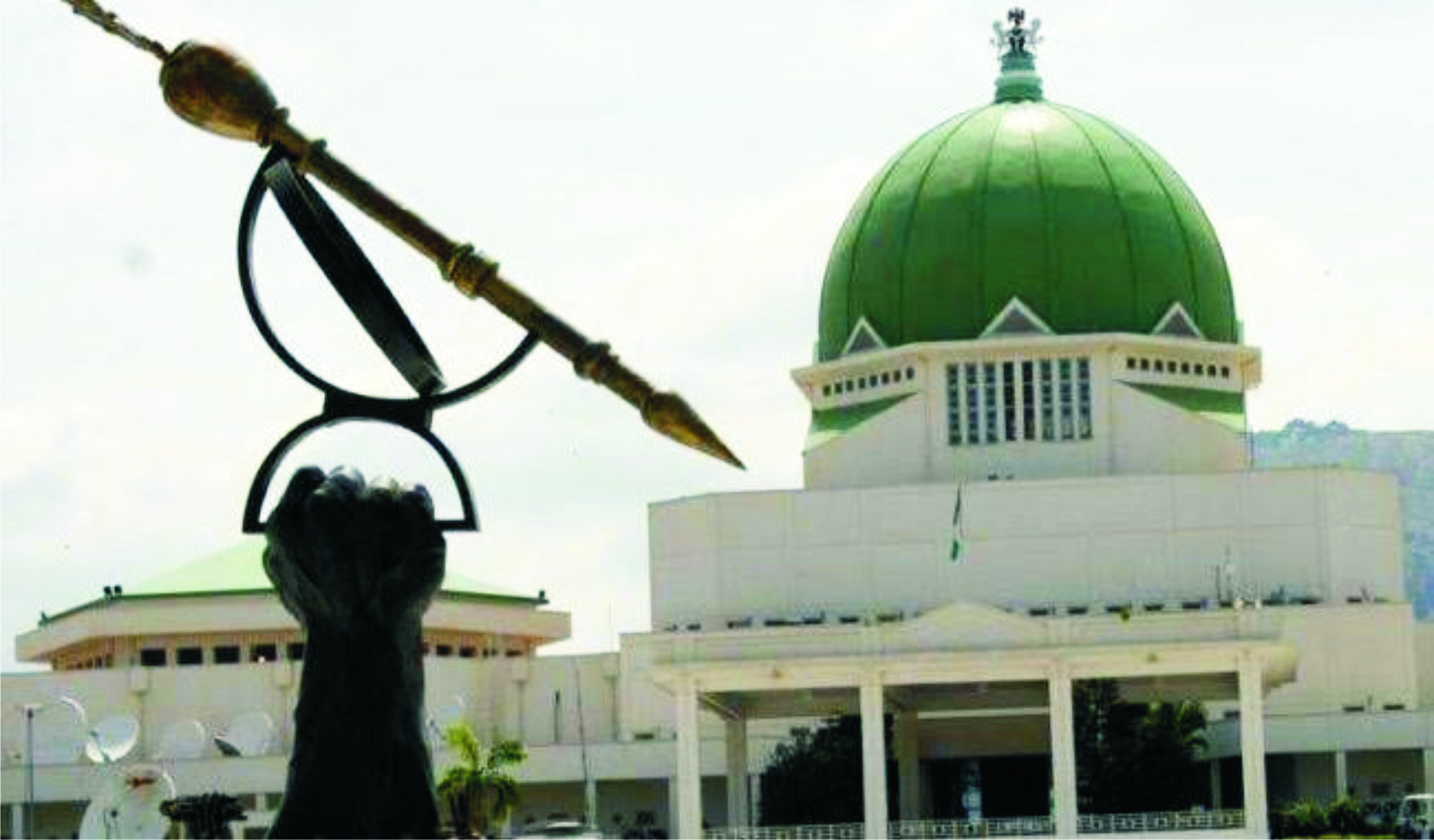 The National Assembly makes laws, controls the finances of the nation and plays a role in checking the actions of government and the ministries.
In spite of these functions, critics note that governance ought to be about the people and better life for the masses but the present situation in the National Assembly in that regard has fallen below the expectations of the electorate.
A social critic, Dr Obed Oduah, says that presidential form of government, especially in the conduct of the National Assembly matters that border on assets' boarding and sales, is worrisome.
He observes that although the National Assembly is made up of elected representatives with defined responsibilities, the cost of running the two chambers — the Senate and the House of Representatives — calls for concern.
Many Nigerians believe that the economy is groaning under the heavy weight of excessive cost of governance and they have been asking what could be done to reduce the cost of government, especially by the National Assembly.
They cite a report that the authorities of the legislature allegedly sold official property such as cars and other public utilities at low prices in which Land Cruiser Jeep purchased on tax payers' money for N26 million could be sold to a member of the National Assembly at N1 million.
The Executive Director, African Centre for Leadership and Strategy and Development, Dr Otive Igbuzor, says that the high cost of governance has impeded economic development in the country.
According to him, the problems are not unconnected with corruption and wastages in governance and, above all, the high cost of doing government business, especially in the National Assembly.
A concerned citizen, Mr Feyi Olubusayo, an economist, recalls that last year's budget made provision for N5.5 billion for the purchase of "expensive'' cars for members of the National Assembly to replace the cars bought four years ago.
He expresses concern that the members of the 8th Senate have gone away with the cars as "parting gifts'', observing that the new cars may also go the same way if adequate measure is not put in place to check it.
He also observes that a vote of N139 billion for the National Assembly in the 2018 Appropriation Act is much.
But the Senate has described the public condemnation of its planned purchase of Sport Utility Vehicles (SUVs) amounting to N5.5 billion for the senators as an insult.
The Leader of the Senate, Yahaya Abdullahi, said that the status of a senator of the Federal Republic of Nigeria is not undeserving of an SUV.
He said that each of the 109 senators in the upper chamber would get one SUV, which would be paid for at the end of their four-year legislative tenure.
He said the burden on the shoulders of the senator was not a mean task and that an SUV for their work was not too much.
"It is an insult to say that a senator of the Federal Republic cannot ride a jeep in Nigeria. It is an insult.
"The N5.5 billion is from the National Assembly fund and it is budgeted for every year, which they will pay back at the end of the tenure.
Irrespective of this position in the Senate, Dr Abbey Ibude, a critic, insists that "a huge portion of the country's resources is allocated to servicing a tiny fraction of the population who are public office holders, especially the National Assembly members.
"With little left for the provision of social infrastructure, the majority is entrenched in extreme poverty, which is why the acting Chairman of the Revenue Mobilisation, Allocation and Fiscal Commission, Shettima Abba-Gana, canvasses a methodical reduction in the cost of governance.
"The guiltiest parties are the Executive and Legislative arms, although the judiciary is not blameless.
"Ministers, their aides, senators, representatives, state lawmakers, commissioners, local government chairmen and other public officials maintain expensive convoys and fly in expensive modes of transportation''.
Also, Sen. Shehu Sani, former senator from Kaduna State, notes that a senator received N13.5 million as "running cost" every month.
"This is outside of the N750, 000 monthly salary, N200 million annually for constituency allowance and other undeclared allowances.
"Some of the senators were former governors, after serving out their eight-year tenure as governors, receive mega pensions for life.
"It is laughable because these governors served their states for just eight years or less. It is daylight robbery of public fund.
"These governors earned top rates while in office and used chartered/private jets, although their citizens live in penury'', he said.
Similarly, the House of Representatives' Committee on Public Accounts recently, observed that the country had not been witnessing prudent use of government resources.
The chairman of the committee, Mr Kingsley Chinda, said that the lawmakers were currently examining the annual reports by the Auditor-General of the Federation submitted to the Legislature.
"Generally, what we have observed is that not much has changed from the reckless system that we have operated in Nigeria. Not much has changed. Public spending is still not very responsible and so, we need to begin to change.
"One of the problems we have is that our institutions are very weak; institutions are not strengthened; the government is not making deliberate efforts to strengthen institutions,'' he said.
However, members of the National Assembly have vowed to fight corruption through aggressive oversight functions and probe of petitions against public officers.
They also pledged to ensure adequate check on the executive arm of government but would not do so through confrontation.
The federal parliamentarians are also unanimous in their decision to work as a team irrespective of political affiliations to collectively tackle the myriad of problems confronting Nigerians.
A member of the House of Representatives from Ado/Okpokwu/Ogbadibo Federal Constituency in Benue, Francis Agbo, promised to support other members to make life extremely difficult for public office holders who might wish to loot Nigeria's treasury, even in the National Assembly.
"We intend to minimise the negative perceptions that Nigerians have about the National Assembly.
"We will enthrone more transparency in our business. We want people to know that we are the parliamentarians for Nigerians, not parliamentarians for our pockets.
"We intend to strengthen internal democracy. Many of our people don't know what they call internal democracy".
Olaitan writes for the News Agency of Nigeria.