HOW TO TRANSFORM SKINNY FAT TO FIT
If you are reading this post, you may be wondering if going from skinny fat to fit is an achievable feat. It is possible that you have come across a lot of testimonies from people that claimed that they have achieved this seemingly unattainable feat. However, any you may feel skepticism is understandable when you consider that you probably haven't actually met anyone who has had success in this area yourself.
The truth is that you want to believe these stories because you desire to experience this transformation in your own body. Well, the good news is that it is totally achievable and the better news is that it is actually quite easy to achieve.
In this post, we will take you through some tips that will help you move from skinny fat to fit.
THE CONCEPT OF SKINNY FAT
The truth is that without proper understanding you may think that you have skinny fat when you don't. This lack of knowledge may make you feel like the tips that will be provided below are not working. Hence, we have decided to help you first understand what skinny fat is.
When a person has a high percentage of fat in his body and still looks skinny when wearing clothes, the person is said to have skinny fat. Some features you will see with this person are a gut that is paunchy and in a few instances the person may even have what are commonly called man boobs.
You know that this person does not fall into the fat or obese category yet you cannot say that his body is fit. He often appears thin but has extra layers of fat in his body.
WHERE DOES SKINNY FAT COME FROM?
The best way to identify if a person has skinny fat or not is when they are without clothes. This is because it is difficult to tell when they are clothed. Click this link for a cool way to improve your body weight.
The major reason why people tend to have skinny fat is that they have terrible nutrition and exercise habits. A lot of people just go for cardio exercises whenever they feel like shedding off weight. They also perform these exercises alongside cutting down the number of calories they consume. As if that is not enough, they include fat-shredding supplements that are ineffective to the list.
The result of these combinations is often skinny fat. Though they have successfully shed some weight, they are deficient in calories.
TIPS TO GETTING RID OF SKINNY FAT
Here are a few tips that will help you get rid of skinny fat:
BEST EXERCISING ROUTINES: If you have been hitting the gym a lot, it is ok to go for heavy-lifting. However, if this is your first time in the gym or you have been off weight lifting for a while, you should not start off like this. Start with movement routines then add weight lifting as time goes on.
TAKE YOUR DIET SERIOUSLY: There is more to shedding skinny fat than exercise. Your diet also plays a crucial role in the equation. Cut down on calorie intake and eat a little over 1g of protein per weight pound. Consume about 0.45g of fat per weight pound. Compensate for calorie deficiencies by eating 10 g of fiber for every 1,000 calories consumed.
In conclusion, you will need to give yourself between 3 to 6 months to successfully get rid of that skinny fat.

CSO Wants Cancer Treatment Centres In Rivers
The Rivers State Chapter of the Civil Society Organisation (CSO) has called on the state government to establish a cancer treatment centres in the state to address the current growing cancer cases in the State.
Making the call yesterday in an exclusive interview, Chairman of the organisation, Mr Dennis Otobo, said going by its status among the commity of states in the country, Rivers State needs such centres in strategic areas of the State.
He stated that, "going by the position of Rivers State among States in the country, we are overdue to have enough cancer treatment centers, especially considering the State Government's focus on the health of her people".
According to him, "taking all our cancer patients to Ibadan or other neighbouring states does not tell well of our health services, no matter how we look at it.
"Government should establishment cancer treatment centers in the State, at least a one hub treatment  center in each Local Government Area", he said.
Otobo explained that for now, about 99% of treatments for cancer, and related services are provided by donor agencies, and patients are taken outside the State for treatment, which requires a lot of fund that is mostly not available.
"If Government can provide cancer treatment centers in the State, it will not only lessen the impact of the ailment in the State, but will also alleviate the suffering of patients who cannot afford going for treatment outside the State", he said.
On her part, the State Coordinator of Reproductive Health, Dr Ororo Smith, said the State currently has mammographic machine at the Rivers State University Teaching Hospital (RSUTH), that is used to diagnose breast cancer, while the University of Port Harcourt Teaching Hospital (UPTH) has cancer treatment center, "but it's not enough".
She also noted that establishment of cancer treatment centers "will go a long way in checking the menace of cancer cases in the State".
By:  Sogbeba Dokubo

Hepatitis B Infection: Expert Cautions Against Multiple Sexual Partners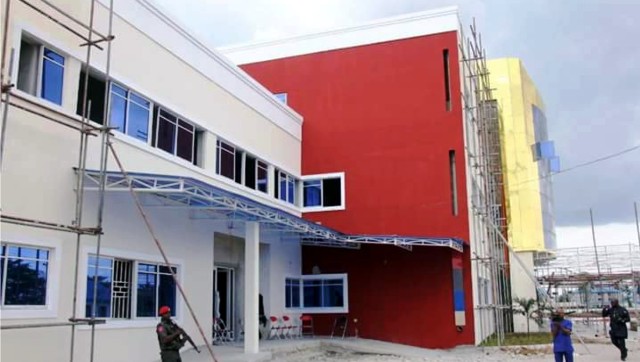 A Consultant Microbiologist, at the University of Ilorin Teaching Hospital (UITH), Dr Sherifat Sulaiman, has advised people against having multiple sexual partners, in order to guard against  Hepatitis B virus (HBV) infection.
Sulaiman made the call on Sunday, while delivering a Virtual Public lecture entitled: " Hepatitis B: the Silent Killer, Causes and Concerns", organised by The Criterion, Association of Muslim Women in Business and Professions, Kwara District.
She observed that apart from having multiple sexual partners, people could  get infected through sharing needles, toothbrush, blood transfusion, unprotected sexual intercourse and mother to child transmission, among others.
According to her, HBV is 50 to 100 times more infectious than HIV/AIDS, adding that an estimated 257 million people around the global had chronic HBV infection.
"The virus worldwide results in an estimated 887,000 deaths per year,," she said.
The microbiologist said 15 to 20 per cent of HBV would progress to liver cancer and liver cirrhosis, which is difficult to treat, noting that about two-thirds of those with HBV were Asymptomatic, only to present severe complications later in life.
"Hepatitis is a general term used for inflammation of the liver. It has various causes. The most common cause of hepatitis is infection with one of the five hepatitis viruses (A, B, C, D, or E).
"Other potential causes include, lack of blood supply to the liver, poison, Autoimmune disorders, excessive alcohol use and taking certain medications among others," she said.
She pointed out that for those  with acute (short-lived) hepatitis B, the body might  be able to fight the infection on its own.
"This means you may not need treatment. Your doctor will help you manage your symptoms and monitor your condition, while your body works to clear the hepatitis B from your system.
"If you have chronic (long-lasting) hepatitis B, your doctor will refer you to a gastroenterologist or other subspecialist, who treats people with  chronic liver problems.
"Treatment may take a year or more, depending on the severity of the infection and one's response to treatment," she said.
The expert said vaccines were available to prevent hepatitis B and that it was now routinely given in the first year of life to all newborn infants.
"This vaccine should be given to people who are at high risk for this illness, such as healthcare workers, all children, people who travel to areas where the infection is widespread, drug users, and those who have multiple sex partners," she said.
Earlier, in her address of welcome, Hajia Hauwa Tajudeen, Amirah of The Criterion, Kwara District, said the virtual public lecture was meant to educate them on some critical issues affecting them, so as to guard against such predicament.
She added that education is power that saved us a great deal, stressing that the topic of discourse was very apt at this period, when so many people were carriers of some  diseases but were ignorant that they had them.

COVID-19 Vaccines Don't Contain Microchip, Alter DNA – PTF
The Executive Director,  National Primary Health Care Development Agency (NPHCDA), Dr Faisal Shuaib, has dismissed speculations that the expected COVID-19 vaccines in the country contain microchips and would alter human genetic  information.
Shuaib gave the assurance on Monday in Abuja at the  Presidential Task Force on COVID-19 national briefing.
While encouraging Nigerians to take the vaccines once available, he said it would not only protect people but would trigger an immune response that would protect the body against the virus, if encountered.
"We encourage all Nigerians to get vaccinated when vaccines become accessible as the benefits of the vaccines far outweighs the potential side effects.
"The chances of spreading the disease is significantly reduced once community members are vaccinated and protected, owing to the fact that the vaccines trigger an immune response that will protect your body against the virus if encountered.
"Please note that taking the vaccine will not only protect you, it will protect your loved ones and community members  against the COVID-19 disease as we work toward developing health immunity.
"There currently seems to be growing vaccines hesitancy and this is largely caused by misinformation leading  to mistrust, doubts, suspicions and conspiracy theories.
"We urge the public to disregard such representation from unverified sources and listen to the medical experts for confirmed information," he advised.
He said it was important to note that vaccines, including COVID-19 vaccines, were manufactured under strict compliance with World Health Organisation (WHO) guidelines, therefore COVID-19 vaccines do not contain any harmful substance, microchip and does not altar human genetic information.
"Furthermore, any vaccine coming to Nigeria will be tested by NAFDAC and certified safe for human use before it is administered.
"We will like to assure all Nigerians that this verification exercise will also be applicable to the COVID-19 vaccine and NAFDAC will continue to monitor the efficacy of the vaccine even after its administration to ensure proper documentation of any side effect.
"I want to reiterate that the first set of vaccine is that of Pfizer-Biotech and nRA vaccines and the equipment that are required to store them – that is the ultra-cold chain equipment for storage are available at the National Strategic Cold Store of NPHCDA.
"I will invite members of the media to go and take a look at the National Strategic Cold Store along Airport Road, those equipment are available.
"We have over 2,100 liters capacity. The requirement for the 100,000 doses of Pfizer vaccines that will be available by the end of January/February is 500 liters, so we have enough capacity for the 100,000 doses.
"I make particular reference to those reports that claimed that we are going to waste the 100,000 doses because we do not have any ultra cold chain equipment.
"Pfizer has also informed us that the COVID-19 vaccine can be stored for five days at plus two to eight degrees outside of ultra cold chain, which is suitable especially at low level.
"This means that the ultra cold chain storage is only required at the national level and six zonal stores where the vaccines can be stored for longer period, the vaccines then will be transferred to lower levels using dry ices in isolated dry thermals when they are ready to be deployed.
"I want to emphasis that the PTF, Ministry of Health intend to invest too heavily in the ultra cold chain equipment because of the logistical challenges.
"We already have thousands of refrigerators and freezers that we use for our routine immunisation vaccines available all over Nigeria. So we will  prioritise the  storage for those vaccines that are plus two and plus eight degrees Celsius," he said.