Sanitising Rivers Housing Estates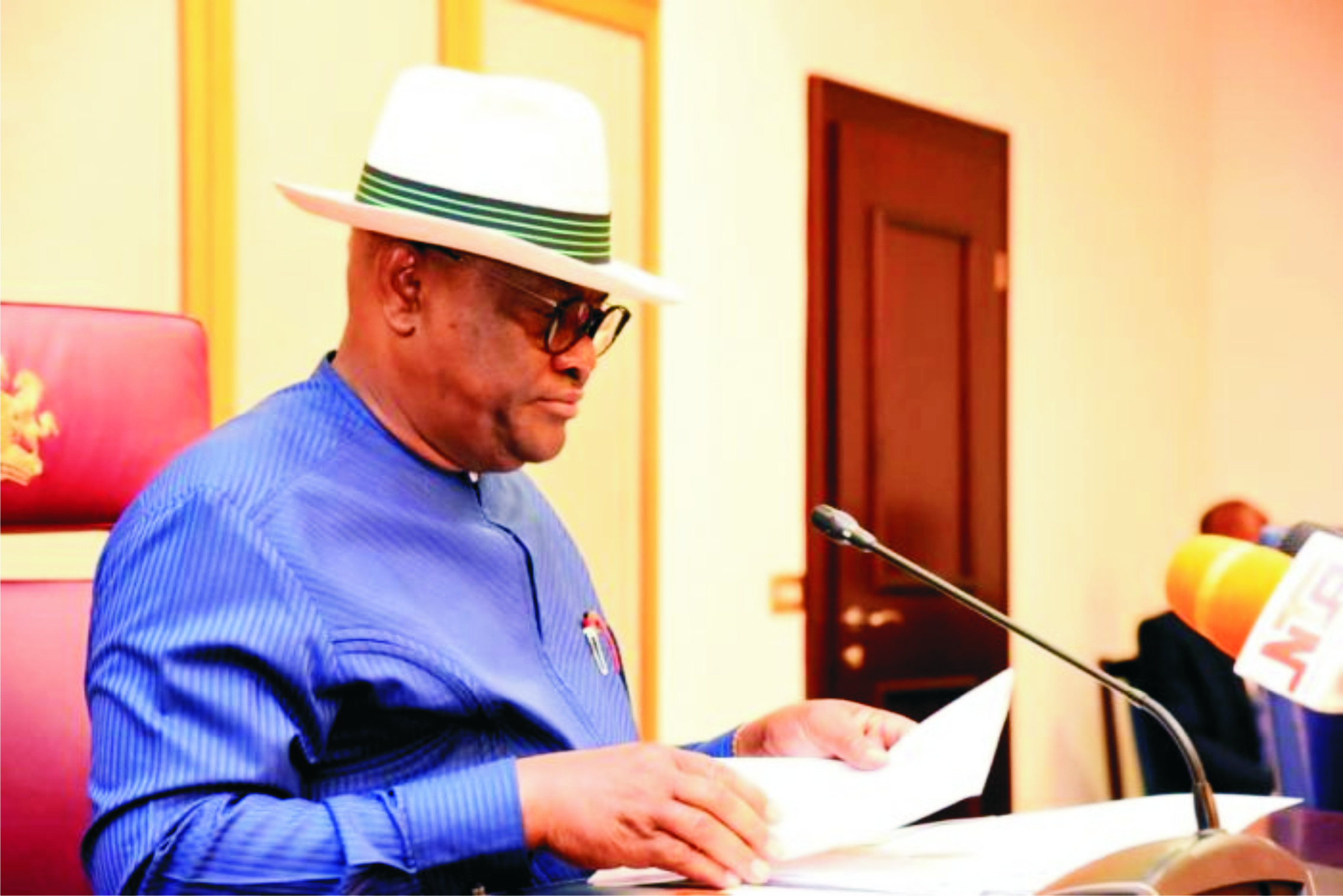 The beauty of any housing estate comes when there are impressive and imposing housing units clustered in an exclusive area with the control, maintenance and sustainability of the desired aesthetic ambience. Many housing estates exist in this country, from east to west and from north to south, but the question is how regulated are they or how do they conform with the best practices as stipulated by the United nations or any other regulatory body?
This is the reason why the Executive Governor of Rivers State, Chief Nyesom Wike CON, charged the newly constituted Board of Rivers State Housing and Property Development Authority (RSHPDA), hereinafter referred to as 'the Authority,' that the dilapidated nature of the Rivers State housing estates is of concern to him. He charged the body to move in and sort out the "mess" created in the estates. This calls for absolute regulation and sanitization of the estates.
The Board members who were well-chosen by him comprised a chairman who works in an estate firm of international repute, estate valuers, a retired well-rounded permanent secretary, a senior member of the Bar, a renowned journalist and a seasoned woman leader.
These Board members are set to put in their best in regard to repositioning the Authority to meet the desired objective of his Excellency's target in this sector.
The Board members, after their inauguration, hit the ground running by carrying out their operational research to identify and sort out the major challenges which provided a road map to aid the anticipated operations vide the "Housing and property Development Authority Edict No. 14, 1985, Part II, A62 and A64, among other provisions and, in part, states that:-
"2 (a) to undertake the development, construction and management of housing estates and industrial estates;
(i) To plan, develop, maintain and promote beauty sports including parks and gardens in its estates or other property'
(m) to control the environment within its sphere of operation generally."
First of all, the members zeroed in by having a conducted tour of the various housing estates owned by the Authority to ascertain their state of functionality. The estates include Elekahia, Rumuobiakani, Rumuibekwe, presidential, Ndoki, Marine Base, Aggrey, Abuloma Phase I, II, III; Diobu Mile I, II, III; Port Harcourt Township, Rumuomasi and Iriebe Housing Estates.
From the inspection of the estates, the Board found the system had been turned upside down with tenants pulling down buildings and replacing them with churches, duplexes, shopping complex, etc. It was, indeed, a threatre of the absurd – even clusters of numerous batchers nestled with the estate buildings, thus defacing the entire estate. There might have been peaks and valleys on the regulation of tenancy of these estates in the past but this time around the new team is ready to put paid to all irregularities that have pervaded the management of the estates.
Critically following its core mandate, the Authority, working at full stilt to bring the estate in line with the best practices in the world, issued notices directing owners of buildings in the estate to remove all illegal structures around their buildings within a stipulated time.
Without wasting any time, the team recently went into action and pulled down all illegal structures which were earlier marked for demolition. By these bold acts, the Authority could move the needle towards bringing sanity and security in the various estates.
Regrettably, some residents were angered by this act which made them resort to protesting. They must be aware that they cannot eat omelets without breaking eggs. However, putting a human face into whatever action that has been taken by the Authority, and considering the prevailing circumstances, the Authority directs owners to come to its office to seek permission to build security houses and fences within the estates.
In furtherance of this order, the Authority directs that all buildings, security houses, fences must be painted with the estate colour to bring uniformity in the estates.
The Authority, in pursuing the administration's set goals with such single-minded purpose and dedication, is ready to re-invigorate the management of the housing estates in Rivers State to serve the people better and make them revel in modernity.
Furthermore, the Authority warns that there will be regular checks in all the estates to ascertain heir compliance with the rules and regulations of the Authority and that defaulters will, henceforth, be penalised. Raising the bar of performance should be the watchword of the Authority to bring out the best in the estates.
The Authority's ultimate aim is to protect the environment, identify defaulters, prevent irregularities in Rivers estates, and eventually bring in the deserved revenue for the state. Let's all join hands to restore the value of the estates in Rivers State in line with the Governor's administrative thoughts in order to bring back the Garden City status of old which we are all proud of.
Thom-Manuel is on the Board of RSHPDA.
Nimi Thom-Manuel

The Love For Make-Believe And Unnecessary Propaganda
Despite the danger posed by Coronavirus, it has
become the source of make-believe and unnecessary propaganda for the ruling party and her associates. Rather than take direct measures to check the escalation of the ailment, all you see are people struggling to enjoy bragging rights.
The truth is that the nation must find a common ground to prevent Coronavirus from spreading. Let's be truthful to ourselves, there are no facilities to treat the disease in Nigeria.
If the developed countries, with their facilities and medical proficiency, are working hard to check the spread of Coronavirus, then that is simply the way to go for now.
Those who post pictures of bags of rice, tin- tomatoes, groundnut oil, hospital beds and tents as the ultimate are merely enjoying ephemeral benefits. The only medicine for now is to protect the population.
If very stringent measures were taken after the index case by those posting pictures of bags of rice and hospital beds in tents, we wouldn't be in this difficult position as a country.
For a population of about 15 million people, how many would be accommodated in those tents for treatment if there is an explosion of infection? How many persons got the bags of rice or tin-tomatoes displayed on social media? How many communities got relief materials from those basking on social media and claiming high grounds in the face of national danger?
These guys are yet to understand the drawbacks of propaganda after they foisted on us a national disadvantage in 2015.
This world of make-believe adds no advantage to the country. Imagine some activists singing the praise of a governor who presides over a displaced persons state sustained by relief materials. In such a state, relief materials and tragedy are part of daily life. If the said governor donates relief materials in an IDPs camp, they want the rest of us to lose sleep.
Aside the unnecessary propaganda of relief materials and tents is the politics of donation, purchase of tents and federal grants.
It is shocking that other states were not considered in the first tranche of grant by the Federal Government. If it is said that Lagos, as the most impacted state, deserves N10 billion then all other states deserve some form of direct intervention from the Federal Government. If any grant comes out, then it is an afterthought. It was not on the drawing board.
If under this deadly threat of Coronavirus political consideration still holds sway, then you understand what states like Rivers State suffer. They have no representatives at the Federal decision-making point. Forget the grandstanding and namedropping.
That brings me to the issue of donations as support for the fight against Coronavirus. Some APC members argue that Rivers State Government shouldn't solicit funds. But Lagos State can get contributions and have banks develop Isolation Centres for them.
Even the Federal Government has requested for donations to assist it tackle Coronavirus. The fight against Coronavirus is a joint task for the public and private sectors.
That these guys continue to play the Ostrich is one of the reasons Nigeria remains grounded. How on earth do they think that what is good for Lagos State should be denied Rivers State? It is even more disappointing that those who promote this anti-Rivers agenda are either Rivers indigenes or those who do business or live in the state.
They throw up all manners of explanations to justify the exclusion of Rivers State from such interventions and support. They blame the victim. They insult the Rivers State Governor.
In fact, if you want to grow in the APC, you must prove your capacity by insulting Governor Wike. Find avenues to highlight your capacity to be unreasonable at all times.
All the banks and some corporate bodies are rushing to expend resources in Lagos, with no presence in other states of the Federation where they get revenue. In a state like Rivers State, all major banks and corporations have countless branches and operational facilities where they generate funds.
With the Presidential address, Governor Wike has been vindicated for taking very profound steps to protect Rivers people. Agreed, the steps are tough, but it is for the good of Rivers people. Nothing is perfect, but steps must be taken to check the spread of Coronavirus.
Several other states have emulated Governor Wike by shutting their boundaries to visitors. With the Federal Government taking it a notch higher for FCT, Lagos and Ogun States, those who eke out a living by insulting Governor Wike will continue to have sleepless nights.
A man of vision is a man of conviction. A leader who has the interest of Rivers State at heart, Governor Wike, acted when others were too scared to make a decision.
This fight to save Nigeria is beyond make-believe and unnecessary propaganda. We have only one duty: to ensure that our country defeats Coronavirus. Any other game of "notice-me" should be disregarded.
Nwakaudu is Special Assistant to the Rivers State Governor on Electronic Media
Simeon Nwakaudu

Between Education And Economy
In those days, the singular thing that motivated students to make a choice of discipline was passion for the profession. Disappointingly, today students are no longer passionate about their chosen subjects any more. All they care about are job prospects.
What reasons can be adduced for this? Is it because students these days think they are not learning much or that they have too much theory and not enough practice? Is what they are taught out of date with current reality? It is difficult to provide direct answers to these questions. But one thing is certain, and that is many students apply to read particular courses because it would lead to a good job.
Though not everyone is guilty of this practice, many are. Some persons make career choices not for their material value but for the love of them. For such persons their subjects are the best possible choices they could ever make.
They think about their disciplines always. For them, going to the university is not just about getting a piece of paper that proves a degree, but because their subjects seem like the right choices and they derive fulfilment.
However, the exception notwithstanding, I think what is more typical of undergraduates today are the ones who choose their disciplines having job prospects in mind, not the ones who do same for the love of it.
Now, the question is why do we have this kind of situation at hand? Why do undergraduates of Nigerian universities fail to love their disciplines in the way it used to be some decades or more ago? There are many reasons why this attitude subsists.
The first reason for students' attitudinal change is predicated upon government's over-emphasis on paper qualification as a passport to the world of work. The second is a ceaseless concentration on examinations and coursework in schools. This stops students from cultivating a love for their discipline.
Finally, the introduction of high tuition fees has led some students to think exclusively about the financial return on the cost of their degrees or education. Following these problems, the nation has begun to notice a situation where majority of students only work within the confines of their disciplines, and not prepared to go outside them.
Students arrive at the university focusing on jobs that are the most important to them. I am seeing more and more of an attitude of "if it is not in the exam or coursework, I am not doing it." One will be disappointed if one expects students to read around a subject for the love of it. As a result of this, most students have less time to study.
I am not arguing against a relationship between education and the economy. There certainly is. But several years ago when I finished from secondary school and considered a course of study in the university, there were too few links between universities and the world of work. But now the pendulum has swung too far the other way.
As an undergraduate, I had an overriding passion for my discipline (philosophy). I haunted library shelves. I made an "infinite" inquiry into the subject matter of my course of study. We need to encourage our students to love learning. Learning guarantees a rewarding experience. When we have a situation where everyone is extremely focused on examinations and getting good grades by all means, society will be worse for it.
A study recently carried out by a group of academics in Nigerian universities revealed that most university students attach more material value to their subjects than scholastic value. This is because current government policies favour the knowledge economy over the learning society.
To this end, the government has to promote the individual and social benefits of learning as well as the economic benefits. Students should stop being concerned with the kind of salaries they can expect on graduation. Some students have always asked "how much will I earn if I work at industry Y?" Or "can discipline X provide me a good job?"
The truth is until our students are passionate about learning without strings attached to it, education in our nation will remain the myth of a golden age.
Arnold Alalibo

To talk about a Rehumanising process, there must have been a Dehumanising process in the past, which demands repairing some harms done in the past, maybe unwittingly. For those who may wonder what dehumanization process means or ask how it came about, there is one convenient example. Long ago, there was a popular film or movie titled Roots, having to do with slave trade. A key actor, Kunta Kinte, was being forced against his will, to take and accept a new name: Toby. It took severe agonies and tortures for Kunta Kinte to take on the name Toby; but something gave in – personal dignity, identity, volition.
Slave culture, from its local and primitive variation, to the Trans-Atlantic one, entailed unspeakable dehumanization. Its abolition, which was necessitated largely by agonies of the conscience and other pressures, was a process of rehumanisation. Even with the combination of commercialism and proselytism, colonialism added to the process of denying communities their rights and dignity. It is noteworthy that activities of the colonizing powers resulted in global wars (1918 – 1945) and responsible for colossal dehumanization of humanity.
Struggles for political independence by African nations that were colonized brought some peculiar brand of dehumanization, whereby brute force, cunning, subterfuge and shenanigans employed for political freedom, remained as heritage. These added little or no values to individual dignity and identity, but even made situations worse. The processes of partitioning, colonizing, amalgamation and depriving various communities of their rights and dignity also brought about the culture of arbitrariness and impunity. "Warrant chiefs" and tax collectors were foisted on people.
Walter Rodney's analysis of how Europe under-developed Africa merely scratched at the surface of the issues of dehumanization and distorted development. Historically, here were three traditional scourges of the black man, namely "racism, Arab-Muslim expansionism and white imperialist economic exploitation". The black race became the recipients of all forms of indignities, abuses and prejudices, under the guise of religious proselytism. Evangelising groups sought to take control of the mind and thinking of "Primitive" people without any consideration of their existing culture and belief system of those they sought to convert.
The so-called political independence attained by colonized communities between 1950-1960 came about largely because of awesome pressures on the parts of the colonial powers. Just as slave trade was abolished because of pressures rather than conviction, so also was hollow independence granted to colonies because of experiences of the World Wars. Like the American war of Independence, black soldiers proved that they were just as humans as the white man. Remove the intimidations of guns and political power, braggadocio can turn to meekness.
Wole Soyinka's view that the "route to the mind is not the path of bullet, nor the path of the blade, but the invisible, yet palpable paths of discourse" portrays what a Rehumanising process should entail. But what do we find? – the use of bullet, blade and bullying, as the route to the mind. Not discourse!
With a hollow and cleverly packaged political independence, came another localised round of dehumanization, with the arrogance of power and politics of greed and exclusion as instruments for the purpose. Someone described the independence that Nigeria had as medicine whose effect became more dangerous than the ailment. There was no proper diagnosis to ascertain the real needs and ills that needed to be addressed. So, it became a question of not how Europe under-developed Africa, but how Nigeria devalued, shortchanged and dehumanized its citizens. There was a local version of colonialism, employing the instrumentality of religion, ethnicity, treachery and greed to stay in power.
Thus another form of dehumanization entailed the administration of same drug for every symptom or complaint, ignoring the imperative of personal volition and local situation. The need for manpower balancing by means of quota politics brought about enthronement of mediocrity and the ejection of merit in public life. The result of this form of dehumanization and devaluation include frustration on the part of those short-changed and also the fact that nothing works effectively in the country. Thus we have taps that would not hold water, security system that cannot guarantee security and lorry-loads of academic certificates with many of them fake and forged.
Human dignity is closely related to human or personal volition, such that its deprivation is a robbery of the sum-total of what an individual means or stands for. Whenever that centrality of human person is undermined or destroyed, then there is a crime against humanity. This is exactly what many people who hold political and other shades of power seek to do through various ways of denial of people's volition as an inalienable right. On the part of some individuals there is the tendency towards indolence, moral, mental and physical, resulting in seeking to escape from the rigours of duties and personal responsibilities.
Child up-bringing demands that parents should not make themselves tyrants or become so loose that a child becomes a door-mat or zombie. Similarly those who lead others, or claim to be born to lead, should set such personal examples and become such role models that would inspire others. Law-enforcement agents and coercive institutions should not become sadists and terrorists that set little value on human dignity and freedom. Even those who breach the law should be treated with some level of civility and dignity, and corrected rather than dehumanized. People bring out the best in them if treated as humans. They become wolves if dehumanized!
Rehumanising process demands that people use their hands in ennobling and productive labour and their heads in independent thinking, true to their volition. It is sad if religion joins in the dehumanizing process by turning adherents into lethal automatons and hypocritical dolls. Law and justice must be fair and firm!
Dr. Amirize is a retired lecturer from the Rivers State University, Port Harcourt.