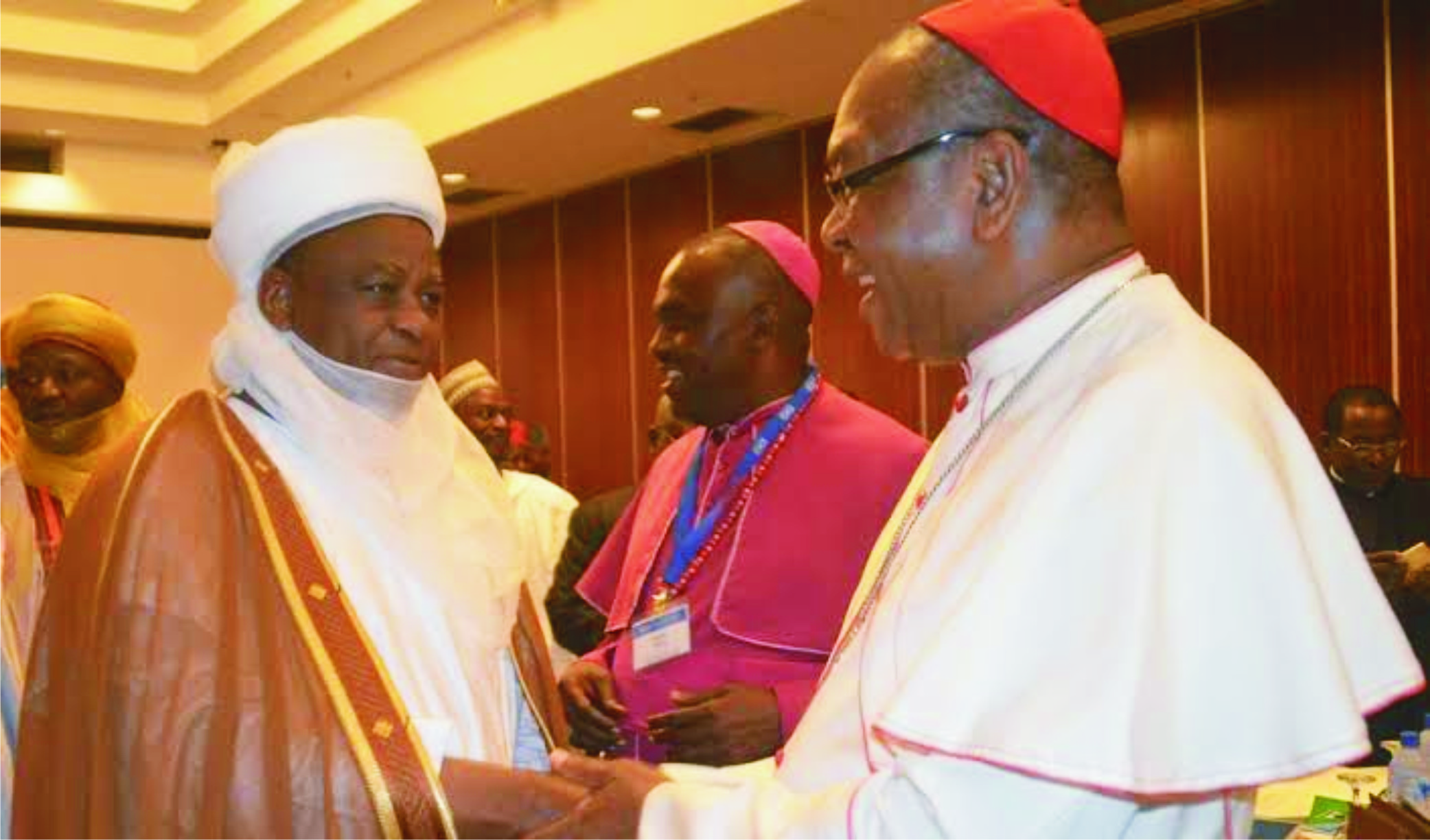 A rather interesting clip made the rounds in the social media during the Yuletide of 2019. What made it interesting and, I would add, instructive and outstanding is that it involved Sheiks of Abu Dhabi, Catholic Priests of Dubai, Muslims, Christians, Jews, Budhists, Shi'ites  and so many everyday people from all sides of the religious divide and from all walks of life; they gathered and celebrated 'The Year of Tolerance' at St. Mary's Church in Dubai, the United Arab Emirates (UAE). Whether it was a furtherance of the "fly, buy at Dubai, you're never wanna say goodbye" marketing pep of Dubai commercialism or not, it sure was a welcome sight that soothed every heart that craves peace in humanity.
A Cardinal and a Sheik met in a symbolic handshake, warm embrace and the courteous peck on both cheeks. Holding hands as they led other Clerics and Clergies, they stepped up the short staircase of the podium where they lit a big candle on a lectern bedecked with beautiful flowers. Behind them, stood the silhouette of a man saluting in military fashion and a background flex that blazoned  A SALUTE TO TOLERANT UAE. The Clergies took turns addressing the large motley crowd. On another podium, a six-man band with guitars, keyboard and drums hinting at rock genre or something contemporary did their thing. Endless rows of seats occupied by Arab princes clad in their immaculate white apparel with black head gears that accentuated the contrast in colour, Budhists, Christians and numerous dignitaries reflecting cultural diversity consistently caught the lenses of so many cameras, still and video. In the very end, it was a celebration of the brotherhood of man underneath God's Light, akin to what John Lennon imagined and Rare Earth sang about.
For me, the event is reminiscent of life in Alinso Okeanu of my birth and childhood. Sitting on the eastern bank of Orashi River, which was a major aquatic highway in the Niger Delta of Nigeria before macadamized roads and mammy wagons debuted as means of movement of goods and personnel, Alinso Okeanu, which is in Ogba/Egbema/Ndoni Local Government Area, Rivers State, was a trading post for UAC, the veritable organizational foot soldier of British capitalism and imperialism. Alinso Okeanu was, therefore, a cosmopolis with European quarters, UAC staff quarters and ethnic  quarters (ogbes) for the peoples of Aboh, Ijaw, Kalabari, Hausa, Mbieri (Igbo) and Yoruba in the years before Nigerian Independence in 1960.
There were two churches and one mosque in Alinso Okeanu. As children, we went to the mosque  with our Hausa friends on Fridays and they joined us to the church on Sundays. Also, the Hausas joined us in celebrating Christmas and Easter and we joined them in celebrating Sallah, which we referred to as "Hausa Christmas." In Alinso Okeanu, every name had a face and child upbringing was a collective responsibility that every adult lived up to; and this responsibility was dutifuly performed religiously, completely devoid of the current ethno-religious bigotry that has sufficiently threatened the corporate existence of Nigeria as an entity and turned planet Earth into a theater of eternal conflict and war. For all intents and purposes, humanity is regressing to the Hobbesian state of nature, which was "nasty, brutish and short." What went wrong between the 1950s and now? It is nothing other than the inordinate quest for materialism utilizing the instrumentality of power politics on the side of the leaders and the ignorance, docility and general inability of the masses to realize that the dividing line is neither religious nor ethnic, it is economic.
The symbolism of the SALUTE  event at St Mary's Catholic Church, Dubai, is to drive home the point that tolerance and respect for each other's beliefs are key to harmonious coexistence and the sustainable development of man's  only known abode; and this is said with special regard to the responsibility inherent in the essence of sustainable development. Rather unfortunately, more and more countries have acquired sufficient annihilative capacity to blow the planet into smithereens just by the virtually effortless push of a tiny, little, seemingly inconsequential button from a great distance. Departing from the days of Cold War, man has regressed to a pervasive perpetual state of mutual suspicion. Not long ago, the world was on edge over the executive excesses bordering on recklessness and irresponsibility of two men (the "rocket man" and the "motor mouth") who were at each other's throat over international powerplay. Without tolerance, our planet, which is infinitesimal in cosmic comparison, is doomed and so are we, naturally.
UAE is where the culture of a conservative religion and modernity coexist in near perfect harmony; it is a modern variant of Alinso Okeanu where the multiplicity of Nigerian cultures melted into a beautiful mosaic that was highly harmonious and related closely from a courteous distance with European culture. Humanity has no choice than: Transcend our differences Tear down these manmade fences And live in brotherhood  For the good of our community And humanity.
To do otherwise is to precipitate a cataclysmic end to the human race as we know it. After all, institutional religion, which is an instrument for searching for the face of God, is man-made. A study of the Scriptures of Abrahamic religions with special reference to Christianity and Islam shows their common root in the blood of Abraham and the firm belief in monotheism. Noteworthy is the fact that the Noble Koran has one chapter on Maryam (Mary, mother of Jesus) and Islam has a very high place of honour for Jesus whose preaching was universal and who never ever arrogated exclusive sonhood of God to himself; he never did.
Here in Nigeria, the political class has keyed into the mass idiocy and capitalized on it to feather their personal nests to the detriment of the nation's economy and harmonious coexistence akin to what was in Alinso Okeanu of this narrative. Carlos Santana sang that "the whole world is one big family." Yes, humanity is one big family: "we share the same biology, regardless of our geology" so sang Sting. The tragedy is that illiteracy, poverty and the lack of social security system in Nigeria have led to a situation where the masses are led to perceive every topic in the public domain from the prism of ethinicity and religion, thereby creating a most effective field for politicians to have their way.
I have repeatedly said in every forum that touches on the topic of man's search for his source and destination that "the greatest hoaxes in humanity are imbedded in the creedal concretes and mortars of the obelisks, towers and domes of institutional religion." For humanity to snap out of the psychological and spiritual stranglehold of the softly spoken spells from the altars requires reinventing the spirit of Alinso Okeanu and the SALUTE project is a move in the appropriate direction; it is the necessary new beginning.
Dr Osai is a lecturer in the Rivers State University, Port Harcourt.
Jason Osai

Natural Selection Doctrine Revisited
In response to inquiring questions from readers over a previous publication on Darwin's Doctrine on mental hygiene, here is further information connected therewith.
The doctrine of Natural Selection has to do with a misunderstood concept of "survival of the fittest" which is Nature's way of preservation and protecting of the species.
A German sage, Johann W. Goethe (1749-1832), expressed the doctrine as follows: "Nature will not stand any nonsense. She is always true, always earnest, always strict. She is always right. The mistakes and errors are always those of man. Nature spurns the inadequate, and only to the open-minded, the true and pure does she yield, and reveal her secrets to him".
The so-called "secrets" in Natures' mechanism of selection are in reality the child-like simplicity and openness which characterize the working of Nature. Nowhere in the mechanism can anyone find a deviation, distortion, inconsistency, malice or injustice, once the pattern of operation is observed and understood. Connected with the working of Nature is the fact that innumerable beings, great and small and unseen to man, are busy at work in every sphere of life and existence. There are over-seers, watchers, weavers, etc.
Beings working in various spheres are never mean, corrupt, incompetent or under the control of any power or authority, except the Will of Whom they serve and obey. They work in various posts and follow a chain-command management process.
Alexander Pope (1688-1744), a British poet, in his Essay on Man stated that "what looks to us like mere chance and accident in the world is really part of a divine plan, even though mere mortals may not be able to comprehend that plan". In other words, human understanding and perceptions of the complexities of life are quite limited and narrow, more so because of the activities and doctrines of incompetent and false teachers.
Various world scriptures which are meant to clarify the signposts and roadmaps as guidance for humans on life's pilgrimage, are often distorted such that the messages which they convey are rarely clearly understood. The fact that life's pilgrimage demands that we pass through many redeeming experiences, however frustrating or painful, has also been distorted, to such an extent that we are not stern enough with ourselves. In the place of the principle of personal responsibility, what is often emphasized is vicarious redemption. We long to have everything easy!
The doctrine of natural selection has to do with the principle of natural adaptation, whose final stage culminates in harmonious alignment with a free will, arrival at that final stage of adaptation takes a very long time, demanding repeated exposures for learning purposes. The earth is not only a learning field, but all guilts avenge themselves on earth. Therefore, the cliché of "survival of the fittest" gives an idiom of what it takes to emerge victorious from the learning and testing ground that the earth is. No one can evade the cleansing and purifying process involved therein.
What we find on earth is a situation where human beings have been described as artful dodgers, which is amply demonstrated in the culture of examination malpractices in our school system. Any complaints about corruption, sharp practices, inability to obey the laws and all of those issues that are our common experiences, are merely reflections of the state of affairs as they are. Clever as anyone may think that he is, Nature has an in-built strategy for screening and elimination of weak and unwanted species.
An old Nigerian musician once sang a song saying: Anything you do, you do for yourself. If you do good, you do for yourself, and if you do bad, you do for yourself". Like that musician who sang the song, Charles Darwin was not a clergyman; not a pastor or bishop, neither did he ring bell from street to street, preaching to anyone. It is easier to preach sermons and tell others what to do or avoid doing, but it is necessary that those who preach should not spread false doctrines which can lead people astray.
Nature provides simple means by which anyone can observe and understand its working mechanism. Similarly, within every human being there are simple mechanisms for perceiving, absorbing and reading the body language of Nature, independently. Human volition serves as a steering instrument to choose what to desire, embrace or shun. The conscience is ever there to admonish, warn, guide and help in moments of perplexity. There is the intuitive faculty which serves as a gateway to rarefied consciousness.
Therefore, with the provisions for guidance, decision-making and links with realms of light Nature demands that humans should use the available resources for their good. It would amount to weakness or inadequacy which Nature spurns, if man indulges and cultivates attributes that would undermine his well-being. Therefore, the concept of natural selection is a demonstration of the mechanism which allows only the true, the pure and what can pass the test of justice to be able to pass through "the eye of the needle". No cheating!
The kingdom of Nature is not one that can be taken by force or through gangsterism, cunning or corrupt practices, no matter how any brigand or desperado may try to do so. The admonition to guard the heart with all diligence, for out of it are the issues of life, is an admonition pointing towards what it takes to be able to pass through the selection process. Being endowed with the right to make choices and decisions, which may not always be used aright, human have the responsibility to correct, atone and learn from their wrong choices, decisions and actions.
Creatures not endowed with free will swing in harmony with the laws of Nature and therefore incure no guilts, but Nature has a provision for cyclic renewal in the case of biological species. In the case of humans the cyclic renewal process provides great opportunities for refining, adaptation and expansion of awareness which would be quite necessary in the selection regime. Like in the school system, there can be drop-outs! Quite many can fail out.
Dr Amirize is a retired lecturer from the Rivers State University, Port Harcourt.

Tackling Fear Of Exams Failure 
The desperate clamour for admission into institutions of higher learning by post-primary students has reached a feverish height, mainly due to the high premium today on paper qualification.
Every year, millions register for the UTME examinations conducted by the Joint Admissions and Matriculation Board (JAMB) but out of the lot, very few are given admission to the universities based on their performances.
This writer's concern is not who applies for admission but who gets admitted in the end and what they do with the opportunity, especially their approach to studies and how they perceive the university community.
The learning structure and style was perfectly put together by academic experts to mould and prepare the lives of students for the advancement and development of a nation's economy. Hence, the concept of re-writing of failed courses.
But today, the fear of failing has become the root of all corrupt practices amongst students and lecturers alike. My question is: Is failing a course the student's fault?
In class one, Monday morning, for instance, I overheard a girl complaining to her friend that one of her lecturers failed her. The choice of words used to describe the lecturer's alleged attitude was so insulting and demeaning that I was forced to eavesdrop. The girl said she did 'everything' to pass the course but the lecturer still 'failed' her. But after carefully listening to her criticism, I figured that the truth of the matter was that she did 'everything' to pass the said lecturer's course, except 'reading'.
Of all my years in the university, I have come to understand that students believe that they cannot fail and on no account should an "F" be reflected in their result. Yet, the rate at which students fail is alarming.
This failure is usually attributed to the lecturers who they believe must have done it to 'victimise' the student for one 'sin' committed or another. This may be true in some cases, but the question is: How many students read not just to pass but to acquire knowledge?
Clearly, if a student reads merely to pass a course, he or she would just be 30 per cent sure of avoiding failure. That is not a good grade, hence not good enough. But that is what most students do, and in the end, claim to have been failed by the lecturer.
Many well-meaning Nigerians complain that the reading culture in the country is declining drastically. Why would it not be so when students now pursue education not for academic freedom but only as a meal ticket, using the wealth of their families or the level of their 'hustling', as the means to an end?
You will agree with me that both our schools and the post-graduate lot today are full of half-baked products who bought their way into the universities, hopeful that they could also pay their way through their academic pursuits, a reason that explains why many graduates are rejected by employers every year.
If the ultimate reason for going to the university is to pass examinations and acquire certificate without properly learning and acquiring academic knowledge through the formal process, how can one prove himself or herself in any chosen career? Does that make one truly educated? I think that adequate study and assimilation of what has been learnt over a period of time helps in preparing the student for the task of defending his or her certificate.
Therefore, re-writing a course does not necessarily mean that a student is a failure. No! It simply means that for all mistakes, there is always a second chance to give it another shot. Thus, Mary Rickford's view of failure which reads: "If you have made mistakes (failing a course), even serious ones (in the organization you'd find yourself), there is always another chance for you. What we call failure is not the falling down but the staying down."
If the average Nigerian student would understand this principle, face it with all sincerity and apply it in all life's endeavours, then, the university community would be filled with positive minds that believe in the concept of 'perseverance' which will foster creativity, keeping the monopolistic market at advantage because her labour force will be effective.
I think students need to strive to be educated and not just passing a given course. I know it is hard but it can be achieved if all students can devote a minimum of two hours daily to reading instead of loafing about until examinations timetable is released. This can be achieved through the construction of a personal timetable that allows for the reading of a course every day.
Now, if this is done, then there would be no need for name-calling, and 'victimisation' of students would be reduced (sometimes, students are victimized because they cannot hold their ground academically. In other words, we give the lecturers reason to victimize us). Students should not forget that they have to give a much better account of themselves tomorrow than they ever did yesterday.
Therefore, let us as students, resist the familiar tendency to waste away precious time in the hope that we will buy our way through every examination, and in our failure, blame the lecturers. Instead, students should prepare for that task today by doing what is right at the right time so when they graduate, they would have no fear over how to face the seemingly difficult yet enduring monopolistic market by putting smiles on the faces of employers of labour via their charisma and confidence while trudging on in the most fascinating 'city' in the world, the 'university'.
Perhaps, the words of Carl Bard, "though no one can go back and make a new start, anyone can start from now and make a new end." Goodluck in the quest for academic freedom should be the source of strength students require to do it right; the fear of failing is no option!
By: West, Port Harcourt.

Need To Maintain Our Institutions
Nigeria is a sovereign nation and all hands must be on deck to maintain its sovereignty. To achieve this, a number of infrastructural developement must be put in place. The ideology of sovereignty of any nation is to make things possible for the citizens. Since Independence till date there has been slow pace of development in the country. This is as a result of nonchalant attitude of the leaders in government and some citizens when projects are awarded for execution. Often times, when it comes to solving problems for the masses what you hear is that there is no political will to enforce the policy. One wonders the kind of political will our leaders need before things are put in place. The deposit of mineral resources in the land of Nigeria is a good omen for national development.
The education sector has been drifting from its original aims and objectives. This is because the system is no longer meeting the expectations of the nation. In any sovereign nation, education is the door way of achieving purposeful development. Through research works in education, other sectors are managed effectively and efficiently. The falling standard of education caused by neglect of the sector has caused emigration of Nigerian students to neighbouring nations, thereby, denying our educational institutions funds to upgrade their facilities. Today, most of the leaders and well-to-do in Nigeria send their children and wards to Ghana, the US and the UK for university education.
It is true that no nation is an island. But that does not mean we should abandon our country for foreign facilities.
Indeed, the power or energy sector is one of the sectors begging for massive improvement and upgrading of facilities. The federal government has said so much about improvement of power in the country. Yet no meaningful achievement has been recorded. And if the government is ready to improve power in Nigeria, there is no need for the federal government to budget for generators for Aso Rock or government buildings. That is suspicious! In Nigeria, generators have taken over the power sector. And so each time generators are mentioned in the budget there is need for doubt. Over the years, Nigerians have been complaining of poor power supply in the country. And to many the cry against epileptic electricity supply is waste of time. All the processing and manufacturing industries use electricity from generators to power their machines. But in some countries of the world there is constant supply for decades. No wonder some companies are relocating to neighboring countries where electricity supply is relatively constant. Recently, there was bidding for electricity facilities in the country. There is no need for further delay in ensuring efficiency in the power sector. Therefore, power should not be toyed with, if Nigeria wants to be one of the biggest economies in the world. Everyone needs electricity in Nigeria.
Nigeria has been known as a developing nation for many years now and has not achieved tangible development, due to some nefarious activities of some persons in government and outside government. Nigeria has a wide road network but yet the roads in the country are in deplorable state, which gives room for questions. Nigerians enjoy pot holes-free roads in UK, the US and other nations of the world. But when road projects are awarded to some of them to construct as it is done in foreign nations, some siphon the funds or use poor quality materials to construct roads in the country. Today our federal roads are begging for reconstruction and rehabilitation, because they are very bad. And those who do the shoddy jobs are applauded and more multimillion projects are awarded to them to continue the bad jobs. Something has to be done to stop the ugly trend of events in the country. Because the roads are bad, motorists take the opportunity to charge commuters heavily. This also has led to high cost of commodities and has weakened the purchasing power of many Nigerians . Indeed, most of the staple foods we eat in the country are imported from foreign nations. For instance, Nigeria depends on imported rice till date when there are arable lands for rice farming in the country. Abakaliki rice is still under peasant farming system till today because government has not taken any proactive measure to improve rice farming in the country. There is need for concerted effort by all to change the state of things in the country.
Health for all has been a long time slogan which no one wants to sing or recite again because of the inability of the government to deliver health services to the people. It is still very sad to hear that Nigerians can only get better medical treatment abroad. Why? Nigeria has the resources that could make her health system the best in the world. Today, cancer screening machine is rare to come by in the country. Few months ago there was outbreak of Lassa fever in some states of the nation. And it was a difficult task to get treatment, because the machine to screen a victim's blood sample is only in Benin. And it was reported that Lassa fever was first noticed before independence of our dear nation.
Indeed, today we fund foreign health system and they keep on growing faster than ours. Almost every government functionary receives his or her medical check up abroad. That is why our health sector is dying even when we have professionals to make it work. It is high time our leaders pondered anew to change some things. The national and state assemblies should enact laws that should make the government to improve its facilities. Over dependence on foreign institutions when we need to improve and develop the ones we have is a serious threat to democracy. Therefore, there is need for government at all levels to embark on an aggressive campaign on infrastructural development in the nation. Nigerians can enjoy the best if there is honesty and selfless service to humanity.
Ogwuonuonu wrote in from Port Harcourt.
By: Frank Ogwuonuonu