Buhari's Foreign Loans: Matters Arising
President Muhammadu Buhari sought for legislative approval for external loans during the 8th Senate but was turned down. Amongst them was US$29.96 billion loan which, according to the object, was to fund critical infrastructure in the country. The Senate bawled that loans cannot be an option at all. Superficially, the Senate was right in a part on account of daily mega inflows to the economy. Inarguably, the country is sufficiently rich to be self-reliant for most capital projects, all things being equal.
On the other hand, the Senate stumbled knowing that the major drain pipe in the country is the Senate and its counterpart, the House of Representatives. The funds allocated to these two chambers are sufficient to fund robust infrastructure across the nation with ease. From record, Nigeria's lawmakers are the highest paid in the world and with outrageous allowances. To review these anomalies and possibly scrap one of the chambers; either Senate or lower chamber remain a way forward.
On the foreign loans, first and foremost, it is imperative to distinguish between loans for recurrent expenditure or sustenance and that of infrastructure development. The former is an index of economic recession. On the other hand, most developed countries didn't fund capital projects from money in the treasury but long-term infrastructure loans. To put the burden on funds in the treasury can slow down developments and negatively affect other operations.
Noticeably, President Buhari's government has created secure revenue for the nation. Amongst them are the Treasury Single Account (TSA), Value Added Tax (VAT), other internally-generated revenues that are active. Above all, leakages in the economy have been substantially blocked which makes government to get more incomes unlike before.
Beyond doubt, Nigeria has low tax morale – apathy on payment of taxes due to high level of corruption among the ruling class. For example, it was revealed by the Research Director of the Fiscal Policy Roundtable of the Nigerian Economic Summit Group (NESG), Tayo Oyedele at the Nigeria Governors' Forum Secretariat, Abuja recently that more than 81% of taxable adults and businesses in Nigeria do not pay their income tax. According to him, only 20 million out of nearly 200 million people do.
Suffice it to say that the ruling class must vitally restore peoples' confidence by good leadership. For instance, during the tenure of Babatunde Fashola (SAN) as Lagos state governor, many residents enthusiastically paid taxes on account of visible transformations in the state. After his exit, perceptively, the narratives changed.
Hence, adequate revenue through taxes may not be a realistic option at the moment. The second option is concessionary technique whereby companies bid and execute projects with trade agreement; to manage infrastructure for a specified period for the purpose of recouping invested capital. Incidentally, concession of sensitive infrastructure may not augur well for the masses presently due to poverty level albeit a unique conventional template.
Back to the discourse, any government that has a secure revenue system; capacity to repay can comfortably opt for loans for infrastructural development. This is because the loans can be prudently tied to the secure inflows for settlements. There would be issues where a government has no secure means of reimbursement but liberally securing loans, which is indicative of bad governance as witnessed in the past when government relied only on crude oil.
From the record, the 2016-2018 External Borrowing Plan targeted 39 projects spread across the country which includes the East-West Road; Mambilla Hydro Power Station; Standard gauge Ibadan-Kano Rail line; Calabar-PH-Aba-Makurdi-Bauchi-Maiduguri Rail Line; 2,500 Km Power Transmission Lines and Power Transformers across Nigeria; total overhauling of Ajaokuta Steel Company and Dualization of Lokoja-Okene-Auchi-Benin Road. Thus, the loan apart from being secured is tied to infrastructure unlike the previous loan regimen.
President Buhari has presented the $29.96billion loan request to the 9th Senate for approval. Instructively, lawmakers must, above all, be guided by objectivity and public interests rather than unnecessary show of power. The sensible action is to evaluate the capacity of the government vis-à-vis repayment by its protected revenue machinery in place and not fear of being labelled rubberstamped legislature.
Economically, it is naïve to scream over loans without first considering the object and capacity of the borrower. Without making use of loan facility, the country will spend much time in planning without executions. Democracy is a time-frame system; therefore, if an administration must rely solely on available funds in the treasury, nothing substantial may be achieved in the four years an administration is billed to last.
In other words, it is immaterial the volume of loans as long as there is a secure repayment mechanism and the objects are germane. Such arrangement will equally reduce corruption as inflows will be directed to repayment schedules. Interestingly, the Constitution clothed the lawmakers with oversight functions which empowers them to supervise executive's activities. Hence, there's no cause for alarm. To decline loan request for infrastructural development simply for apprehension of misappropriation is gullible.
The grumble is comparable to a woman scared of pregnancy to avoid giving birth to a bad child when it is her duty as a mother to mould the child to become useful. An executive arm cannot misappropriate funds where the lawmakers that exercise oversight functions are active, awake and responsible. Besides, President Buhari, as the team leader, is arguably not characterized by such character of dishonesty, greed and imprudence.
Umegboro is a public affairs analyst.
By: Carl Umegboro

Edo Poll: INEC Presents Certificates Of Return To Obaseki, Shaibu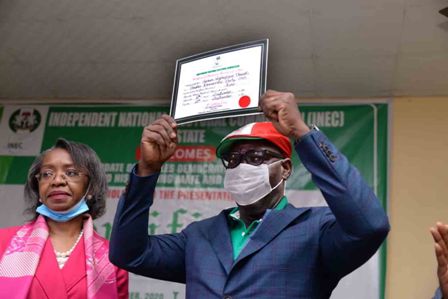 The Independent National Electoral Commission (INEC), yesterday presented Certificates of Return (CoRs) to the winner of last Saturday's governorship election in Edo State, Governor Godwin Obaseki, and his running mate, Mr Philip Shaibu.
The Tide source reports that the ceremony took place at the Collation Centre, at the State headquarters of INEC in Benin.
The Edo governorship election Returning Officer, Prof. Akpofure Rim-Rukeh, had on Sunday declared Obaseki of the Peoples Democratic Party (PDP) winner of the governorship election in the state.
Rim-Rukeh had declared Obaseki winner after polling 307,955 votes to defeat his closest opponent, Pastor Osagie Ize-Iyamu, of the All Progressives Congress (APC) who garnered 223,619 votes and 12 other candidates.
The INEC National Commissioner in charge of Edo, Bayelsa and Rivers, Mrs May Agbamuche-Mbu, presented the certificates of return to both the governor-elect and the deputy governor-elect.
Agbamuche-Mbu said that the presentation of the CoRs was a statutory obligation of the commission which must be carried out within seven days after its declaration of a winner.
"This occasion is only made possible because of the successful conduct of the governorship election last Saturday, September 19.
"INEC, I believe, has played its humble part but we have always maintained that a successfully conducted election is a collective effort, and so it has proven to be," she said.
In his acceptance speech, Obaseki thanked God and Edo people for a peaceful election, adding that history had been made in the state.
Obaseki said INEC's National Chairman, Prof. Mahmood Yakubu, should receive most of the accolades for his steadfastness and ability to withstand pressure, adding that using his intellect in introducing technology for the election should be hailed by all.
"Despite all the criticisms, the ability of INEC to view results as the counting is taking place in polling units is one innovation we will implore INEC to maintain and improve on", he said.
"Because it has introduced different element of transparency in the way we conduct election in Nigeria
"I am using this opportunity to extend a hand of fellowship to my brother, Osagie Ize-iyamu, and other colleagues in the APC to work with us to move Edo forward.
"On a specific note, I want to use this occasion to call on former National chairman of the APC Adams Oshiomhole that the fight is over, to come and join in building the house where he was part of laying the foundation.
"We have no malice; the only thing we disagreed on is on the approach in moving Edo forward.''
Obaseki, who also commended President Muhammadu Buhari, said the president would be remembered as the father of democracy in Nigeria.
"This is because he had a choice to ensure and insist that his party wins in the state but he rose above partisan politics, and insisted the right be done," he said.
According to him, I want to finally thank his royal majesty, Oba of Benin, Oba Ewuare II, for his fatherly role, for the prayers for peace, and for being that symbol we all look up to.
Earlier in his address, the state Resident Electoral Commissioner of INEC, Mr Johnson Alalibo, said the ceremony was just another fulfilment of the provisions of the law.
"My joy knows no bound as I am standing here to present this welcome address, having conducted an election without any loss of life," he said.
Alalibo commended the candidates, security personnel and the entire people of Edo for their display of professionalism and maturity during the election.
According to him, this election has already been adjudged as one of the best and it shall so remain in the annals of our history.

Alcoholism And Public Safety
In the public sphere, the threat of aggression and disorderly behaviour, and of physical or mental harm, has led to a variety of interventions aimed at drunken people in public areas. This is because study has shown that when alcohol reaches the brain, it affects the brain's ability to control behaviour and body functions.
Those who understand the working of alcohol in the blood stream in relation to behaviourial change, will attest to the fact that restricting its consumption especially in public domains such as health care establishments, educational buildings, government offices, public transport, parks and workplaces, is highly imperative.
Alcohol, a colourless volatile flammable liquid which is produced by the natural fermentation of sugars, is the intoxicating constituent of wine, beer, spirits, and other drinks, and is also used as an industrial solvent and as fuel.
Any drink that can intoxicate is an alcoholic beverage. Once in the bloodstream, alcohol is quickly distributed evenly throughout the body. The body experiences increase in heat loss, decrease in body temperature and a drop in blood pressure as it dilates the blood vessels upon entrance into the bloodstream.
At one level, the effects include; judgment inhibitions, and altered emotions that manifest in varying forms. Others include affected coordination, vision, speech, balance, perception and self control are affected. At another level, memory is impaired, emotions and sensory motor abilities are affected.
The body is thrown into a complete state of confusion and the signs are: slurred speech, double vision, hearing impairment, difficult or impossible to judge distances, no longer able to walk normally and sudden mood changes.
This realization has caused past governments to fathom ways to curb unwarranted intake of this harmful substance. Unfortunately, not much was achieved out of their efforts. Instead, producers and distributors of the product have continuously devised means of making it accessible and affordable.
In Nigeria, there are few laws that restrict or regulate alcohol purchasing or consumption at the federal, state or local government level, especially at motor parks or vehicle loading points. The social and economic impact of drunk-driving in Nigeria is difficult to gauge with any precision because of the dearth of relevant studies concerning the problem.
Some trials have been done on restricting alcohol consumption at football stadiums for example, but to date, it is not known if any controlled evaluation of the effectiveness of general restrictions on alcohol consumption in different settings actually exist.
In general, alcohol consumption in official settings is, in most countries, strictly controlled, with around 50% of them having total bans. There is much less control on drinking out in parks and streets and during sport and leisure time events here in Nigeria.
The overall aims of restricting alcohol consumption in different settings are to ensure a safe public environment for leisure-time and sporting events, and to minimize or avoid injuries and loss of productivity in offices and workplaces.
Unfortunately, with alcohol beverages now in sachet and small bottle, even the under-aged are lured to its seeming unrestrained appetite, whooped up by the packaging strategy. The automobile driver, of course, contends daily with the temptation of a compulsory one for the road, as he needs just N20 or N30 only to get himself a sachet.
For this reason, the National Agency for Food Administration and Control (NAFDAC) expressed worry over the sale and consumption of alcoholic beverages in sachets and small volume glass and Poly-Ethylene Terephthalate (PET) bottles. It, therefore, announced its resolve to end the packaging and selling of alcohol in sachet and small bottles in the country.
NAFDAC's Director-General, Prof Mojisola Adeyeye, in a statement, said the packagings had led to an increase in the abuse of alcohol in the country.
Citing the data by the World Health Organisation (WHO) that claimed alcohol consumption contributes to three million deaths each year globally as well as to the disabilities and poor health of millions of people, she said "uncontrolled access and availability of high concentration alcohol in sachets and small volume PET or glass bottles has been put forward as a factor contributing to substance and alcohol abuse in Nigeria with its negative impact on the society."
That is nonetheless a good one. A complete phase-out of this high concentration alcohol in sachets and small PET and glass bottles could be a noble idea in the fight against high consumption of alcohol. But let's not forget that there is more to this fight than the mere pronuncement of a 'wish' to end a course. How prepared is the government for its enforcement?
Raheem Akingbolu, a renowned writer, once reviewed the various campaigns promoted to control excessive alcoholism in Nigeria, both for the underage, and to the drivers. Akingbolu highlighted strategies deployed in this regard to include advertising regulation and sensitisation campaigns in schools and places of worship to reach children and their parents on the dangers of early consumption of alcohol as well as drinking and driving.
Most countries have restrictions on alcohol consumption in different environments. These regulations are targeted either at the general population or at specific groups. The restrictions on alcohol consumption in the different environments vary from complete bans or partial restrictions to voluntary or local agreements and no restrictions.
The aim of drink-driving legislation is to reduce the number of accidents, injuries and fatalities that result from driving while being intoxicated. In many cases, this harm minimization approach also covers legislation for boating and civil aviation, and even cycling in some countries.
Earlier general laws against driving while intoxicated or impaired have now been supplemented in most countries with much more effective laws forbidding driving while above a specified blood alcohol concentration (BAC). The legal blood alcohol concentration level in a country is usually based on the evidence of risk, public safety and what is perceived as publicly convenient and acceptable.
The effectiveness of any drink-driving law is primarily determined by the degree of certainty of detection and the quickness of punishment. A successful drink-driving strategy would ideally require highly visible, frequent and random road checks, which include breath testing and blood sampling (Rehn, Room & Edwards, 2001).
By: Sylvia ThankGod-Amadi

Whither Student Unionism?
The Nigerian system is designed in a way to enable youths prepare for future leadership roles and political endeavours. That is why organisations like the National Association of Nigerian Students, (NANS), Nigeria Youth Parliament and National Youth Council were established for the upliftment and development of the youth. But NANS has failed to live up to its billing.
NANS is the umbrella union of all Nigerian students in higher institutions. Like labour unions, it is primarily instituted to protect the rights of students all over the country and cater for their welfare. Rather than perform those critical roles that will enhance the well-being of students, the body has entangled in utter mediocrity and non-performance.
Student union bodies globally have similar functions and that is to project worthy ideas, initiative and perspective to school authorities and even governments. By this means, many of them have tackled societal problems and proffered solutions where necessary.
Beyond that, student union is established to promote discipline, unity, orderliness and conducive learning environment for students. However, against all expectations, many Nigerians may agree that NANS has fallen short of these indices. Clearly, the body has failed in many respects.
Gone were the days when NANS robustly engaged in intellectualism and stimulated intellectual discourse among students and lecturers on campus. Students published in scholarly journals and were soundly exposed that loyalty, courage and truthfulness were among the many virtues they imbibed.
Today, all that is history. Student unionism in the country has been hijacked by strange persons with precarious intentions. Union officials, who once set agenda for the government, have suddenly changed their behaviour and ceded their platforms to pretenders.
Because student union leaders have abdicated their roles, the quality of education in higher institutions has greatly vitiated. This development led to the existence of all manner of vices on campus such as prostitution, cultism, 'sorting', examination malpractice, sex scandals, robbery, drug addiction etc.
Given the ugly trend, there are public clamours to return higher institutions to the path of sanity. But we must understand that a move towards a reversal to their former status will remain impracticable if active student unionism is not reactivated or restored.
Like in the olden times, we need a student union administration that will complement the efforts of government in all ramifications. We need a union that will not only confront school authorities, but will speak up against bad governance just the way it did during the military era.
It is needless to say that student unionism is synonymous with the nation's future. That is why it is tragic to see our future leaders jettison their prospective leadership roles for selfish interests that has consumed Nigeria and kept it where it currently is.
The student union movement requires a total rebranding because of the amazing and uncertain direction it treads. Though effort to return it to its erstwhile status is a collective one, students must particularly indigenise it, work hard and make it a reality.
Student unionism has to return to the days when it created an atmosphere for constructive criticisms, peaceful protests, competitiveness in academics and equal representation. The current student politics, which is a reflection of what obtains today in our society, must be repudiated else it may produce the same kind of leaders we have.
It strikes me that student leaders like Lanre Legacy, late Segun Okeowo (of the 1978 Ali-must-go renown), Adeola Soetan and George Iwilade Afrika have been hurriedly consigned to the footnote of student activism while their legacies are left to rot.
Indeed, we are in dire need of student union leaders that will draw inspiration from those idealists and firebrands; sacrificial leaders who will build on the tradition of the apostles of student unionism in the country and restore the lost values and glories of the movement.
Therefore, for the student movement to attain this elevation, those in its leadership positions must enthrone the objectives and independence of the union. They must focus on the key virtues of transparency, accountability and hard work and see the mandate they have as a privilege to return the union to enviable heights.