As Another Femicide Lurks …
November 25, 2019, may have come and gone, yet its echoes continue to resound in the global environment. At the United Nations (UN), the annual 16 Days campaign, which commences from the 25th day of November, through December 10, mobilizes not only the governments and public alike, it is also enthroning an atmosphere of hope and bright future, devoid of violence against women.
Although the theme of this year's UN commemoration, "Orange the World: Generation Equality Stands against Rape!" strictly highlights the need to end the "rape culture" that is entrenched in our society, we must not forget that its focal point is on outright elimination of gender-based violence (GBV) or violence against women and girls (VAWG),which has become a global pandemic . Whether in situations of conflict, peace, or in our homes, rape is a fraction of Violence against women which study has revealed, affects 1 in 3 women in their lifetime.
Like rape which started gradually and suddenly became a terror that has sniffed away sleep from the eyes of the mighty, as both adult and young females are daily exposed to its menace irrespective of their locations, femicide; the killing of women, is soon becoming another dimension of violence against women which the world government and the society at large need to nib in the bud before it becomes a bug.
While the world was yet urging actions to end violence against women, on November 25, Rivers State was agog with the news of the corpse of a young lady discovered in a well of water at Rumuosi in Obio/Akpo Local Government Area of the State.
The young lady, simply identified as Miss Charity Ohaka, was allegedly murdered and her body thrown into a well by unknown persons.The body of the lady who until her death was said to be a popular money lender in the area was discovered in the well few days after she went missing.
This is in addition to an inexplicable killing of the Kogi People's Democratic Party (PDP)'s women leader; Salome Acheju Abuh, right in her house, and the brutal attack unleashed on the Social Democratic Party (SDP)'s gubernatorial flagbearer, Barrister Natasha Akpoti, in Lokoja, the state capital before the recent gubernatorial election held in the Confluence State.
Of course we cannot be said to have forgotten so soon, the serial killer story that has been on the news for the past few months. For reasons of killing women and girls in hotels in Nigeria, hotel owners in PortHarcourt are now under statutory obligation to install closed- circuit television (CCTV) in their respective hotels, to be able to track the activities of killers.
Jean-Luc Mounier, a French journalist and research engineer, quoting a non governmental organisation, Féminicides par compagnons ou ex, (Femicides committed by partners or exes) reports that as at September 7, a total of 102 women have been killed in France since the beginning of this year.
For this reason, more than 250 anti-femicide posters were posted in the streets of Paris since the end of August. A peculiar feature of this new trend of violence against women as is observed in France, is that it is mostly perpetrated by victims' partners or spouses.The names of these women — and dozens of other victims — have been meticulously recorded on the cobblestoned wall of Jardin Denfert, a convent-turned-art collective in Paris's 14th Arrondissement (district) on the French capital's Left Bank.
Jean reports that since August 30, dozens of women gather there every afternoon in a bid to engage people with France's femicide problem. Women who want to pay homage to the victims had launched the campaign to"make passers-by and public authorities react".
Ofcourse, the action of these women has actually paid off. Rebecca Amsellem, a women's rights activist, penultimate Monday, spoke to France 24 about measures the French government had announced to step up fight against the scourge of domestic abuse. Yet, the NGO reitetates that "Since the government announced its plans to tackle domestic violence on July 6 and the measures having been put in place on September 3, 26 women have been killed.
Despite worldwide mobilizations led by survivors and activists in recent years through movements, violence, especially the ones perpetrated against women continues to be normalized and embedded in our social environments. From the trivializing of rape, victim-blaming, the objectification of women's bodies in movies or TV, the glamorization of violence in ads, or the constant use of misogynistic language, Violence against women and girls has attracted undue prominence across the globe.
France's share of this world's ugly cake differs from the experiences of other countries in this regard and so is the various governments' attitude towards its arrest.
How about men that had poured hot water or acid on their spouses as sheer expression of misogyny. The ones that use hot pressing iron on patners or female house maids as punitive measure for minor offenses. The list is inexhaustive. Many of these acts go unnoticed and undocumented especially the ones that didn't culminate to death and the victims were expected to raise alarm. Their lack of courage to speak out for fear of further victimization and public's stigmatization have not helped matters.
It is not only devastating for survivors of violence and their families, but also entails significant social and economic costs. In some countries, violence against women is estimated to cost up to 3.7% of their GDP – more than double what most governments spend on education.
It knows no social or economic boundaries and affects women and girls of all socio-economic backgrounds. Thus, this issue needs to be addressed in both developing and developed countries. Failure to address this issue would entail a significant cost for the future.
Numerous studies have shown that children growing up with violence are more likely to become survivors themselves or perpetrators of violence in the future.
We may not all be activists, or share the same opinions on other issues, but we can be united in the battle against GBV. It's an issue that touches all of us, it could happen to anyone; to you, or someone close to you. We all have a role to play. It is petinent that we all be part of the efforts to end all forms of violence against women. This femicide must stop.
By: Sylvia ThankGod-Amadi

Why Newspapers Are Getting Smart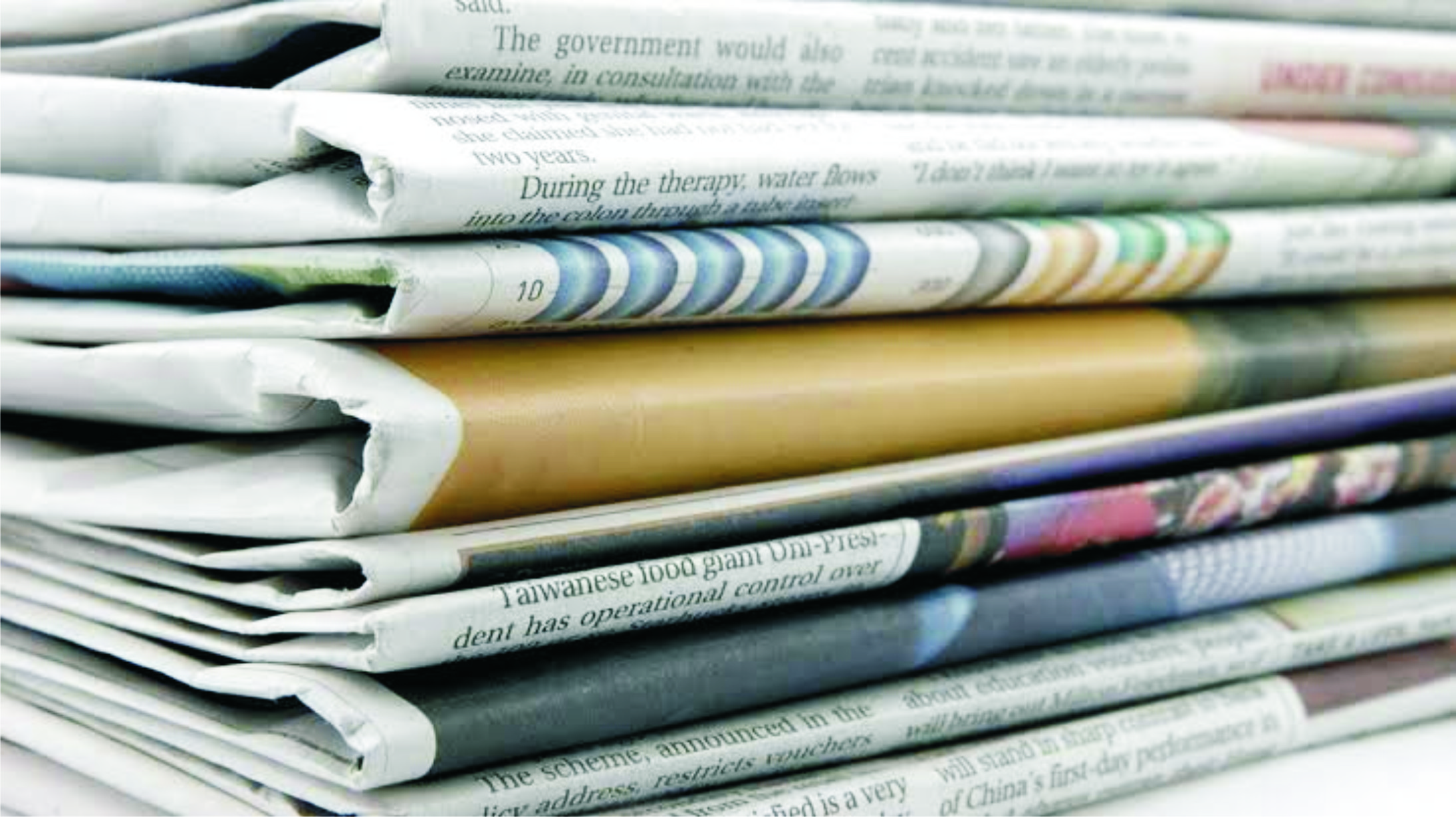 This is not the best time for newspapers and magazines.
Ever since the social media, or perhaps the Internet dominated the media space, newspapers and magazines are seriously struggling to find their feet.
The disenchanting news is that many newspapers and magazines have gone off the newsstands and those that have managed to stay on are struggling hard to survive.
According to the Pew Research Centre, the estimated total daily newspaper circulation in the United States as at 2018 was 28.6 million for weekday and 30.8 million for Sunday. There was eight and nine percent cut down from that of 2017.
In the developing world, including Nigeria, the picture is more gloomier as many publishers have either cut down on printed copies or totally shut down, many national dailies such as the New Age, Daily Champion have all shut down their presses.
According to the Pew research, "the industry's financial fortunes and subscriber base have been in decline since mid 2000s and website audience traffic, after some years of growth, has leveled off".
The sad part of the scene is that in Nigeria many community newspapers have gone extinct because they cannot compete in a technologically driven environment that evolves everyday with latest communication gadgets.
In early 2004 many newspaper houses in Europe, in a bid to fit in, came up with the idea of the tabloid newspaper. It was an innovative idea aimed at tackling the problem of readership. In Britain, two broadsheets, The Times and the Independent embraced tabloid as a way out of the doom. And within few months they witnessed improved readership. But that was short-lived.
The essence of the "tabloid newspaper" in early 2000 was attracting younger readers especially the ones that prefer a quick manageable read. So, a compact newspaper of much smaller size with shorter stories and colourful pictures became the trend. Axel Springer, publisher of Bild, Europe's best selling newspaper at the time was optimistic that compact newspapers or tabloids can succeed.
It was this kind of optimism that led The Times of London to start a compact edition in November 2004 and the paper saw an 11 percent increase in circulation in areas where it sells both old editions.
Not long after the success of tabloids, the social media came with a mighty force and things started changing drastically in the newspaper business. As Facebook, Instagram and Whatsapp, including Twitter came on board; the younger generation started drifting towards the new technology. Apart from getting updates about celebrities and sports, the new communication platform started venturing into full time information business. One unique aspect of the new platforms is that it provided an instant two-way communication process with little or no gate-keeping process.
It's no surprise that from 2010 when Facebook became popular, a lot of newspapers started facing real challenge. In a quick way to adjust to the new technology, many newspapers and magazines in 2015 struck partnership with Facebook. The New York Times, The Guardian of London and the National Geographic entered into new partnership with the social media platform.
The partnership is such that Facebook users will be able to read stories from these publishers without leaving the social network, since it will host articles rather than just providing web links that send readers off to the news firm's website.
In return, newspapers will be able to sell advertising that appears next to their stories and keep all the revenues, or let Facebook sell the advert space and give it a 30 percent cut.
Over the last five years, Facebook has grown membership up to a billion in recent statistics. In 2015, Facebook users were 1.4 billion, a quarter of the world's population. Today, news firms are cultivating legions of Facebook fans. Through this partnership, publishers can reach new audiences, while Facebook will keep users from straying and serve up more adverts.
This new partnership has equally brought more challenges for newspapers. They risk giving Facebook even more power by conditioning young Facebook users to think that they can get everything they need in one stop and undermining their own websites as destinations. The risk is that they pay too much attention to the number of visitors driven through social media and not enough to the time people spend engaging on their websites.
The greatest risk to publishers is that social networks continue to transform themselves into a form of modern-day newspaper, curating content, engaging users and selling their attention to advertisers.
That cannot be said of publisher and newspaper owners who are struggling to meet with these rapid changes. The major fear of newspapers going extinct by 2050 as predicted by some doomsayers is seriously starring at the faces of publishers who, in the past, enjoyed lavish adverts and readership.
There is, therefore, need for innovativeness in newspapering. It's not enough printing facts and pictures. Today's average reader needs more than that. There must be efforts by newspaper houses to diversify their revenue source. Adverts are dwindling by the day.
To begin the survival revolution means that newspapers must exploit the shortcomings of the social media and Internet. In order to achieve that, it must begin a stocktaking process. The current challenge of fake news in the social media should be the first area newspapers should exert themselves. The truth remains that newspaper's only real asset is its credibility. This credibility stems from its focus on truth, through the process of gate keeping. Investigative stories should be given prominence. Readers want analysis, not only information, and newspapers should be ready to provide it for them.
In the area of revenue, many newspapers are venturing into new areas of entertainment, share buying in other core investment areas. Many of the newspapers surviving today have more than one source of revenue. They have ventured into real estate, sports and even academic and research publishing.
The reality today is that no business relies on one mode of sustenance. A popular adage says, "no rat survives with one hole".

Unemployment And Human Trafficking
In a space of two days, two Nigerian women allegedly trafficked to Lebanon were rescued after they cried out on the social media for help. While 23-year old Omolola Ajayi is said to be with the Nigerian Ambassador in Beirut after the rescue, waiting to be returned to Nigeria, 33-year old Gloria Bright, a mother of two, has reunited with her family in Kwara State.
Reading the pathetic stories of these women as they narrate their ordeal in the hands of the human traffickers and how they found themselves in Lebanon, one could note a common factor – poverty and unemployment. Being unemployed and poor with no hope for a better tomorrow, they grabbed the alluring offer of travelling to Lebanon to teach given to them by traffickers posing as benevolent agents, only turned to a slave and a house help respectively.
The truth is that Omolola and Gloria should count themselves among the very lucky few.  Many young Nigerians who left the shores of the country in search of greener pastures but found themselves in similar mucky waters never lived to tell the tales. So, it is kudos to the Federal Government, the Chairman, Nigerians in the Diaspora Commission, Abike Dabiri-Erewa and all who facilitated the rescue of these citizens from the lion's den. It goes to show that Nigeria cares for her citizens.
But as has been asked by many, what has the nation done to ensure that the number of people that flee the country daily through all means in search of better life for themselves and their loved ones is reduced? The National Bureau Statistics report of 2019 pegged the unemployment rate in the country at 23.1 per cent and underemployment at 16.6 per cent with a projection that the unemployment rate will reach 33.5 per cent this year, 2020.  Young people account for two-thirds of these unemployed and underemployed populations.
Therefore, much as one will agree that human trafficking is one of the global human right challenges of our time and that some of those who emigrate Nigeria do so out of the erroneous belief that once they find themselves in Europe, America, United Arab Emirates and other foreign countries they are made, what is being done to make them have faith that a better future awaits them in Nigeria and how is it being done?
At a function in Abuja recently, the Minister of Labour, Senator Chris Ngige, decried the alarming unemployment rate in the country. He noted that various government social intervention programmes targeted at reducing youth unemployment and eradicating poverty have been implemented by different administrations since Nigeria gained independence in 1960.  He listed some of the programmes to include National Accelerated Food Production Programme (NAFPP), implemented between 1972 and 1973, the current National Social Investment Programme  (NSIP), which has been ongoing since 2017, embedded in the nation's Economic Recovery and Growth Plan (ERGP) 2017 – 2020, yet unemployment rate and poverty levels are on steady increase.
He asked, "What is government and other stakeholders not doing right? What changes are needed in the policies, plans and strategies? What action areas need priority attention? What roles should different stakeholders play and what other options are not being exploited? How do we break the resilience of high unemployment rate in the country?
Sincere answers to these questions by both government, the private sector and other stakeholders will go in tackling the unemployment challenge facing the country.  As earlier stated, while government may claim to be making effort to address the huge economic problem, the question of why and how the effort is being made must be ascertained. What is the how and why behind the NPower project, the Tradermoni and other projects meant to tackle unemployment by both current and previous administrations?
The role of the private sector in addressing the pressing unemployment problem in the country cannot be over emphasized.  They have the capacity to create jobs and have been doing that but should be encouraged to do more through business-friendly policies and laws. The newly signed Financial Bill by President Muhammadu Buhari specifically designed to support the implementation of the 2020 budget, create enabling environment for business and investment by the private sector and also reform the tax regime by amending several Acts has been described by many economists and financial analysts as a right step in the right direction.  It is our hope that the law will lead to boom in the private sector and ultimately, more jobs for the citizens.,
However, good economic laws and policies without security and peaceful society will not yield the desired results. Hence, the urgent need to address the disturbing security situation across the nation. Our political leaders at all levels should ensure good governance devoid of injustice, unbalanced government, nepotism and favoritism, capable of destabilizing the nation and thereby discouraging investors from investing in the country.
Indeed, the unemployment challenge which is making many brilliant, hardworking and purpose-driven youths leave the country in droves must be addressed through various approaches. Entrepreneurship must be advocated both as a course in our secondary and tertiary institutions and among the youth generally. Our youth must be made to acquire some skills as that is a catalyst for driving economic prosperity and staying competitive in today's technology-driven world.
Our youth also have to be sensitized and educated on the inherent danger in migrating to other countries through any means to eke a living. All that glitters is not gold, they say. As Omolola advised, people should be cautious of travelling by strange persons who pose as benevolent agents.  One sure thing is that despite how difficult things are in Nigeria, many are still succeeding and, with hard work, more will.
Calista Ezeaku

Rivers In The Diversification Agenda
Prior to 1951 when oil was discovered in commercial quantity in Rivers State, agriculture was the primary occupation of the people of the State. The abundance of palm oil and kernel which basically constituted the main revenue source of the country in the 19th century earned the state the name 'Oil Rivers Protectorate'.
In a sample survey carried out by the Federal Ministry of Agriculture and Natural Resources, in 1983, about 40% of the rural inhabitants were said to be committed to farming. Ever since, agriculture had been an important branch of the economy of Rivers State, even as it remained the main source of livelihood for the rural people.
The place of agriculture in the state's economy paved way for the creation of a parastatal within the Ministry of Agriculture in 1988, called Agricultural Development Programme (ADP). The functions of this body included among others; formulating and implementing programmes relating to agriculture as well as providing extension services to farmers in both rural and urban areas of the state.
At this point, Rivers State became one of the leading states in the production of yam, cassava, cocoyam, maize, rice and beans. The availability of about 39% (760,000 hectares) of the state's total land mass, particularly in the upland area, made the cultivation of major cash crops such as; oil palm products, rubber, coconut, raffia palm and other crops like vegetables, melon, pineapples, mango, pepper, banana and plantain possible.
The fishing industry was not left out. It happened to be another thriving sector. Besides being lucrative, it was also a favorite pastime activity. With many artisanal fishermen in the riverine areas, and approximately 270 species of fish existing, the state provided valuable seafoods such as crabs, oysters, shrimps and sea snails among others.
One thus needs not be told that the state has large potential for agricultural production. Unfortunately, even with 39 per cent of land suitable for cultivation, agricultural productivity has continuously remained low probably due to low soil quality from oil spillage and leakage, or a perception among youth that agriculture is an unattractive means of employment.
However, in order to create an economic shift towards agriculture, in 2008 the then administration of the state implemented a replica of the Songhai international agricultural training center model first pioneered in Porto Novo, Benin Republic.
The model of the Rivers Songhai Farm Initiative (RSFI) consisted of a centrally located agricultural training center with a working farm expected to provide opportunities for practical learning and agricultural tourism.
The model made provision for the followings; instruction on the concept of zero waste, whereby farm by-products would be used in other activities (e.g., manure to be used to fertilize crops), teachings on farmers entrepreneurial skills and how to get more value from their primary products, and participants to have access to a network of satellite farms started by graduates of the program.
Given the provisions of the model, there were hopes that the RSFI's specific goals if properly managed have got the potentials to diversify production in Rivers state beyond the oil industry, improve agricultural productivity, and reduce youth unrest by giving them better access to employment and entrepreneurship opportunities.
Located on a 314 hectare of farm land at Bunu in Tai local government area, RSFI, within its shortlived operational season, was prominent in broilers production, cassava processing, feed and rice milling, machines production, stabilised bricks production, free range poultry, plantain farming, pineapple, vegetable, cassava and moringa cultivation. More units designed for future production at the centre include coconut, animal feeds, mango for chips and juice, orange for juice and input for animal processing and snail production.
All the same, at the dawn of the diversification agenda of the current political leadership in the country, one had expected that Rivers State would lead the committee of states whose agricultural flag are globally acknowledged with all the acquaintances the state had established with agriculture.
This expectation nevertheless was heightened in May 2016, when Governor Nyesom Ezenwo Wike personally called for sustained efforts to diversify the country's economy following dwindling earnings from oil. Governor Wike made the call at the Government House, Port Harcourt, during a visit by the Executive Director of the Nigerian Export Promotion Council (NEPC), Olusegun Awolowo.
Stating that the country can no longer depend solely on oil earnings, he averred that his administration would partner with the NEPC to develop alternative sources of foreign exchange earnings for the state, noting that the present economic challenges facing the country suggests that states have to look inwards to survive.
Responding to an earlier call by the visitor for a development of the state's agricultural sector to boost internally generated revenue, Wike signalled a willingness to collaborate with NEPC in the area of agriculture. Of course, what could be more reassuring than an affirmative statement coming from a leader who had carved a niche for himself as one who acts out his words.
Four years down the line, Rivers residents still await the boom in agriculture. This is achievable if the government can collaborate with the private sector, the state can experience mechanized agriculture, against the age-long subsistence farming for which it has been known. With this in place, employment creation is assured, income will be provided and emigration curbed.
Sylvia ThankGod-Amadi