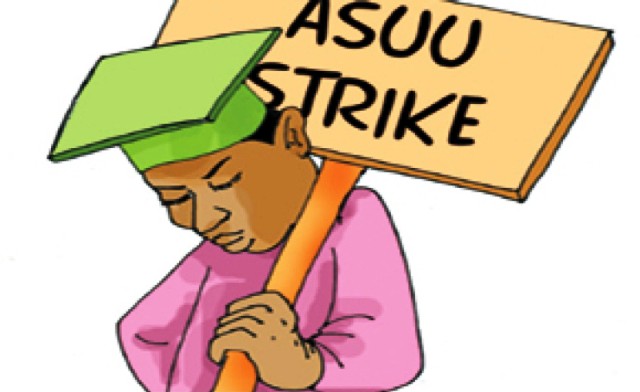 Penultimate Sunday, the Academic Staff Union of Universities (ASUU) threatened to call its members out on industrial action if the Federal Government failed to rescind its decision to stop salaries of any erring Ministry, Department or Agency (MDA) that does not comply with President Muhammadu Buhari's directive to enroll into the Integrated Payroll and Personnel Information System (IPPIS) by end of October, 2019.
The union described the directive, as it affects universities, as "illegal, unconstitutional and fraudulent".
While rejecting the government's stance at a press conference, ASUU Coordinator, Ibadan Zone, Dr Ade Adejumo, in company of other officers, claimed that the government's position violated extant laws, statutes, and regulations establishing and guiding the universities as well as subsisting agreements between ASUU and the government since 1992.
They specifically alleged violations of Section 2A (a) of Universities Miscellaneous Provisions (Amendment) Act 2003 which reviewed the 1992 Act; and the ASUU-FGN Agreements of 1992, 2001, and 2009; and claimed that IPPIS, if implemented in the universities without adjusting the platform, would undermine the system's financial autonomy and independence.
According to ASUU, "IPPIS is too rigid a platform that discountenances the peculiarities of the university system in the sacred areas of replacement or recruitment of academics, mobility of academic staff for visiting, adjunct, part-time, and sabbatical offers", and further listed the 70 years retirement age of lecturers which is above the 60 years for normal civil servants and Earned Academic Allowances as some of the issues in dispute.
The Tide completely disagrees with ASUU's argument on IPPIS. In fact, the union's peculiarities are in a way different from those of MDAs such as the Central Bank of Nigeria (CBN), military, police, para-military agencies, Nigerian National Petroleum Corporation (NNPC), Federal Inland Revenue Service (FIRS), among others, with the Constitution and special laws providing for their autonomy, which had since enrolled into IPPIS.
We are, indeed, aware that IPPIS, a World Bank recommended tool, took off in 2007 with key goals to ensure effective and efficient management of Federal Government staff records; timely and accurate payment of salaries and wages of employees; deduction of taxes and other third-party dues, remittance of payroll deductions to third parties; and the enrolment of employees into IPPIS database; in addition to helping government in development planning; management of payroll budget and appropriate control of personnel cost.
Its features include the Treasury Single Account (TSA), Presidential Initiative on Continuous Audit (PICA), Contributory Pension Scheme (CPS), among others.
We reckon that the first phase of implementation of TSA in 217 MDAs in 2012 helped government save about N500 billion, thus, encouraging its implementation across board. And between 2015 and July, 2019, about N10 trillion has been saved through the blockage of leakages in government finances; more than 20, 000 unnecessary bank accounts operated by MDAs closed; over N45 billion in monthly interest on borrowings from banks saved; and about N50 billion revenue stranded in different accounts mopped up.
Also, CPS has reformed pension administration and made it more transparent and efficient, with over N5 trillion in capital base.
We are surprised that ASUU, which had hitherto bandied itself as an advocate for good governance, transparency and accountability in the management of public funds, is kicking against a system designed to guarantee just that. We like to remind ASUU that even at state levels, most governments across the country have been conducting biometric exercises since 2007; and between 2015 and now, some governors have implemented more than three biometric exercises for all government workers, including academic staff of state universities to facilitate a state-wide database of government workers for effective budgeting and development planning. And we are not aware that such biometric exercises have affected their ability to receive salaries, Earned Academic Allowances, or access to retirement benefits, among others.
Perhaps, ASUU should know that the government needs to have a database of all its employees for adequate budgeting and future development plans, including infrastructure projects across the education sector, the universities inclusive.
ASUU should also know that for government to guarantee regular flow of funds and adequate personnel management while at the same time meeting other ancillary commitments, it needs to have a clear understanding of what is on the ground, challenges facing them and prospects, going forward. IPPIS provides the launch pad for that while checking corruption and sharp practices in the system.
This is why we consider as baseless ASUU President, Prof Biodun Ogunyemi's claim during a meeting with the Senate President, Dr Ahmad Lawan, last Friday, that the introduction of IPPIS is not backed by law, just as its introduction into federal universities will only compound the problem of regular flow of fund and personnel management.
If ASUU believes that IPPIS' "objectives include centralisation of payroll systems of the government, facilitating easy storage, updating and retrieval of personnel records for administrative purposes and pension processing", then, it should have no problem with the initiative.
We, therefore, advise ASUU to be wise and heed the Senate President's suggestions that "We are all in this together, and we believe that the Nigerian education sector, especially the tertiary, needs serious support… When you say government will fund universities, government will have to check how these funds are utilised but then, there have to be a mutual understanding that when they provide funds, the funds are properly channelled and the tertiary institutions can account for the funds."
For us, IPPIS provides that meeting point! This is why we say 'No' to another ASUU strike this time around, and urge it not to walk back its suspension of any industrial action over IPPIS.

Fresh Call For National Unity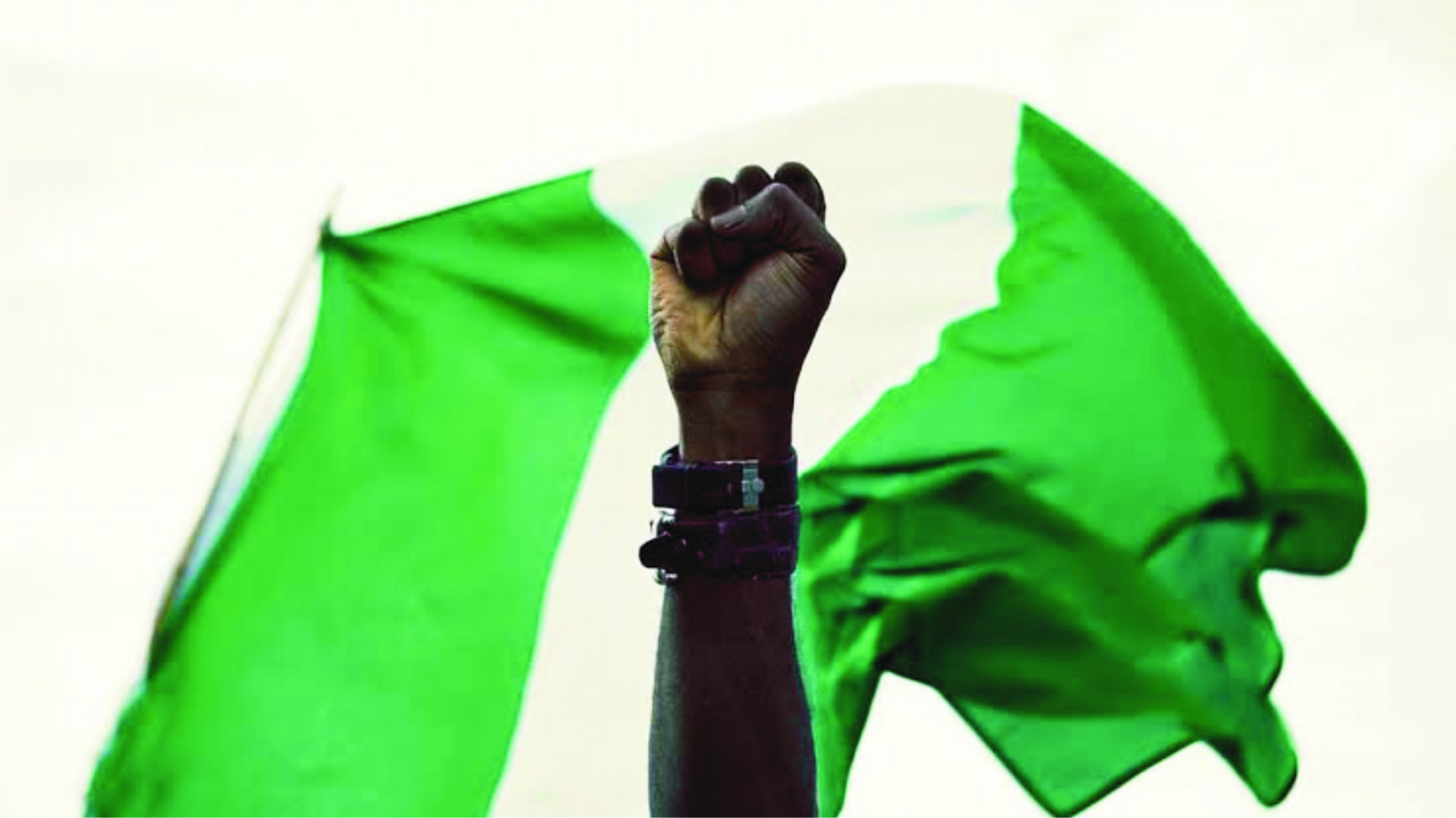 Fifty years after the Nigerian Civil War, which claimed well over 2.5 million lives, destroyed hundreds of thousands of properties, and rendered millions permanently maimed and traumatised in just about three years, principal actors, survivors, political leaders, historians, activists and other players in the Nigerian Project, last week, converged to provoke a sombre reflection, and warned against utterances and actions capable of triggering the disintegration of the country while advising that the catastrophe of the war years should serve as pivotal driving force for the promotion of peace, national reconciliation, cohesion and unity.
The warning was accentuated by diverse leaders across the nation from different professions, religious and ethnic orientations at the 'Never Again Conference 2020' organised by the Igbo think-tank, Nzuko Umunna and Ndigbo Lagos, in collaboration with civil society organisations. At the core of the conference was an x-ray of the major causes and consequences of the ill-fated Civil War and a critical appraisal of the present state of the nation which shows a seemingly dangerous replay of events in virtually all spheres of the Nigerian state.
Consequently, speaker after speaker noted that the complex dynamics, including heavily diverse cultures, tradition, religious affiliations and social backgrounds which have made it difficult for Nigerians to forge a strong, virile, progressive, peaceful and united nation, should be quickly harnessed, coalesced and weaved together in harmony to shut out any tendency to plunge the country into another Civil War. They regretted that the failure of Nigeria to move forward in peace and sustainable progress was because of the brazen disrespect of the majority and crass insistence of a minority group to foist its interests in the workings of the executive, legislative, judicial and even military and security superstructures without regard to the consequential violent implosion which such could unleash on the nation.
The leaders pointed at the various unfolding events of the last few years, including rising cases of abuse of power, outright impunity, looting of national treasury and assets, disregard for the rule of law and constitutionality, nepotism, tribalism, lack of compliance with the federal character principle, and targeted systemic violent attacks, killings and acts of war against people of other ethnic groups, and warned that the situation was capable of forcing the majority to fight back, thereby pushing the country into the brink of another civil war.
The Tide completely agrees that the songs of war, inciting, toxic and inflammatory attacks on people of other ethnic groups are heightening tension. We worry that violent attacks, killings, and kidnapping of people of certain tribes, religion and/or perceived to be of a given social status are taking a dangerous crescendo too. Even the deliberate government strategy to recruit and appoint people from a section of the country into virtually all critical sectors, agencies or departments at the federal level calls for concern.
We, therefore, caution harbingers of discord and war to remember the atrocities of the civil war and realise that so many things have changed and that the result of another potential war may never be the same. We say so because history tells us that no nation has ever survived two civil wars intact.
While we insist that the sovereignty and territorial integrity of Nigeria is non-negotiable, we appeal to all players to respect the expressed interests of others, and allow the divergent views to co-exist for the peace and unity of the nation. Indeed, the best way to bring this to life is to key into the urgency to restructure the country with the objective of giving the people a true and acceptable federal structure under which each federating unit would deploy its resources to conquer poverty amongst the people while the rich and the poor cohabit in harmony.
We believe that only a patriotic commitment to peaceful and united Nigeria would lead the present and future generations to a country with tolerant and inclusive political, economic, social and security systems for all. To achieve these, our leaders must entrench the core values of democratic principles and eschew ethnic, religious differences so that the country's driving force can revert to the ideal: merit, hardwork, creativity and innovation.
For us, there is no better time to raise the alarm than now because the fabric of the Nigerian state has been threatened and weakened by years of degenerate government tactics aimed at marginalising and alienating the majority in governance, repression and deployment of brute force to crush opposition, glorification of injustice and inequality, and other antics that enhance division and incite people to hate.
This is why we urge leaders in various sectors to heed the lesson of the civil war and the clarion call to do everything within their powers to promote peaceful coexistence and national unity. This is a call to duty and a task for all Nigerians.

Pains Of NIN Registration
Controversies have been trailing the ongoing National Identity Number (NIN) enrollment as the exercise imposes severe hardship on Nigerians in various centres across the country. The process has left a good number of people with frustration on an unprecedented scale.
NIN enrollment activities seldom succeed without physical altercations. An enrollee is expected to visit a designated (NIMC) centre to undertake biometrics after filling a form. Then they are asked to return for the NIN, usually after a minimum period of two weeks.
NIMC officials, their cronies and security agents among other concerned personnel, have made the process a fiendish complexity for Nigerians in dire need of the registration by extorting them. In some enrollment centres, there are stipulated amounts of money NIMC officials demand from applicants to get them registered.
In other centres, NIMC officials work in close collaboration with security agents to perpetrate the illicit act. The officials usually demand between N500 and N5,000 depending on the corresponding multitudes in the affected centres and the exigencies of the enrollment. Those who pay the money are given preference while others who fail to comply wait perpetually in exasperation.
Some applicants get desperately far to refuel NIMC generators to prevent officials from finding reasons to end registration for the day. Those who cannot bear the rigours of waiting and returning each day, gratify men of the Nigerian Security and Civil Defence Corps (NSCDC) to expedite the process. The resentment has made many Nigerians move to other cities to have their enrollments effected.
In profoundly populated areas across various states and cities, the enrollment modus has been tough on applicants, particularly with the development that requires students seeking university admission to have NIN as a criterion.
The Joint Admissions and Matriculation Board (JAMB) had in September last year directed prospective candidates for the 2020 Unified Tertiary Matriculation Examination (UTME) to enroll for NIN in order to check examination fraud, address the challenges of underage and multiple registrations, and cut down enrollment costs.
However, in a sudden wrench, the examination body announced a pull back from the initial plan to implement the policy with effect from next year, citing technical issues, stakeholders' concerns, and difficulties faced by candidates in the NIN registration.
Going by the galling experiences of Nigerians in the NIN centres, it is doubtful whether the NIMC/JAMB collaboration will be successful. While registration centres are few and far between, the NIMC grossly lacks adequate staff and equipment to discharge the exercise.
Given the grisly situation, the House of Representatives advised JAMB to suspend the NIN-for-UTME policy. While we commend JAMB for putting off the scheme to next year, we urge the Board to extend the time furthermore until there are enough awareness and preparations.
To facilitate efficient NIN registration process, therefore, we suggest that more centres be created across the country while additional equipment and staff be mobilised for the exercise. We equally urge NIMC to end the massive corruption in the registration centres and hope the culprits get the sanctions they deserve.
Also, the commission needs to establish active collaboration with states and local governments for valuable and less-stressful registration. It is unbelievable and quite grotesque that policy administrators in this country only mull over the benefits of policies without any careful consideration for their execution.
We recall a recent statement by the Director-General of NIMC, Aliyu Aziz, admitting that the NIMC had succeeded in registering only 35 million Nigerians. We are doubtful if half of this number has been issued the permanent registration card. For a country of about 200 million people, the performance of the commission in this task is hardly good enough.
The Tide deeply deplores the chaotic nature of the NIN registration exercise nationwide and impetrates the authorities involved to ensure that the task is seamless and less hazardous. There is a need for those in charge to simplify the registration process. We hope that NIMC management is aware of the many obstacles that stand between Nigerians and a successful NIN registration.

Remembering Our Fallen Heroes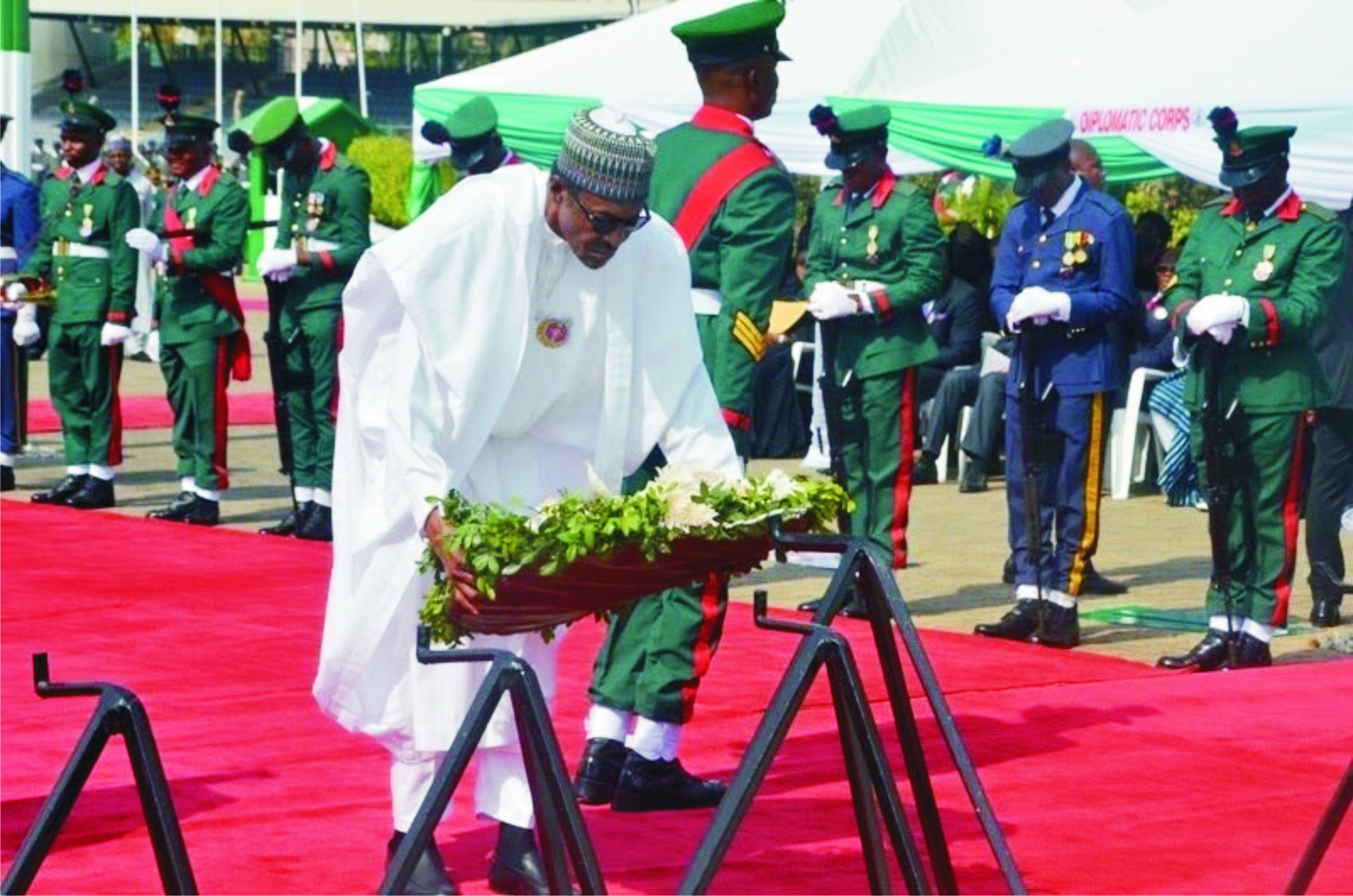 The 2020 Armed Forces Remembrance Day celebration activities which began on Wednesday, October 16, 2019 with the Emblem Appeal Launch by President Muhammadu Buhari at the Federal Executive Council Chambers, Abuja, climaxes today with the President, state governors and chairmen of local government areas expected to hold ceremonies in the Federal Capital Territory, state capitals and local government headquarters.
Formerly held on November 11 (also known as Popy Day) across countries of the British Commonwealth in honour of fallen heroes and veterans of World Wars I and II, the date of the annual ritual was changed to January 15 to commemorate the day the Biafran troops surrendered to the Federal forces, an event that effectively ended the 30-month Nigerian Civil War in 1970 and brought Nigeria back to a united country from the brink of division.
Speaking at the 2020 Armed Forces Remembrance Day church service in Abuja, last Sunday, Vice President Yemi Osinbajo, on behalf of the Federal Government, hailed the military for not only keeping the country safe but also preserving it for posterity while expressing the central government's commitment to improving the lives of officers and men of the armed forces through enhanced budgetary provision.
According to the Vice President, "The government is determined to better the lives of the military men and officers by improving the budget of the armed forces. We thank you for your faithfulness and pray God to bless and protect you", adding that their labour would never be allowed to go in vain.
In the same vein, the Rivers State Governor, Chief Nyesom Wike, paid glowing tribute to the roles played by the Nigerian Armed Forces in keeping the country united and safe from external aggression and ensuring internal security and socio-political stability.
The governor vowed to continue to honour, applaud, appreciate and reward heroic accomplishments of the men and officers of the Nigerian Armed Forces and charged them to uphold highest professional standards in all their engagements in order to maintain their integrity and enjoy the desired respect and regard from the populace.
For Governor Dapo Abiodun of Ogun State, "the military martyrs paid the supreme sacrifice for Nigeria to remain one and for us to sleep with our too eyes closed. Let us look around us; let's find a widow; let's find a widower; let's find an orphan of a fallen soldier; let us reach out to them".
He added that "As an administration, we shall continue to support the Nigerian Legion. We shall continue to appreciate all our fallen heroes".
The Tide joins these and millions of well-meaning Nigerians in raising the banner of encouragement, commendation and appreciation to the men and women whose sacrifices of personal and collective comfort, convenience and blood have kept our nation together, still striving and thriving.
Indeed, we recognise that the very existence of any nation (chief of all, Nigeria) is fundamentally predicated on the courage, bravery, gallantry, selflessness and sacrifice, including the supreme sacrifice of the crop of individuals who dedicate their lives to ensuring that the lives of the rest of their compatriots run safely, securely and smoothly.
This is why we urge government at all levels, corporate bodies and all Nigerians not only to celebrate and pay homage to our fallen, falling, surviving and fighting heroes just today but to mainstream it in our national, collective and individual activities and consciousness.
To this end, we strongly appeal to the Federal Government to endeavour to do more in the provision of modern and state-of-the-art arms and ammunition to the armed forces in order to give them a strong advantage over the Boko Haram and ISWAP forces threatening the territorial integrity of our country. In addition, government should continue to do all it takes to motivate, boost confidence and ensure the sustenance of very high spirits in the troops, including adequate medical care for the injured, befitting treatment for the fallen and prompt and adequate care for their surviving dependants.
Government needs to creatively evolve a system that guarantees a reasonably decent and dignifying living condition for all ex-service men in Nigeria. Gone and forgotten should be the days when retired military personnel go through dehumanising experiences to get their retirement benefits, die while trying to secure same or are consigned to a life of slow, painful death due to conditions foisted on them by material destitution.
We as well urge corporate bodies to not only support and assist the Nigerian Legion but to engage legionnaires in duties they are fit and qualified for. On the part of private citizens, we're convinced that according servicemen and their retired counterparts courtesies and privileges at public places especially, will boost their morale, make them feel appreciated and spur them to do more for the peace, safety and security of our country.
Finally, truth be told, the Nigerian military have a lot to do to regain the glory, esteem and awe of the service in the estimation of the Nigerians. This is why the admonition of Governor Wike to return to the path of professionalism and complete avoidance of involvement in strictly civilian activities like politics and sundry issues should be taken to heart.
The parlous security situation in the country calls for all hands to be on deck and the army of ex-servicemen who are still able and fit should respond to the need of fatherland by making themselves available for engagement in vigilante activities by state and local governments.
As the nation celebrates this year's Armed Forces Remembrance Day, The Tide wishes to remind our political leaders and security forces that the task to keep Nigeria one, undivided, peaceful, politically stable, cohesive and economically prosperous is still work-in-progress. All that is needed for victory in this regard is for everyone to do their bit with sincerity of purpose and commitment to the common good. It is the only way to make the labour of our heroes past count.