We'll Continue To Give Our All To Rivers – Wike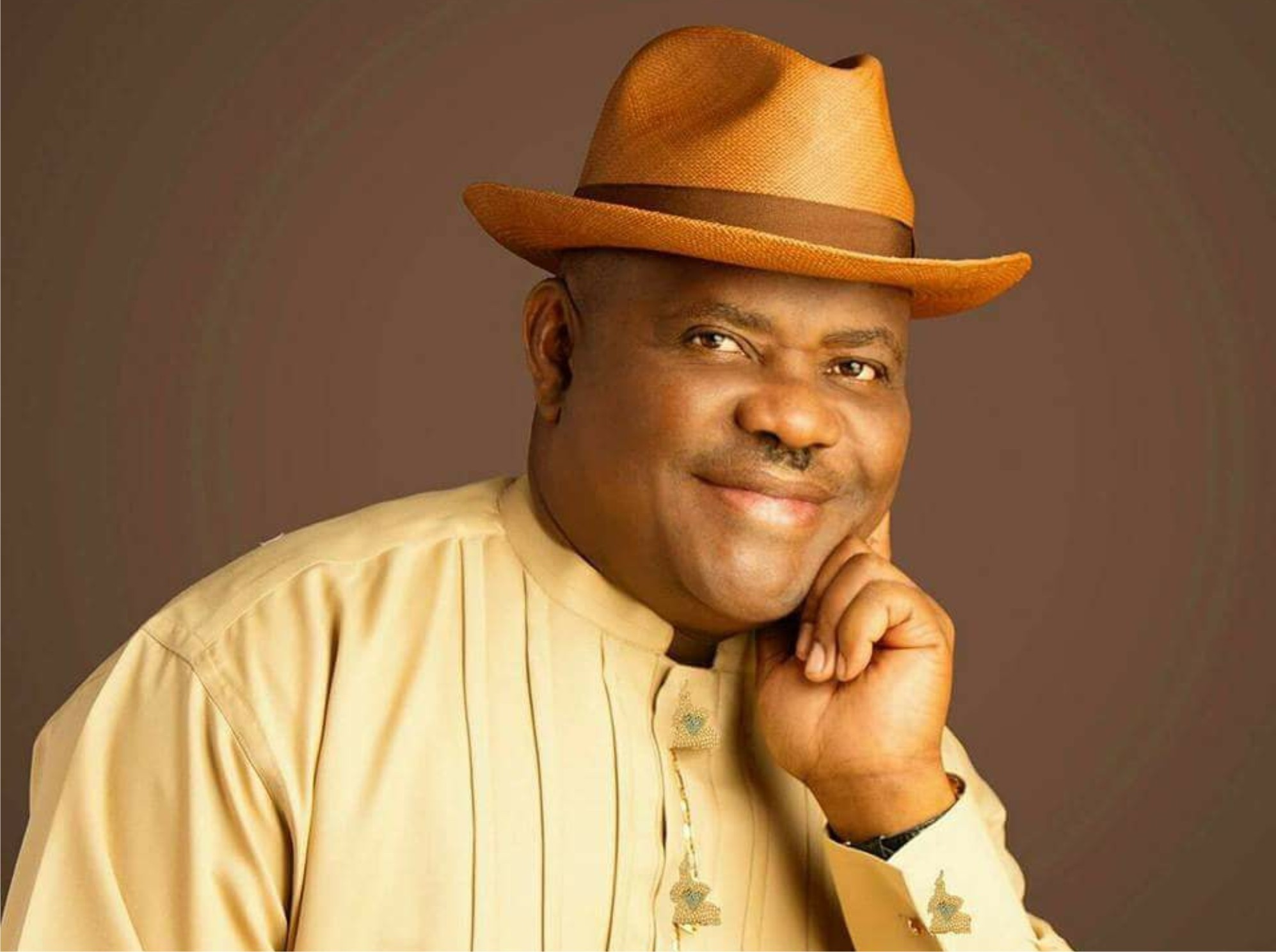 Contd from last edition
We recognize the correlation between adequate security and the well being of our people. We all therefore deserve to be safe and secure in our homes, offices, business places, along our roads and in our neighbourhoods and inn our communities.
Regrettably, the federal government politicised the provision of security in Rivers State and exposed us to preventable security challenges, setbacks and injuries in the last four years.
While they readily funded special security operations against intense banditry in some parts of the country, they refused our requests for similar interventions and operations when we wanted and even offered to bear the cost to stem increasing kidnapping and cult-related violence across the State.
What's more, they have refused to accord adequate security attention to Rivers State in spite of the unprecedented support they receive from us in terms of provision of operational vehicles, armoured personnel carriers, gunboats, communication gadgets, fuel and overheads to the security agencies.
Nevertheless, we thank the security agencies, especially the state commands of the Police, the Department of State services, the Nigerian Air force and the Nigerian Navy for the partnership and willingness to give their best to keep us safe and secure in spite of the seaming indifference and lack of tangible material support and encouragement from the federal government.
Even now and going forward, we can only pray to them to depoliticise the provision of security in Rivers State because we are also Nigerians as other states and the preservation of our lives and property should equally matter to the federal government.
However, we wish to assure our people that we will continue to prioritise the provision of security and do our possible best within our constitutional powers and resources to safeguard lives and property across our state
Accordingly, we will make Rivers State too hot for criminals and bandits and deal ruthlessly with any person, gang or group, including traditional rulers and landlords who directly or indirectly participate, aid, abet, provide safe havens or allow criminal activities in homes, premises and territories under their control.
We will also partner with the judiciary to ensure swift dispensation of criminal justice as well as work with stakeholders to operationalise the Neighbourhood Security Watch Scheme to support the security agencies so that we can all live and enjoy the State, raise our children and do our businesses in peace and security.
Ladies and gentlemen, 52 years ago, our founding fathers dreamt about Rivers State and its greatness; a State brimming in prosperity; at peace with itself and its neighbours; a State everyone would be proud off for its underlying achievements and values.
We've spent the last four years working on this vision with demonstrable capacity and commitment to make Rivers State as great as it could become and for everyone to share in its successes.
We believe that no success is more fulfilling and worth sustaining than keeping faith with the hopes and aspirations of the people who freely gave us their trust to govern on their behalf and change their material conditions for the better.
For us, Rivers State was created for a purpose and the confidence in its future is what continues to motivate us. And having renewed our mandate therefore, we cannot but concede to your yearnings that we deliver greater progress for the State in the next four years.
We've heard you loud and clear. All that we can say at this point is to assure you that we are fully ready and determined to deliver four more years of meaningful progress and hope for our State and our people.
But, we must also not forget that it won't be as easy. As a State, we are not immune to the inherent challenges bedeviling our dysfunctional federal system: the ravaging insecurity everywhere; declining revenues, low economic growth, double-digit inflation rate, high cost of living, lack of basic infrastructure and public services, high unemployment, as well as inequality of wealth, income and opportunities.
This being so, it cannot be gainsaid that our progress is to extent dependent on how quickly the federal government resolves these challenges and improves the national economy.
But whatever the challenges may be, we remain undaunted to solving the only problem that continues to confront us as a people: the Rivers problem.
I had often said that Rivers State is ours to build and no one can be interested in its progress more than us. No one can care more about the future of our youths or the education and health of our children, and our security than us.
Therefore, wherever we are; whatever office we hold and whatever action we take, we must make Rivers State the centre, the measure, the reason and the motivation.
For us, everyone counts and we must not allow ourselves to be divided between upland and riverine considerations but strive for common grounds, solidarity and work together towards achieving our common goals and aspirations.
Our refrain at this time, and especially in the face of the social and economic uncertainties in our nation, should be: ask what you can do for Rivers State instead of what Rivers State can do for you.
The future of our State depends on us. It is up to us to renew, re-energize, and advance the Rivers dream, to fight for what belongs to us, and to defend our right to exist in freedom, security and peace in our own nation.
And if we do cooperate, think and act among ourselves with tenacity and unity of strength, purpose and commitment, then there is no mountain we cannot level; no river we cannot cross, and no goal we set for ourselves that we cannot achieve.
We are not in opposition to the Federal Government and we seek their partnership to move Rivers State and Nigeria forward.
But we are not a conquered people and we will never surrender our freedoms to any body or entity, whether internal or external.
We will therefore not accept to be subjugated to a headmaster and pupil power relationship; neither will we abandon the collective interest of Rivers State for the sake of political expediency.
We are for the rule of law, democracy and mutual respect as autonomous State entities and co-building blocks of the Nigerian federation.
And so, for us, in all things it is Rivers State first; Rivers State is the measure; Rivers State before others. This is the essence of the political mandate and burden that we will bear for the next four years and we will not disappoint you.
We will continue to stand up for Rivers State and defend her interest, no matter the challenges or what comes at us.
We do not claim to have the solutions to all the problems that we face as a State and as a people. But we will never surrender our core values and standards and our commitment to do to what is right, necessary and appropriate for our State.
114.  We believe that working together, as one, remains the better and stronger path to accelerate and ensure enduring progress for our state.
And so we promise open doors and open minds as we get down to work with all stakeholders, including the legislature, the judiciary, leaders of the State, traditional rulers, local government chairmen, social interest groups and the opposition to deliver on our mandate and move us forward.
We all need each other because everyone counts. We need ideas and contributions from everyone, irrespective of ethnic, party or religious affiliations and together, we can consolidate, target new heights and build the Rivers State that we all want to see now and in the future.
We may be from different social, economic or political background, but the bottom-line is that we are all Rivers people with common aspirations and challenges and when we reflect on our shared values and responsibility to the state and our people, we will discover that we all stand to win by repudiating the politics of division, hatred and self-interest that constitute a drag on our collective progress.
Ladies and gentlemen, I cannot let this glorious moment to end without thanking all those who made this historic day possible in our lifetime.
Again, let me thank the good people of Rivers State, especially the voters, for your trust and for your support as we discharge our responsibilities for the next four years.
Let me recognise and thank the national chairman of the Peoples Democratic Party, Prince Uche Secondus, the Rivers State PDP Chairman, Felix Obuah and all other leaders of our party at both national and state levels for your continued support and encouragement.
I wish to also recognise and give special thanks to our leaders, especially our former Governors, Dr. Peter Odili, and Sir Celestine Omehia, Chief Ferdinand Alabraba, Chief Sergeant Awuse, Prince Emma Anyanwu, Rt. Hon Austin Opara, Dr. Abiye Sekibo, Mr. Frank Owhor, Senator George Thompson Sekibo, Senator Olaka Nwogu, Senator Lee Maeba, Dr. Tammy Danagogo, Chief Azubuike Nmerukini, Ambassador Desmond Akawor, OCJ Okocha, SAN, as well as all my former Commissioners, Special Advisers, Special Assistants and Security  Aides for your support and services to the State over the last four years. I look forward to working with you to advance our State for the next four years.
Last but not the least are the members of the clergy, our hard working women and energetic youths for your prayers, devotion and commitment to our collective struggles to defend the rights of our people to freely choose their leaders.
Finally, I stand here today with a humble spirit, conscious of the enormous responsibility that you have again entrusted in us and confident in our potential and with God on our side, we will surely discharge our mandate to the benefit of all and leave our dear Rivers State better off than when we started four years ago.
Thank you. God bless you all. And may God bless our dear Rivers State.
2020 Budget Designed To Stregthen Macro -Economic Environment – Buhari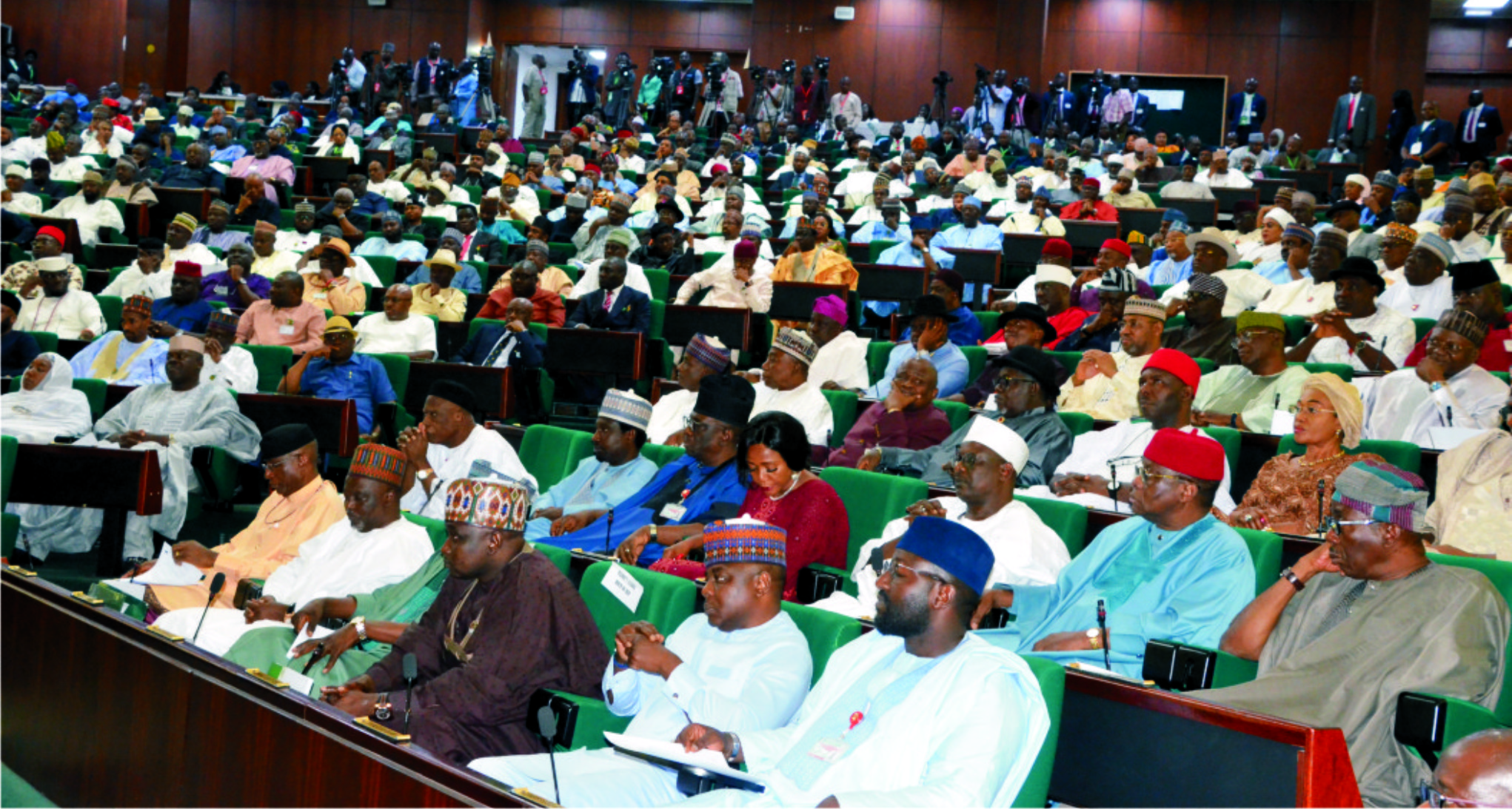 Being a text of the 2020 Budget speech delivered by President Muhammadu Buhari at the Joint Session of the National Assembly, Abuja on Tuesday, October 8, 2019.
Excerpt.
Protocols
I will start by asking you to pardon my voice. As you can hear, I have a cold as a result of working hard to meet your deadline!
I am delighted to present the 2020 Federal Budget Proposals to this Joint Session of the National Assembly, being my first budget presentation to this 9th National Assembly.
Before presenting the Budget, let me thank all of you Distinguished and Honourable Members of the National Assembly, for your avowed commitment to cooperate with the Executive to accelerate the pace of our socio-economic development and enhance the welfare of our people.
I will also once again thank all Nigerians, who have demonstrated confidence in our ability to deliver on our socio-economic development agenda, by re-electing this Administration with a mandate to Continue the Change. We remain resolutely committed to the actualization of our vision of a bright and prosperous future for all Nigerians.
During this address, I will present highlights of our budget proposals for the next fiscal year. The Honourable Minister of Finance, Budget and National Planning will provide full details of these proposals, subsequently.
Overview Of Economic Developments In 2019
The economic environment remains very challenging, globally. The International Monetary Fund expects global economic recovery to slow down from 3.6 percent in 2018 to 3.5 percent in 2020. This reflects uncertainties arising from security and trade tensions with attendant implications on commodity price volatility.
Nearer to home, however, Sub-Saharan Africa is projected to continue to grow from 3.1 percent in 2018 to 3.6 percent in 2020. This is driven by investor confidence, oil production recovery in key exporting countries, sustained strong agricultural production as well as public investment in non-dependent economies.
Mr. Senate President; Right Honourable Speaker; I am pleased to report that the Nigerian economy thus far has recorded nine consecutive quarters of GDP growth. Annual growth increased from 0.82 percent in 2017 to 1.93 percent in 2018, and 2.02 percent in the first half of 2019. The continuous recovery reflects our economy's resilience and gives credence to the effectiveness of our economic policies thus far.
We also succeeded in significantly reducing inflation from a peak of 18.72 percent in January 2017, to 11.02 percent by August 2019. This was achieved through effective fiscal and monetary policy coordination, exchange rate stability and sensible management of our foreign exchange.
We have sustained accretion to our external reserves, which have risen from US$23 billion in October 2016 to about US$42.5 billion by August 2019. The increase is largely due to favourable prices of crude oil in the international market, minimal disruption of crude oil production given the stable security situation in the Niger Delta region and our import substitution drive, especially in key commodities.
The foreign exchange market has also remained stable due to the effective implementation of the Central Bank's interventions to restore liquidity, improve access and discourage currency speculation. Special windows were created that enabled small businesses, investors and importers in priority economic sectors to have timely access to foreign exchange.
Furthermore, as a sign of increased investor confidence in our economy, there were remarkable inflows of foreign capital in the second quarter of 2019. The total value of capital imported into Nigeria increased from US$12 billion in the first half year of 2018 to US$14 billion for the same period in 2019.
Performance Of The 2019 Budget
Distinguished and Honourable Members of the National Assembly, you will recall that the 2019 'Budget of Continuity' was based on a benchmark oil price of US$60 per barrel, oil production of 2.3 mbpd, and an exchange rate of N305 to the United States Dollar. Based on these parameters, we projected a deficit of N1.918 trillion or 1.37 percent of Gross Domestic Product.
As at June 2019, Federal Government's actual aggregate revenue (excluding Government-Owned Enterprises) was N2.04 trillion. This revenue performance is only 58 percent of the 2019 Budget's target due to the underperformance of both oil and non-oil revenue sources. Specifically, oil revenues were below target by 49 percent as at June 2019. This reflects the lower-than-projected oil production, deductions for cost under-recovery on supply of premium motor spirit (PMS), as well as higher expenditures on pipeline security/maintenance and Frontier exploration.
Daily oil production averaged 1.86 mbpd as at June 2019, as against the estimated 2.3 mbpd that was assumed. This shortfall was partly offset as the market price of Bonny Light crude oil averaged US$67.20 per barrel which was higher than the benchmark price of US$60.
Additionally, revenue projections from restructuring of Joint Venture Oil and Gas assets and enactment of new fiscal terms for Production Sharing Contracts did not materialize, as the enabling legislation for these reforms is yet to be passed into law.
The performance of non-oil taxes and independent revenues such as internally generated revenues were N614.57 billion and N217.84 billion, respectively.
Receipts from Value Added Tax were below expectations due to lower levels of activities in certain economic sectors, in the aftermath of national elections. Corporate taxes were affected by the seasonality of collections, which tend to peak in the second half of the calendar year.
On the expenditure side, 2019 Budget implementation was also hindered by the combination of delay in its approval and the underperformance of revenue collections. As such, only recurrent expenditure items have been implemented substantially. Of the prorated expenditure of N4.46 trillion budgeted, N3.39 trillion had been spent by June 30, 2019.
In compliance with the provisions of the 2018 Appropriation Act, we implemented the 2018 capital budget till June 2019. Capital releases under the 2019 Budget commenced in the third quarter. As at 30th September 2019, a total of about N294.63 billion had been released for capital projects. I have directed the Ministry of Finance, Budget and National Planning to release an additional N600 billion of the 2019 capital budget by the end of the year.
Despite the delay in capital releases, a deficit of N1.35 trillion was recorded at end of June 2019. This represents 70 percent of the budgeted deficit for the full year.
Despite these anomalies, I am happy to report that we met our debt service obligations, we are current on staff salaries and overhead costs have also been largely covered.
2020 Budget Priorities
Distinguished Senators, Honourable Members, let me now turn to the 2020 Appropriation, which is designed to be a budget of:
a. Fiscal consolidation, to strengthen our macroeconomic environment;
b. Investing in critical infrastructure, human capital development and enabling institutions, especially in key job creating sectors;
c. Incentivising private sector investment essential to complement the Government's development plans, policies and programmes; and
d. Enhancing our social investment programs to further deepen their impact on those marginalised and most vulnerable Nigerians.
Parameters & Fiscal Assumptions Underpinning The Appropriation Bill And The Finance Bill
Distinguished and Honourable Members of the National Assembly, the 2020-2022 Medium Term Expenditure Framework (MTEF) and Fiscal Strategy Paper (FSP) set out the parameters for the 2020 Budget. We have adopted a conservative oil price benchmark of US$57 per barrel, daily oil production estimate of 2.18 mbpd and an exchange rate of N305 per US Dollar for 2020.
We expect enhanced real GDP growth of 2.93% in 2020, driven largely by non-oil output, as economic diversification accelerates, and the enabling business environment improves. However, inflation is expected to remain slightly above single digits in 2020.
Accompanying the 2020 Budget Proposal is a Finance Bill for your kind consideration and passage into law. This Finance Bill has five strategic objectives, in terms of achieving incremental, but necessary, changes to our fiscal laws. These objectives are:
a. Promoting fiscal equity by mitigating instances of regressive taxation;
b. Reforming domestic tax laws to align with global best practices;
c. Introducing tax incentives for investments in infrastructure and capital markets;
d. Supporting Micro, Small and Medium-sized businesses in line with our Ease of Doing Business Reforms; and
e. Raising Revenues for Government.
The draft Finance Bill proposes an increase of the VAT rate from 5% to 7.5%. As such, the 2020 Appropriation Bill is based on this new VAT rate. The additional revenues will be used to fund health, education and infrastructure programmes. As the States and Local Governments are allocated 85% of all VAT revenues, we expect to see greater quality and efficiency in their spending in these areas as well.
The VAT Act already exempts pharmaceuticals, educational items, and basic commodities, which exemptions we are expanding under the Finance Bill, 2019. Specifically, Section 46 of the Finance Bill, 2019 expands the exempt items to include the following:
a. Brown and white bread;
b. Cereals including maize, rice, wheat, millet, barley and sorghum;
c. Fish of all kinds;
d. Flour and starch meals;
e. Fruits, nuts, pulses and vegetables of various kinds;
f. Roots such as yam, cocoyam, sweet and Irish potatoes;
g. Meat and poultry products including eggs;
h. Milk;
i. Salt and herbs of various kinds; and
j. Natural water and table water.
Additionally, our proposals also raise the threshold for VAT registration to N25 million in turnover per annum, such that the revenue authorities can focus their compliance efforts on larger businesses thereby bringing relief for our Micro, Small and Medium-sized businesses.
It is absolutely essential to intensify our revenue generation efforts. That said, this Administration remains committed to ensuring that the inconvenience associated with any fiscal policy adjustments, is moderated, such that the poor and the vulnerable, who are most at risk, do not bear the brunt of these reforms.
Federal Government Revenue Estimates
The sum of N8.155 trillion is estimated as the total Federal Government revenue in 2020 and comprises oil revenue N2.64 trillion, non-oil tax revenues of N1.81 trillion and other revenues of N3.7 trillion. This is 7 percent higher than the 2019 comparative estimate of N7.594 trillion inclusive of the Government Owned En-
Good Of Rivers People, My Driving Force, Wike Affirms …As Work Begins On Garrison, Artillery, Rumuokoro Flyovers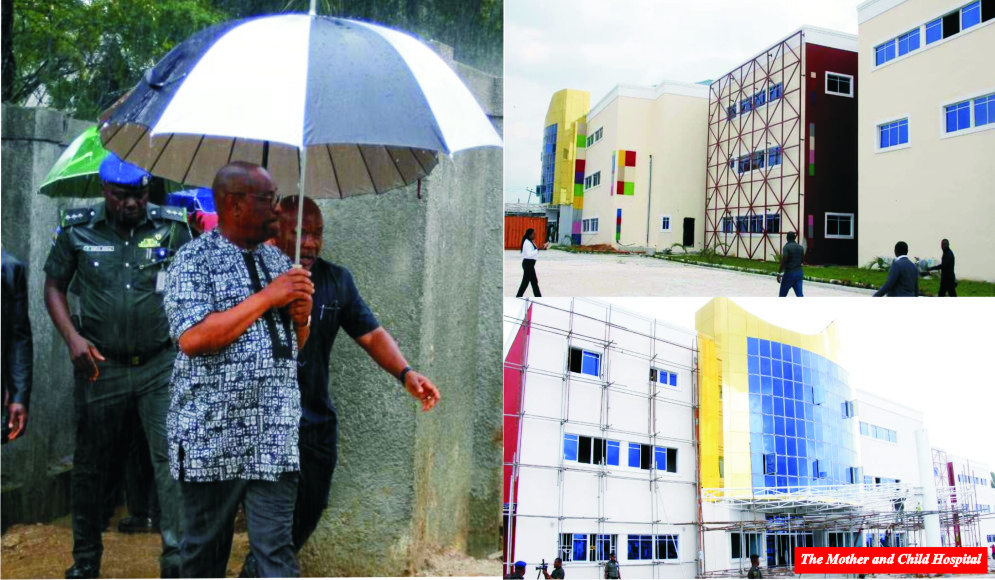 The Rivers State Governor, Chief Nyesom Wike has explained that the driving philosophy of his leadership model, is promoting the good of Rivers State in every action.
Addressing journalists after defying a heavy downpour to inspect the ongoing construction of Mother and Child Hospital in Port Harcourt, yesterday, Wike said he would continue to fulfill all his promises to the people of the state.
The governor said: "What is important is that when we make a promise, we fulfil that promise. We have no room for excuses. We will continue to promote the good of our people.
"For me, everything is Rivers. Whatever will improve the lives of Rivers people, we will do it".
Wike said that Julius Berger has started the process of preliminary works for the three flyover bridges at Garrison, Artillery and Rumuokoro in Port Harcourt.
He said that the construction giant has started soil tests, while the due process formalities would be completed, today.
"They are doing soil test. By tomorrow, they would conclude the due process formalities.
"We will flag off the construction of the three flyover bridges by the second week of October", he said.
Commenting on the Mother and Child Hospital, the governor said that it would be completed by this November ending.
"We believe that by the end of November, the Mother and Child Hospital will be ready. I am happy with the pace and quality of work by the new contractor.
"We were not impressed with the last contractor. We had to terminate the contract. We are impressed with what we are seeing now. This contractor is doing well with the supervision of relevant officials of relevant government agencies", he said.
He said the Mother and Child Hospital would provide specialist services to the people of Niger Delta, being the first in the region.
The governor noted that the hospital would also serve as part of the Rivers State University Teaching Hospital, explaining that the Rivers State Government has paid fully for the equipment of the hospital.
He added that full payment has been made for the furnishing of the hospital, while payment for the construction work is at 90 per cent level.
Wike was accompanied on the inspection by Director General, Rivers State Bureau of Public Procurement, Mr. Igonibo Emmanuel Thompson and former state lawmaker, Felix Nwaeke.
Non-Existent Mosque: Truth About The Lie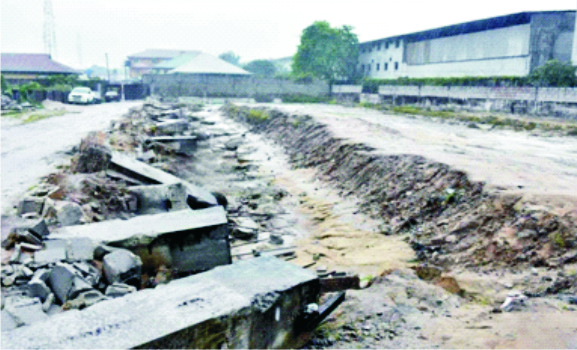 Very fundamentally,  no Mosque was demolished by the Rivers State Government.  This has been established by all the stories published after the initial falsehood by Daily Trust and The Nation Newspapers generated national attention.  This reality can no longer be controverted.
Rather than apologise to the country for allowing the media to be used to peddle malicious falsehood,  some media organisations have continued to rationalise the falsehood.  A lie is a lie. No amount of rationalisation can transform a lie into the TRUTH.
The truth about the lie of the non-existent Mosque at Rainbow Town in Port Harcourt is the fact the story was SPONSORED by some political elements to attain a political goal. Otherwise, the TRUTH stared everyone in the face.  The mischief of Alhaji Tobacco and his sponsors was clear.
Some news outlets attempted damage control.  But then, the damage control was weak and self-serving.  The malicious falsehood had further destroyed  the credibility of several of them.
A reporter from The Cable called me and I informed him pointedly  that no demolition was carried out.  He informed me that he was in Port Harcourt and I asked him if he saw any Mosque at the said location.  He admitted  that no Mosque existed.
I told him that being a pro-APC news outlet,   I never expected The Cable to exhibit  courage in its reportage of the falsehood.  He argued back and forth.  He asked for the judgment of November 2018 which conferred ownership of the said land on Rivers State Government and I availed him the report.  This had the Suit Number,  Date of Judgment and Name of the Judge  that delivered the judgment.
The following day, the same reporter called me and said that Scannews had published the news report on the judgment I sent to him. I urged him to go to the State High Court with the suit number and name of the judge to obtain certified true copy of the judgment,  if his office doubted the judgment which was already in the public domain .  He didn't reflect  the judgment in his damage control  report and claimed  that he couldn't  do so because it was published in Scannews.  This is a reporter that claimed  he was in Port Harcourt to investigate the non-existent Mosque.
Beyond that Justice G.O Omereji's judgment,  the Registered Trustees Trustees of Trans-Amadi Mosque have appealed the judgment.  In Suit  Number CA/PH/189/2019, the Registered Trustees of Trans-Amadi Mosque said that Justice G.O. Omereji erred while delivering judgment on Suit Number PHC/986/2012, when he declared that the Rivers State Government's title was superior to the ownership claim of Chief Amadi who sold the land to them.
The Rivers State High Court declared that the land in question belongs to the Rivers State Government. The Court also declared that the Registered Trustees of Trans-Amadi Mosque had no approval to construct any structure on the disputed land.
The Cable and her reporter were not diligent to confirm from the Rivers State High Court and the Court of Appeal.  Having lost in their plot to misinform and mislead Nigerians,  they struggled desperately  to justify the lie.
Whatever is said, we must have the courage to admit the truth. There was no Mosque on that plot of land. The plot of land has always been owned by the Rivers State Government.
Despite speaking to the former Rivers State Governor through his media aide, David Iyofor, The Cable and other pro-APC media still attempted to promote the malicious falsehood about the NON-EXISTENT MOSQUE.
Hear Amaechi through Iyofor:
"Facts are being twisted and misrepresented. Amaechi as governor of Rivers State did not demolish any mosque on that site. We recalled that during one of his many project inspections around the city of Port Harcourt, Amaechi noticed that some persons were in the process of building on government land," Iyiofor said.
"He stopped the work they were doing and directed the relevant Rivers State Government ministry liaise with the builders to determine the veracity of their claims that they(builders) have legal rights to the land. The outcome of the government investigation at that time confirmed that the land belongs to the state government and there was no government approval for anyone or body to build on that parcel of land"
From the above, the narration remains consistent with today's reality.  The land belongs to the Rivers State Government and no approval was given to the group  for any construction.  They didn't obtain any from Amaechi and no approval was given by the Wike administration.
The Chairman of the Nigeria Governors Forum and Ekiti State Governor,  Dr Kayode Fayemi, has assessed the location.  He found out that no Mosque existed at that location.  This entire story was concocted with ulterior political motives.  This explains  the warped statements by some political leaders, who climb the political ladder using religion as a major tool.
Fayemi said : "With what I have seen I cannot see any evidence of any building  that has been demolished here. If you are somebody who wants a place of worship,  you should find a way to oblige them. I know within your capacity,  it will  be possible to find a place for them.
"From what I have seen here, I think it is a storm in a tea cup. There is nothing to warrant this kind of media hype that has been given to it".
Those who plotted this malicious falsehood and sponsored the negative media mileage have been disappointed.  God and the truth have failed them.  The mayhem they intended to achieve failed to kick-start.
Nwakaudu is Special Assistant to Rivers State Governor on Electronic Media.
Simeon Nwakaudu