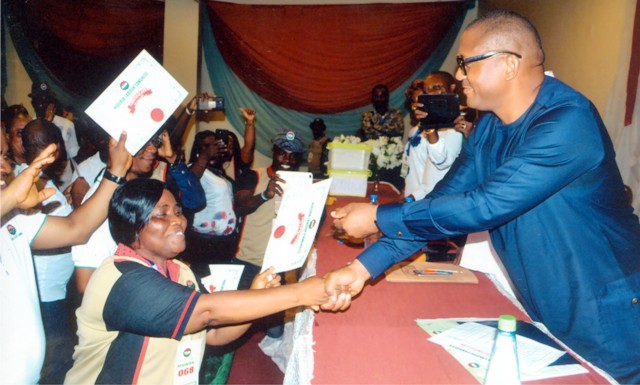 In a move to promote small scale businesses and alleviate the standard of in Rivers State, the Rivers State Government has provided about N2 billion to boost entrepreneurship in the state.
The Rivers State Commissioner for Commerce and Industry, Pastor (Mrs) Nancy I. Nwankwo, disclosed this while declaring open the National Executive Council (NEC) meeting of the Institute of Co-operative Professionals of Nigeria (ICOPRON) in Port Harcourt, yesterday.
The Commissioner, who was represented by a Director in the Ministry, Mr. Paul Damgbo, lauded the institute for choice of Port Harcourt, saying it was an expression of confidence that the state is a peaceful and hospitable place for visitors and investors.
While urging the institute to embark on regular workshops and training programmes for their members, she assured that government would continue to support the institute in attaining its noble dreams and aspirations.
She urged members of the institute to take advantage of the various government empowerment programmes and partner with the ministry to improve the welfare of the people.
In his speech, the Rivers State Director of Co-operative, George uche Nwachukwu, noted that co-operative business has been identified as the brain-box of any developed economy.
Earlier, in his welcome address, the Chairman of the Rivers State Chapter of the institute, Owen Bakor, lauded members nationwide for projecting the image of the institute, adding that the Rivers State Chapter would continue to work towards achieving the aspirations and objectives of the institute.
In his goodwill message, Elder C.O. Ellah, advocated regular training to upgrade the knowledge of members, pointing out that most employees lack the official training in the profession and that it was the reason why most cooperative societies collapse after a while.
The National President of the Institute, Olubunmi Fajobi, said that the bill on co-operative societies in the National Assembly had passed second reading, as he expressed concern over the delay in passing the bill by the National Assembly.
He appealed to members to exercise patience while the passage of the bill lasts, assuring that the institute would ensure the bill is passed into law.
Kinika Mpi