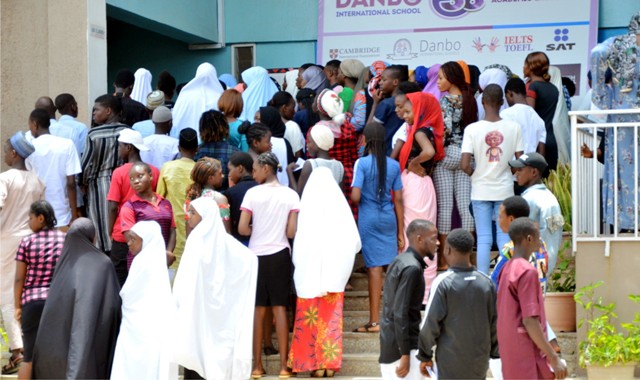 Three  students with first class honours were among the 129 graduates   of the Department of Medical Laboratory Science, Rivers State University that were inducted by the Medical Laboratory Science Council of Nigeria (MLSCN) in Port Harcourt, last Thursday.
The students who made the first class honours include,  Violet Muosanya  who had CGPA of (4.80), Chialuka Chidubem Akuta (4.56), and Nzochi Anthony (4.51).
Speaking at the  induction/oath taking ceremony held at the University Amphitheater in Port Harcourt,Thursday the Acting Registrar and CEO of the Medical Laboratory Science Council of Nigeria (MLSCN), Sir Tosan Erhabour, commended the newly inducted graduates for their excellent performances, noting that their determination and hard work contributed to the completion of their studies.
Sir Erhaour charged them to protect the image of the profession and their institution, adding that they should avoid unethical practice that may lead to professional misconduct and withdrawal of their licence, even as he congratulated them for the academic feats achieved
Earlier in his remarks, the Vice-Chancellor of the University, Prof Blessing C. Didia commended the Dean of the Faculty of Science and the Head, Department of Medical Laboratory Science for ensuring that the students of the department were prepared yearly for induction into the MLSCN.
Represented at the ceremony by the Deputy Vice Chancellor, Prof. Boma Magnus Oruwari, the Vice Chancellor commended the inductees and charged them to do their analysis properly as they begin their internship, warning that they should not indulge in activities that may disgrace their families and the university.
Also speaking, the Dean of the Faculty of Science, Prof. Valentine Omubo Pepple assured the leadership of MLSCN that the 129 graduands were tutored  by experienced lecturers and  were now fit to join the Council as Medical Laboratory Scientists
.On her part, the Head of Department of Medical Laboratory, Dr. Edna Ibegbulem noted that the Department which is the first to start a Bachelor's degree programme in Medical Laboratory Science in the country has maintained academic/professional leadership and excellence, adding that the undergraduate programme has received full accreditation from both the MLSCN and the National Universities Commission, NUC.