Friends Extol Late Female Patriot's Virtues
The ancient Chief Opusunju Dappa house, Epellema-Opobo witnessed unprecedented sympathizsers recently who came in their numbers to identify with the family of Mrs Joy Cornelius Opusunju who passed on to eternity on June 2, 2018 and was buried amidst wailings.
The Tide gathered that the death of Mrs Cornelius Opusunju was a loss of a rare gem and mother figure who distinguished herself as an embodiment of humanity, love, creativity and philanthropy during her life time.
Late Mrs Joy Cornelius Opusunju was described as a bridge builder, community leader, woman of integrity with uncommon wisdom and a team player with the fear of God.
Speaking at the funeral service, Bishop of Saint Michael's Cathedral Christ Army Communion Mission Opobo town, Rt. Rtd. Festus Oko-Jaja urged the living to use the opportunity to seek for God sincerely now that they are alive.
According to him, "you should remember now thy creator when old age has not come. You should shun negative lifestyles and seek the face of God for your salvation. "Remember that heaven and hell fire are real.''
He, therefore, admonished them to embrace Jesus Christ as their Lord and personal Savior.
Bishop Oko-Jaja who preached on the theme: "remember now thy creator" with text from Ecclesiastes chapter 12 verse 1, warned that it is deadly for the living to turn against God instead of putting their whole heart in the service of God Almighty for their edification and restoration.
He described the deceased as "a committed daughter of Zion, who lived a sound life during her sojourn on earth.
He however, advised the bereaved family to take solace in the fact that on the resurrection morning when all will meet to part no more the deceased will be found at the feet of Jesus.
It will be recalled that the late Mrs. Joy Cornelius Opusunju was an industrious woman who combined business and other extra-ordinary activities successfully before being employed by the Rivers State government as a teacher at Community Primary School, Epellema-Opobo until her death.
The Tide also gathered that the deceased was a woman of excellence with equitable sense of humour who contributed to the growth of her community and beyond.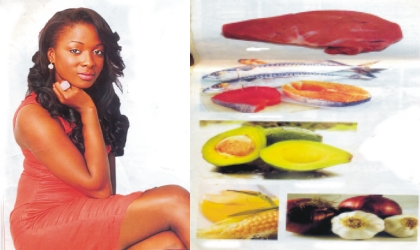 With the harmattan season drawing closer, there is the need for ladies particularly to become sensitive to their skins in terms of applications in the most natural ways in order to overcome the season and remain radiant and attractive. Here are some tips for you.
Symptoms: The skin is evenly dry and there can be a tendency to chafing (more so during this period).
There is both water and oil loss in the skin. This may seem to be a matter of little concern but it can be a sign of more serious problems like essential fatty acide deficiency that can result in cardiovascular disease such as stroke, heart attack etc.
Dry Skin can also be a sign of an underactive thyrond.
If you are supplementing with Vitamin A in amounts over 100,000 units daily, dry skin may be the first warning of overdose. It is dangerous to take too much of vitamin A.
Natural Remedies:
Diet and Nutrients –
*Eat a nutritious diet of vegetables, fruit, grains, seeds, legumes and nuts. High sulfur foods like garlic, onions and asparagus help keep the skin smooth and youthful.
*Avoid animal fats, hydrogenated oils and fried foods
*The situation to this problem is not superficial creams which contain Vaseline or aluminum but obtaining enough unsaturated fatty acids in the diet. These would be uncooked vegetable oils, such as wheat germ oil, corn oil, seseme seed oil and soy oil. Take additional Vitamin E Supplementation of about 800-1,200 units a day.
*If you are not taking supplemental Vitamin A, begin taking a moderate amount (not over 25,000 units a day for a few days. Carrot juice (or 15 mg beta carotene daily) will also help.
*Take a B-Complex Supplement, Vitamin C (1,000mg 2-3 times) daily and zinc (15mg daily).
Applications:
*'Misting' is helpful. Spray your face with a fine mist of water atleast three times a day. To increase the effect, add some aloe Vera to the mist water.
If you do, you must not spray into the eyes.
*For your shower, rinse off every day with lukewarm water using as little soap as possible. Do not use hot water.
*For itchy skin, add vinegar to the bath water and take two tablespoon of vegetable oil daily. Helpful herbs include yarrow, violet and margoram. Dry-brush message your skin, to tone it up.
*Add two to three drops of lavender essential oil to warm water and apply a warm compress to your face.
This will hydrate the skin and stimulate the water and oil glands.
*Ripe, mashed avoicado alone or mixed with ripe banana is an excellent moistening mask. It will deep over the throat and face (except the eye area). Wait 10-15 minutes, then rinse off.
*Drink an adequate amount of water and keep the house or room cooler.

The Cost of Living: Finances and Comfort
Have you ever wondered how much it costs to live every day? And by living we mean our day to day expenses. If for instance, we had a financial advisor keeping track of your day to day expenses how much would that cost? For the number of years that you have lived have you ever really thought about the cost of loving?
The cost of life
As we go about our day to day lives, we buy, we live, and we spend. That is why it is very important for us to always keep track of our finances, just like online betting ca. And that is also why we have a retirement plan because we want to make surethat even when we are older, we try to live a life of comfort.
We have budgets, we have loans and credit schemes all to make sure that our youth and adult life, we live the best lives that we can. And all this accredited to the cost of living, or rather should we say the need of comfort?
How the need for Comforteffects of finances
We all want to live comfortably. As we mentioned earlier that is why we even save up for retirement. So, one can easily say that is it because of this need for comfort that our finances are depleted every day. Even when it comes to games, we realised that the arcades were not comfortable so we created online versions of them. That is why we have best usa casinos onlinegames . So that you pay in the comfort of your home. You see, it all seems to go down to the need for comfort.
The mortgages that we take, the loans and the jobs that we have. It all because we want to live in comfort. And because we want to live in comfort, we will do all that it takes. Even if it means working 24 hours a day, 7 days a week and 365 days a year all just because we want to live in comfort.

Try These Top Dating Services If You Are Still Single
Digital technology has redefined our society in more ways than one. With the use of computers and smartphones, as well as other mobile devices, it is easier to do a lot of things, such as to shop and pay bills. Even dating has changed! Nowadays, online dating services offer the perfect platform for those who are looking for a partner, whether it is for a casual or serious relationship.
If you are still single, chances are, you have not yet discovered the magic of dating websites and services. Clueless about where to get started? Check out https://www.thetop10sites.com/online-dating/ to find the best for you! Below, we will be listing down five of the top choices that should be on your radar!
Zoosk
According to Mashable, Zoosk is an online dating service that is favored by many because of its user-friendly interface. The design makes it easy to navigate, although there were some complaints about how it tends to get spammy. With the latter, you have to be more careful to have an assurance that you will be dating only legitimate users.
One of the best things about Zoosk is its size. The company takes pride in having more than 35 million members who live in over 80 countries all over the world. With this, there is surely one who will be a match for you! You will never run out of choices, regardless of how picky you are.
Zoosk also comes with a dedicated mobile app! This makesit easy to search for a potential date even when you are using your smartphone.
Looking at the demographics of the users of this online dating service, there are about 52% females and 48% males. The average age of users, on the other hand, is 27 for females and 24 for males.
Zoosk has also gained a reputation for being inclusive. It is for everyone. Even for gays and lesbians, the dating app is perfect!
Elite Singles
If you plan to try your luck in love using an online platform, this is one of the best dating sites you might want to take into consideration.
It is not easy to get started with this online dating service. While creating a profile is pretty much straightforward, there are tons of questions that you have to answer, which can take up to 45 minutes to complete. However, this is actually a good thing since the site is trying to get to know you to be able to find your perfect match.
The matching algorithm in Elite Singles is based on the Five Factor Model Theory. Aside from your personality, your match will be determined by factors like location, age, and occupation. You will be set up with up to seven matches in a day.
If you are looking for young love, this is probably not the site for you. This is not exactly designed with the needs of millennials in mind. In fact, the age of their users ranges from 33 to 50 years old. This is geared towards those who belong to the group of working professionals.
Match
This is another option that should make it on your list of the best dating apps and services. One of the biggest selling points of the website is their satisfaction guarantee. You will find your match within six months of creating your profile! If you are unable to do so, they promise to provide you with six months of free membership. Good deal, right?
To create a profile, you will be asked to provide details about your physical appearance, faith, and hobbies, among other things. You can complete it within a few minutes. Even finding a match is almost effortless. You will be able to see only one profile at a time and you will decide whether it is a match or a pass.
One of the most important things that should be pointed out about Match is with regards to how its members are serious about dating. This is not one of those dating services where people are only after sex.
OurTime
Online dating is for people of all ages. It is not only for millennials. Thankfully, with online services like OurTime, seniors who are looking for a date are given the perfect platform to search for their match. Whether you are looking for the opposite or same sex, this dating service can extend a helping hand.
OurTime claims that they understand what it means to be over 50, including the difficulty of finding a date. With this, they have developed an easy-to-use app that matches mature users. The app is free to download, but to be able to take advantage of its full features, you have to subscribe to one of the paid plans.
From the website of OurTime, they say that you can meet more than 50 singles in your area. The number is not as overwhelming as what you can most probably expect with the top three sites mentioned above.
Silver Singles
This is another dating service that is made specifically for people who are aged 50 and above. Since it was launched in 2002, it has been one of the leading dating sites for seniors. It is a dating platform with an international network in countries like the United States, United Kingdom, Canada, Australia, and Germany.
On average, the users of Silver Singles are 41% males and 59% females. It is also estimated that there are 85,000 active monthly users.
As for the match system, as a part of the profile creation process, members will need a comprehensive personality test. This will provide the website with the data that is needed to match the user with the other members of the community. Every day, the website will recommend three to five compatible profiles.
For people on the go, it is also a good thing that a mobile app has been developed for both iOS and Android.