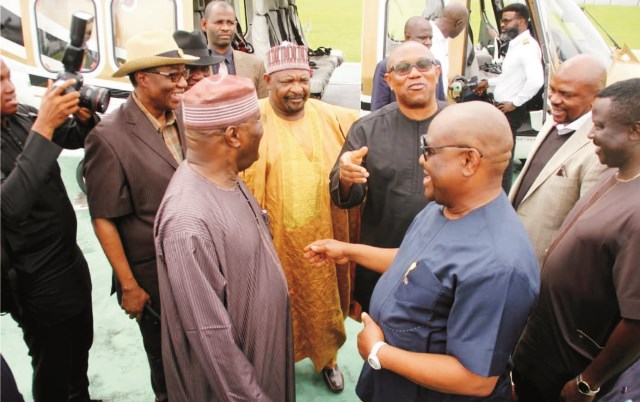 Mass defection rocked the All Progressives Congress (APC) in Andoni Local Government Area last weekend, as hundreds declared for the Peoples Democratic Party (PDP).
Among those who defeated from the APC to PDP are Local Government Youth Leader, Paul Reuben Gogo from Ward 9 and Welfare Secretary Chief Ijokwun Brown from Ward 7.
While receiving the defectors, Chairman of the Local Government Area, Hon. Elijah Elijah commended them for taking the courage to leave the APC, which he said is losing ground and popularity in the area.
Hon. Elijah said the PDP is waxing stronger by the day in the area because it has so much to show in the past three years and half, and promised the people that more dividends will come to them if they support the party in 2019.
On his part, chairman of the PDP Chief Victor Ere, while receiving the defectors said they are welcome back to their forever home, as many of them were formerly in the party before joining the opposition.
Chief Ere urged them to exhibit commitment and dedication towards improving the fortunes of the party in the Local Government Area.
Also speaking to receive the defectors, Speaker of the Rivers State House of Assembly, Rt. Hon. Ikuinyi-Owaji Ibani stated that the massive move to the Peoples Democratic Party (PDP) by some chieftains of the APC in Andoni is to affirm that the opposition has lost ground in the area.
Rt. Hon. Ibani assured the defectors that they would not be marginalized in the party, as they would be treated equally as old members, while calling on the defectors to woo more persons to the party.
In their separate speeches, the former APC Youth leader in Andoni Local Government Area said they decided to move over to the PDP due to failed promises' in the opposition.
Gogo Reuben recalled that since their sojourn in the opposition they have not seen any improvement both in the area, or in the lives of the common people.
Chief Brown pledged his support to the Wike led administration as he assured that the would do all in his powers to ensure the PDP sails through in 2019 elections.