New Minimum Wage: Stakeholders Urge Quick Resolution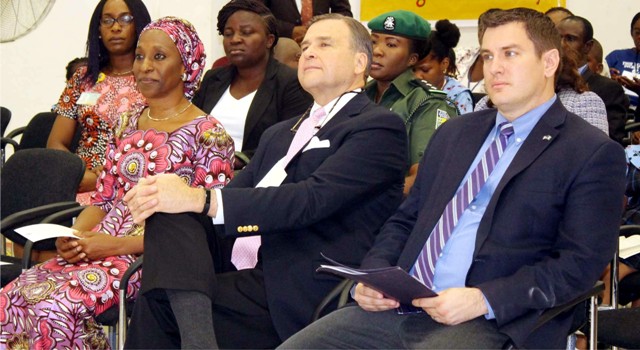 Nigerian workers and pensioners have urged both Federal and State Governments as well as private employers to facilitate payment of the new minimum wage to reduce the suffering of workers.
The stakeholders made the plea at a public hearing organised by the Tripartite Committee on National Minimum Wage for the South-East in Enugu, yesterday.
Comrade Virginus Nwobodo, who spoke on behalf of Nigeria Labour Congress (NLC), South-East, said that the new minimum wage review and implementation had been overdue.
Nwobodo, also the NLC Chairman in Enugu State, said that the NLC wanted a minimum wage not less than N66,500.
He noted that it was currently difficult for anybody to manage N18,000 whereas most workers at this level had families and dependants to take care of.
"It is long overdue and we are asking for nothing less than N66,500 to meet the current socio-economic realities,'' he said.
Comrade Chukwuma Igbokwe, who spoke on behalf of the Trade Union Congress (TUC) South-East, called on the Federal Government to conduct a public hearing on political office holders' wages, so that it would be reviewed. Igbokwe said that the huge amount collected by politicians across board was inimical to the purchasing power of workers, since both patronised the same market.
He also said that the TUC stood with the organised labour on N66, 500 minimum pay for any Nigerian worker at any level.
Comrade Chukwuma Udesi, Zonal Chairman, Nigeria Union of Pensioners (NUP), called on the Federal Government to inaugurate a Committee for the National Minimum Wage for Pensioners.
He said that by so doing, pensioners would start enjoying increment like other Nigerian workers immediately.
Udesi said, "NUP is demanding a minimum of N40,000 to meet the basic needs of a pensioner and reduce their sufferings''.
He, however, called on Abia and Imo State governors to pay the backlog of pension arrears in their state.
Udesi also suggested that the Federal Government should create special health programmes and facilities to take care of the aged, especially pensioners.
In his remarks, Governor Willie Obiano of Anambra State said that the state would remain labour-friendly and implement any fair agreement reached and concluded by the tripartite committee.
Obiano, represented by his Senior Special Adviser on Labour Matters, Chief Godwin Igbokwe, noted that before now, the government had earlier assured the state workers of increment in their salaries.
"The state government is ready to implement the increase but wants to wait for the tripartite committee to conclude their assignment.

Bello's Gunmen After My Life, Family -Kogi Dep Gov
Deputy Governor of Kogi State, Elder Simon Achuba yesterday alleged that the governor of the state has sent gunmen after his life.
Acbuba called on the inspector General of Police, the Department of State Services (DSS), the Army and other security personnel to safeguard his life, family members and his aides.
Achuba, who spoke with newsmen at his official residence in Lokoja said, "From all information at my disposal, the governor has mobilised gunmen to attack me.
"I want the police, SSS, IGP to know that if anything should happen to me, my family and aides, the governor should be held responsible."
The deputy governor likewise called on the President to beam his searchlight on the state.

LGAs Responsible For Farmers, Herdsmen Clashes In Nigeria -UN
Zebulon Takwa, Peace and Development Adviser, Office of the UN Resident Coordinator in Nigeria, says poor Local Government administration is largely responsible for farmers-herdsmen clashes in Nigeria
Takwa, who gave the position in an interview with newsmen yesterday in Abuja, expressed concerns over "weak operational structures at the local government level''.
He said that issues that were supposed to be addressed by local administration authority were left unattended to over a long period.
The UN official noted that most of the issues that escalated to crises ought to have been resolved at the local level by the authorities, traditional and religious leaders.
He decried the situation where structures for such prompt amicable settlement were not effective enough to prevent conflicts.
Takwa condemned the situation where most local government officials migrated to urban centres instead of concentrating on their primary responsibilities of settling crises, developing infrastructure and social amenities, among others.

Reprisal Killing: Taraba Police, Tiv, Junkun Differ On Casualities
The Police Command in Taraba State has said that only one individual was killed in what appeared to be a revenge for the alleged murder of a Junkun man yesterday.
While the Tiv claimed that no fewer than nine of their kinsmen were killed in Takum town, Takum Local Government Area of Taraba State on Tuesday, the Police said the figure was not true.
Takum is the hometown of Governor DariusIshaku who turned 65 today.
Multiple sources in Takum said trouble started yesterday morning when a Jukun man was killed on his farm along Takum-Wukari road, and irate Jukun youths in Takum went on the rampage, killing at least eight people in the town.
A resident of Takum, Mr. Nathaniel Jato, in a telephone interview with our Correspondent said the eight people killed in Takum town were all Tiv resident in the town.
"We counted at least eight dead bodies around General Hospital Junction and Zenith Bank around the Wukari roundabout.
"We were told that many people were killed around Rimi Primary school area, but there is tension, so we can't go there.
"The Caretaker Chairman of Takum Local Government Council, ShibanTikari, has assured us that the situation will not escalate, but I am afraid the situation might degenerate if adequate security measures are not put in place," he lamented.
Jato, who said there was threat that their houses would be attacked in the night, called on Governor Darius Ishaku and security authorities to quickly restore peace in the area to pave way for proper investigation of the matter.