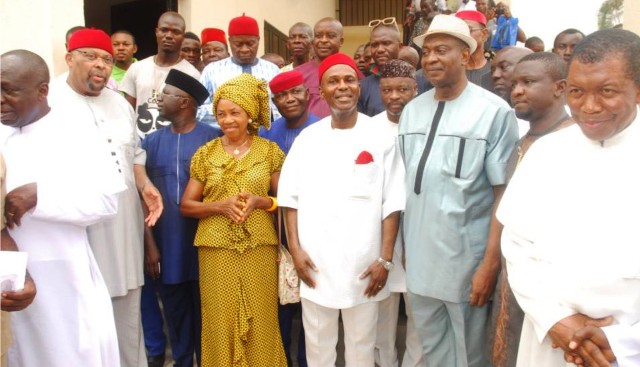 An Enugu based non-governmental organisation, Youth Alliance for Good Governance has faulted Enugu State Government on the execution of  its 'one community, one project' initiative.
The Founder of the alliance, Mr Kingsley Ochinanwata told newsmen in Enugu yesterday that the initiative was designed to fail.
The Tide reports that the state government had earmarked N2.25 billion for the initiative which will see each of the 450 autonomous communities in the state get N10 million.
The initiative, which according to the state government, is to engender participatory democracy in the state, will enable the communities invest the fund in a project of their choice.
The state government had on February 28 started the disbursement of the initial N5 million to the benefiting communities and no fewer than 289 communities have so far benefitted.
However, as a condition to benefit from the funds, traditional rulers along with president-general of town unions are to take delivery of the money as well as drive the implementation.
Ochinanwata faulted the direct involvement and roles ascribed to traditional rulers and presidents-general of the town unions in the scheme.
He said that the move was a subtle way of winning the support and allegiance of the monarchs who were expected to be non-partisan.
"I see the recent sharing of the N5 million by the state government as a way of buying over the traditional rulers who ordinarily are expected to be non-partisan.
"I have had interactions with some of them and they inferred that the governor had just given them money and not expecting them to do anything," he said.
He alleged that there were no modalities in place to select and monitor projects to be embarked upon by the communities.
Ochinanwata said that even if the traditional rulers were expected to invest the money as planned, "the money is grossly inadequate for a community project.
"How can a governor give N5 million to a traditional ruler to embark on a project for the community when we have the Ministry of Rural Development charged with the responsibility of championing development in the state?
"The ministry has engineers whose job is to quantify whatever project you are going to do as well as ascertain the quality of job done," he said.
He said that the state government needed to set up an effective mechanism to monitor how the monies were deployed by the benefitting communities.
Ochinanwata said that the alliance was set up to ensure good governance by political leaders adding that days of impunity by politicians in the country were over.