Philanthropist Promises To Promote Grassroots Sports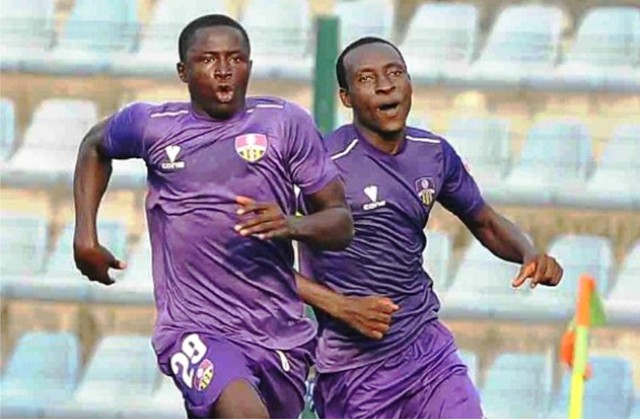 Grassroots sports promoter and developer in Nigeria, Chief Ezedimoura, the Ugonabo of Ichida has promised to continue to support and promote sporting activities in the country most especially the Independent Grassroots Sports Development Association (IGSDA).
He stated that developing sports is part of him, because he has passion for it, as it will in turn develop the country.
Chief Ezedimoura said this shortly after he was given an award of Distinguished Sports Personality by IGSDA, at the weekend in his Port Harcourt office.
According to him, he started developing and promoting grassroots sports, especially football in 1973, adding that some of the prominent footballers in Nigeria then passed through his Super Stars FC, in Anambra State.
"I am really grateful for this award given to me, no matter how little it is, but the most important thing is the recognition and content of the award.
As a person I like promoting and developing sports, because it will in turn develop the country, besides, it will also go a long way to curb youth restiveness, by engaging the youth meaningfully" Chief Ezedimoura said.
The grassroots sports promoter who is also the sponsor of Ezedimoura Football Tournament, in Ichida, Anambra State revealed that the football tournament would take place during Easter period this year.
Earlier, president of IGSDA Amb. Miebi S. Ogunu said the award was given to Chief Ezedimoura in recognition of his enormous contributions towards humanity, patriotism, and Development of sports at the grassroots level.
Amb. Ogunu used the forum to appeal to Ezedimoura for financial assistance to enable the association organise sports development conference, scheduled to hold June this year.
According to him, the conference is geared towards tackling the challenges hindering grassroots sports development.
"We discovered that the challenges confronting grassroots sports in Nigeria are lack of competition, incompetent coaches and education" Amb. Ogunu said.
He further appealed to other corporate organisations and well meaning individuals to emulate Chief Ezedimoura in terms of supporting sports development in Nigeria.
Tonye Orabere
Infantino Reveals How Nigeria Can Host FIFA Competitions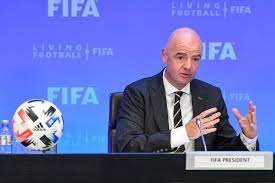 FIFA President, Gianni Infantino last Thursday, in Abuja, revealed how Nigeria can be made a destination for top Grade A football matches and FIFA competitions.
Infantino gave the insight when the Minister of Youth and Sports Development, Sunday Dare took him on a tour of the renovated main bowl of the MoshoodAbiola National Stadium.
The FIFA boss, who was visibly happy with the re-grassed pitch at the stadium, said well-maintained stadia with good pitches were key to hosting grade A matches.
He said FIFA was ready to work more closely with Nigeria to develop the game and host more grade A matches in the country.
"We (FIFA) have to make sure when a country, when a government with the President, the minister and private persons are investing in football, in stadia, we work with them to give something back.
"It's obvious that stadiums like this (MoshoodAbiola stadium) and others in Nigeria deserve the best quality games.
"They deserve top national team games, top club games and it's not just about Nigerian football or African football, it's about global football.
"We are working together to see what kind of new opportunities, competitions we can bring for men and women to fill this stadium and make the heart of the stadium beat for the fantastic spectacle that all of the Nigerian love, which is football," he said.
Earlier, the minister said the Federal Government will continue to invest in sports development and facilities.
Tidesports source reports that the FIFA President, in the company of the minister, had earlier visited President Muhammadu Buhari at the Statehouse, as part of his engagement.
Why NFF Must Offset Rohr's Salaries, Bonuses  – Aikhomogbe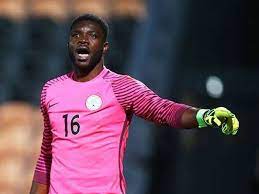 Former Nigerian goal keeper, Andrew Aikhomogbe has called on the Nigerian Football Federation (NFF) to resolve every outstanding salaries and bonuses owed to the Super Eagles coach, Gernot Rohr before the next World Cup qualifiers against Central Africa Republic (CAR).
Aikhomogbe made this known on the backdrop of the football body's recent deal with Baba Ijebu.
Although the financial details of the deal was not disclosed, Aikhomogbe in an interview with Newsmen from his base in Cairo, Egypt, stated that the NFF should use this platform to offset Rohr's salaries and bonuses.
"It's a big delight to know that the Nigeria Football Federation have signed a deal with Baba Ijebu and this will serve as an opportunity for them to use part of the money to pay Rohr's salaries and bonuses.
"There is no better time to motivate him than now before Nigeria's next 2022 World Cup qualifiers against the Central Africa Republic (CAR) on October," he said.
Enyimba Players Vow To Support  Finidi
Enyimba FC Goalkeeper, John Noble has stated that the players of the People's Elephants will be key to the success of the newly appointed coach of the team, Finidi George.
Finidi, signed a two-year deal with Enyimba and oversaw his first full training session with the team on Thursday after a cameo appearance on Wednesday.
Speaking in a chat with Tidesports source, Noble  gave his assessment of the coach in his first session under the manager and believes the former Super Eagles winger has what it takes to lead the team to the next level.
He added that the Enyimba players will be the ones to hand Finidi George his success at the club.