Sports Academy Appeals For Assistance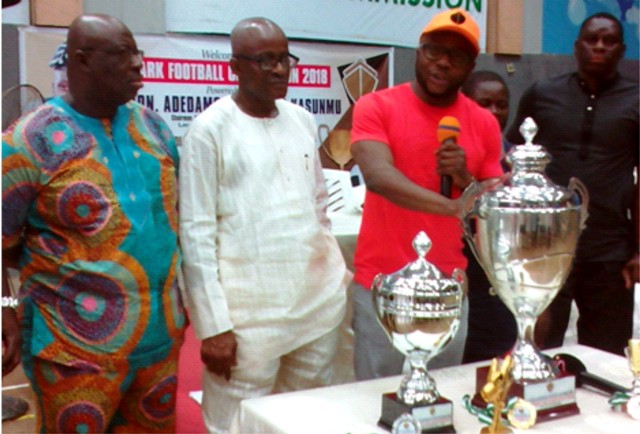 The Head Coach of Precious Sports Academy of Okrika in Okrika Local Government Area, Rivers State, Levi Akuro has appealed to philanthropists, corporate bodies and the state government to come to the aid of the academy.
Coach Akuro made the appeal at the weekend in an exclusive interview with the Tidesports in Okrika.
He stated that his target is to discover talents from the grassroots, adding that, tender age is the best period to know their quality and know the area of sports they will be useful.
"It is time, corporate bodies, philanthropist and state government should support grassroots sports development in the state", Akure said.
He explained that supporting the grassroots sports will give the young stars the opportunity to develop their talents and express themselves.
According to him Omubo Gabson that is representing the state in track event graduated from his academy.
"I need assistance from corporate bodies, government and philanthropists to enable me discover more talents from the grassroots. We all know that sports is capital intensive", he stated.
The head coach noted that the state is blessed with abundant talents but to make them useful is were the problem lies, adding that if given the support he need, he will do more in the grassroots.
He further said that the most significant thing about grassroots sports is to provide training kits and equipment.
Speaking further one of the products of the Academy, Princess Gabson said, they lack training kits, adding that when given the opportunity to participate in any sports tournament she will do better.
KiaDum F. Edookor
How Day Six Lifted Rivers At NYG
Team Rivers added six more medals to their total haul on Day 7 of the National Youth Games in Asaba, Delta State. The medals include two gold and four bronze.
In 4×400 metres male, the quartet of Michael Aniche, Benjamin Progress (both 13), Willngton Majesty and Daniel Caleb (both 14) returned a time 3 mins, 26 secs to pick the gold medal.
In 4×400 metres girls, four 14-year-olds Osinachi Miracle Sunny, Queen Nwika, Esther Barasin and Valerie Amapakagbo, came third behind Delta and Anambra to get bronze.
Still in the relays, this time in the 4×100 metres for boys, 14-year-old Itoemugh Kingsley teamed up with Daniel Caleb, Michael Aniche and Gauis Expensive for yet another bronze medal performance.
Gaius Expensive, a 14-year-old SS3 student of Community Secondary School, Ogan-Ama narrowly surrendered second place to his Akwa Ibom counterpart to land his second bronze of the day, in the 200 metres boys, while age-mate Honest Dike of Baptist Vocational College, Ahoada also landed bronze in the 800 metres boys, behind Taraba and Gombe.
The second gold medal of the day for Team Rivers came in the final of baseball for boys. The team found themselves one run down before rallying to beat Kwara by 4 runs to 3.
The game which was almost marred by trouble was disrupted when the crowd, solidly behind the Rivers side perceived some fowl officiating.
However, the team, which according to Coach Fineface Fate and manager, Shaibu Adamson has been together for about a year, came from behind to win, with runs from Abdulkadiri Idowu, Yusuf Sodiq, Abdulfatai Abdullahi and Matthew Ayoola.
The games ended yesterday with the closing ceremony.
Bakery Worker Secures Gold For Anambra In Asaba
Anambra State Karateka, Goodluck Njoku defeated Joshua Ehiozubue from Lagos State with 7-0 points on Friday to win a gold medal in the 50kg boys karate event at the ongoing National Youth Games in Asaba, Delta State.
The newly crowned 50kg champion revealed that he works in the bakery to support himself and to avoid social vices.
The 13-year-old said that it was while he was on his way to work that he met Sensei Godwin Okoro who introduced him to karate. Making his debut at the 2023 Youth Games,
Njoku promised not to disappoint the state in future national championships, noting that this is just the beginning.
"I want to thank God Almighty for his goodness and mercies in my life. In my category, I was the shortest, and I still won the gold medal. During the holidays, I work in the bakery to support myself and my parents because I do not want to remain idle.
"I attend Okpoko Community Primary School, and after closing hours, I still go to the bakery to make a little money. One day, Sensei Godwin Okoro saw me and decided to introduce me to karate. I do not know what he saw in me, but I thank God he took me in.
"The state has given me the necessary exposure at the National Youth Games, and this is an opportunity to give back to the state via winning medals. I want to assure you that this is just the beginning of the success story," he said.
Squash Top Seeds Show Class At Classics
Top seeds, Onaopemipo Adegoke and Rophiat Abudulazeez showed class after winning the maiden edition of the Bolatito Adeyemo Squash Classics held at the Teslim Balogun Stadium at the weekend.
Top 16 players made up of eight men and eight women competed at the two-day tournament.
Adegoke who recently won his first Professional Squash Association (PSA) tournament, defeated Gabriel Olufunmilayo 3-2 to clinch the men's trophy.
Abudulazeez defeated Jadesola Olatunji 3-0 to reach the finals, while Adegoke defeated Kehinde Samuel by 3-0 to advance into the finals.
Abudulazeez defeated Mistura Durosinlorun 3-1 as she maintained dominance in the women's category.
For her feat, Abudulazeez went home with N100,000 while Durosinlorun took N60, 000 home while Olatunji and Isaac humbly went home with N30,000 each.
"My trip to Namibia really got me tired but we can't just ignore this tournament. My game in Namibia also helped but I'm really fagged out," she said.
Adegoke said that training hard and having played in highly competitive tournaments in recent times have helped to keep him in form.
"Winning my first PSA title in Namibia was a dream come true, there was minus zero support from the audience but with God's grace and a healthy mental strength I was able to keep it together," he said.
Prize money for the men's category is N130,000 while the second position goes home with N80,000 while the third position and fourth position goes home with N40,000 and N20,000 respectively.