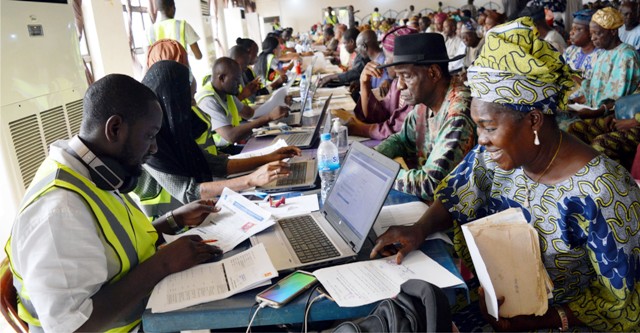 By most public comments, pensioners' benefits such as gratuity and pension are unnecessarily delayed, resulting in frustration among the retirees.
Concerned citizens note that although pension and gratuity are legitimate rights of employees that ought to be settled promptly upon retirement, the method of getting the benefits is somewhat ineffective.
Citing information by the Bureau of Statistics that there are no fewer than 60 million Nigerians of working age, they express concern how will the country cope with larger number of pensioners in future if it fails to manage smaller group now.
They are also concerned that every person employed will be retired and be called pensioner or retiree, then how long will he or she wait before getting benefits — gratuity and pension?
Gratuity is a lump sum payment given to an employee at the time of retirement or leaving the job while pension is a regular payment after their official retirement.
The National Pension Commission (PenCom) established to ensure effective regulation and supervision of the Nigerian pension industry and facilitate prompt payment of retirement benefits, while Pension Transitional Arrangement Directorate (PTAD) is responsible for the pension administration of the Defined Benefit Scheme (DBS).
PTAD has the duty of addressing the numerous pensioners' complaints that bother on issues such as non-payment of monthly pension, short payment of pension and gratuity, among others.
PenCom and PTAD are supervision agencies that some observers have been asking whether they have gone on sabbatical due to some unresolved challenges that pensioners face in recent times which, they observe, the two institutions have not be able to resolve.
For instance, Chairman, Nigeria Union of Pensioners, Lagos chapter, Mr Joseph Dele,alleged that more than 25,000 pensioners had been excluded on the payroll of the Federal Government.
He alleged further that the affected pensioners were blacklisted as "ghost workers'' by the former chairman of the Presidential Task Force on Pension Reforms Abdulrasheed Maina.
He observed that the 12-month backlog of 33 per cent increment owed the old retirees had not even been paid.
But Head, Corporate Strategy and Research Department of PenCom, Dr Farouk Aminu, insisted that the delay in gratuity, lump sum and monthly pension payments was due to unfunded backlogs by the Federal Government.
He, nonetheless, said that President Muhammadu Buhari released N54 billion in March 2017 to clear backlog of accrued pension rights.
He said that the amount was able to clear the backlogs to August 2016 after which the Federal Government had been releasing pension money on monthly basis.
"As we speak, the pension backlogs of September, October, November and December 2016 had also been cleared,'' he explained.
According to Aminu, only backlogs from January 2017 till date is pending and N743 billion has been earmarked by the Federal Government to clear all salaries and pensions backlogs which is pending before the Senate.
This explanation notwithstanding, former Managing Director of Future Unity Glanvills Pensions Ltd., Mr Usman Suleiman, insisted that the absence of a governing board and substantive leadership in PenCom was the problem.
"You will recall that nominations for PenCom chairman, along with directors -general and executive commissioners were forwarded last year to the Senate by the Presidency for approval as required by the law.
"However, PenCom's own with several other nominations had remained unattended to by the Senate.
"Certainly, there are major policies decisions that an acting authority may not wish to take in absence of a statutory governing body,'' Suleiman said.
But President of Pension Fund Operators Association of Nigeria (PenOp), Mr Eguarekhide Longe, said that with all these challenges, there should not be any cause for fear.
He said that no pension deduction under Contributory Pension Scheme (CPS) was embezzled as the money was not with the Pension Custodians (PFCs) intact.
Longe, nonetheless, moved against the 75 per cent lump sum request by retirees, describing it as "dangerous.
"If your total pension entitlement is N15 million and money in your Retired Savings Account is N3 million, do you think it will be wise to spread the N3m as lump-sum and pension before the N12 million is paid?
"It distorts the entire pension calculation of the retiree; that is why it is not done that way.''
Even if the request for 75 per cent lump sum payment to retirees is turned down, concerned citizens argue that for how long will retirees wait before getting benefits?
According to them, some retirees with CPS, for more than two years, have yet to receive gratuity due to unfunded Defined Benefit Scheme (DBS) backlog owed by the Federal Government.
Reacting to this view, Acting Director-General, PenCom, Mrs Aisha Dahir-Umar, said that gratuities to pensions would be low if the commission paid only CPS.
The director-general said the affected retirees had been in service before the enactment of CPS Pension Reform Act in 2004.
According to Dahir-Umar, the Pension Transitional Arrangement Directorate (PTAD) has been fully established to handle the Federal Government retirees exempted from CPS based on regulation and supervision of PenCom.
She said that the Federal Government under the DBS activated pay-as-you-go method for pension and gratuity on percentages of defined pensionable items.
"However, the DBS faced the problem of huge pension liabilities arising from inadequate and untimely budgetary provisions and increases in salaries and pensions.
"Then, pension administration was largely weak, inefficient, less transparent and cumbersome and marred with corrupt practices,'' she said.
The PenCom boss said that until recently, the Federal Government could not unburden DBS accrued rights because of huge unfunded pension liabilities inherited by the present administration.
"The Federal Government is overburdened with payment of pensions as illustrated by 2016 Appropriation Act which made a provision of N200.17 billion as total pension and gratuity allocation.
"The allocation is still insufficient to fund the liabilities; for instance, PTAD's budget proposal indicated an annual pension liability of N388.32 billion out of which N255.89 billion constituted unfunded liability inherited by PTAD.
"This was due to outstanding payment of 33 per cent arrears to pensioners under DBS; the directorate indicated that there had been no provision for liabilities in the past that now form core part of its pension obligation,'' she said.
She noted that the Federal Government took measures to tackle the issue and provided predictable retirement income for employees in public and private sector.
"This culminated in the enactment of the Pension Reform Act (PRA) of 2004 that was amended by the National Assembly in 2011 and further repealed and replaced by the 2014 PRA,'' she said.
The PenCom boss noted that the Federal Government released N54 billion in April 2017 which had been used to pay part of the arrears, saying that retirees from January 2016 to October 2016 had been paid gratuity and were receiving pensions.
Dahir-Umar also said that the Federal Government would soon release funds to pay the next batch of retirees, demanding from the public a commendation for President Muhammadu Buhari for settling the accrued pension rights.
Adetoye writes for News Agency of Nigeria.
Bukola Adetoye