Checking Hate Speech Through Media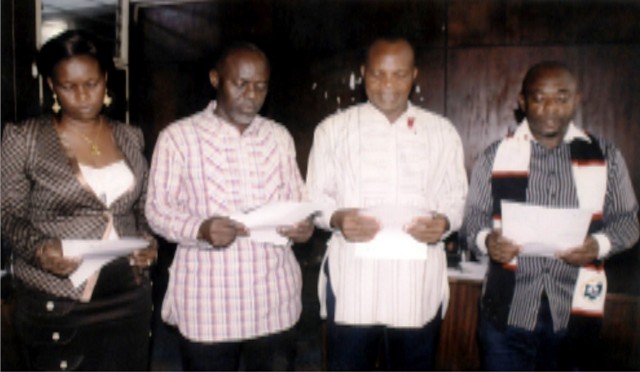 The 1994 Rwanda genocide, described as the one of the most horrific crimes against humanity since the Holocaust of World War II of 1945, had come and gone, but analysts say its impact on humanity remains fresh in many minds, particularly the survivors.
Analysts have argued that the genocide which set tongues wagging was heavily instigated by hate communication as exemplified by media reports, especially the radio broadcast that fuelled the sectarian crisis leading to the mother of battle in Africa in that country.
This negative development culminated in the crisis that cost Rwanda no fewer 800,000 lives and destruction of property.
Hate communication, therefore, has become a worrisome phenomenon due to its negative impact in fuelling socio-economic and political crises in any society globally without recourse to regional, ethnic, political and other divisive boundaries.
The Nigerian society is not immune to hate communication and the Federal Government says it is not letting things lie low in mitigating the effect of it, particularly among the political class.
Keen observers of political development in the country described government action as apt as stemming hate communication will go a long way in dousing tension toward the 2019 general elections and make the exercise peaceful.
Worried about the cases of hate communication in the country, the Nigeria Press Council, in conjunction with World and Image Limited, recently organised a one day workshop on hate communication, with the theme, "Hate Communication in Nigeria: Identify its Roots and Remedies."
Declaring the workshop open, the Minister of Information and Culture, Alhaji Lai Mohammed, in Abuja, reminded Nigerians that hate communication should not be seen as free speech. He, therefore, urged the media not to offer their platforms for hate communication.
The minister noted that the fastest way to nip the dangers of hate speech in the bud was for journalists to say no to the trend.
"I have always said that hate speech is not free speech.
"For example, while the Nigerian Constitution guarantees freedom of speech, it does not guarantee freedom of hate speech.
"That's because hate speech could be the precursor of violence, of genocide!," he said.
Mohammed noted that a multi-ethnic, multi-lingual and multi-religious society like Nigeria could not afford to allow hate speech to thrive.
"A fledgling democracy like ours is too fragile to luxuriate in hate speech. We must all say NO to hate speech," he said.
He commended the seriousness the Nigerian media for the time devoted to mitigating the dangers of hate communication.
"The fact that the media takes this issue seriously is very encouraging because in most cases, the media – wittingly or unwittingly – provides the platform for the dissemination of hate speech.
The Lead Consultant, Word and Image, Chief Jide Adebayo, expressed worry over increasing instances of hate communication in the country and stressed the need for journalists to be in the vanguard of checking the development.
The Chairman of the occasion, Mr Bayo Onanuga, also decried the growing level of hate communication in the country.
Onanuga who is the Managing Director of the News Agency of Nigeria (NAN), expressed worry that hate communication was capable of disrupting the corporate existence of the country.
He said that the workshop was apt, adding that the theme was germane to the national mood, considering the prevalence of hate speech.
"It is something to worry about and it is worrisome to me as a Nigerian, because the way hate speech is being ventilated every time gives me fear whether there will be a nation in this country in next few months or years," he said.
Ononuga said that Sections 29 and 38 of the Nigerian Constitution guarantees the right of every Nigerian to freedom of speech, expression, freedom of thought and freedom to hold opinion.
Onanuga said all the Human Rights Charter signed by Nigeria like the UN Declaration on Human Rights and African Charter on Human Rights guarantee the freedom of expression.
He, however, said that Section 45 of the Constitution expressly states that all these"freedom are not absolute".
"It is this lacuna of the law of our freedom not being absolute that decides what you call hate speech and libel."
Ononuga, therefore, urged the Federal Government to invoke the relevant laws like Cyber Crime Act to control the epidemic of hate speech before it destroys the society.
The Lead Consultant, Word and Image Ltd, Chief Jide Adebayo, said  ''We are here because our children are from this country and we owe them the responsibility of bequeathing to them a country of mutual trust and love, where they can attain the best of their potential.
"We are here because we are a people of purpose, a people  of solution, a people of intellect, and a people of direction, who are convinced that solution to national challenge lies with the people and with the professionals."
Chairman, Senate Committee on Information, Sen. Suleiman Adoke, said that ''hate speech is a global challenge to the extent that social media is being considered for censorship.''
He called on the politicians and media practitioners in the country to be cautious of the trend, in order not to throw the country into crisis.
The Executive Secretary, Nigerian Press Council (NPC), Mr Nnamdi Njemanze, said the workshop was conceived to x-ray the causes and remedies to hate communication in the country.
The NPC boss advised media practitioners to adhere to ethical principles as part of efforts to counter hate speech in the country.
He stressed the need for the traditional media and other media professionals to focus more on professionalism and effective gate-keeping to guide non-professional players.
Njemanze also enjoined journalists and editors to avoid the bandwagon mentality driven by the social media, to break the news no matter how poorly processed.
Njemanze said that media professionals must strenuously balance between freedom of expression and respect for equality, justice and dignity.
"We must not also gloss over the rift and fault lines thrown up by this phenomenon, but rather seek ways of intermediation.
"If we do so, the other adjunct of hate mongering, false news will also be addressed to the barest minimum through subjection of the news process to the best practice of verification, accuracy, balance and fairness.
"In a multi-ethnic and diverse society such as Nigeria with centrifugal tendencies, the phenomenon of hate speech or communication calls for the interrogation of fundamental principles that underpin our nation to address the root of these insidious inclinations in some of us."
The President, Nigeria Union of Journalists (NUJ), AbdulWaheed Odusile, called for national dialogue on hate speech to bring all stakeholders together with a view to reminding them about their roles in countering hate speech.
Dr Segun Olanipekun, whose paper dwells on ''Nigeria: Communication and the Social Construct of Hate Mural," cautioned journalists to be wary of the manner of social construct they use in dissemination information to the public to check hate communication.
He describes social construct as one of the key concepts in sociology indicating the way and manner groups of people create meanings through social interaction in their frequent interacting with one another in a common language or culture.
"They do these through repeatedly and commonly held language, sounds, symbols, gestures, dance, food, even colours.
"These are some of the 'tools' that are used to socially construct our viewpoint of reality. Thus, this social construction of reality often separates us,'' he said.
Prof. Nnamdi Ekeanyanwu, who spoke on "Social Media Platforms: For information or Disinformation'' recommended convocation of a sovereign national conference or surgical restructuring of Nigeria.
Professor Usman Pate, who spoke on "National Interest, National Security and Security Reporting'' stressed the need for journalists to be mindful of their role in ensuring peace and development in the country.
He called on media professionals to adhere to ethical and professional codes of practice and engage in investigative journalism.
"Media practitioners must at all times have the nation's national interest at heart in their news reportage and in opinion leadership,'' he said.
Ahmed writes for News Agency of Nigeria.
Dada Ahmed
BBNaija And The Ongoing Culture War
We are in a culture war. A war between African traditional values, and Western liberal values. The intent of this war is to destroy the mores of the African society; to uproot the foundations laid by our forbears in our African core values system, which was amplified by Judeo-Christian values for Christians and Islamic moral ethics, for Muslims. Truth be told, the current values being imported from the West today are somewhat opposite to the values brought by the first European visitors to the African shores. These are the values of Western society without any moral compass. This war has been ongoing, albeit under the radar, but the advent of social media has opened Pandora's Box. Social media (Facebook, Instagram, YouTube, Telegram, TikTok, Twitter, WhatsApp), in spite of all its benefits, has opened the door to any, and everything inimical to the wellbeing of society.  This is the oxygen of the 'Big Brother' reality franchise.
The Big Brother reality show was created by John de Mol Jr. and the first broadcast was in the Netherlands in 1999, and subsequently syndicated in more than 62 countries. As of August 2021, there have been 504 seasons of Big Brother across more than 62 franchise countries and regions. Unfortunately, millions of viewers across the world are unaware that the catchphrase in the show was aped from a 1949 dystopian novel Penned by English author George Orwell, titled "1984". The idea that 'Big Brother is watching you was the actual experience of many people across many nations during the Covid-19 pandemic. The reception of Big Brother Nigeria (BBNaija) was overwhelming when it debuted in 2006. However, the second season aired in 2017, and since then it has taken the form of an annual national ritual. The 2021 edition of BBNaija cost a whooping N4.3 billion according to the CEO of DSTV in Nigeria, Mr John Ugbe, but the price money was N90 million.
Speaking on the level of damage the Big Brother Naija reality show is wrecking on societal values in the country, Dr Sofiri Peterside, a social scientist, and lecturer at the University of Port Harcourt,  lamented that the programme deeply worries him. He said that "the kind of obscene dressing and of course the sexual content, sociologically speaking, is not very good for society, particularly for the younger generation." "I think that societal values ought to be very seriously respected, but that programme, seems, from my own perspective, to have thrown all that to the wind. And that's my worry." "It has implications for the breakdown of families. It has implications for juvenile kind of delinquency, particularly for younger people. The tendency to mimic without knowing the consequences for them, and for society is what is worrying me?" "For the family because the family is a very key institution to society, because whatever we are, and whatever we become is a consequence of the kind of socialization we get from the home." He is not impressed by the actions of relevant agencies.
He opined that, even though there are ratings for those who might watch this genre of programme,  "in our country, even though that exists,  the extent to which  families play the role of policing and controlling what children watch is also problematic." Since the programme is organized by a private business, it may not be stopped; however, he suggested that the programme content requires attention, particularly for professionals  to control certain aspects. He is especially saddened by the idea of people having sex on the show. In his words, "people come to national television to have sex, and people are not seeing anything wrong with that, people are voting that those kinds of things can continue." "l think that the government's  regulatory agencies need to actually take responsibility, in terms of controlling the programme's content and insisting that certain requirements be met if  that programme must continue". In his opinion, a Clergy, Umaromi Sunday Azery, noted that Big Brother Naija is a show of sexual immorality. Ordinarily, for him, reality shows should deal with the character of the participants. According to him, "this one is out of it, just immorality, and I don't like it."
"The origin is another matter because if you look at the symbol, it is Iris, it is the Illuminati symbol, which has to do with occult people". "Most people may not know, the truth is the Nigerian culture, we don't believe in reading to find out facts. We believe in what we think is trending. So whether it is good or bad, they feel that is the in- thing." "Look at the issue of twerking, a girl wakes up in the morning, the only thing she thinks to do is to wear something that will expose her body, then twerks for someone to video her and put online, and they say that is what is trending."   He further lamented the fact that even the elderly who ought to know better are patronising the BBN. The painful part, according to him was that the church has not seen it as a priority, and neither has he seen a strong religious voice addressing the issue.  On how to change the narrative, and create much-needed awareness, he suggested three levels of communication.
"Share the same message, get people to realize and reason with you. Talk to the people who are elites, religious leaders, teachers, influencers and others, to reason with them. Then mass mobilization, through seminars, workshops, and from the pulpit". He also added that the government should be spoken to whenever there is an avenue. On his part, a legal practitioner, Bar. Grateful T. G. Pepple, averred that the show provides content that is majorly unhealthy for Nigerians. He says, "I don't see it helping to build the nation." He however noted that it is a private business and that they are entitled to do whatever they want to do. Nigerians on the other hand, are also entitled to watch, or not to watch.  According to him, "it is a private programme, it is not forced on Nigerians. It's just that because of the publicity, and how it is being  spoken of on social media, and everywhere, you see that those who are not supposed to be talking about it, or watching it, are doing so, and it's not helpful."
"I just wish that, probably, it could have more enlightening, more educative, more creative programmes that would lead to the development of minds, rather than watching people lazing around, and doing all sorts of things." "Yes they do some educational stuff. You see all sorts of things, all sorts of bad behaviour that are not something you want a younger to watch." "I don't think religious organisations are doing enough if in churches we still have not been able to teach people in such a way that they begin to imbibe righteousness and good moral behaviours into what they do, and then there are churches that allow people to come anyhow they like" . The way the Church is run now, everybody wants to make it, everybody wants to do what feels good to them, not what is actually right." Similarly, a retired naval officer, Capt. Ambie Barango commented that he has never liked the programme from the outset. In his words, "it only  teaches immorality. People just go there and mess up."
He wondered if the government's censoring agencies are active, "because the programme is not teaching anybody anything good and any boy or girl who goes there has declared independence for themselves. Both of them are looking for money; but what is it teaching?" "They are given cars and money. Is that all? What of the process of arriving there? If it is money they are looking for, then it is not teaching anything, and it is not the process of making money."He further questioned the rationale for the age barrier if the programme has wholesome content. "If we have something bothering on morals, we should stop. We are already having problems with these children because of social media, and we shouldn't work towards worsening it. We are talking of exam malpractice, and all of them are getting iPhones and android phones."
In the view of Dr Mene Kpoghi, a lecturer at Ken Saro Wiwa Polytechnic, Bori, the programme should be stopped immediately because of the obscene things people  do on television. According to her, "the impact it is making on the life of the young ones is not really the positive one, they are not learning anything good from it. "Sometimes they say they are censoring it, as in, parents can guide what  they watch. But that is not true. It is not all parents that have the time to do that. Secondly, not all parents are educated to follow the steps to lock the channel." "The programme is creating nonsense in the minds of the young ones because they learn faster, and they are prone to learn the negative ones even more." Mrs Ndot Ibisiki, a public servant, observes that the reality show encourages promiscuity. She said,, "Somebody you just met on national television show, you feel free to be kissing, and doing all sorts of rubbish."
"I don't see what it teaches, and I don't see how that benefit people.
I don't think the censoring  board is doing the much it should do ". "It is not helping our children. See the kind of attention and strength the thing is pulling. But when children are doing well academically they are not celebrated. We like to celebrate the wrong things, and we put our values in the wrong places. If not, for me, what does it teach?"  "They call it entertainment; it is wearing off our morals. But you cannot be the only one shouting. I don't like it, I don't watch it; I'm not a fan." She further noted that religious organisations are not doing what they should do. However, she advised that the government should look at the reality show with the intent of building talents especially using the task that they are given in the house, and forget the immoral things. But it has to be strategically planned in such a manner that it can be beneficial.
Unlike other reality shows that have been aired in the past, the BBNaija reality show seems deliberately designed to target the moral pillars of society. It is unfortunate that leaders of thought, agencies of government, and other key influencers, like religious leaders are either asleep or blind to the layer-by-layer dislocation of moral values. Some have tabled the argument of entertainment, but Reuben Abatti, the spokesperson for former President Goodluck Jonathan, calls it crass capitalism. Sharing his opinion after the 2021 edition, he said, "I was relieved because, for about 70 days, the show was a big distraction, crass capitalism at its most cynical edge, a source of unmanageable madness in homes and on the streets. "MultiChoice, through its Big Brother Naija and Big Brother Africa franchises, seems committed to the promotion of base values, chiefly adultery, prostitution, love of money, nudity and sex.
"What just ended as Big Brother Naija 2017 was nothing other than the corralling of some human beings into a zoo, pressured to behave like nothing but animals.
The organisers made money devaluing other human beings; the sponsors turned alcohol and pornography into legitimate sport." Since 2017 it has been worse, especially with millions of Nigerians on social media. Ironically, only the Nigerian Tobacco Control Alliance, and the Campaign for Tobacco-Free – Kids, a civil society organization have called the National Broadcasting Commission to be alive to their responsibilities, particularly regarding the use of tobacco in the house. In summary, it is evident to every well-meaning Nigerian that BBNaija is a slow poison designed to ravage our society. It is also apparent that those whose responsibility it is to act, are missing in action; civil society organizations and even religious leaders are mute.
Consequently, the only immediate remedy is to take personal responsibility. Parents can start by temporarily suspending the DSTV subscription till the show is over. Also, Christians and Muslims alike should encourage their leaders to openly discuss, and discourage BBNaija.  Finally, since we are in a democracy, everyone concerned about the destruction of societal values, and the future of the next generation should call their Senators, and Representatives to bring the BBNaija reality show for debate on the floor of both Chambers of the National Assembly. Maybe a bill might be sponsored to this effect that might disallow all unwholesome elements of the show.
By:  Pepple Raphael
Introspecting Father's Roles In Societal  Dev
The Father's Day observance and celebration  have become a universal phenomenon. In some climes,  it is observed  in June every year, to honour fatherhood and parental bonds. It is also designed to honour the influence of fathers in society. In Catholic countries of Europe, Father's Day is celebrated on 19th March as Saint Joseph Day, since the Middle Ages. In the United States, Father's Day was founded by Sonora Smart Dodd, and celebrated on the third Sunday of June for the first time in 1910. The Day is held on various dates across the world and different regions maintain their own traditions of honouring fatherhood according to when they deemed it necessary. Thus,  Father's Day is a recognised public holiday in Lithuania and some parts of Spain and was regarded as such in Italy until 1977. It is a national holiday in Estonia, Samoa, and equivalently in South Korea, where it is celebrated as "Parents' Day". The holiday complements similar celebrations honouring family members, such as Mother's Day, Siblings' Day and Grandparents' Day.
However, in Nigeria and some other African countries, public holiday is yet to be granted by the Federal Government to mark the event. According to Aurelia Scott, Father's Day was not immediately accepted when it was proposed and it did not become a national holiday even in the United States until 1972 during President Richard Nixon's administration. With the history of America as a developed economy and a civilised democracy one might assume that a holiday recognising the invaluable roles of men in societal development will be seamlessly and perfectly acceptable. Afterall, men dominated American society in the early 20th Century. In addition, a "Father's Day" or a day that recognises the role of a father in the family is an ancient tradition in history books; there is mention of a southern European tradition dating back to 1508. Perhaps, Nigeria will soon see the need to declare a public holiday to mark the day even as there is a strong advocacy for "Paternity Leave" for husband whose wife is delivered of a child.
Certainly, in modern days, people do not give Father's Day a second thought. In America, for instance, it has been about 50 years since President Richard Nixon's administration declared the third Sunday in June a day to recognise and honour the role of fathers in society- that took place in 1972. Interestingly, Father's Day was not immediately acceptable when it was proposed. One would wonder why the apathy that characterised the acceptance of the Father's Day initiative. Mother's Day came first. It was officially recognised in 1914. So, men in the early 1900s associated such a tribute to women and found the idea too effeminate or womanly to their liking. It is essential to state that Mother's Day was couched in terms of femininity.
In 1914, President Woodrow Wilson called Mother's Day a way to recognise "the tender, gentle army – the Mothers of America". Men viewed the idea of Father's Day like that of Mother's Day, which was popular with flowers. For fathers, it did not have the same sentimental appeal. According to Lawrence R. Samuel, the author of American Fatherhood: A Cultural History, men had a different role in the family during the first half of the century. It was patriarchal, so they felt a special day to exalt fatherhood was a rather silly idea when it was mothers who were underappreciated. However, that sentiment changed over time for several reasons.
The first known Father's Day service was held in Fairmont, West Virginia on July 5, 1908 after hundreds of men died in the worst mining accident in the United States' history. According to information accessed on the new age media,  Grace Golden Clayton, the daughter of a dedicated minister proposed a service to honour all fathers, especially those who had died. However, the observance did not become an annual event and it was not promoted; very few people outside of the local area knew about it. Meanwhile, across the U.S. another woman was inspired and burdened to honour fathers. In 1909, Sonora Smart Dodd of Spokane, Washington was inspired by Anna Jarvis and the idea of Mother's Day. Her father, William Jackson Smart, a farmer and Civil War Veteran, was also a single parent, who raised Sonora and her five brothers by himself, after his wife Ellen, died giving birth to their younger child in 1898. While attending a Mother's Day Church Service in 1909, Sonora, then 27 years old, came up with the idea. Within a few months she had convinced the Spokane Ministerial Association and YMCA to set aside a Sunday in June to celebrate fathers. She proposed June 5, her father's birthday, but the ministers chose the third Sunday in June so that they would have more time after Mother's Day (the second Sunday in May) to prepare their sermons. Thus, on June 19, 1970, the first Father's Day event commenced.
Sonora presented gifts to the physically challenged fathers, boys from YMCA, decorated their lapels with fresh cut roses (Red for living fathers, white for the dead fathers) and the city ministers devoted their homilies to fatherhood. Governments of independent nations and various Christian organisations in the world in consultation with stakeholders and members however, schedule the Father's Day celebration on dates that vary from that of the Catholics' stipulated 19th March and the United States' third Sunday of June. Some Christian denominations, such as the General Council of Assemblies of God Nigeria, have since decades ago established the Men's Day patterned after the Father's Day. It has also earmarked  the second Sunday of September every year, to honour the roles of men and fathers in the building of society and as agents of socialisation and positive changes.
Consequently, last Sunday, September 11, 2022, the about 18,000 churches of Assemblies of God Nigeria with a population of over 2.4 million members marked their traditional Men's Day with the theme, 'Stand in the Gap'. The District Superintendent of Assemblies of God Nigeria, Rivers District, Rev. Dr Daddy Ibulubo, gave the biblical definition of a father as beyond mere headship of a family. According to Dr Ibulubo, a father is a carrier of God's mandate concerning the family that consists of husband, wife and children in the nuclear setting, and stated that the roles of a father are, "to protect, provide for the family and discipline the child when necessary". However, some Christians and religious leaders see a father from the perspective of the divine mandate on the man, to be the head as the first human to be created. From the biblical account of Abraham's encounter with God, God attested to the spiritual credentials of Abraham as a man who is in control of his family and who will intentionally disciple his household on the laws and statutes of God.
This Abraham did. Not only to his immediate family but to the 318 servants and their families, he trained. This is the testimony of God concerning Abraham, "For I know him, that he will command his children and his household after him and they shall keep the way of the LORD, to do Justice and Judgement, that the LORD may bring upon Abraham that which he hath spoken of him." (Genesis 18:19) Today, the primordial sentiment that beclouded the noble idea of fatherhood has changed for the better. It is now innovative to celebrate the fathers who actually bear the brunt of the family upkeep and value orientation. The fatherhood or Father's Day concept is no more viewed as a 'feminine model', with flowers. It is now a universal event of giving honour and recognition to men or fathers for their invaluable roles in family and societal development.
The change from the feministic view of Father's Day is partly due to the way society has evolved. The modern roles of fathers have now changed so that mothers and fathers are seen as partners, each taking more responsibility within family life. Fathers are now seen as significant influences on children. We know from many studies what happens when a father figure is lacking in a family. In a sense today, Father's Day helps to demonstrate the importance and value of fatherhood – and the gifts beyond material goods that a father bestows on his children and family. Today, Father's Day concept is also christian denomination and Pastors' affairs. Christians  now deem it necessary to celebrate their men, Pastors, Founders and Spiritual heads/leaders, who in their judgement have positively impacted their lives, society and the work of the Kingdom of God.
It is in this perspective that the Presbytery, Pastors and entire membership of the Rivers District of Assemblies of God Nigeria, rolled out the drums, in pomp and pageantry,  celebrated their spiritual father, District Superintendent and the administrative head of the unit, the Rev. Dr Daddy Ibulubo on his Diamond birthday Jubilee.
Speaking on the occasion, Bishop Daka of the Likemind Christian Centre, who extolled the leadership qualities of Dr Ibulubo said Ibulubo is a gifted father to the household of the Christian faith. He urged Christian faithful  to celebrate fathers and leaders while they still live.
For Barr Reginald Ukwuoma, a former Chairman of Etche Local Government Area and chairman of the occasion, the celebration of Dr Ibulubo, who is also a leader in the Christian Association of Nigeria (CAN) and Pentecostal Fellowship of Nigeria (PFN), Rivers State Chapter, could not have come at a more auspicious time, stating that the accolades bestowed on the celebrant were not out of place and commended him for his meritorious services to affect society positively.
In his goodwill message the General Superintendent of Assemblies of God Nigeria, the Rev. Pastor Ejikeme Ejim,  said of Dr Ibulubo, "You have been an outstanding vessel in His (God's) hands; you piloted the affairs of the church in various leadership capacities over the years. You started from a local church, pastored and served meritoriously through the ranks until you became the Rivers District Superintendent. Rivers District has remained stable under your leadership, cooperating fully with the General Council of the Assemblies of God Nigeria". To Rev. Isaac B. Ekookoh, Chairman of the Board of Governors, Pentecostal Theological Seminary, Eleme, Dr Ibulubo is not only "a man of God but a child of God pragmatically". According to him, the celebrant's "serving two tenures as the chairman of the Board was a result of his faithful and sincere leadership."
In the view of Rev. Dr Gift Asuru, Ikwerre District Superintendent of Assemblies of God, Nigeria, Dr Ibulubo is "a great Icon, a Rare Gem", who deserves to be celebrated.The Rev. Dr Isaac D. Abraham, Assistant District, Superintendent of Rivers District, Assemblies of God Nigeria eulogised the contributions of the Rev. Dr Ibulubo, whom he described as "Father". The District Treasurer, Rev. Dr Samuel Onyegbu, was particularly endeared to the Dr Ibulubo by his (Ibulubo's) "patience, honesty, integrity, transparency and trustworthiness". In his contributions, a Presbyter in the Rivers District, the Rev. Wilcox Ubulom, celebrated the "quintessential and visionary peculiarity", adding that the celebrant's "life, messages, administrative prowess have transmogrified a lot of minds and lives and have given us transpicuous templates to follow".
For Rev. Eli Amamina, and Rev. I. M. Braide ; presbyters, the life of Dr Ibulubo is "a legacy in service to the Lord Jesus Christ and the building of the Saints". "You are a father, mentor, leader, administrator and a role model par excellence", they said. A biographical book was published in honour of the administrative Father of Rivers District. In his comments on the book titled, "Daddy Ibulubo", the author said the publication of the book was his modest way to celebrate and give flower to the father of the District to smell while he still lives, describing posthumous awards, encomiums, delicacies and funs as exercises in futility as the dead has no knowledge of what was done on  his behalf.
No doubt, celebrating Fathers who have distinguished themselves in the responsibilities of fatherhood to the family and society is an event worth holding and spending on every year to spur fathers who are the 'bark' breakers of domestic responsibilities, to do more and live more years. By now those caught in the web of celebrating the dead shall have seen the need to celebrate living legends, heroes and heroines for another milestone in life.
By: Igbiki Benibo
Food Preservation: Time To Check Traders' Excesses
Have you ever bought oranges, mangoes, bananas, plantain and some other agricultural produce and wondered about their taste? Were they plucked before maturity? Were they cooked or ripened with chemicals, especially calcium carbide among others? Were they washed with detergents?
Calcium carbide is a chemical compound that is industrially used in the production of calcium cyanamide for fertilizer and also in welding. When calcium carbide comes into contact with water it produces acetylene gas that hastens the ripening of several fruits such as mangoes, bananas and apples.
These are some unscrupulous practices by traders in the various major and minor markets around us that pose a big threat to human health.
Food is one of the necessities of life, besides shelter and clothing. Through food, the human body is nourished with various nutrients, including carbohydrates, proteins, vitamins and minerals essential for making a person healthy.
In as much as human beings cannot survive without food, how the food is handled after harvest and during storage can be a big threat to a person's health and general well-being.
Agriculture analysts believe that apart from the abuse of fertilizer application at various stages of planting, the use of chemicals for storage and ripening of fruits has become a huge cause for concern. So also is the washing of fruits, vegetables, nuts and root crops with detergents.
According to them, general abuse of agricultural produce, especially beans and other grains by traders in markets and vendors or retailers at different selling locations have reached an alarming stage.
It is common today to see fruits, vegetables, nuts and root crops retailers and vendors washing them with detergent. Equally disturbing is the traders' use of carbides to ripen fruits and pesticides like Sniper on beans to prevent or remove weevils' infestations.
Chief Akanbi Adeoye, the leader (Babaloja) of Ikosi Market, popularly known as Jakande Fruit Market, Ketu, Lagos State, blames fruits and vegetables vendors and retailers outside the major markets for such practices.
"Our information and security officers have not made complaints about such incidents in this market.
"Here, fruits and vegetables are sold on wholesale basis to traders from all parts of the state and they carry them in bulk to their various markets and selling locations,'' he said.
Mr Adebayo Damola, a trader and wholesaler of plantain, pears, avocado, pineapples and bananas among others, says those who use carbide to ripen fruits and vegetables and wash them with detergents do it outside the major markets.
"Here, we are middlemen to farmers who entrust us with their produce which come straight from their farms.
"We sell in bulk to traders within and outside this market and they take them to places where they sell.
"However, l know that fruit and vegetable retailers and vendors use carbides to make them ripe fast.
"I know too that some wash them with detergents to remove the soil and make it clean enough for display to attract customers,'' he said.
Damola says that in using carbide to ripen fruits, it is not sprinkled on the fruits or vegetables, but dropped at the centre after arranging the fruits in circular form and then cover with cloth.
He adds that it is the heat generated by covering it with cloth that causes the fruits and vegetables to ripen within 20 hours to 24 hours.
An agricultural engineer and retired staff of the Federal Ministry of Agriculture, Umudike, Umuahia in Abia State, Mr Mba Agu, says it is not the duty of traders to apply agro pesticides like Sniper on gains, especially beans.
"The application of pesticides on any agricultural produce, especially on beans and other grains, is for agriculture professionals and not traders.
"Agriculture professionals are trained to apply agro pesticides and insecticides on agricultural produces in a way that it will not be harmful when consumed.
"The problem is that people think that they can use Sniper and any other pesticides on agricultural produce without the input of those trained to do so.
"All pesticides and insecticides are bad and dangerous, at the same time still useful when used in correct proportions.
"If wrongly used, they become hazardous and dangerous for consumption and become cause for an array of health issues,'' he said.
Sniper is one of the agricultural pesticides used to control insects and pests on grains and seeds and other wide range of produce.
Sniper contains Dichlorovinyl Dimethyphosphate (DDVP) 1000mg, Sodium Sulphate and Enzymes as recommended by the World Health Organisation (WHO).
Agu says there are three methods through which pesticides can be applied on beans and other produces for storage.
According to him, the pesticides are mixed in the material at recommended doses, sprayed around the warehouse for bulk storage or surface of the material in a container.
Agu believes that it is time pest control officers leave their comfort zones and enter the markets to sanitise the abuse of pesticides application on grains, especially beans.
He says it is time too that the National Agriculture Council dispatch its seed law enforcement officers to the markets to regularly take samples of grains for laboratory test and analyses.
For Dr John Olaoye, an agriculture engineer and lecturer, Department of Agriculture, University of Ilorin, farmers are and should always be encouraged to minimise the application of pesticides on beans, grains and other produce during storage.
"This is because during the planting stage, a lot of pesticides are used at flowering stage to protect it from pests.
"At the storage stage, it is advisable to use natural materials like pepper or by exposing the produce to oxygen.
"If you must use pesticides and there are residual content on the produce still remaining, it is still harmful,'' he said.
Olaoye notes that the properties in DDVP pesticides were such that can vaporise.
According to him, if professionally applied, by the time of cooking at a boiling point of between 75 degree centigrade and 100 degree centigrade, the material will vaporise and will not be part of what is consumed.
"However, there are herbal formulations which are natural that can be used to prevent grains and other agricultural produce from pests and insects attack that were not harmful,'' he said.
Olaoye says that since the market is the prerogative of the local government councils, the councils should revive their community and public health officers as was the case in the 1950s, 1960s, 1970s and early part of 1980s.
He adds that it is not enough for the local government to collect levy and issue receipts without doing the work of sanitising what comes out from the markets and upgrading the market structures.
The Unilorin teacher says that the community and public health officials check traders, what they have in stock, how they are stored and displayed for sale to ensure they are good for consumption.
They also stamp animals before they are slaughtered for sell as meat in the markets, adding that they also visit houses and test water from public mains and boreholes from which the occupants are drinking.
According to him, it is a pity that community and public health officers are not part of our system any more. However, the sooner the community and public health workers are brought back, the better it will be for everybody. Therefore, it behoves the government, especially local government councils, to be up and doing to safeguard the health of the citizens.
Dr Ikechi Agbugba, a vegetable expert and lecturer, University of Port Harcourt, says the misuse of any chemical on agricultural produce is a killer.
"How on earth will anybody wash fruits and vegetables and any other produce with detergents? What happens to water and sponge?
"This happens because traders always prefer the easy way out.
"The government has to be proactive to be able to check the excesses of traders and food vendors by apprehending and prosecuting offenders,'' he suggested.
According to him, it is better to wash fruits and vegetables with clean water and sponge.
Agbugba says research works have shown that traders and food vendors are ignorant of the implications of what they are doing. He notes that organising and encouraging traders to form associations and get those doing similar trading to register is the easy way to enlightening traders on this.
"The market crier is useful in reaching them and telling them how to improve on handling hygienically the wares they have for sale,'' he said.
On the whole, the federal and state ministries of agriculture should deploy their seeds law enforcement officers and pest control officers to major markets and produce retail outlets to ensure that what they are selling is good for the body when consumed by unsuspecting consumers.
By: Chidinma Agu
Agu is of the News Agency of Nigeria.