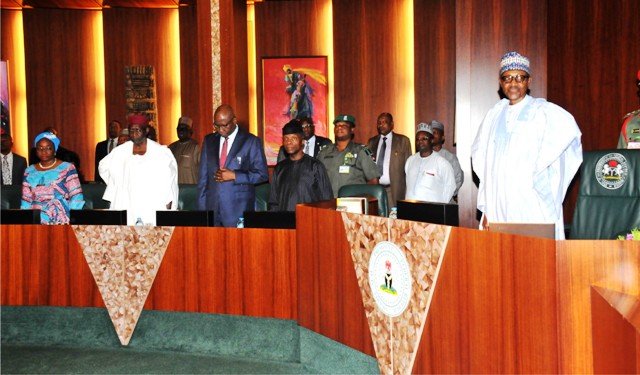 Amnesty International, AI, yesterday released its 2017/2018 Human Rights report, wherein the global rights organisation accused the Nigerian military of arbitrarily arresting and detaining thousands of young men, women and children.
It stated that as at last April, the military held more than 4,900 in extremely overcrowded facility in Giwa Barrack, adding that disease, dehydration and starvation killed at least 340 detainees. It pointed out that the condition of the military detention facilities in the North-East and other parts of the country was harsh, and children were detained unlawfully alongside their parents in these centres.
Amnesty, which flayed the military for its "total disregard" for human rights in its execution of the war against Boko Haram, stated that in the outgoing year, the Nigerian Army carried out, "extrajudicial executions, enforced disappearances, and torture and other ill-treatment, which, in some cases, led to deaths in custody".
The report went on to decry the increasing attack on the press and clampdown on freedom of speech, pointing out that journalists are increasingly being harassed, intimidated and arrested.
According to AI, "On 19 September, the Katsina state police arrested three bloggers, Jamil Mabai, Bashir Dauda and Umar Faruq, for criticizing the Governor.
"On 19 January, police raided the offices of Premium Times and arrested the publisher, Dapo Olorunyomi and correspondent Evelyn Okakwu for several hours, after the Chief of Army Staff accused the newspaper of offensive publications."
The report, which also outlined violation of Nigerians right to housing through forced evictions, as it singled out the governments of Lagos, Imo and Rivers states for "ordering and supervising forced eviction of thousands of residents without adequate notice, compensation, or the provision of alternative accommodation and resettlement".
"In Lagos state at least 5,000 people were forcibly evicted from Otodo Gbame and Ilubirin in March and April.
"During the forced eviction of Otodo Gbame community on April 9 at least two people were shot, one fatally.
"On June 15 Rivers authorities forcibly evicted hundreds of people from Ayagologo in Rumueme area in Port Harcourt.
"On February 2 High Court in Abuja declared as illegal threat of forced eviction on thousands of Mpape reisidents.
"June 12 a court in Lagos found forced evictions unconstitutional and amounted to cruel and inhuman treatment."
The report reads:
Boko Haram Conflict:
The group carried out 65 attacks causing 411 civilian deaths in 2017
In May 82 Chibok girls abducted in 2014 were released.
Sixteen women, including '10 police women were also abducted in June
In July 3 oil prospectors were abducted and 40 others killed in Magumeri.
November 6 farmers were abducted and beheaded in Dimge village of Borno state.
Internally Displaced Persons:
There are at least 1.7 million Internally Displaced Persons in Adamawa, Borno and Yobe.
Thirty nine per cent live in camps, while 61% live in host communities.
The UN said 5.4 million people in north east remain in urgent need of food assistance and 450,000 children are in urgent need of nutrition
In July Doctors without Borders said 240 children died from malnutrition in Borno state.
In January 2017 Nigerian Air Force bombed an IDP camp in Rann, killing at least 164 civilians.
Arbitrary Arrests:
The military arbitrarily arrested and held thousands of young men, women and children in custody.
The Army released 593 detainees in April and 760 in October.
By April the military held more than 4,900 in extremely overcrowded facility in Giwa Barrack.
Disease, dehydration and starvation killed at least 340 detainees.
At least 200 children, as young as four were detained in children's overcrowded cell.
Hundreds of women believed to be related to Boko Haram members were held by the military.
In September office of Attorney General announced mass trial of Boko Haram suspects.
Torture and ill-treatment:
Torture, unlawful detention and ill-treatment by State Security Services continued.
In February Nonso Diobu and eight others were arrested and detained by Special Anti-Robbery Squad (SARS)
Ibraheem El Zakzaky, leader of Islamic Movement in Nigeria and his wife held without trial since December 2015.
Court order for the release and compensation of El Zakzaky was ignored by the government.
In December 2017 the Anti-Torture Bill intended to prohibit and criminalize the use of torture was signed into law.
Unlawful Killings:
At least 12 Indigenous People of Biafra (IPoB) members were killed by soldiers in Umuahia in Abia state on September 14.
There was outrage over activities of SARS, and after huge pressure police agreed to reform the squad.
Communal violence:
Lingering violence between herdsmen and farmers claimed more than 549 and displaced thousands in 12 states.
In February 21 villagers were killed by suspected herdsmen in Atad, Kaura district, Kaduna state.
In June scores of mostly herdsmen and their families were killed in Mambilla Plateau.
Twenty-one people were killed by suspected herdsmen in Ancha village of Miango, Plateau state.
An attack by suspected herdsmen lead to the death of 27 people in Nkyie-Doghwro, Plateau state.
In December herdsmen attacked five villages in Demsa LGA, Adamawa state, killing up to 57 people.
At least 35 people were killed in an attack by Nigerian Air Force fighter jets.
Right to Housing and Forced Evictions:
Authorities in Lagos, Imo and River states continued forcibly evict thousands of residents.
Women's Rights:
Nigeria's federal parliament continued to debate the Gender and Equal Opportunities Bill.
In October, ECOWAS Court held that Nigeria violated the right to dignity of three women by wrongly accusing them of being sex workers, and unlawfully arresting and verbally abusing them.
IDP women reported gender based violence including rape and sexual exploitation, often in exchange for food by the military and members of Civilian Joint Task Force.
A group of women who were previously confined to Bama IDP camp campaigned for the release of their husbands from military detention
Freedom of Assembly:
The security forces disrupted, in some cases violently and with excessive force, peaceful protests and assemblies.
The police continued to deny IMN, which was banned by the Kaduna state government in 2016, the right to peaceful protest.
On 25 July, police in Kano city prevented a group of women from protesting against the persistent rape of women and children in the state.
Corporate Accountability:
Environmental pollution linked to the oil industry continued to undermine the economic, social and cultural rights of the Niger Delta communities
The government took limited steps to address pollution in the Ogoni region of the Niger Delta, as recommended by the UN Environment Programme (UNEP) in 2011.
However, local communities expressed frustration at the slow progress of the initiative and because operations on the ground had not begun.
Shell failed to comply with some of UNEP's key recommendations.
Human Rights Defenders:
Human rights defenders continued to face intimidation for their work.
Parliament debated a bill to regulate and restrict activities of NGO's.
If passed the bill will establish an agency that will keep a register of all NGO's
On July 19 police arrested Maurice Fangnon for six days for calling for investigation into alleged killing and assault of Otodo Gbame residents.
He was rearrested on 12 December with Bamidele Friday; they were released on bail on December 22.
Raymond Gold faced criminal charges carrying a maximum three-year prison sentence for demanding that an oil company conduct an Environmental Impact Assessment on activities which harmed the environment.
On 6 June, police officers harassed, beat and injured Justus Ijeoma at Onitsha Area Command.
Freedom of Expression:
Journalists were harassed, intimidated and arrested.