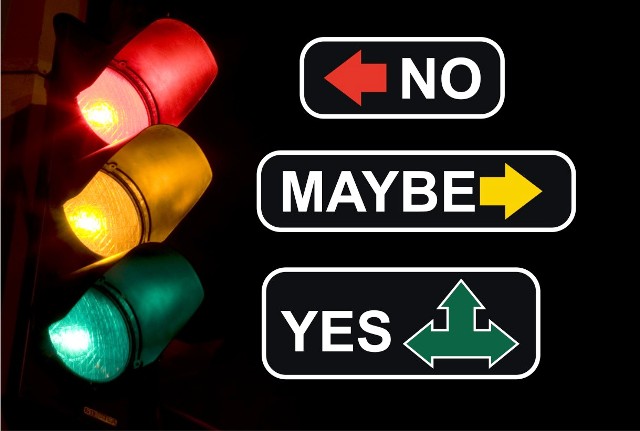 Are there people who are not worried about the drums of war being beaten at different parts of the country? Perhaps, there are. But the truth is that there is fear and tension in the land.
The rumours of war and disaster  circulating everywhere, especially on the social media, the hate and divisive speeches of people from the North, East, West and South and the constant agitations of various ethnic and religious groups  are clear indications that all is not well with the country.
At a women's meeting the other day, members were advised to start buying bags of salt and sending to their villages in readiness for an inevitable war. They were told stories of how salt prevented many people from going down with some deadly deceases during the Nigerian Civil War. Those that can afford it were asked to get their international passports and visas ready to enable them escape the looming and imminent danger.  Obviously, many of the women were panicky. They wished something could be done by the government urgently to avert the calamity.
Fortunately,  in  what seemed to be an answer to desperate prayer of many helpless citizens,  the Acting President, Prof Yemi Osinbajo, after  a meeting with Northern elders on Tuesday,  warned that the Federal Government would deal with individuals or groups spreading hate speeches capable of affecting the unity of the country. Osinbajo who stressed the determination of government to foster the unity of  the country, said the Federal Government would not allow such persons get away with their action.
Following that was a meeting between Osinbajo and South East leaders on Wednesday.  The aim was to sue for peace and  nip in the bud any crisis arising from the threat by Arewa youths that Igbos should leave the North before October 1, among other threats and counter threats.  The Acting President assured Nigerians that the Federal Government was handling the issue holistically and that there was no cause for alarm.
Osinbajo's action is indeed commendable. Disintegration cannot be the solution to the nation's problem. As many notable people, both Nigerians and foreigners have stated, there is enormous gain in our togetherness as a nation. Our numerical strength is a great advantage.
All tribes whether major or minor are stakeholders in the Nigerian project. Therefore, we all stand to gain a lot as a united entity rather than breaking into minor entities. It is true that we have several issues to resolve as a nation but a  working federation still remains our best bet.
Incidentally, what we practise in Nigeria today can hardly be termed a true, working federation. A situation where the Federal Government wields overwhelming power,  controls the entire resources of the country and only dishes out crumbs to the states at its will looks more like a unitary government than a federal system.
Yes, we must remain as one indivisible entity but in doing so, the appropriate things need to be done. Regions or zones as they are called now, should be allowed to control their resources and pay royalty to the Federal Government as it is the practice in other countries.
In 2014, the then President, Goodluck Jonathan spent billions of Naira to organize a national constitutional conference. All the who is who in the country, the young , the old and people from all walks of life were part of that conference After months of deliberations, they came up with a report which was sent to the National Assembly to work on. Sadly, the report has not seen the light of the day.
One of the recommendations of the confab was restructuring which is believed to be a panacea to the barrage of problems facing the country.  There have been calls from many prominent Nigerians and groups for the implementation of, at least, that portion of the report, all to no avail.
Is it not high time the Federal Government paid attention to these calls in the interest of the nation?
One will also suggest that apart from the meetings and consultations with leaders of various geo-political zones, government should also look into the root cause(s) of all the agitations. Many have blamed them on injustice, inequity and unfairness. Lack of these fundamental human principles is a crying evil which must be adequately addressed for peace to reign.
As it is said, injustice anywhere is a threat to justice everywhere. Indeed, there is no perfect country or perfect person, but we can work hard to build a decent society where justice reigns.
Our leaders should  listen to demands peacefully and not wait until those agitations resort to violence before attention is given to them.  There is no doubt that  if our leaders  had adopted this method,  many problems would have been avoided. A stitch in time, they say, saves nine.
Calista Ezeaku
Why Kill Deborah For Prophet Mohammed?
The murder of Deborah Samuel, a 200 – level student of Shehu Shagari College of Education, Sokoto, has made it incumbent upon me to write a sequel to my last week's piece, titled, "Was the Agege-bread Easter message a mistake?".
In that article, I laid out in very clear terms the state of mind of a Muslim that could give room for the trivialising of such a historic event as the resurrection. Today, even though the death of Deborah feels like a knife in my heart, I am glad that at least the reading public can knowledgeably compare the Easter incident and last week's barbaric murder and judge for themselves.
During Easter, the whole of Christendom was ridiculed, when the resurrection of Christ was likened to the rising of Agege-bread. Christians of all stripes reacted in various ways; some called for the total boycott of Sterling Bank, while the Christian Association of Nigeria called for the resignation of the CEO. However, no Christian, to the knowledge of this writer,  called for the death of Mr. Abubakar Suleiman, or for the burning of Sterling Bank branches across the country.
It must be understood that in christendom, the greatest blasphemy, is blasphemy against the Holy Spirit; and if the resurrection of Jesus Christ was an act of the Holy Spirit, then Sterling Bank committed the greatest blasphemy against the Christian Faith. Are Christians ignorant of this? No. What then should have been the response of Christians? Exactly what CAN has done, forgive; and, follow peace with all men, as much as it is within your power.
One major thought from last week's article was that if the script were to be flipped, and Prophet Mohammed or any pillar of Islam was the target of ridicule, people would be killed and places would be burnt. Unfortunately, this is exactly what happened to Deborah Samuel.
My rational mind is compelling me to ask my Muslim brothers why they fight and kill for Prophet Mohammed if he is the messenger of Allah when we are thought by the Holy Quran that Allah is all-powerful. Is it that Allah is now weak? I think not. There might be a myriad of differences between Christianity and Islam, however, there are also points of convergence, and the almightiness of God or Allah is one of such. Hence my confusion.
I am compelled to assert that the global killings committed by Muslim fanatics for alleged blasphemy are a form of extreme paganism which has no place in modern society. More than 3000 years ago, a mob, like the one that murdered Deborah, gathered to kill Gideon because he destroyed the altar of Baal. They asked his father to bring him out, but his father, Joash said, "Will you contend for Baal? Or will you save him? … If he is a god, let him contend for himself because his altar has been broken down". What is the difference between those who murdered Deborah and the pagans? Nothing, except that they were wise enough to allow Baal to prove himself as God.
Therefore, since we know that the Islamic religion is monotheistic, we should interrogate the source of these pagan tendencies. Especially, given the fact that some Islamic clerics are the ones calling for violence, sowing seeds against religious tolerance, national integration, and cohesion. In the past, much violence was perpetrated after Jumat prayers. In fact, before Deborah was killed, an Imam in Sokoto, in a video that has now gone viral on social media, was calling for the killing of a boy who allegedly has blasphemed Prophet Muhammad. He has not been arrested yet.
After seeing on YouTube, how these Muslim college students hunted down and murdered Deborah like an animal while shouting Allahu Akbar, it is hard to reconcile to the Muslim peace greeting: "Salem aleku".
The Sultanate Council was very quick to condemn Deborah's murder, reaffirming its stance on religious violence. But is this enough? Nigerians would want to know what portion of Islamic theology, as espoused by Imams in Jumat prayers, and Quranic verses responsible for this kind of insane behaviour. As a person, I will like to know the position of the Quaran on Blasphemy against the Prophet Muhammed and the position of the Islamic religion in relation to contemporary Nigeria?
Already, it is apparent, that these youths have the tacit support of the Northern elite, considering how former Vice President Atiku Abubakar was attacked, so much that he had to delete his twit condemning Deborah's murder. For instance, a Twitter user who calls himself Otunba of Sokoto, declared the former vice president has lost a million votes in Sokoto. Yet, another user retorted, saying " we are waiting for him to come to Sokoto for campaign".
We must all bear in mind that, Deborah was executed by her coursemates. These students are not ignorant; they are informed, motivated, and they did what they felt obligated to do, based on an idea or teaching. But was the murder of Deborah alien to the North? Unfortunately, it is not. There have been several cases when christians have been murdered by irate Muslim youth in the North. In fact,  in June 2016, a 74-year-old Christian trader, Bridget Agbahime was beaten to death by a Muslim mob outside her shop in Kano after accusing her of insulting the prophet. The suspects were arrested but were later released when the Attorney General and Commissioner for Justice, Kano State declared that the state has no case against them.  Her only crime was asking a Muslim youth performing ablution in front of her shop to move away.
On Friday, two students were arrested; but on Saturday, Muslim youths in Sokoto went on rampage, demanding their unconditional release. In the mayhem that ensued, two Catholic Churches under the administration of Bishop Mathew Kuka, some ECWA Churches, and the shops owned by South Easterners have been touched. Even the way about Bishop Kuka is kept under wraps for his safety.  Consequently, a 24-hour curfew was placed in Sokoto metropolis. In the same vein, Governor Nasir Ahmad El-Rufai has placed a ban on any form of religious protest in Kaduna.
Deborah has been buried in her hometown, Tungan Magajiya, in Rijau Local Government Area of Niger State on Saturday, after her corpse was brought from Sokoto in very controversial circumstances.
The story continues to evolve, but one thing is clear, the North is a conservative Muslim country in Nigeria. If this is not so, the burden is on the Federal Government, as well as the state governments in the north to prove me wrong. Maybe, Deborah's murder might be the 'proverbial last straw'  that would break the back of  religious bigotry  in this country. In the interim, while we wait for answers from the Muslim community, Christians across the country must remain calm.
By: Raphael Pepple
Of Quota System And Mediocrity
Each time the thought of restructuring  the country is conceived, people are usually quick to think along the lines of regional divide, vis-a-vis enthroning true federalism where fiscal federalism is prioritised. An advocate of restructuring once said that Nigeria fared better when we operated as Northern, Eastern and Western regions than now.
Myopically, they have refused to dig for reasons why this same federal system, which some have nicknamed dysfunctional unitary system,  benefits countries like Ethiopia, USA and India, and yet it is considered counter-productive in Nigeria. Luckily, the likes of Bayo Okunade,  a professor of political science at the University of Ibadan, would always think differently. For such, unless some fundamental issues are addressed, the problems would persist with or without restructuring.
It is education, it is girl child education, it is women's right, it's child begging, it is parental irresponsibility, demographic growth, it is managing a multi-cultural, multi-ethnic and multi-religious society and bringing them into one community where they are all first and foremost, citizens before anything else.
Reminiscing on the speech of a former Central Bank Governor,  Muhammadu Sanusi, on the ocassion of Governor El-Rufai's birthday, held in Kaduna last year, I needed no interpreter to help me figure out a diagnosis of Nigeria's problem, using the north as a sample population.
Without mincing words, the former central bank  boss  highlighted the indices for restructuring Nigeria, using the  mathematical formula of substituting the north for Nigeria as a whole. Although his emphasis was glaringly on the north, Sanusi was unequivocal on the imminence of destruction,  should leaders fail to address the myriad challenges facing their subjects, which solution he insisted, does not rest on quota provision, but  hinges on education.
His position on the quota system and federal character policies as catalysts for the upsurge of mediocrity in the system as well as the relapsing into outright illiteracy by the citizens today, could not be hidden. He blamed the north for resting on their oars because of the quota system in place by which they hope to gain placement in the scheme of things
In his words: "We need to get northern youths to a point where they don't need to come from a part of the country to get a job. The rest of the country cannot be investing, educating its children, producing graduates and then they watch us, they can't get jobs because they come from the wrong state, when we have not invested in the future of our own children".
While the quota system came into being prior to Nigeria's independence in 1960, the federal character principle became officially recognised in the 1979 constitution.The implication of these was that issues of admission, recruitment, promotion and appointment became based on these principles.
Bearing in mind that the entity called 'Nigeria' is an output of an almagamated process, whose constituents can hardly jettison in a hurry, their individual differences vis-a-vis culture, tongue, belief, etc, the federal character and quota system as enshrined in the constitution of Nigeria was designed to ensure equitable distributions of bureaucratic and political roles in the public service at federal, states and local government levels with  pre-determined and inflexible result.
Of course, by design, the "federal character" principle seeks to ensure that appointments to public service institutions fairly reflect the linguistic, ethnic, religious, and geographic diversity of the country. It is purely to promote national unity and also to command national loyalty, thereby ensuring that there shall be no predominance of persons from a few states or from a few ethnic or other sectional groups in that government or in any of its agencies.
The main idea is to create conditions where no tribe is favoured above another, thus cementing in concrete term, the unity of the entire nation where there would be no room for greed, avarice and jealousy. For this reason, Section 153(1) of the 1999 Constitution provided for a commission (Federal Character Commission),charged with the responsibility of monitoring the implementation of rules and principles proclaimed in federal character.
Regrettably, the federal character has become a euphemism for recruiting unqualified people into the public service. Probably, proponents of this policy did not put into consideration, what becomes of the slots of a particular locality or region in the event of no capable hand to fill in the blank spaces.
This I believe is the reason why Sanusi berated the north over continuous  reliance on quota system and federal character to get jobs for its children at the expense of the other parts of the country who, he said are " busy educating their own children and turning out graduates".
Like every derailed course that is tantamount to review,  Sanusi believes that an expiry date awaits this well- intended but abused privilege. And for him, "a day is coming  when there would be a constitutional amendment that would  address  these issues of quota system and federal character.
"The country is moving on, the quota system that everybody talks about must have a sunset clause". He advocated  emphasis  on merit against religion or tribe. "You don't need to ride on being from Kaduna State or from the North or  a Muslim to get a job, you come with your credentials, you go with your competence, you can compete with any Nigerian from anywhere", he maintained.
If I could read right  the lips of the former governor, I should summarise his thought by stating that the days of potential did not help us so why can't we crave for, or explore the era of credential?.
By: Sylvia ThankGod-Amadi
Of Obsessions And Propensities
It was quite interesting and curious looking at an old post-graduate project in which a research student tried to propound what he described as King-I-be syndrome as an academic theory. But for the vehement stand of an external examiner, they would have been adopted into the academic lexicon. Even though the idea was sound and valid, an objection came from the fact that the "King-I-be acronym could be interpreted to mean a name: Kingibe, which was capable of raising some dust. And alternative of Macbethan theory or syndrome was suggested by the external examiner.
Obsession can be explained to mean an irrepressible, continuous urge, inclination or interest for something, which can get to the point of vaulting ambition bent on getting that thing at any cost. Propensity can also be explained as an in-born tendency or inclination towards a particular behavioural pattern. It is needful to note that obsession and propensity have little or nothing to do with hubris which is a great but unreasonable pride which forms the basis of what an individual aspires to do or become. People usually have some strong drives as impetus for what they do. This is quite healthy.
In a beer parlour talk, someone was heard describing one foremost political aspirant for the position of a president, as "having an obsessive propensity", in spite of his age, health and wealth. It may require effective thinking rather than a smart ability to play the game of squash, to preside over the affairs of a country. Yet, the task of leading a large and complex nation like Nigeria, makes unusual demands from anyone undertaking such a responsibility.
Having an obsessive propensity to lead a large number of people is hardly the same thing as being able to carry out the demands of leadership effectively. What we find quite common is that people who get into positions of power and authority via obsessive propensity as a driving impetus, soon become overwhelmed by the position, after getting there. In the case of Nigeria as a nation, the situation is more complex than would-be presidential aspirants often assume, because, it takes more than intellectual acumen to be a successful leader. Neither does success in business and economic engagements translate into an effective political leadership.
An ex-president of Nigeria, Olusegun Obasanjo, was quoted as suggesting that it would take a rebel to be able to lead Nigeria out of our present quagmire. Such a "rebel-leader" would fail if he adopts the macho or military temperament in the task of leading Nigerians. Neither would an academia, with a hollow knowledge of conceit, fit into the task of effective governance of a nation yearning for meaning. As for the ecclesia, please count them out, until they can come out of the Tower of Babel. A paradym shift is inevitable!
Any activity or engagement dominated by persons with obsessions and propensities, is most likely to end up in a failure. Obsessions and propensities can be described as hyper-active frame of mind, rather than a normal or stable one. Studies in human brain activities reveal some details which point towards a mass derailment whereby a majority of humans have abnormal brains. A part of the abnormality manifests in obsessions, propensities and other aberrations in behaviours, pursuits, lifestyles and worldviews. Why, for example, is there a wide-spread use of hard drugs, globally?
One serious danger which humans face currently is the intrusion of the minds of individuals by some external entities, radiations and energies; a phenomenon made more possible by electronic media. There are situations where external entities take possession of the body and brains of individuals in order to work through such persons in some visible ways. People who offer themselves for such abuses or intrusion are usually people who take substances which put their brains in unstable state. Those who dabble into cults and fetish activities also expose themselves into possible invasion or intrusion.
Double-life phenomenon or a situation where an individual dangles between normalcy and abnormality alternatively, arises from the brain of an individual being occupied by some alien forces. What is meant here by alien forces include discarnate human souls and various electronic-projected radiations or energy. In all such cases an individual would have made his lifestyle and thinking pattern available for an intrusion by some energy similar to his longing or activity. No one is exposed to such dangers arbitrarily, unless a hand of fellowship is extended to diabolical forces.
It is quite common to find people who are not themselves from time to time, resulting from having to accommodate an alien entity, via the brain. Thus from time to time, two different entities compete to impress their volition, namely: the rightful owner of the body and an intruder. This situation may be mild or severe, depending on the strength or weakness of each of the competitors, but in extreme cases such persons are described as insane. Psychiatric cases are of different categories but fundamentally the brain of the patient harbours an alien entity.
Obsessions, propensities and brains being taken over by alien forces, exhibit certain features which can be regular or intermittent. Firstly the individual would rarely know that he has an abnormality which demands psychiatric intervention, especially when the cases are mild. Secondly such persons often succeed in what they do or aspire to achieve, largely because of the bravado and confidence which they exhibit. If they are politicians and rich, they have a large number of followers, admirers and errand boys who can do anything for a fee. Thus corruption spreads in society.
A peculiar danger arising from those whose cases of mental aberrations have grown to the climax, is the possibility of misleading, corrupting and laying foundation for a derailment of the collective consciousness of an unsuspecting populace. Under the cover of immunity, a number of highly placed people in strategic positions but with various forms of obsessive propensities, can plunge a nation into irreparable misfortunes. Is it not possible that a nation can be plunged into a war by leaders whose minds and brains are obsessed with various propensities?
Since birds of same feathers flock together, is it not likely that the peculiar temperament and inclinations of a nation's leader would result in the assemblage of men and women of similar nature as managers of affairs of the nation? Like an aphrodesiac, vaulting ambition and obsessic propensities serving as the impetus and ladder to greatness, can become such an equivocator that can provoke the desire but can also take away the performance. It would take more than vaulting ambition and obsessive propensities to lead Nigeria out of what we experience currently. Exemplary leaders are usually unobtrusive, not obsessive.
By: Bright Amirize
Dr Amirize is a retired lecturer from the Rivers State University, Port Harcourt.