Wike Deserves Everyone's Support – Wokekoro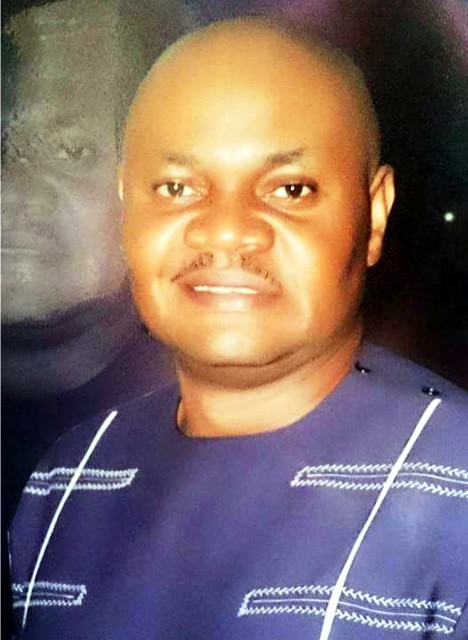 Two-time  Commissioner for Culture and Toursim in ex-Governor Peter Odili's administration, Hon Sunny Wokeror, recently joined the ever –congesting traffic  of high profile decampees from the embattled All  Progressives Congress  (APC) in the State.
A great mobilizer and grassroot politician, Wokekoro was pioneer  chairman of the Peoples  Democratic Party (PDP) in the Port Harcourt Local Government Area and the  Coordinating Chairman  between 1999 and 2003 before joining the APC in the build-up to the 2015 polls.
In this interview with The Tide  Political  Editor, Victor Tew and Chief  Correspondent,  Ike Wigodo, he bared his mind on why he dumped  the APC, the need to support the Wike administration, and sundry issues.
Excerpts:
Until you reportedly dumped the APC, you have been perceived to have been politically passive, Why?
Well, passiveness and activeness are relative terms. If you  are in a system and the leaders of that system did not see or are not comfortable to give you latitude to do what you know best, you don't force yourself. In the real sense of it, no responsibility was given, nor offered. Even when there were compelling reasons to do so, it was not given for reasons best known to them. So that explains why I appeared passive in APC. But at the starting point of APC,I was saddled with the responsibility of sensitizing PDP members who moved with us to APC. That responsibility was mine, I went round the wards, units and local government areas,  convincing people to see reasons to move over to APC. Thereafter, when it was time for more responsibility to be given, I was not considered even when promises were made to that effect. So for me, that probably explained why I was appeared to be passive in APC .
Political observers in the state say you left APC because you were not  considered a factor enough to be consider a public responsibility. How true?
Laugh! I am not a new person in politics of Rivers State. As a matter of fact, I was one of the founders of PDP. During the emergence of with dispensation ,I cannot bore you with the rigorous processes I went through as an individual to Abuja to ensure that PDP was founded. Most of those you considered to be active today or are  gladiators, some of them were naturally welcomed into PDP by me and in a forum where I was part of. It is  just that godfatherism placed them over and above me, otherwise I don't see them more active or more of a factor to be given responsibility.
You  said you were among those who ushered members into PDP. Did that not make you a god father?
No, I wasn't a god father as at the time of emergence of PDP, we were trying to form the party. You know we metamorphosed from G34 to forming what is known today as PDP. I was G34 coordinator in Port Harcourt Local Government Area, as at that time. Nobody gave us chance, we were all struggling and desirous to make a change, changing from military to civilian administration. At that early stage of the formation of the party, I happened to be like a foot soldier for political leaders. So, when I say I was already there when others came, I mean I was there as somebody who facilitated the registration of the party. We had already registered the party before some aggrieved people from All Peoples Party(APP) came saying that they wanted to belong to PDP. So it is in that context I said I was part of those  who welcomed them into PDP.  It does not make me a godfather, I am not yet a godfather.  I'm still learning.
Having  been former chairman of PDP, in Port Harcourt Local Government Area and ex commissioner, for how long will you be learning.
Yes, I was the pioneer chairman of PDP in Port Harcourt and beyond that, I was the coordinating chairman  of all the PDP chairmen in Rivers State. After that I became  a two-time commissioner in  Rivers State. You know why I said I am still learning. One American President once said it is only when you think of death that the brain seizes to expand. That means that learning is a process that takes you all the season of your life time. There are many things there for me to learn. I have just been a commissioner, There are those who are legislators, there  are things for me to learn or know about it if I interact with them well. I could learn from them even without being a member of the legislative arm. There are those who have been in higher executive offices like ministers, Governors etc. I could also learn from them. You close the door on yourself when you say you have learnt everything. That is how we get it wrong. In that context I want to say that I am still learning.
Back to where I said, I am not considered as a factor, I do not know where that is coming from. Some time in this business of politics we play in Africa, if where in the western world, people identify you for your couth  and brain. what you can do, even though you're not their friend, they look for you and ask you to do this, not for themselves or for yourself but for the state and the nation. In the case of Africa, you discover that when you have those potentials, there is somebody who decides your faith or will make them consider that you are not a factor. If I wasn't a factor, how come I was considered and given a responsibility of sensitizing the people to move over to APC?  I moved round the state then, I was a factor. How come I was given a responsibility during the build up to the 2015 elections? Then I was a factor, I moved round and campaigned, Suddenly people are saying I left, I was no longer considered a factor to be given a responsibility. So if anybody said I was not a factor, it is left for that person. I have been a factor and will remain a factor as far as God gives me good health and life. If I am not a factor, how come my defection back to PDP is causing a lot of ripples?
Did you think, joining PDP will improve its fortune?
I have been of PDP. Even when I left PDP, in my blood, I was still PDP, and So, I am back to my family. That is the way I see it. I am back to the house I helped to build. I am back to the house that gave all the gladiators in Rivers State the platform to become what they are today. So, everybody can contribute to any system, it is a matter of you rationalizing the impact of that contribution. Obviously, there will be responsibility for me to do, because, I will not add any value for going back to my home if there is nothing I can do to improve their fortune. I will not like to assess myself. I belief there is lot to contribute to the electoral fortune of PDP if no where else, I think in my ward, my unit, and  my local government area.
Do you think PDP will comfortably accommodate you against the backdrop of the fact that you worked very hard against the party in 2015.
Well, If you have a leader who is broad minded, who is not myopic in thought and considerations, you have a leader who is not primitive in approach, you will discover his thought is different from that of  man who has been in the village all his life and may be coming of out of  the village only when he went to school and the rest of thing. Background matters a lot. For Wike and those in PDP are like a family. So, it is like a reunion. It  is like coming back home for me and them. Wike is not scared of giving responsibility to people. He identifies your clouth and potentials and gives you responsibility. It is only when you fail him  that he will do away with you. But he is not the same  person who will identify your potentials and your clouth becomes a threat to him. So, I do not think it will be a problem for me to be absorbed back to the PDP fold.  As a matter of fact, I have been absorbed. We are waiting for the formal declaration. The space is enough to accommodate everybody. We need every hand to keep the state moving, we need every hand to ensure peace in the state, we need every hand to stabilize the state; we need every hand to ensure that genuine agitations of the state such as our oil wells are restored to the state. For me, this is beyond political colorization, it should not be PDP business alone. let's forget how we got to where we are, but injustice was done to this state. It does not matter who did it but, we should fight together as a team to ensure that sanity, justice and what was wrongly taken away are  brought back to the state. It is everybody's business, not governor Wike's or PDP's.
How will you access the Wike administration?
It is about two years Governor Wike came on board I have not heard of the perennial complaints of civil servants not paid.  It is very annoying that civil servants are not paid after months of work. It was not a good development. I also have not heard of schools being on strike. The educational system is on and working well. Children go to school when they ought to go. For me Wike should be commended .I also notice in most of our roads, that earth machines are working. Having been  a member of executive council, I know, performance should be commiserate with what you have. In the past we have a situation where somebody was lucky to have in his disposal a lot of money to do so many things. The lot is not the same with Wike, Generally, Nigerians knows that allocation has dropped drastically  because of oil benchmark. We all are aware that internally Generated Revenue (IGR) has also dropped. All these will hamper development. But within the context of finance, that is available to him, he has done the best he could and if the financial situation improves, I think he is going to do more. There nobody that will come on board that will not want to leave a legacy; no governor will want to sit there for eight years and waste his time. He is forward looking, energetic and purposeful. He is determined to lift Rivers  State to a greater height. I think he deserves all our supports and that is why I am coming on board to support him in whatever regards he might deem me fit.
As a former Tourism commissioner in Rivers State, do you think the governor has done enough to promote that sector?
The truth of the matter is that since this  democratic dispensation, past administrations  have not done anything to enhance tourism in the state. I can tell you, the yearly organization of RIVFEST does not in any way solidify tourism potentials of the state. We have tourist sites we need to develop that will cost people yearly to come and see. All the past administrations did nothing in that regard as far as I am concern. When I was in office, my chief executive officer, Dr Peter Odili, charged me to go out there and get investors, I went out in search of investors, I travelled to South Africa more than thrice, I brought an investor, that was to build a one stop shopping mall at the old Dr Obi Wali complex. But it was messed up. The investor got angry and left with his investment and money. When he was not getting the response he ought to have gotten. If that had happened, it would have been better than what we have there today. What we have planned and wanted to achieve then would have given us cinema and a shopping mall, all in one place; a one stop shopping mall where everything you need will be. I belief the government of the state needs who has this idea, who can motivate it, encourage it and make the governor see that  it profits in investing in tourism. Tourism investment is not something you have return immediately. It is a long term project. After investment, you need to do advert, both locally and internationally, you need somebody who has  drive, acumen and idea to convince him that you cannot lose if you invest. I belief this government will do something about tourism development. We have a lot of sites we can develop which can be a revenue earner for the state.  When I was in government, I happen to run into the master plan of Issac Boro park. That park is totally underutilized. The concept of the Issac Boro pack was abandoned and that was what I was trying to do. We also tried to build boat race sites. Go to some of the water fronts, acquire then, and develop them into international boat race site that will earn the state a lot of revenue.
APC, PDP Bandy Words Over Buhari's Fresh Loan Request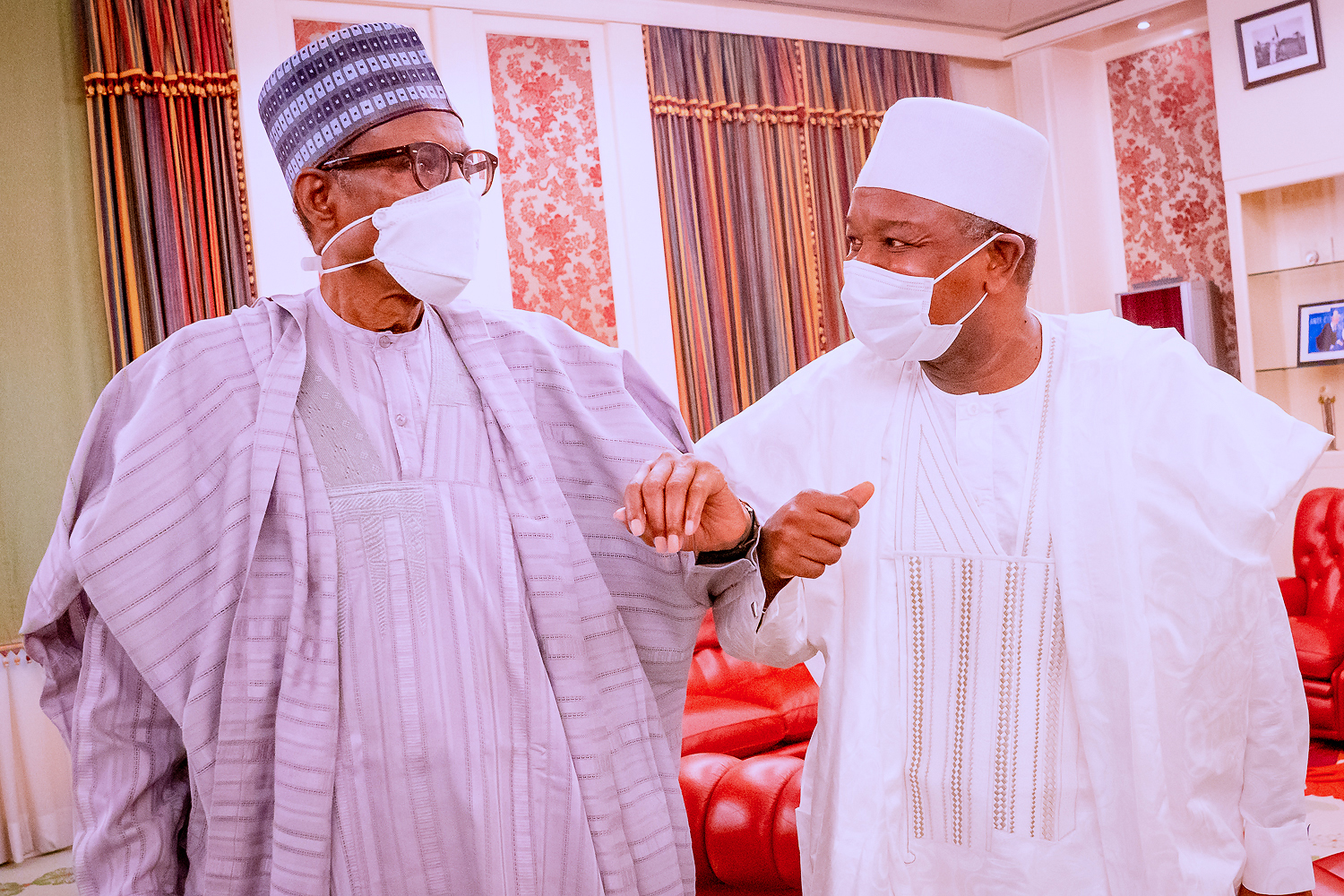 The ruling All Progressives Party (APC) and the opposition Peoples Democratic Party (PDP) have argued over President Muhammadu Buhari's request for approval to borrow $4 billion and €710 million to fund the deficit in the 2021 budget.
Recall that the president made the request in a letter he addressed to the National Assembly on Tuesday.
The Peoples Democratic Party (PDP), in reaction to the development, cautioned the NASS against approving the request, saying it could set the country's debt profile skyrocketing without a feasible repayment plan.
With the approval to borrow $8.3 billion and €490 million loans by its legislative body barely two months ago, Nigeria's debt profile risks reaching over N40 trillion.
"More alarming is that the debts that APC is hanging on Nigerians are for nebulous projects whose scopes, utilities, locations and contractors are largely vague; a development that validates apprehensions of a huge swindle on our nation at the expense of innocent Nigerians, including generation yet unborn.
"Our party holds it as an act of wickedness that individuals who know that they will be leaving office in less than two years will be accumulating debts instead of seeking ways to reduce the liability they have brought upon our nation.
"The APC knows it will not be around after May 29, 2023. That is why it is pushing our nation into a deeper economic quagmire with foreign loans, which are largely diverted to the personal pockets of their corrupt leaders," the opposition PDP said in a statement signed by its spokesperson, Kola Ologbondiyan, on Tuesday.
But responding to the PDP's criticism, the All Progressives Congress (APC) on Wednesday, said the loans are for "the good of the country" and well-being of the citizenry.
The ruling party also accused the opposition party of looting foreign loans obtained during its 16 years rule rather than spending on infrastructure and economic growth as, according to it, Mr Buhari-led government is doing.
"It was in PDP's era that loans to fund power generation, purchase arms and ammunition to fight a raging insurgency were misappropriated and diverted to fund PDP activities; and the borrowed money ultimately found its way to the pockets of cronies, friends and family members of administration officials. Nigeria is still servicing a $460 million loan taken from China to fund a phoney Abuja Closed-Circuit Television (CCTV) contract awarded in August 2010.
"Nigerians should also reflect and recall that the PDP had in its 16 years of misrule pushed the country into a dark ditch of insolvency, and a period in which most state governments could not pay workers salaries, not even the minimum wage, or settle contractors' bills and cater for patients in hospitals, to name a few," the APC interim National Secretary, John Akpanudoedehe, said.
A'Ibom Gov Signs Anti-Open Grazing Law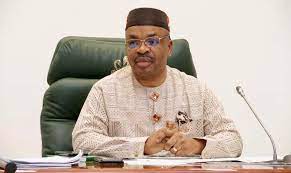 Akwa lbom State Governor, Udom Emmanuel, has signed into law a bill to prohibit open rearing and grazing of livestock and provide for the establishment of ranches in the state.
The Speaker, Aniekan Bassey, with the Attorney General and Commissioner for Justice, Mr Uko Udom (SAN), presented the bill for signing on Wednesday at the State Executive Chambers, in the Governor's Office, Uyo.
The governor, after signing the bill into law, stated that the new law was no respecter of persons irrespective of status or calibre.
He instructed relevant authorities of government to ensure that the law was implemented and enforced to the letter with strict compliance, stressing that, culprits must be brought to book accordingly.
The new law will promote modern techniques in animal husbandry, prevent the destruction of farms by wandering cattle while reducing clashes and killings between herders and farmers in the state.
It will also promote international best practices in livestock administration, regulation and control in the state, among other things.
The state Assembly passed the bill on Tuesday, and the Speaker, Aniekan Bassey, directed the Clerk of the House, Mrs Mandu Umoren, to communicate the decision of the House to the Governor for his assent.
Also at the Executive Chambers, the Speaker who was accompanied by the Leader of the House, Udo Kierian Akpan, and the Clerk of the Assembly, Mrs Mandu Umoren, to the signing ceremony witnessed the inauguration of two C\committees by the Governor.
The committees are the Akwa Ibom State Gender Based Violence Management Committee, chaired by the First Lady, Mrs. Martha Udom Emmanuel, and Akwa Ibom State Road Safety Management Committee, chaired by the Deputy Governor, Mr. Moses Ekpo.
NASS S'East Caucus Moves To Reconstruct Federal System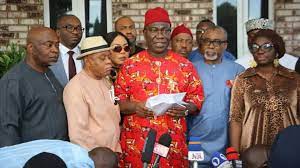 Members of the South East Caucus of the National Assembly have resolved to join hands with other patriotic Nigerians across regional, religious, political, and ethnic divides to reconstruct a federal system where the rights, happiness, and prosperity and those of unborn generations are guaranteed.
Making their feelings known in a communique issued at the end of an extraordinary meeting held at the Apo Legislative Quarters, Abuja last Wednesday, the law makers said the topic of the meeting centered on review of developments in the South East, particularly the security situation in the region vis-à-vis the sit-at-home orders by members of the proscribed Indigenous People of Biafra(IPOB) and the detention of Mazi Nnamdi Kanu.
"We expressed solidarity with our people of the South East over the marginalisation of the region in the scheme of things within the Nigerian commonwealth. The Caucus feels the pains of our people and their quest for equity, justice, and protection of their lives and property in every part of the country. The Caucus, therefore, resolved to continue to fight for a level-playing ground and an enabling federal system where Ndigbo are able to develop their homeland at their own pace and equally pursue their happiness and actaulise their enormous potentials in every part of the country, unmolested.
Reviewing the sit-at-home orders by the IPOB and the mayhem some nefarious elements have seized the opportunity to visit on the lives, properties, and psyche of the people, the Caucus equally reviewed and rued the incalculable economic losses and hardships these have brought upon the region.
They, however, condemned in strongest terms the disruption of the ongoing Senior Secondary School Certificate Examination in some parts of the South East, particularly the incident at Comprehensive Secondary School, Nkume, Njaba Local Government Area of Imo State, where the English examination organised by the West Africa Examination Council, WAEC, on Monday, September 13, 2021, was ruthlessly scuttled by armed men, who chased away the students, teachers, and examiners before setting ablaze motorcycles belonging to the teachers.
"This is certainly not who we are as a people. On the contrary, we are a people, who have always cherished and encouraged learning from the ages. We are a people that fully appreciate the place of education in the liberation and enlightenment of the human mind and the socio-economic and political emancipation of a people".
The South East legislators equally condemned in strongest terms the incessant killings in the South East, adding "This must stop immediately. We call on the security agencies to unravel the culprits behind these wicked acts and ensure that they are brought to book to serve as a deterrent to others.
" Noted with delight that IPOB has called off the Monday sit-at-home order and resolved to ensure that nobody uses them as façades to bring ruination on Igbo land.
" Call on our people to go about their lawful businesses and enjoin our governors and the security agencies to rebuild confidence in our people by not only ensuring the security of their lives and properties, but also ensuring that our people feel safe as they undertake their legitimate businesses.
"Elaborately discussed the issue of Mazi Nnamdi and resolved to intervene. To this end we resolved to set up a committee to constructively interface with relevant stakeholders, the Federal Government and its relevant agencies towards finding a political solution. We will keep Ndigbo abreast of developments in regard.
"Appeal to our people not to allow anyone to destroy the South East region. The post-war South East was not built through government patronage, but largely by the sheer determination and sacrifices of our people, who refused to resign to fate or bow their heads in defeat.
"It is in Igbo land that you easily find hospitals, schools, roads, and other social amenities built by individual or communal efforts of the people, home and abroad, through the instruments of the town unions and other community organisations such as the age grades, Umuada, etc.