Elechi Amadi: Tribute To A Literary Icon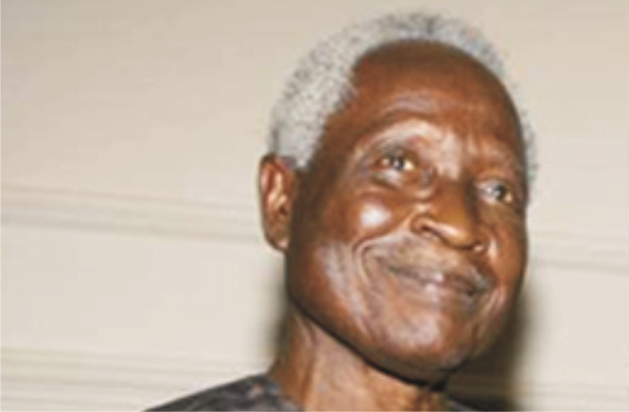 With tears drifting down my cheeks, I join the
entire Nigeria and Rivers State in particular to mourn the passage of a literary icon and wordsmith, Dr Elechi Amadi. He died on Wednesday, June 29, 2016 at the age of 82 years.
Dr Amadi was my literary father and role model. He was an African literary giant who through his works impacted positively on the entire world.
In the gathering of Nigerian literary icons, Dr Elechi Amadi had his seat in the front rolls with the literary legends like late Prof. Chinua Achebe, Prof. Wole Soyinka, Prof. J.P Clark, Prof. Chukwuemeka Ike, among others.
He was a novelist, playwriter, essayist and poet. His literary works are numerous and exemplary including The Concubine (1966), The Great Ponds (1969), Sunset in Biafra (1973), The Slave (1978), Estrangement (1986), Isiburu (1973), The Road to Ibadan (1974), Pepper Soup (1977), Dancer of Johannesburg (1978), The Woman of Calabar (2002), Ethics in Nigerian Culture (1982) and Speaking and Dancing (2003). His first book of science fiction 'When God Came' was published in 2011.
These works made positive impact beyond Nigeria and Africa. The Concubine for example, was translated into many languages and received international ovations and accolades.
Late Amadi was a man of many parts, a man of impeccable character, a man of wisdom, a man of integrity and hardwork. He was a lecturer, a soldier, writer, community leader, permanent secretary, commissioner and chairman of boards of parastatals. Yet, you cannot notice any aura of affluence in him. He was a great man in all spheres.
Born in Mbodo, Aluu in Ikwerre Local Government Area of Rivers State on May 12th, 1934, the late literary icon attended Government College, Umuahia in the present day Abia State. He also attended School of Surveyor, Oyo State and later enrolled into the University College, Ibadan where he obtained a degree in Physics and Mathematics.
Dr Amadi was appointed Permanent Secretary by the Rivers State Government and served in several ministries from 1973-1983. He voluntarily retired and picked up an appointment with the Rivers State College of Education, now Ignatius Ajuru University of Education as a lecturer. He was the Dean of Arts, Head of the Literature departmentand Director of General Studies. He was also a writer-in-residence at the University of Port Harcourt.
He was appointed Commissioner for Education from 1987 to 1988 and later Commissioner for Land and Housing from 1989 to 1990. He was also appointed Chairman of Rivers State Scholarship Board in the immediate past administration. Dr Elechi Amadi was elected President General of Ogbakor Ikwerre Cultural Oganisation Worlwide and thus became the 10th Ochi Oha Ikwerre (the 10th ruler of Ikwerre people).
He was the founder of Elechi Amadi School of Creative Writing at the CAS, Rumuola, Port Harcourt. An incorruptible man he was, he discharged these enormous responsibilities without blemish.
He was kidnapped at his residence in Aluu on January 5, 2009, but was miraculously released a day after without paying any ransom.
Dr Amadi had so much preference for writing more than any other profession. When asked to choose between being a soldier and a writer, Captain Amadi said without mincing words that he preferred to be a writer than a soldier.
Dr Elechi Amadi was a recipient of many honourary doctorate degrees from many universities. He was also awarded the Rivers State Silver Jubilee Merit Award and Fellow of the Nigerian Academy of Education. He was honoured by the Federal Government of Nigeria as Member of the Order of the Federal Republic (MFR) for his outstanding contributions to the growth of literature in Nigeria and Africa. Though Elechi Amadi is dead, his works live after him.
By his death, Ikwerre nation, Rivers State and Nigeria have lost an incorruptible mind, a fighter for social justice, a prolific writer and a renowned author. His death was indeed a sunset in Nigeria and the literary world. We will miss him greatly. May his soul rest in peace.
I pray that the Rivers State Government will liaise with his family to accord him a burial befitting a man of his status.
Ogbuehi wrote in from Oduoha-Emohua, Rivers State.
Ikechim Ogbuehi
Freedom To Move And Settle
Far back as May 1964 there was a security report about some secret plans to use cattle to foster expanded settlements and population figures. It was unfortunate that those involved in putting together that report were not only reprimanded and cautioned, but reposted to other beats. Between that time and 1970, cattle were involved in census controversy, movements of troops and land acquisition. This issue is raised because of a habit of discarding a message because of the status or face of the messenger.
Controversies, shenanigans and attacks following a recent meeting of 17 Southern Governors and the positions they articulated on national issues, clearly portray the old suspicion of some hidden agenda. While Northern Governors, Elders and Youths had been meeting and taking decisions on national issues without much ado, a similar meeting by Southern Governors creates alarm. As to be expected, we can see the old game of creating a division in family meetings for the purpose of forestalling or weakening solidarity.
The integrity of a nation is such that no individual or a group of persons, no matter how highly placed, should do anything to undermine it, without being called to order. The Tide newspaper of Monday, January 21, 2019, carried a headline news, saying: "Obasanjo Slams Buhari Again, Says Another Abacha Era Is Here; INEC Lacks Integrity To Conduct 2019 Polls". An elder statesman like Obasanjo would surely not speak carelessly without having some background facts.
Similarly, Obasanjo would not have raised a false alarm about Islamisation and Fulanisation without reliable security information. Femi Fani-Kayode was also quoted as alleging that "President Buhari's Fulani cabal has conquered Nigeria". He went on to say that "Northerners are heading most of the sensitive positions in the country". The Catholic Bishop of Sokoto Diocese, Most Rev. Matthew Kuka, who is neither a politician nor a Southerner, also warned the Federal Government under Buhari against fanning embers of civil war. He said that the federal government was using different methods to achieve the goal of Islamic dominance in Nigeria, a secular state.
The Tide Editorial Comments of Friday, February 8, 2019 titled: "Nigeriens And Kano APC Rally" lamented that "two Nigerien governors were in Kano to rally support for President Buhari's re-election". Anyone would wonder if the integrity and sovereignty of the Nigerian nation are not being compromised, following the above observations. Foreigners voting in elections?
More importantly, the strategy of deploying cattle as the instrument of advancing some hidden agenda becomes quite glaring, with the attitude of the federal government towards numerous complaints against herders. From the issue of RUGA settlements, to the strategy of setting up a commission on herders, there are obvious indications of spirited efforts to promote some agenda, pointed out in a 1964 security report, for which some operatives were reprimanded.
In an editorial comment of Wednesday, July 10, 2019, The Tide newspaper wrote: "the Federal Government has no business intervening and lobbying for cattle rearers to spread their tentacles across all cities and communities in the country…" In another editorial comment titled No To Herders' Commission", The Tide (Wed; March 17, 2021) wrote "Mr Malami's proposal for a commission for pastoralism must be rejected and consigned to the refuse heap of unhelpful and injurious initiatives as RUGA and cattle colonies because it is insincere, ill-motivated, wasteful and mere shadow-chasing venture in its intentment".
Apart from these shenanigans, the Federal Government, under President Buhari, gave a gift of N150 billion to the association of cattle breeders known as Miyetti Allah, as a support for their business. Today, Southern Nigerians are becoming increasingly uncomfortable and also suspicious of the position of the APC-led Federal Government of Nigeria over the attitude towards the cattle issue. The level of destruction done to farm crops and the disruption of farming activities in communities in Southern Nigeria by cattle, are perhaps trivial issues that should not concern the federal government.
Some months ago, women and embittered people of Okutukutu-Epie a Bayelsa community, took their protest to the Government House in Yenagoa over their sad experiences with and threats from herders. Several other communities have pathetic tales of bitterness and woes arising from their encounters with herdsmen in their farmlands.
The question of herders occupying forests in rural communities with several herds of cattle and with no permission to settle in such forests, should be addressed promptly. Many highly-placed Northerners have condemned the decisions of Southern Governors on open grazing which they insist should continue. The issue of right of movement and settlement has been cited as a reason why herders and their cattle should have free access to anywhere, but such logic ignores the condition that right goes with responsibility. Farmers have been terrorised in their farms.
Occupying another person's farmland and obstructing such person from his means of livelihood amounts to an abuse of right of movement or settlement, especially when such intruder acts with impunity. It is important to alert the Rivers State Government that a vast forest area stretching from ONELGA to Delta and Bayelsa States, is currently being occupied by herdsmen and their cattle. A private investigation revealed that many of the herders are non-Nigerians and, apart from having concealed weapons, they have no intention to move out. Let this hint not end like a 1964 report.
If the Fulani race in diaspora across the West African sub-region must be given a homeland to settle, like the Jews after the World Wars, then let this be an open rather than a clandestine affair. The current situation between Israel and Palestine should serve as a lesson. Sympathy cannot be won by blusters, neither should Southern Nigerians be seen as a conquered people. Southern Governors should see the "hand writing on the wall" now.
Dr Amirize is a retired lecturer from the Rivers State University, Port Harcourt.
Why Alter Retirement Bars?
At the time of harmonising the country's previously fragmented public sector retirement policy to the mandatory 60 years of age or 35 years of active and unbroken service (whichever comes first), not a few Nigerians saw the new bars as ideal and quite cerebral.
But not long after its implementation, some professional associations and labour unions began agitations for an exception from those figures based on what they considered as their members' specialised training and specific job peculiarities. Some even threatened an industrial showdown as a way of arm-twisting the government to accede to their demand.
Among the earliest to be granted such sector-specific exception are high court judges and senior government lawyers whose retirement was reviewed upward to 65 years of age or 40 years of service even as a new bill is currently being proposed to further raise the age bar for their Lordships to 70.
Closely following on the heels of the nation's senior judges are university and polytechnic lecturers for whom the compulsory retirement age and service years limits were also lifted to 65 and 40 years, respectively. Professors, it was learnt, have the option to pull out at 70, after a written notification to that effect.
Other civil servants who recently joined this elite group are primary and secondary school teachers whose new package even went beyond the 60/35 ceiling to include enhanced remuneration. The details are now being worked out by the relevant federal agencies. And guess what; just last month, the government also approved a similar package for health workers with the retirement age for medical consultants now pushed to 70.
In fact, there is hardly any labour group that is not requesting for its workers to be considered for such extensions. Of particular interest here is the style employed by the Clerk and senior staff of the National Assembly (NASS).
During the two-day zonal Public Hearing on the Proposed Alteration to the Provisions of the 1999 Constitution held in Enugu, it was reported that a legal firm, Alpha and Rohi, through its Managing Partner, Mr. Adeola Adedipe, delivered a position paper calling for a similar extension of retirement age and service years for NASS senior staff.
As part of his submission, Adedipe was said to have noted that parliamentary support service and legislative management is a specialised field that is developed over time. Hear him: "Undoubtedly, training and retraining of staff members over time, is an investment, the benefit of which must be maximised.
"As such, staff members that have gradually acquired the requisite skills and competence should be nurtured and retained in order to optimise the investment by government in them (as long as they are capable and productive).
"This, of course, is contrary to the current culture of discarding our experts at the very age when their skills and often laboriously acquired competence ought to be recognised as asset, exploited and deployed for the benefit of the country."
According to the report, the firm's position was also pushed at the Akure, Bauchi, Kaduna, Minna and Port Harcourt centres of the public hearing. The interesting thing about this presentation is not only that it mirrored the kind of arguments that were made by each of the above-named beneficiary groups, but that it had been replicated at the other zonal centres to acquire the semblance of a nationwide clamour.
Come to think of it, are those attempting to push up their retirement age as to stay longer in service not aware of the large army of unemployed Nigerian graduates out there in society? Notwithstanding the level of professional competence and experience acquired, I am not convinced that any office will shutdown at the retirement or sudden demise of its occupant.
If any worker is such a wizard on the job that he becomes so indispensable, then let him first retire and be re-engaged as a consultant rather than push for an extension of the retirement age. Again, it is annoying to observe that the same workers who claim specialised trainings and job peculiarities are already beneficiaries of well enhanced special salaries and perquisites to reflect such. So, why still ask for retirement age and service years' raise?
Honestly, the kinds of arguments on which retirement extensions have been based in Nigeria can only be tenable in countries that lack indigenous manpower like Canada and the oil-rich Persian Gulf states. And certainly not a nation like Nigeria that is reeking of unemployed school leavers.
It may be argued that government is not the only source of employment for our numerous job seekers; but it is also correct to say that private firms are already emasculated by years of economic meltdown and are, therefore, continuously shedding workers as a survival strategy. Micro and small-scale initiatives are not also appetising alternatives due to lack of venture capital, multiple taxation, unreliable electricity, high costs of fuel and other raw inputs. This is in addition to unforeseen hiccups like lockdowns, curfews and social media restriction necessitated by the COVID-19 pandemic, worsening insecurity and the recent ban on Twitter.
Given that most of the states have not employed new workers for so long, it will be safe to say that the present civil service across the country is dominated by highly experienced but tired hands who are also reluctant to quit the stage for fear of the usual agonies of retirement.
The way things are going, it is possible that a 75-year old civil servant with a broken service record and whose age may have been understated at below 70 in the official biometric database will still be working while his 30-year old graduate grandchild roams the streets in search of employment. Haba! But wouldn't that be sheer wickedness?
Government should please engage young hands and quit granting requests for extension of retirement bars.
By: Ibelema Jumbo
Political scientists would talk about an Iron Law of Oligarchy whose custodians and protectors are the barons of the wit cult. The wit cult members are patrons of the cult of weeds, whose protectors are usually drawn from the security circles. A former president of this country once said that "some desperate politicians and people in power are known to protect notorious outlaws often linked to violent crimes". Curious readers can check The Tide newspaper of 26/7/2019, Page 2. The credo of the Law of Oligarchy is that "whoever has the most power makes the rule and takes the gold". Gangsterist Law?
What is oligarchy? It is defined as government or control by a small group of people, using democracy as a camouflage. Do we have a cabal in Nigeria? Yes! Who controls that cabal? A Presidency! Who is Presidency? A camouflage! Who are the small groups of people controlling power in Nigeria? Ask General Jibril Musa Sarki (Born to Rule) and Badu Salisu Ahmadu who told Nigerians that there is a standing Fulani Strike Force ready to claim the lands which they inherited from the British.
What does it take to make the rule and take the gold? Power, in its raw form! How do you get power? Ruthless exploitation of weaknesses and loop-holes! Are there weaknesses and loop-holes in the Nigerian environment? Yes! They include ignorance, timidity, cowardice, myopia and the desire to attend to stomach infrastructure, via hustling and scrambling for the crumbs from the table of the champions. Hungry dogs! Kept poor!
Who are the champions of the Nigerian political economy? Someone provided an answer, saying: "the wealth buried in the bowels of Oloibiri and in other oil-bearing communities in the Niger Delta region is being cornered by a few Nigerians and foreigners". The culture of parasitism had been a long issue in human history, but its modernised version takes the form of national and international politics. At the international level, the culture of parasitism operates through big corporations and conglomerates, via monopolies.
Any intelligent Nigerian would figure out easily that there are spirited efforts from various nebulous quarters to divert attention from what is actually going on in the country. For example, international borders in Southern Nigeria are not only blocked but manned with strictness, while similar borders in the Northern parts are left open. The heightened state of insecurity in Southern Nigeria in recent times cannot be for nothing, but indicative of an effort to divert attention from some ulterior motives. What are the motives?
Rivers State is of a particular importance in the current political drama, because of its status as a major pillar in Nigeria's political economy. What unsuspecting Nigerian masses must know is that a number of the people are paid agents in the service of some vested interests. Many of such paid agents are not usually aware of whose interests or what purposes that they serve with zeal and commitment. Sponsors of acts of brigandage and banditry are members of an organized cabal, in whose clutches Nigerians are now helpless.
Apart from political parties and their propaganda machines, power holders and power mongers do use security agencies as tools and hirelings in their services. Apart from fueling crisis and animosities where there are stakes for such purposes, security agencies, via security votes, are handy tools in the service of power mongers. We find such tools and errand boys as regular participants in phone-in radio programmes, whose utterances and opinions are usually coloured by ideological leanings and sympathies.
It is particularly pathetic that indigenes of Southern Nigeria can become so myopic and blind that they become willing stooges in the current political shenanigans. "Fall guys" in this on-going power game are not usually insignificant persons but highly-placed members of the political elites. A common strategy of roping in such Southern elite is to lure them into some financial sleaze and scandal, which in the end would allow them the option of joining the party in power. We have seen many of such strategies in the past few years, resulting in political decampment and joining the party in power.
The time has come to alert Southern Nigerians that many of them are being used and co-opted into serving some sectional interests and hidden agenda, to the detriment of such stooges and hirelings. This has been going on for quite a long time, aimed not only at advancing some agenda, but also winning sympathies, via patronage and sinecure. A hate speech law was also crafted for the purpose of intimidating those who discern the game plan.
During the General Sani Abacha regime discerning Nigerians saw how operatives of the security and intelligence agencies served the sinister agenda of a section of the country. Acts of brigandage and criminality purportedly committed by armed or unknown persons were placed at the door-steps of NADECO or groups hostile to military rule. Now even in a democratic regime "armed and unknown gunmen" are still engaged in their trade. Soon after military rule came the clamour for Sharia Law, followed by the menace of Boko Haram.
Even though a large number of Nigerians are ignorant and capable of being led by the nose like assess, there are a few discerning ones who can perceive the shape of things to come. Behind all the shenanigans lies the truth that a few Nigerians, with the collaboration of some foreigners, cornered the wealth of the nation, represented by mineral oil and gas. Despite the use of intimidation, divide-and-rule strategies and other cover-ups, the game is up and the disenfranchised groups are wiser now. Agitations will rise further.
Let it be added, as an aside, that Scotland-Yard trained private eyes rarely write or speak carelessly. In this case, those who take interest in this article should heed the message, rather than ask that supportive evidence be brought, in chapters and verses, for the message to be considered valid. An enemy within usually operates like a chameleon, whose antics include vengeful attacks when short of further camouflage. The game is up! We have taken too much for the owner to know!
Dr Amirize is a retired lecturer from the Rivers State University, Port Harcourt.