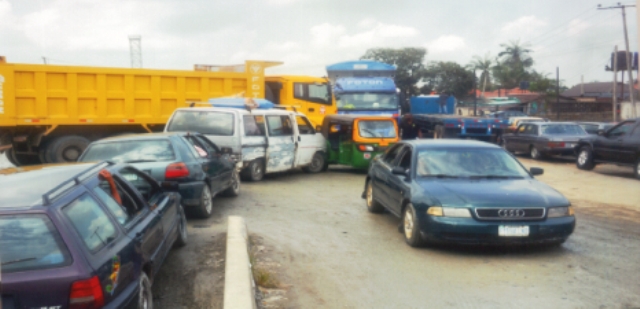 The Rivers Transport
Company (RTC) limited, Port Harcourt recently celebrated its 25th anniversary in grand style and presented awards to outstanding staff and agents for their contributions to the success story of the company.
Speaking at the epoch making ceremony held at the company's Water-Lines Complex, Olu Obasanjo road, Port Harcourt, the Acting General Manager of the company, Chief Peter Borlo highlighted the activities of the company which include to cater for the transportation needs of the people, visitors, residents, or commuters within and outside the state, to improve transport delivery in Port Harcourt metropolis and other urban centres in the state as well as operate a reliable mass transit system to enhance road transport service delivery among others.
Borlo also hinted that the company renders intra-city, intra-state, inter-state transportations, vehicle leasing hiring services, mail, parcels goods, cash in transit courier service, franchise operation, logistics and transport consultancy services among others, adding that it was meant to serve as the principal urban mass transit organisation of the government.
He noted that his administration is the first "organic management" of the company to acquire buses with internally generated revenue, modify the franchise system to breed the special franchise, partnership as well as RTC courier franchise scheme, adding that he had improved workers welfare, expand the terminal base, introduced productivity target scheme, documentation of legal frameworks for the franchise system and agency scheme and also built courier international offices at the base terminal.
The Acting General Manager listed that the company engaged Rivers indigenes in keeping with the dreams of the founding fathers, contributed to the government's internally generated revenue, being the longest self-sustained government transport company in the South-South with largest branch network in Nigeria and an empowerment and investment haven for all categories of persons or groups.
According to him, with available fund in the near future, the company aspires to built a 3-star guest houses in Port Harcourt, Lagos and Abuja, introduce Airport shuttle services, be the leading intra and intercity mass transit operator in Nigeria and acquire organic vehicles of at least 80 percent of the total fleet size of the company among others.
Borlo however said to achieve these goals, government should mediate on the double taxation through granting of tax waivers, approve to access financial lease to acquire more vehicles to reduce dependence on franchise for revenue, intervene in the threats to their operators and return the waterline house complex to the company.
Collins Barasimeye