Encouraging Made In Nigeria Goods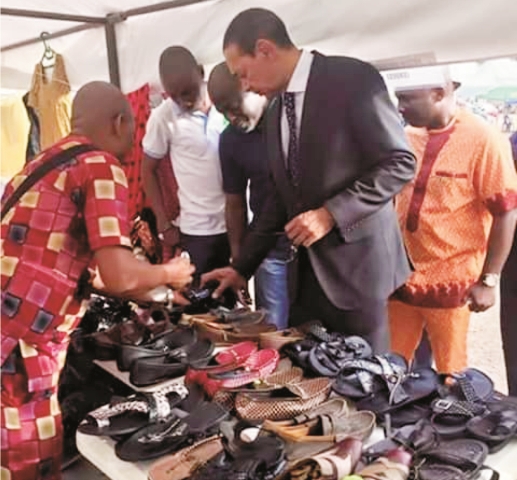 A journey of a thousand miles begins with a step.
This popular saying by our elders is our source of motivation, strength and focus. So, let us collectively address our problerns to achievable and realistic solutions so that our thousand miles journey will finally come to an end and a glorious one at that.
In dealing with the increase in prices of goods in Nigeria, we should look at some of the reasons why and how best we can alleviate them. Collectively, we can patronise our locally made good from food to fabrics, furniture and so on.
It is a trite fact that Nigerians do value foreign products more than locally made ones of the same kind. Various reasons have been advanced for this. One is vulnerability which, in simple sense, means local products do not last long, causing one to buy same product continuously and results to excessive waste of fund.
Another reason could be bad packaging. Our products are so badly packaged even when foreign ones are imitated.
Yet, we prefer foreign goods not because of the afore- mentioned reasons but for the sake of obsession. But that is not right. As humans, we have the power to control our desires and emotion and so should not let anything control us.
Incentives as a driving factor to boost production are extremely lacking in our system. Government and individuals have failed to give out enough incentives that can serve as driving force for better and faster production. An incentive is often a reward or bonus that rouses interest and it is a necessary requirement if we must get good reports from our production sector.
Our local manufacturers are complaining of negligence from the government in their small and medium scale businesses as there are no good mechanised equipment, no labour and little or no capital at all.
Application for loan is another cumbersome bureaucratic process. Applicants hardly get the loans even after completing the process. This is really disheartening and needs urgent attention.
Yet, the issue of double taxation has raised eyebrows in the industry. An individual managing a stainless aluminum workshop has to pay for a particular levy twice to a local government council because it is coming from two different people. This is unfair.
Improper regulation of taxation discourages small/medium scale ventures. Even those with dreams and knowledge are scared to go in because they might end up spending all their profit paying for billboard/signpost levy, environmental and so on. We are not saying these are bad levies but it should be properly regulated.
While we are critically looking at these, we should not also forget that even when there are opportunities in the production sector but without labour, it is a standstill mode. Our youths today do not want to partake in some kinds of work because they feel it is demeaning to their status as graduates, but let us bear in mind that we are crying out for employment.
Who else if not an educated fellow would know how best to manage the mecahanised equipment used in production factory? Why do we shy away from them in search for "white collar jobs" for years when we  can own or manage a fish farm or poultry farm for the government.
Today, not many students go into the higher institutions to study Agriculture. The few who do are ridiculed. This is wrong. Instead, we should encourage them because they will aid our poverty alleviation programme. We need people who would harness their skill into fruitful and evidential result. In as much as we do not agree with these happenings, we would rather talk more on solutions than linger on the problem.
To curb our preference for foreign goods, government should regulate the importation of some of the products we can produce ourselves and provide adequate fund to encourage small/medium scale enterprises (SME). Funds should be made available to process our raw materials to get the best of them, while agriculture should be promoted to alleviate hunger and unemployment.
In like manner, we should encourage our SMEs by creating awareness for consumers to purchase their goods, increase incentives for them, make provision for loans for them to improve their services.
For management of natural resources like the cash crops which are the raw materials, great care should be given to areas or locations where these resources are found.
Sensitisation programmes, trainings and workshops should be embarked upon by government and non-governmental organisations to better equip our youths.
Workshops should be held for farmers to learn how best to manage their farms, and free fertilisers should be given if necessary. The cost of tractors and harvesters are so expensive that an average farmer can barely afford. Government should negotiate the prices with dealers and sell at affordable rates to farmers.
Furthermore, an intense image laundry is required to encourage foreign investors and patronage from local and international consumers. Good public relations strategy should be put in place like random advertisements, jingles and testimonies from already existing users. This will go a long way in our image laundry exercise.
Also, if our factories are not functioning in full capacity, they should be restructured to fit the current age and demand. New, better equipped factories should be built for this purpose and skilled personnel employed for management. In building the factories, the government should avoid areas where farming activities are done.
It is pertinent to stress that the government should strictly work on a single tax programme to avoid double taxation. Taxes should be paid to a particular body at a particular time depending on the kind of business. Over taxation should be avoided as it would discourage SMEs. A proper tax jurisdiction concerning who is liable to collect tax or levy, whether it is the state, local government or community jurisdiction should be clearly defined.
We should try to produce and consume home made goods, talk good about them, relate it to our friends and families in deliberate campaign effort. And before one knows, our locally made goods would have become international brand that provides us good income.
Okwu wrote in from Port Harcourt.
Kellen Okwu
For A Stronger Opposition Party In Nigeria
For want of a better phrase, I will describe this week as a period of "push me, I push you" for the ruling All Progressives Congress (APC) and the main opposition party in the country, the People's Democratic Party (PDP).
It started with the PDP Governors in a communiqué at the end of their 11th meeting in Bauchi State on Monday, accusing the President Muhammadu Buhari-led administration and the APC of turning the Presidential Villa to the new APC headquarters and using underhand tactics to arm-twist some PDP governors and other stakeholders to join the ruling party.
Then the Presidency which in its usual manner cannot take such allegation lying low, through the Special Adviser to the President on Media and Publicity, Femi Adesina, lampooned the opposition party, boasting that "between now and 2023, there would be more confusion in their ranks and there would be more depletions in their ranks, so that is why they say anything," he said.
According to him, "We were in this country when President Obasanjo was in power and the BOT meeting of the PDP used to hold at the Presidential Villa.
"We were here when President Yar'Adua, and President Jonathan was there, they held meetings at the Presidential Villa. What are they talking about really? Meaning, yes, we (the APC) are using the villa as a party office today because you (the PDP) used it in the past.
 So we are still where we were in 2015 when PDP left office. Nothing has changed? The wrongs of the now opposing party are still being perpetrated despite all the promises to bring about change? Maybe this mentality of "business as usual" is the reason the three major campaign promises of the ruling power tackling insecurity, improving the economy and fighting corruption are yet to be realized.
From the realities on the ground, it is obvious that the country is not any better today than it was six years ago. We have seen a complex form of insecurity threatening to tear the country apart. Many citizens have been sacked from their ancestral homes by bandits, herdsmen or whatever they are called; hundreds of people are being killed every day, kidnapping for ransom has become a lucrative business; many farmers can no longer go to their farms for fear of being raped, maimed, kidnapped or killed.
 Economically, there is little or no visible improvement. Currently, Nigeria is topping the list of countries with the most people living in extreme poverty in the world. Unemployment rate is on the increase and the value of the Naira continues to depreciate. Corruption is now the order of the day. Some people liken corruption in the country to cancer that has destroyed every part of the body.
Yet, all we hear is that the government is doing a lot for the country. The Presidential spokesman, Adesina, announced a few days ago that the Buhari government will unveil massive infrastructure in the country by 2022. Let's keep our fingers crossed and see what they have in stock and what impact it will make in the lives of the numerous poor citizens.
But the desired change is not the responsibility of the APC alone. Put differently, the blame for the lack of change should not go to only the ruling party.  Has the PDP as the main opposition party been able to put enough pressure on the APC to bring about change? By this, I do not mean the frequent press releases and communiqués whose impact is hardly felt.
Has the PDP demonstrated good governance styles in the state they control which can put pressure on the APC to sit up?  In the aforementioned communiqué the PDP governors supported the need for a free, fair and credible election in the country and asked the National Assembly to entrench electronic transmission of results of elections in the nation's electoral jurisprudence.
The big question is, have these governors done the same in their various states?  Have they given free hand to their respective State Independent Electoral Commissions (SIECs) to conduct free, fair and credible elections that will be acceptable by all or they have made their state electoral umpire an extension of their political party? 
Yes, it is good to criticise the federal government and the party in power when things are not going as expected or when their actions and inactions are causing untold hardship and pain to the citizens, but as leaders of government in opposition party controlled states, the governors need to go beyond criticisms and attacks.  A lot of Nigerians will like to see them exemplify their own alternative good governance style so convincingly that people in states controlled by other parties will want to support or vote for PDP candidates in their areas so as to be able to enjoy good governance.
Again, the PDP governors demanded Electronic Transmission of 2023 Election Results and many have been wondering why, as a party, they can support such a course while some senators elected on the platform of the party voted against it and some stayed away on the day the Senate voted to decide the inclusion of electronic transmission of election results in the proposed amendments to the Electoral Act.
It is, therefore, time for the leaders and members of the PDP to come together and think of a better, more effective way to play their opposition role if they must effectively challenge the APC in the next election. The ongoing zonal congress of the party should be free and fair, devoid of imposition of candidates or overbearing influence of the party heads so that the party will be united and not fractionalised, going into the 2023 General Election.
By: Calista Ezeaku
Of Prophecies And Profanities
A back-page news headline in The Tide, Monday, July 19, 2021, "I Warned Nigerians About This 'Evil' Govt, Oyedepo Laments", was described by someone as a political profanity. A political profanity would be described in religion as a blasphemy or sacrilege. But such views or utterances tend to be common with narrow-minded persons. One Robert Ingersoll, an American and a self-proclaimed agnostic, once said that religion is not only an opium but also a prophylactic.
Bishop David Oyedepo, said to be the world's second richest pastor, recently spoke on the power of prophecy at the Canaanland headquarters of his church in Ota, Ogun State. According to him, "I am privileged to be among the few God shows things long before they happen". Therefore, "when a prophet speaks, he speaks the heart of God". He went on to say "I saw the wickedness of the wicked being forced on the land…" Can we ask why?
From the Chairman of the Christian Association of Nigeria (CAN), Kaduna State chapter, Rev. Joseph John Hayab, we hear that there are "commercial pastors". We are told that "CAN has watched and listened with dismay how some Abuja commercial clerics have been recruited to discredit a serious security challenge that Kaduna State people, especially Christians, are going through in the hands of bandits and kidnappers". Now we know that there are "commercial pastors who value money more than human lives" and who can be hired to distort truth, calling terrorists a mild name.
Then from the National Broadcasting Commission comes a directive that television and radio stations in Nigeria should not "glamourise" the nefarious activities of insurgents. Yes, code of ethics for Nigerian journalists, under the item on violence, states that "Journalists shall not present or report acts of violence, armed robberies, terrorist activities or vulgar display of wealth in a manner that glorifies such acts in the eyes of the public". Reporting is not same as glamourising!
The universalistic hedonistic principle of ethics suggests that the ultimate criteria for determining whether anything is right or wrong, is the degree of happiness or satisfaction generated. Such would include stability, justice and mass acceptance of the issue in question. In the case of the ongoing mayhem in Nigeria, there is a suspicion that ideological leanings play some roles in the matter, whereby one man's bandit is another man's hero. This suspicion gains support in a situation where a bandit becomes a mystery man no one can arrest.
Ideological leanings or orientations in Nigeria derive largely from the two dominant religions in the country, namely: Christianity and Islam. Therefore, there is no way that we can shy away from the fact that orientations of Nigerians are coloured and influenced by religious considerations. But what we must try to avoid is a situation where we hide under secular politics, to promote religious ideologies. Such hypocritical postures are becoming evident in Nigeria currently.
Conceit is a major plight which bedevils humanity most grievously, whose domain of manifestation, from earliest times, has been the religious institutions. Humans have been held hostage and the mind held captive through the dogmas of prevailing religions. Nowhere are we spared the numerous voices of authority, prophesies, claims and assertions of religious orthodoxies. Is it a profanity or sacrilege to challenge dogmas that rarely have spiritual validity and assertions that go contrary to personal experiences and convictions?
Was there not a time that numerous people were burnt alive at the stake on the orders of religious authorities for refusal to recant their beliefs and personal convictions, not in line with religious dogmas? Did religious authorities not assert that the Earth was like a table, contrary to "heretic" view that it was spherical? What were the crusades and Punic wars about? Or, have the conceit and abuses of power ended? Even during the era of abolition of slavery, a Missionary Captain of a slave ship had the audacity to tell a Naval ship captain that "This is a Christian ship on a Christian mission".
Is it false to say that religious bodies took part in slaving activity, gave blessings to pirates and bandits and received donations from them thereafter? Currently we hear about "commercial pastors allegedly hired to discredit insecurity in Kaduna State". Let us not shy away from the truth that a greater part of atrocities committed on Earth are done under the invocation of the Name of God. Similarly hungry masses have been exploited and further impoverished via tithes, etc.
More importantly, it is the marriage of religion and politics that accounts for the disdain heaped upon religion which began long ago when Christianity became a tool for political power. Consequently wars and bloodshed became associated with religion, up to a situation where members of a Society of Jesus (Jesuits) could be seen with a Bible in one hand and a gun in another. Neither did Islam fare any better, resulting in the two dominant religions being described as the enslavers of mankind.
A French satirist, Arouet, who took the pen name, Voltaire, in his work titled Candide, posed a question, demanding an answer: "Do you mean to say you have no monks teaching and disputing, governing and intriguing, and having people burned if they don't subscribe to their opinions?" Heretics of religious bigots of old, now bear new names of enemies of the establishment who call for a review of the status-quo, rather than accept what is on the table already. Agitators, insurgents, etc.
Under the compulsion of accepting the status-quo and what is on the table already, dissidents, like the heretics of old, are fit for hanging, in place of burning. Human authorities, from political to religious ones, must learn that in an imperfect state, everything is subject to continual improvement and changes, such that conceit and dogmatism signify arrogance. Even prophesies and revelations come in stages as the level of human development can absorb. Profanities include ascribing to the creator what did not emanate from, or not consistent with Him.
By: Bright Amirize
Dr Amirize is a retired lecturer from the Rivers State University, Port Harcourt.
In Nigeria of today change and public expectations have become conflicting dialectics. Hallowed societal values are built on positives with respect to the term change.
However, governments after government in Nigeria have come and gone without berthing the desired changes and change has become a contradiction that needs to be changed.
The problem with Nigeria lies in the philosophy of Leo Tolstoy when he said "Everyone thinks of changing the system but no one thinks of changing himself".
This explains why political parties come out with one manifesto or the other but end up without implementing what ought to be a social contract with the people that gave them the mandate.
Most politicians and political parties have continued to pay lip service to their sworn promises to the people and democratic principles. This is because individual politicians are not sincere to themselves and to the people they represent. Their tactics and bad behaviour have remained the same.
The ruling political party A.P.C. swore to change what they perceived as wrongs in the political structure and administration when they came up with their change mantra.
In a face book post in 2017, I had observed as follows; "APC means different things to different Nigerians; Armored personnel carrier, which is a metaphor for impunity. All people confused. All promises cancelled. All plans changed. All people chained."
The above is a reflection of frustration, disappointment, a feeling of betrayal which an average Nigerian has experienced since 2015, the inception of the present dispensation at the centre.
At the core of this frustration is the fact that the ruling party had promised to revamp the economy, curb insecurity and create jobs for the growing army of unemployed Nigerians.
Nigerians know better today as the change they promised needs an aggressive revolution for a sustainable change.
The country has become more divided than before as ethnic militias and secessionists have been further emboldened because of the absence of leadership, irresponsible management of information and unbridled insensitivity in the handling and sharing of national wealth.
It is unfortunate however that many Nigerians have been hiding under the cover of political parties to unleash their personal unethical dispositions in politics.
This can be seen in the way they respond to burning national issues with irresponsible diatribes and rampant throwing of tantrums in the name of defending party positions.
We can see this unfortunate scenario in Rivers State where politicians attack just government policies unjustly. They have refused to see the magic wand of Governor Wike in project execution. Nigerian politicians should begin to take individual responsibility for their actions without hiding under political party cover to display unpatriotic tactics to the detriment of the people.
According to the first black American President Barrack Obama; "Change will not come if we wait for some other person or some other time. We are the ones we have been waiting for, we are the change we seek". Indeed, every one, political parties, individual politicians, N.G.O, the people who deliver their mandate on the basis of sentiment to politicians are the change we seek. We as Nigerians are all caught in this contradiction of change.
Nigerians have been clamouring for restructuring; yes we need to restructure the system, the governance structure, distribution of wealth, everything, but first we must restructure ourselves. That is the change that is most desirable.
Watching the drama of absurd on National television one could only see badly brought adults hiding under the umbrella of politics to display their primordial sentiments.
The recent debates on the petroleum industry bill brought out the worst from the average Nigerian Legislator in the two chamber legislature in Abuja ."Statesmen" were separated from state plunderers.
A political analyst, Festus Oguche once queried their actions, wanting to know whose interest they represent in some of their crude display on the floor of the hallowed chambers. The petroleum industry bill has suffered undue delay because of certain interests in and out of the National Assembly who misunderstand the intentions of the law. Other interests are simply mischievous over the benefits such a law would confer on the oil bearing communities of the Niger Delta.
A responsible nation should be built on equity and justice for all.
There is the dire need at this time of our existence as a nation to have laws that would sanitize the negatives in the oil and gas sector to the benefit of all stake holders.
The maxim, "The majority have their way and the minority have their say ", has become a call for mediocre legislation. What on earth would make 21st century legislators in Nigeria vote against transmission of votes via electronic means? E-governance in Nigeria is as old as two decades or more, why should the electoral system be an exception to the rule?
If a legislator could accept huge sums sent to him by electronic means, why can't he accept results transmitted through the same means?
INEC has the statutory mandate to conduct elections, in line with the laws and constitution of Nigeria. Common sense demands that they should be allowed to exercise their discretion in the exercise of such functions without any supper impositions from law makers.
What are the law makers afraid of? They want to rig the next elections? The greatest challenge in our politics is the electoral process which recruits some persons that have no business in governance.
The wrong persons are those who renege on their promises to change the system or add value to what is good.
By: Bon Woke