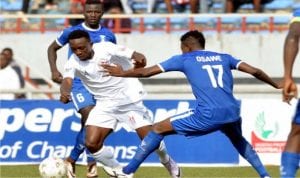 Rivers United FC of Port Harcourt, currently riding the crest of good results will be extra motivated as they confront visiting Wikki Tourists of Baudi in one of the mid week fixtures of the Nigeria professional football league, today.
The Yakubu Gowon Stadium, Port Harcourt is the venue and United will want to consolidate on recent results, especially, following Governor Nyesom Wike's directive for immediate payment of the players' arrears of sign on fees of 2013/14 football season.
Wiki Tourists, though have proved to be tough customers this season but the form of Bernard Ovoke, Christian Weli and Frederick Obomate, United's leading lights so far, can be too hot for the visitors, especially, before home fans, today.
Meanwhile, the State Commissioner for Sports, Hon. Boma Iyaye has urged the players and officials to reciprocate the governor's gesture by sustaining their recent good performances and winning trophies at the end of the day.
Reacting to Governor Wike's directive on their payment, the Captain of Rivers United, Festus Austin, said the payment would relieve his players from huge financial burden.
"This payment will actually motivate my players; it will also relieve them from their financial burden that has been making them lose concentration sometimes", Austin said.
The Captain pledged that the team would do all what it can to go for trophies and not only to play in the continent next season.
"We will ensure that we put in our best to go for trophies, not only to play in the continent, because this payment will further put the players in good state of wind", he stated.
Former Chairman of Sharks supporters Club Minaiyo Igani lauded the governor for his interest and efforts to improve sports in the state, saying that the payment would further enhance the performance of Rivers United.
He advised the players to maintain their current form to make the state proud by winning trophies and playing in the continent.
Gabriel Nwanetanya & Tonye  Orabere