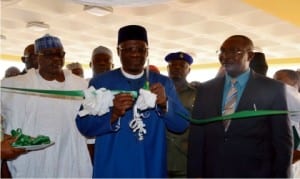 The Governor of Rivers State, Chief Nyesom Ezenwo Wike, has assigned portfolios to the 22 newly appointed Commissioners in the state.
They include Prof Kainye Ebeku for Education, Mrs Tonye Oniyide for Culture and Tourism, Dr.
John Bazia for Chieftaincy and Community Affairs, Chief Walter Ibibia for Water Resources and Hon. Isaac Kamalu assigned to the Ministry of Budget and Economic Planning.
Others are Hon. Chinyere Igwe for Urban Development, Barr. Mrs Ukel Oyaghiri for Women Affairs, Professor Roseline Konya for Environment, Engr. Kelvin Wachukwu for Works, Chief Ephraim Nwusi for Employment and Empowerment, while Hon. Bright Jacob is Commissioner for Commerce and Industry.
Hon. Herbert D. Miller and Hon. Boma Iyaye were given the ministries of Social Welfare Rehabilitation and Sports respectively, while the Ministry of Special Duties 1 went to Barr. Monday Onyezonwu and Mr. Shedrach Chukwu for Energy and Natural Resources.
Mr. Prince Ogbogbula is the Commissioner for Youth, Mr. Mike Anwuri for Power, Chief Rodaford Long-John for Local Government Affairs, Deacon Akie Dagogo Fubara for Transport, Emeka Onowu for Special Duties 2, while Dr. Odague M-Iyenebari Theophilus and Dr. Austine Tam George were assigned to Health and Information Communication Ministries respectively.
The state Governor also assigned offices to the newly appointed Special Advisers in the state.
Advisers and their offices include Barr. Emma Wonodi for Federal Projects, Chief Nwuke Anucha for Pollution Control, Dr. George Opuda for Primary Health, Engr. Ogbara Bavure for Rural Development, and Pastor Monwan Etete for Political Matters.
The rest include Mr. Ibani Arugu for Traffic Control and Motor Park Development, Chief Okorie Abelekun for Conflict Resolution and Toru Ofili was designated to Sustainable Development Goals in the state.
The Commissioners and the Special Advisers were earlier Sworn-in with a charge to be transparent and to discharge their duties efficiently.