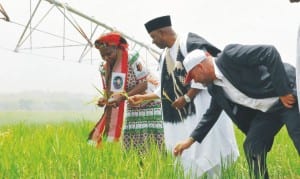 Following the notion that
irrigation is the exclusive preserve of the Northern part of Nigeria, an agricultural engineer, Mr. Umor Adaotu, has debunked such claims.
Adaotu who spoke to our correspondent in a telephone interview yesterday said such notion was borne out of the belief that the southern zone of the country had enough moisture due to proximity and Niger Delta terrain.
"People assume that they have enough moisture, it is not that it cannot be practiced, so even with enough moisture you have to programme things in accordance with the weather," he said.
On the dependence of farmers solely on the friendliness or otherwise of weather by conditions by farmers in the south for expected crop yield, Adaotu said it was based on this that many farmers in the Niger Delta Delta region resort to manual watering of their crops during dry season.
He explained that large scale irrigation could be practiced in the southern part of the country and any other part that was not known for the process.
According to him, an example is the Niger Delta Basin Development Authority farm at Kpor in Ogoni where irrigation was done some years ago.
He further explained that as a student on Industrial Training (IT) at the farms, he noticed that the process proved to be successful.
Adaotu who is a graduate of the Rivers State University of Science and Technology (RSUST) Port Harcourt said with irrigation the four months of dry season experienced in the Southern part of the country would no longer be the "farmers nightmare."
"It is just a matter of getting access to the source of water and then channel same to the farms," he said.
He further explained that waiting on the elements by famrers was counter productive even as he said structural irrigation whereby water was stored overhead to water crops could also be done to complement other methods.
He said during the dry season, production becomes low and that is when all season farming plays a crucial role.
"Even if the dry season lasts from three to four months, with irrigation you can still tend your corps to healthy maturity," he said.
Adaotu who is of the Federal University of Agriculture, Abeokuta, Ogun State further called on the Federal Government, especially the incoming one to focus attention on the need to irrigate the Southern part of the country in order to further boost its agricultural potential.