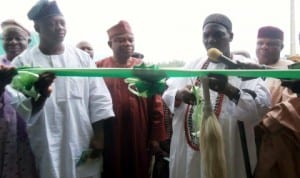 The Caretaker Committee Chairman of Tai Local Government Area in Rivers State, Hon. Nbakpone Friday Okpe has assured the National Union of Tai Students of compulsory bursary payment this August 2014.
This was made known by the Special Adviser to the Chairman on Education, Mrs Blessing Nbale during a courtesy visit of the union to the Chairman in Tai Local Government Area recently.
She also said, the bursary was to aid the students in their various area of academic pursuit.
Nbale said that, the chairman reiterated his leadership support to the students being a pioneer member of the union, adding that the Chairman would always give financial and moral support to help in the development of the students.
Speaking during the visit, The National President of Tai Students Union (NUTS) Comr. Nuka Neebee Akekue has on behalf of the chapter presidents commended the Chairman for considering the students in his programme, adding that, the students would always support the chairman's political ambition.
Comr. Nuka said "Hon. Nbakpone is the only chairman in this despension who cares for the students welfare.
He thanked the State Government for giving him the opportunity to carry out the plans he has in stock for the Tai people.
Kingsley Nna