The Senate has  ordered Electricity Services Managers to with immediate effect stop every form of " estimate billing " in determining the tariffs of  electricity consumers on the note that such method was not in the best interest of  Nigeria and its people.
The lawmakers   by that tasked the managers of the power sector not only to roll out enough but also efficient pre-paid metres to meet up with modern-day challenges in electricity sector in the country.
Chairman, Senate Committee on Power, Mines and Metallurgy, Philip Aduda, recently handed this down during a courtesy visit by the management team of Electricity Management Service Limited, (EMSL) on his committee at the National Assembly Complex.
Senator Aduda announced that his committee had concluded arrangements to sponsor a bill that would provide legal backing to the operations of EMSL, in view of the on-going privatization exercise in the electricity sector.
According to Senator Aduda, the bill when passed accordingly would allow the government agency to discharge its function without any hindrance to ensure effective monitoring of the activities of the private generation and distribution companies.
His words, "We are looking at creating an enabling legislation so that you will have proper legal backing to be able to carry out your functions because your role in the sector cannot be
underrated.
"The committee is working to see how we can sponsor a bill that will give you the legal authority to function properly and address challenges that may arise from the ongoing privatization."
The Senator advised the EMSL to work towards boosting power supply across the country by closing the gap between generation and distribution companies for the overall benefit of electricity consumers.
Aduda advised   the power managers to ensure that their output on power improvement equates the determination of the federal government to transform the power sector for the benefit of Nigerians and Nigeria's economy.
"It would not be out of place for your company to identify programmes that the federal government could embark upon in order to stem the current tide of vandalism which has become a recurring decimal," he added.
He called for the support of all stakeholders to address the challenges that could arise as the ongoing privatization of the power sector enters the next level just as he pleaded for adequate funds for the agency so as to sustain and consolidate the ongoing power sector reforms.
The senator further said: "We would continue to appropriate funds for your organisation, monitor your activities through oversight and ensure that we can give you the maximum support which you require to succeed."
Managing Director of the EMSL, Mr Peter Ewesor, in his speech earlier commended the committee for its contribution to the success achieved, so far, in the ongoing privatization of the power sector just as he said the company would do everything within its powers to ensure accountability in its dealings with the privatized companies.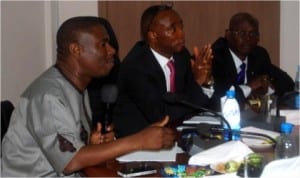 Nneka Amaechi-Nnadi, Abuja