Indecent Dressing: Bane In Our Society
Before looking at the problems indecent dressing has caused in the society today, we have to know the meaning of indecency. In a simple term, we can say if something is not decent then it is indecent, and indecent means something that is not good for the eyes to behold.
I know much has been said on this issue but I still want to emphasize on it because it might likely change the attitude of some young people who like dressing indecently.
Most often, we see ladies exposing the sensitive parts of their body which is supposed to be covered, all in the name of fashion. The main objective cloth is made for covering, but if it no longer does the purpose for which it was made, then its being abused.
From the Bible, we learnt that Adam and Eve, the First man and woman on earth used apron when they noticed they were naked but were not properly covered. God! due to his loving kindness said they were not properly covered saw cloth for them with animal skin for them to be properly covered and protected.
Before now, it was noted that only people that have physchological problem are the people we discover that go half naked on the street but today, we see people that we can say were mentally okay going half naked on the street.
The question now is, are they really okay as you think? If yes why do you think they dress that way? People they say are being addressed the way they are dressed, no wonder there are lots of rape cases, molestation of women on the streets in the cities because of their indecency in dressing which exposes the parts of their bodies, the sensitive parts that are supposed to be covered in other to gain attention from men. After gaining. The attention what next? Molestation, rape which results in some being infected with diverse diseases, while some die along the process, are the bane or consequencies indecent dressing has caused in the society among others.
somebody suggested that if only irresponsible men that goes after such persons. But I think this is not so. It is not a matter of being responsible or irresponsible because that is their nature and it takes grace of God to close your eyes when you see such thing. My grievance goes is the ladies who expose their body all in the name of fashion.
Fashion simply means "The popular style of clothes, hair and behavior of an individual etc. at a particular time (Long Man Dictionary). Simply put it is a particular style of an individual. It does not mean dressing with your body exposed. Like some young people do today. The bible talks about moderation in all we do including dressing. You don't have to look down or rough but be at the middle in other to please your maker. It went further to say. Let not your nakedness be discovered…" therefore, if you are on the contrary, you are displeasing your creator.
Gradually, we can see indecent dressing creeping into churches and they still claim they are sensing God. how do you think God will accept your service when you are sending men to hell right from the church, uncovering the parts. He said you should cover.
Don't you think that is disobedience?. Imagine man condemning indecent dressing talk of God who introduced dressing right from the garden of Eden will he condole this of course No.
Some make-ups too look indecent due to the way they are being applied. Some excess use of make-up make some ladies look fearful and some looking like masquarel. Some ladies use all kinds of colours when making up and it makes them look odd.
This make-up does not really matter. I believe if some is beautiful the person is beautiful without the use of makeup because some don't know how to apply this make-up. Try to minimize excessive use of your makeup and you will book beautiful.
When we talk of indecent dressing not only in clothing but make- up also because it's part of dressing making use of shouty colours makes you look indecent (offensive). Like the lady I saw yesterday, she was fixing the feather of bird (red colour) on the corners of her eyes. I was so amazed when I saw her and I began to imagine about this, what is dressing really turning into this days. The more the days are prolonged the more fashion keep pumping out into the society with different motile.
Don't they stand in front of their mirrow before going out? Of course they do  because every woman likes using the mirrow. One should be able to note if the make-up she wears is decent, fit to go, or not before leaving the room.
There is a way one will use this make-up and it will really look nice, why not go for that and you will be attractive instead of putting the one that will make you look odd and people begin to look at you as an irresponsible person.
For us to put a stop the troubles indecent dressing has caused in our society, we must eradicate indecent dressing in other to avoid its bane and also stop the act of sending plan to hell who might not have gone to hell but because of losting after a lady who expose her body. They find themself there.
You might say is not his fault but he should have remove his eyes at the first look and avoid continuous look which might lead to lost.
So if you come across half naked ladies on the street suddenly, try to take your eyes off and plead for grace and you will overcome. I used to overcome because some of this ladies are agents that are sent to entice men. Please young men, do not be a victim through your eyes by what you look at on the street. Pray for mercy to over-come. I believe if an agency is being set up to punish people who dress indecently on the street, and the policy being carried out, then others will see, learn and refrain from indecent dressing which is the bane of the society.
Chindah Faith C. is a student of Rivers State Polytechnic, Bori.
Chindah Faith C.
Consequences Of High Bride Price
Bride price is payment made by a groom or his kin to the family of the bride in order to ratify a marriage.  It is paid by the family of the groom to their future in-laws at the start of the marriage usually in cash and materials.
Bride price in Nigeria varies from one ethnic group to another.  What obtains as bride price in Rivers State may be different from Kogi State in terms of cash and materials required by the bride's family. Although there are a few similarities in the list of items to be provided by the groom in Nigeria. 
It also varies from family to family. Some families collect as low as N5,000 while others collect as high as N1,000,000.
There are criticisms that this African tradition of paying bride price to the bride's family before marriage degrades a woman by putting a required monetary value on a wife.But those who support the tradition uphold it as a cherished cultural and religious symbol of marriage.
Some families see bride price as symbolic, hence they ask for less. I have seen a situation where the mother of the bride collected N30,000 and later gave it back to the couple, asking them to put it in their bank account so that it will serve as a "starter pack". This shows that she wasn't really giving her out for money.
In our local setting, a marriage is recognised only when bride price and gift items have been presented to the bride's family.  It is important because it validates marriage to give a woman respectable status in the society as a wife.
The importance of bride price can never be over-emphasised. It is one of the highest honours confirming a bride's value and womanhood, giving a husband the full rights to the economic and reproductive powers of his wife. It is an honour bestowed on the parents that their daughter is getting married.
I see nothing wrong in payment of bride price but in recent time, the issue of high bride price seems to be competitive among families whose daughters are ripe for marriage.It is alarming and heart-breaking how newly-wedded couples end up paying debts years after marriage. When demanding for high bride price, some parents do not realise the fact that the yet-to-be couple will plan for church and court (Registry). The Registry requires little token. Although, the clergy will not ask, but the couple need to settle one or two things in church. 
More worrisome is the fact that some parents demand a live cow from an in-law as if the lady is to be exchanged. I know of a culture where cow must be provided to her kinsmen by the surviving husband or children before a late woman must be buried. The claim is that the man didn't complete the marriage rites before the death if the woman. This is just to extort money from the late woman's children.
A young man was mandated to pay about N2million to the wife's kins after losing her during child birth, simply because he never completed marriage rites. What about the welfare of the surviving child?
A situation where a basin of fish that costs over N200,000 must be presented in the name of bride price for a traditional marriage to be contracted gave me concern. 
A father also demanded about N1million as dowry for his daughter. For Christ's sake, no amount of money collected as bride price can pay all the expenses from birth to University level of a lady as this is the dream of greater percentage of our parents nowadays. No amount of money can buy a woman. "Her value is inestimable".
High bride price can cause disharmony between husband and his in-laws. A young man was lamenting that after his marriage, his in-laws can never be allowed into his family. This is as a result of whatever high bride price they would have charged.
High bride price can cause a man to exhibit violent behaviours when he remembers how much he paid. He gets angry at every little thing the wife does which can lead to domestic violence. The implication is that the woman will suffer in silence with the fear that the man may demand for the high bride price if she leaves the marriage.
Income from her job or personal business is seen by the man as his. She is being denied freedom on using her income and often leads to a situation where the husband must be consulted before any monetary transaction in the family. This leads to hostile marital environment and can destabilise the marriage.
Man dominates the woman in terms of decision-making. The woman has little say or nothing when issues come up in the home. He can say: "Don't talk, I paid heavily".
One of the consequences of high bride price is that if perhaps divorce occurs, the bride and the family, according to customary norms, have to return the dowry. If the dowry were very expensive to the tune of N1million, they may not be able to pay back.
High bride price encourages gender inequality. It reduces the power and prestige of the woman with the perception that she was paid for.
High bride price leads to poverty. A couple may have been forced to incur debts in the course of marriage. These are young men and women who are starting life perhaps after graduation and have not made enough savings. Paying back debts incurred during weddings for two to three years should be discouraged.
For many young men, withdrawal syndrome sets in when they remember that they have to provide as much as N1million to marry a wife. You see someone going to marry at the age 50 because he didn't have enough.  Even the ladies are also affected here. Some men get scared of going into such families or ethnic groups for marriage.  When will they train their children? 
No matter the status of the groom, minimal amount should be fixed for dowry to avoid certain consequences in future. Family of the bride should take cognizance of the fact that their daughter deserves some comfort in her new home.
It is high time the traditional institutions worked through their subjects in the various communities to create awareness on the dangers of high bride price in our society. 
Community heads who are saddled with the responsibility of marriage functions and rites should be advised to cut down some of the items and reduce the costs of available ones.
I call on local government councils to work with traditional rulers, community and family heads as well as women leaders to come out with minimum and maximum amount of money and other items needed as bride price and dowry. 
It should be domesticated in the by-laws of the local councils across Nigeria.
By: Eunice Choko-Kayode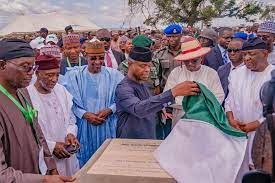 It was reported recently that the Federal Government had mapped out 30 grazing reserves for the implementation of a National Livestock Transformation Plan (NLTP) under its Green Initiative project.
According to the report, the Senior Special Assistant to the President on Agriculture, Dr Andrew Kwasari, disclosed this while addressing journalists on the move by the government to resolve the persistent conflict between herders and farmers over land, water and pastures.
"The 19 Northern States have grazing reserves. So far, we have mapped out over 30 grazing reserves and on paper, we have over 400 grazing reserves.
"So, the northern governors have to be committed to working with the Federal Government, Federal Ministry of Agriculture and Rural Development, supervision of the NEC, to make sure that wherever those grazing reserves are found that we are able to convert them into lush green models specifically for pastoralists, and pastoralists will not migrate anymore…" Kwasari said.
He further disclosed that traditional rulers like the Gbom-Gbom Jos had been consulted and they suggested that the low hanging fruit for federal and state governments was to ensure that pastoralists were settled in gazette grazing reserves.
The presidential aide also said that this would take away any notion of land grabbing or taking of land from communities and giving to herders as was feared with the government's stillborn Rural Grazing Areas (RUGA) programme.
It would be recalled that the NLTP was launched by Vice President Yemi Osinbajo in the Gongoshi Grazing Reserve, Mayo-Belwa LGA of Adamawa State, in September 2019. The plan was to run from 2019 to 2028 as part of the federal government's Green Initiative in collaboration with states, farmers, pastoralists and private sector investors under the auspices of the National Economic Council (NEC).
NLTP has a budget of N100 billion for the breeding of cattle and other types of livestock. Of this amount, the federal government would contribute 80% as grant only, while the participating states were expected to raise the remaining 20%, donate land, draw up the project implementation structure, and provide workers.
Besides Adamawa, the programme has also taken off in six other pilot states; namely Benue, Kaduna, Nasarawa, Plateau, Taraba and Zamfara. Others which were reported to have voluntarily joined the initiative include Anambra, Ebonyi, Edo, Ekiti and Ondo States.
Given the foregoing, any peace-loving Nigerian would be tempted to assume that a viable solution has finally been figured out for the perennial herders-farmers crisis in the country. But President Muhammadu Buhari's recent charge to his Attorney General and Minister of Justice, Abubakar Malami (SAN), to identify the country's gazetted grazing routes leaves one wondering if, indeed, he was acting from the same script as Osinbajo and Kwasari.
If there ever was any doubt as to the Presidency's rejection of the collective decision of the southern governors to outlaw open grazing in their respective states, such was cleared by the President himself in his recent exclusive interview on Arise TV.
"What I did was ask him (Malami) to go and dig the gazette of the First Republic when people were obeying laws. There were cattle routes and grazing areas…
"I asked for the gazette to make sure that those who encroached on these cattle routes and grazing areas will be dispossessed in law and try to bring some order back into cattle grazing," Buhari emphasised.
Honestly, I had wished that the President's directive to the nation's chief law officer was aimed at recovering only grazing reserves for the NLTP scheme as Kwasari did announce. But his inclusion of cattle routes suggests that Buhari is still not considering letting go of the now outdated nomadic grazing practice in Nigeria.
And just as the Miyetti Allah Cattle Breeders Association of Nigeria (MACBAN) wasted no time in rallying behind the man, so also was his position quick in drawing flaks from socio-cultural bodies like Afenifere, Ohaneze Ndigbo and the Pan-Niger Delta Forum (PANDEF) all of which insisted that the power to allocate land rested with the state governors and not the President.
Of particular interest was the reaction of Afenifere's publicity secretary, Jare Ajayi: "Who designated specific routes as exclusively belonging to those who would be grazing cows? If you are doing this kind of thing in their own area, it is understandable (because) that is in their own area.
"I have not read anywhere that our forefathers sat down and agreed that these particular routes, maybe from Ogbomosho to Saki or Badagry, are for grazing…"
Again, some analysts have expressed the fear that if Buhari insisted on pursuing the recovery of grazing routes, prominent buildings in many parts of the country, including the Federal Capital Territory (FCT), would be pulled down.
I still don't get why Mr. President is seriously reaching for the list of cattle routes in First Republic Nigeria even when the 1979 Land Use Act entrusted governors with the control of their states' lands years after the now sought-after gazette was published. With such power, can't a state chief executive reapportion any previously gazetted grazing route or reserve located in his domain?
Buhari should please focus on promoting sedentary animal husbandry through the NLTP scheme in order to reduce the existing tension in the land. A good leader should be able to ensure peace in his domain even if he has to bend over backward to achieve it.
By: Ibelema Jumbo
Short, Sharp, Shock-Treatment
There was a recent allusion from the Nigerian President, or the Presidency, about the possibility of some impending shock, meant to restore sanity in the country. It came as a warning to those who were alleged to be intent on destroying or destabilising Nigeria via insurgency, agitation and causing mayhem. Therefore, it has become needful to alert Nigerians about Nature's Standing Order of Short, sharp, shock treatment (SSST), as a mechanism of restoring order when humans allow disorder to grow too high. In truth, there is such mechanism in the scheme of things.
Those who are familiar with Jewish cosmogony via the Kabbalah, would know that there is a flow of Divine influx, also known as Zazahot or lighting flash, which is an up-building and a restorative system. The 5th anchorage of that Divine Circuit system known as Geburah or Judgement has the duty or responsibility of restoring order and bringing about a balance, when disorder and imbalance become overwhelming in creation or a section thereof. Disorder and imbalances usually come from humans.
Being endowed with a free will and the freedom to make personal decisions and choices, which are often mis-used, humans bring about disorders and imbalances which distort the beauty and harmony of creation. Accumulation of massive impurities would necessitate a cleansing process to reduce the results of human engagements in acts of impunity, shamelessness and irresponsibility. Before catastrophies come there are usually warnings.
In the case of Nigeria, the warning signals have been persistent and loud enough even for obtuse persons to be aroused to a state of alertness. Nature has a process of educating human beings through bitter personal and collective experiences. No one can say that such warning signals and bitter experiences have not been there for quite some time. As a process of ensuring justice, there are watchers and weavers whose activities in the 100m of destiny entail monitoring the deeds of everyone with utmost accuracy. There are also provisions for deep reflections and possible redressing of imbalances.
Nigeria has been brought to its current sad state of affairs through many follies and deliberate acts of mischief. From Ngozi Okonjo-Iweala's book Reforming The Unreformable, we are told that more than 5,000 board seats existed as sinecure, with political leaders having enormous patronage powers. We are told that a bad public service is certain to produce bad governance, even if the right accountability and other mechanisms are in place. Thus, there is a spiral of malfeasance.
From public service system, to tertiary education, we are told that "a systemic rot has befallen Nigeria", apart from "inflating the budget by doubling or tripling the allocations…" Even with the Nigeria Extractive Industries Transparency Initiative (NEITI) bill which was approved in May 2007, there was no transparency or accountability in Nigeria's oil and gas sector. In both physical and process audit there are deficiencies in management and utility.
Okonjo-Iweala advised that "special care be taken to ensure that oil revenues are spent wisely to build up durable long-term assets whose benefits can be shared with future generations". Nigeria's great dependence on oil and gas whose vulnerability to global volatility of commodity market are important factors in the country's need to reshape its economic structure and growth based on diversification. With regards to corruption, Okonjo-Iweala said that "cynicism about the fight against is greatest when allegations of corrupt acts on the part of the elite are not investigated with any vigour even when investigated …"
If human verdict is reflected in the dismal and sad score card available in the public domain, then the verdict of the watchers and weavers of human destinies must also be far worse. There are indications globally that visibly gathering dark storms would surely result in some catastrophes whose true nature no one can tell accurately. For Nigeria as an individual nation in the global family, it is obvious that the shock alluded to by the President is an omen of things to come.
However, no one is in a position to predict exactly the nature and intensity of the shock the president had in mind. Reacting to the President's statement, a number of Nigerians expressed sadness that it was a warning to agitators who allegedly are trying to destabilise and disunite Nigeria. But the situation obviously goes beyond current activities of political agitators and bandits.
Normally it takes a long time for storms to amass such power that would result in a destructive shock. Therefore, it would be myopic and wrong to judge the Nigerian situation from a one-sided perspective. Across the globe, Nigeria features as one of the delicate zones where some shocks are most likely to arise. Already harbingers of warning signals include activities of Boko Haran and other agitators for Islamic states and sharia laws, spate of kidnappings and demand for ransom, etc. The commando-rescue-style of an American farmer held hostage in Northern Nigeria placed Nigeria as a vulnerable nation.
Prelude to any coming shock usually includes complacence arising from gluttony over loots. The fact that a few highly-placed Nigerians tried to exonerate late General Sani Abacha of accusations of looting, despite exposures of such deeds, is another evidence of a nation which needs a shock to regain sanity. It takes the collaboration of humans through various activities, to serve as agents in the fulfillment of the mechanism of destiny. Such human agents rarely know that they are serving the course of Nemesis.
Unlike the Nigerian Civil War (1967-1970) with its attendant miseries and woes, SSST comes as mechanism of Divine intervention, to ensure that those who deserve to die, die the death they deserve. It is fast and thorough, with long-lasting effect. It is a weapon of sective elimination.
Dr Amirize is a retired lecturer from the Rivers State University, Port Harcourt.