The people of Rivers State are today celebrating the Supreme Court ruling of October 25, 2007 that ushered in what they called the dynamic and progressive leadership  of the state governor, Rt. Hon. Chibuike Rotimi Amaechi.
The judgement, they said, redefined Nigeria's judicial gallantry, rule of law and planted enduring legal reward structure.
Congratulating Governor Amaechi on his sixth year on the saddle following the epoch Supreme Court judgement, a cross section of Rivers people described the governor as a rare fighter for justice, stickler for truth, equity and rule of law.
In his congratulatory message, the Commissioner for Chieftaincy and Community Affairs, Hon. Charles Okaye stated that in six years, the governor had corrected the decay in infrastructure and also provided a conducive business climate.
In her message, the General Manager of Rivers State Broadcasting Corporation, Ms Mediline Tador noted that the six years of Governor Amaechi's leadership had shown that his election as Chairman of Nigeria Governors Forum was not a fluke but an eloquent testimony of his status as a statesman.
According to the State Co-ordinator of Rivers State Rural Women Literacy Project, Abigail Ebom, rural women were now enjoying a new lease of literacy through the governor's programme, noting that over 5000 rural women had received teaching and learning materials that had affected their lives positively.
Director of the Rivers State Agency for Adult and Non-Formal education, Mr. Nuaton Nwanikpo said the governor had seen and conquered, adding that his modest contributions to leadership and governance had made great difference in the lives of Rivers people.
Also congratulating Governor Amaechi, the Provost of Rivers State College of Science and Health Technology, Port Harcourt, Dr. Charles Amadi described the Supreme Court judgement of October 25, 2007 as well deserved, noting that the governor had taken bold and pragmatic steps to lift the state in terms of human and infrastructural development.
In the same vein, the Vice Chancellor of Ignatius Ajuru University of Education, Rumuoleumeni, Prof. Rosemund Green-Osahogulu said the Supreme Court judgement brought justice to Rivers State adding that the governor's achievements were products of courageous, visionary and focused leadership.
She noted his achievements in the fresh initiative in the education sector especially the take over of primary education, the establishment of the first University of Education in the South South and the return of peace and stability in the state.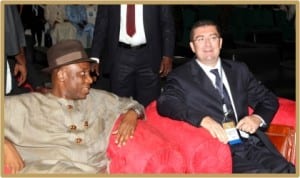 Alpheaus Paul-Worika