Dickson Reels Out Appointments In Bayelsa
In the past one week, there seems to be appointments galore in Bayelsa State as the governor, Chief Seriake Dickson continued to  reel out names of people to occupy positions of trust in the state.
The recent beneficiaries of the appointments are members of the State's Financial Management Review Committee which include:Chief Timi Alaibe, Chairman; Chief Francis Doukpola, Vice Chairman; Permanent Secretary, Ministry of Finance, Member and Mr. Godspower Okpoi.
Others are Mr. Iduate Iyabi, Secretary; Chief Anderson Eseimokumo, Chief Nyanaya Tubo, Chief Solomo Apreala, Mr. Seipulo Timipere, Mr. Ifiemi Ikpaipai, Mr. Tami Alazigha and Mr. Tom Abio Owugha, FCCA member.
Govenor Dickson, has also approved the appointment of Honorary Special Advisers. They are Chief Joshua B. Fumudoh – Honorary Special Adviser, Ijaw National Affairs, King Amalete Jonny Turner – Honorary Special Adviser, Intergovernmental Relations and Prof. Turner.T Isoun – Honorary Special Adviser on Education.
Also in the list are Mr. Ben Murray Bruce – Honorary Special Adviser, Investment and T1, Barrister Kemasuode Wodu, Special Adviser, Legal Matters and Chief Counsel, Government House.
Last Monday, Governor Dickson also appointed Special Advisers to include Barrister Stanley Damabide, Senior Special Assistant, Legal I, and Barrister Aiyibiasin Jacob Beredugo Senior Special Assistant, Legal II.
Also appointed were Hon. Tamarakare Yekwe, Governor's Special Representative, Abuja
(Pioneer Attorney General) Otiyo Abila , Senior Special Assistant, Liaison Office Abuja, Ifiemie Gibson Ikpaikpai, Senior Special Assistant, Finance and Budget Mr. Boma Spero-Jack, Senior Special Assistant, Security, Cyril Oyinbrakemi Akika Senior Special Assistant, Investment and Tourism, Dr. Daru Owei – Honorary Special Adviser, Multinational Relations, Mr. Atedo Peterside – Honorable Special Adviser,Finance & Economy and Chief Alex Ekiotenmi J.P ,  Honorary Special Adviser, Special Duties.
The Special Senior Adviser to the Governor on Media, Mr Daniel Iworiso-Markson said in a statement that all the appointments took immediate effect.
Bayelsa Govt Approves Allowance Arrears For Ex-Councillors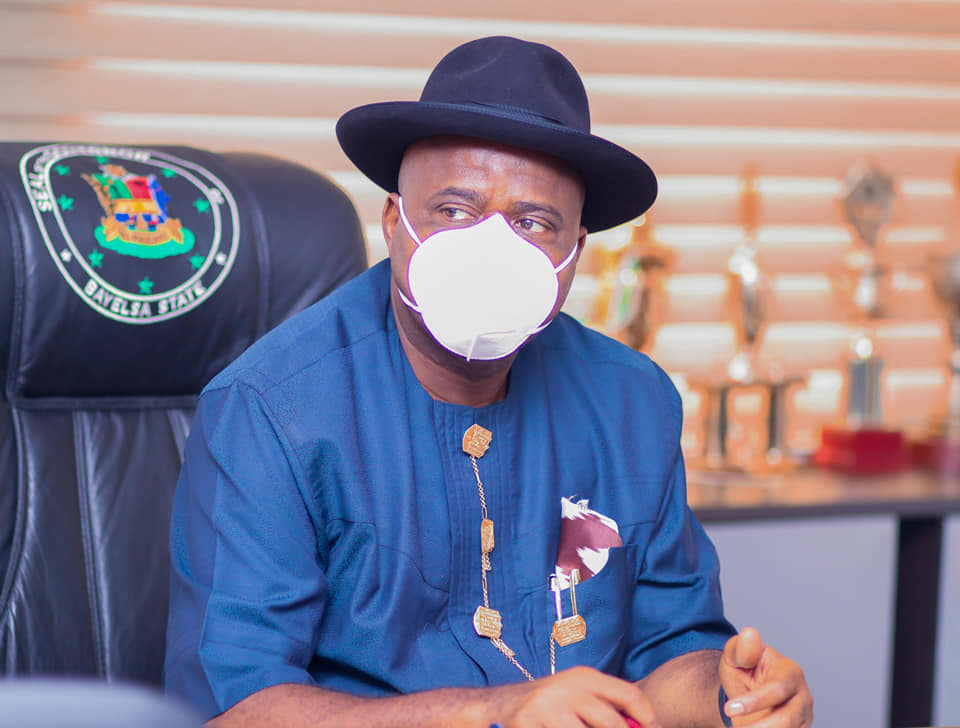 The Bayelsa State Government has approved the payment of the backlog of allowances owed former councillors popularly known as Restoration Councillors who served the various local councils from 2013 to 2016.
To this end, government has directed the chairmen of the eight local government councils to commence payment of the arrears on instalment basis not later than August this year.
The State Deputy Governor, Senator Lawrence Ewhrudjakpo, gave the directive at a meeting with the local government chairmen and representatives of the Restoration Councillors' Forum in Government House, Yenagoa.
Senator Ewhrudjakpo said after careful consideration of the current financial position of the various councils, government and the Mrs Ebiere Igodo Adeh-led Committee jointly agreed on the payment of a monthly installment of N100,000 to each of the former councilors
He, however, noted that this amount, which is also endorsed by the council chairmen, would be increased to N200,000 any month the councils received improved allocations in order to shorten the repayment period.
Senator Ewhrudjakpo who faulted some of the monetary claims presented by the councillors, noted that slight adjustments were made as available records revealed that some of them had received overpayments before leaving office.
"We have agreed that we start the payment with N100,000 to each councilor for each month, because of the resources available to the councils.
"We have gone through the records. The first thing we want to correct is the amount some of you declared as outstanding allowance. We discovered that what some of you declared was not the right amount, so that has been adjusted.For the councillors, what is being owed each of you is N2.2 million as against the N2.280 million which you presented in your report. Again some of the figures you claimed that you had been paid in some of the LGAs showed that some of you were overpaid
"For example, in Southern Ijaw Local Government, you claimed that you were paid N150 thousand, but the records showed that you were paid N250 thousand at a time. So the amounts have been reviewed", he said.
"The total amount owed by Brass is N11.7m as against the N12.7m you presented. For Ekeremor, the amount was reviewed from N25.8m to N24.8m; while that of Kolokuma/Opokuma from N23.7m to N22.7m and that of Nembe from N17.8m to N16.4m. The figure for Ogbia was reviewed from N27.9m to N26.8m; Sagbama from N28.2m to N26.9m; Southern Ijaw from N36.5m to N30m, and Yenagoa from N32.2m to N30.9m", he added.
To ensure uniformity and compliance with the mode of payment by all the councils, he assured the former councillors that the payments would be tied to the monthly Joint Account Allocations Committee (JAAC) approvals.
While expressing gratitude to the former lawmakers for their patience and maturity, the Deputy Governor urged them to forward their bank account details to their respective councils for e-payment of the agreed monthly installments.
According to the Deputy Governor, "What we want to do is that, we want to factor this into the monthly JAAC of the local government councils. That means as they are paying the JAAC money, you will also get your alerts.
"So, every one of you should send your bank account details to the chairmen of the councils for the payment to commence from either this month (July) or latest August."
Responding on behalf of the Restoration Councillors' Forum, Hon. Believe Ezekiel, thanked to the Governor Douye Diri-led Prosperity Government and the council chairmen for their prompt response and show of understanding towards their plight.
The Forum particularly appreciated the Deputy Governor for his fatherly disposition and pledged their continued support to the present administration.
By: Ariwera Ibibo-Howells, Yenagoa
Jonathan Wants Koreans' Investments In Bayelsa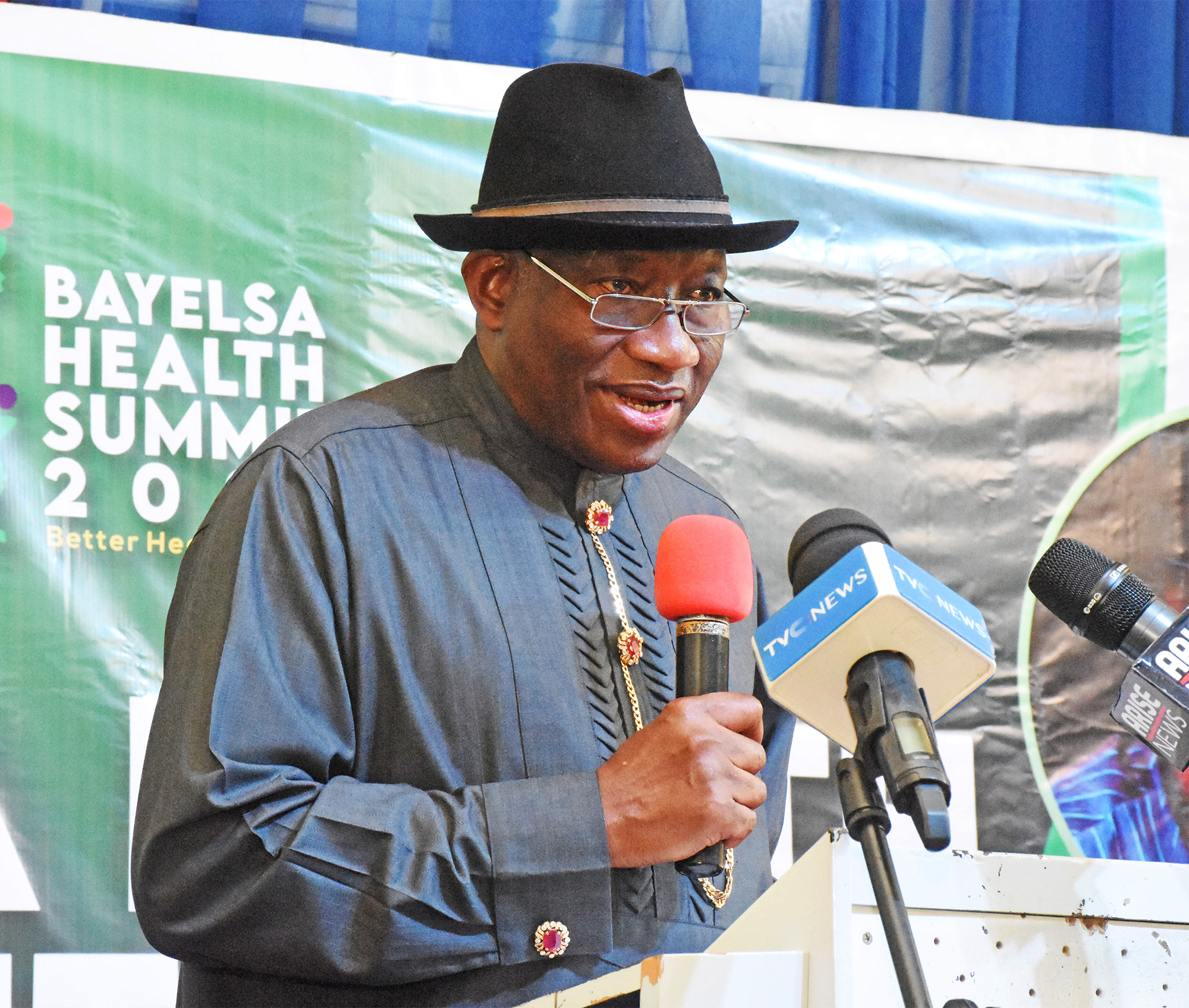 Former President, Dr Goodluck Jonathan, has said great opportunities abound in Bayelsa State for foreign investors.
The former Nigerian leader stated this at a state banquet organised by the Bayelsa State Government in honour of the South Korean Ambassador to Nigeria, Kim Young-Chae, in Yenagoa.
It would be recalled that Amb. Young-Chae was on a two-day visit to the state.
Describing Bayelsa as a fertile market for foreign direct investment, Dr Jonathan said, not many foreign investors have discovered the state's economic potential.
A statement by the governor's Chief Press Secretary, Mr Daniel Alabrah, quoted the former president as urging the Korean envoy not to let slip the opportunity of harnessing the full potential of a virgin state like Bayelsa.
Jonathan commended Governor Douye Diri and his team for the great job of attracting economic giants like South Korea, noted for its technological advancement, to the state.
"Most cases, when companies come into Nigeria, they feel that they cannot invest in young states like Bayelsa, my own state, with relatively low infrastructure development, and have to go elsewhere.
"But Bayelsa is where you have the fertile market and luckily some of your companies like Daewoo and others are here. So they know that Bayelsa is a virgin state.
"This is a state you should encourage Korean investors to come in. The government, the governor and his team are very ready to work with investors.
"It is a great opportunity because when I heard that the Korean Ambassador was around, I said I would come to join the governor to convey this message to you and other investors. I know that when they do, they won't regret it", he said.
In his remarks, Governor Douye Diri said, South Korea, which is a world power in technology and among the 10 largest economies in the world, is the right destination to partner with Bayelsa and make the state achieve its full economic potential.
Senator Diri emphasised that his government was fully committed to moving the state in the direction of economic and technological development.
He said this was the reason for the symbiotic relationship between both parties.
The state's helmsman expressed delight in the feedback from the Korean ambassador, whom he said promised and made encouraging remarks during his oversight trip to various investment destinations in the state.
The governor urged businessmen in the state to take advantage of the relationship established with the Republic of South Korea.
"You have said so much about South Korea and even our former president alluded that your country was once very poor. But today, South Korea is among the ten largest economies in the world. Today your country is an economic giant and a technological power.
"We believe that every development will start from somewhere. We are prepared to leap Bayelsa state in the direction of economic and technological development. That was why we visited you and you have reciprocated by also visiting us.
"During our oversighting visit to some of the projects, you made very encouraging remarks. Today you have capped it in what you have said here. We believe that our businessmen in Bayelsa would take advantage of this relationship with the Republic of South Korea.
"We believe that, for those from Bayelsa that have been yearning for businesses, this is a golden opportunity and let us not let it to slip by," Diri said.
By: Ariwera Ibibo-Howells, Yenagoa
NERDC Plans Review Of Schools' Curriculum
The Nigerian Educational Research and Development Council (NERDC) has said it was out to review the senior secondary education curriculum (SSEC) in order to help children catch up with global educational trends and create opportunities for them to acquire new skills and competences.
NERDC's Executive Secretary, Prof Ismail Janaidu, who said this in Calabar, during the South-South Zone National Stakeholders Dialogue, noted that the current senior secondary education curriculum was last introduced into Nigerian schools in 2011 after NERDC took holistic review of school curricula beginning from Primary school.
"Ten years after the introduction of the current SSEC, you will agree with me that times have changed, the world has moved on, new ideas have been created, knowledge has advanced, new world goals have been set, new skills have emerged and new technologies have been developed.
"Our goal is not only to develop a curriculum that meets the needs of the present, but one that will as well enable us to create the future that we desire, as a people," he said.
To achieve this, Prof Janaidu said, NERDC was involving critical stakeholders like the students themselves, parents, Faith-Based organisations, CSO and others in zonal dialogue, which he said kick-started in the South-East and then the South-West.
He said, "It is a stakeholders' consultative forum created to bring together the thoughts of all Nigerians, including students, on issues and expectations pertaining to the curriculum in terms of content, delivery and learning experiences."
Speaking also, the Special Adviser to Governor Ben Ayade on Quality Education, Mr Castro Ezama, described quality education as the bedrock of the society, adding that, "if there is anytime we need to review SSE curriculum, it is now because we have been left behind. Senior secondary phase is a bridge between secondary and tertiary education."
On his part, the Chairman of the Parents Teachers Association (PTA), and Head, School Based Management Committee in Bayelsa State, Mr. Alabo Amuso, called on the federal government to ensure the re-introduction of history into the curriculum, saying "a people who forget their history may have forgotten their heritage, thereby plunging their future into avoidable jeopardy."
By: Friday Nwagbara, Calabar