Whither Dividends of Democracy?
Universally, democracy is defined as government of the people, by the people and for the people.  It is a representative, participatory and consultative government.  It is about due process, rule of law and respect for the fundamental human rights.  It is about transparency, accountability and good governance.
Democracy recognises and respects human dignity and freedom, such as freedom of speech, freedom of worship, freedom of movement and freedom of association.  It is about service and not leadership.  It is about welfare and well being of the people. It is about provision of social amenities such as pipe borne water, electricity supply, healthcare, education, housing, employment, food, transportation, good roads, job creation, security, and so on.  All these are the fruits of democracy, common known as the dividends of democracy.
Dividends of democracy is also enjoyed when the masses who democracy assign huge responsibility of electing their representatives in the three tiers of government are allowed to exercise their responsibility and their choice respected by the so-called Godfathers and money bags.  We have no portable drinking water.  We still make do with untreated bore hole water and yet every year huge amount of money is budgeted for water.
Electricity is in short supply in the country. Steady supply of electricity would have been a source of joy to small scale entrepreneurs whose businesses such as tailoring, barbing, dry cleaning, hair dressing, selling of minerals and pure water depends on it.  But it is painful that electricity supply has not improved for the past 10 years despite billions of dollars budgeted for it by government on yearly basis.
Nigeria has not fared better in the area of education.  Some years ago, Nigerian slogan was education for all by the year 2000.  Now year 2000 has come and gone, education for all is not yet in sight.  We still have thousands of children who cannot find their ways to school for one reason or the other. a School fees at all levels of education are expensive and in some cases unaffordable.  And what is more, teachers and lecturers are not receiving better treatment from government in terms of salaries and working conditions.  Indeed, our education system is in mess.
Our healthcare system is in comatose.  Many hospitals have no drugs and modern equipments. There are no well qualified and experience medical personnel.  Despite the efforts of NAFDAC, fake drugs from India and other countries still find their way into the country.  As a results of these, many Nigerians travel abroad for medical attention.
Despite abundant human resources, vast lands and billions of naira generated from oil, Nigerian leaders have refused to invest in agriculture.  This has increased the prices of food stuff and general cost of living in Nigeria, with thousand of youths roaming about the streets for lack of nothing to engage in.  In fact, unemployment in the country has become the biggest problem of Nigerian youths and challenge to the federal government.  Millions of Nigerian youths who graduated from various universities and other higher institutions every year are without jobs.  Inability to ensure jobs and indeed reasonable paid jobs has lured many into various crimes.
It is the same sad story in the area of transportation.  Rail transportation used to be cheap in those days.  It is the cheapest means of transportation for the common man.  But today, rail transport is completely dead. Billions of naira earmarked for its rehabilitation with Chinese firm as a contractor has developed wings.  This situation is exacerbated by the deplorable condition of roads in Nigeria, particularly those in the eastern part of the country.  Anybody who passes through our road would weep for Nigerians who pas through this road on daily basis. The question is: what happened to the trillions of naira that Olusegun Obasanjo's government budgeted for this sector.  Down the drain as usual?
So, where are the dividends of democracy?  Unfortunately what we have as dividends of democracy in Nigeria are political thuggery, violence, militancy in the Niger Delta, public harassment and extortion, election rigging, embezzlement of public funds etc.
It is against this backdrop that I call on President Umar Musa Yar'Adua to pursue his seven-point agenda with much vigour so that by the time he would be leaving office, he would be able to boast of god legacies.
As for Rivers State, Governor Rt. Hon. Chibuike Rotimi Amaechi is doing an appreciable and commendable work, especially in the areas of roads network, education, healthcare, transportation, environmental sanitation, urban renewal and beautification. We only hope he would not be derailed by political consideration.
 Ogbuehi, a commentator on current affairs. resides in Port Harcourt
Prince Ike Ogbuehi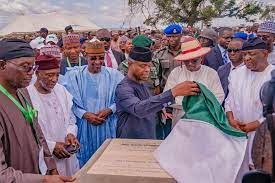 It was reported recently that the Federal Government had mapped out 30 grazing reserves for the implementation of a National Livestock Transformation Plan (NLTP) under its Green Initiative project.
According to the report, the Senior Special Assistant to the President on Agriculture, Dr Andrew Kwasari, disclosed this while addressing journalists on the move by the government to resolve the persistent conflict between herders and farmers over land, water and pastures.
"The 19 Northern States have grazing reserves. So far, we have mapped out over 30 grazing reserves and on paper, we have over 400 grazing reserves.
"So, the northern governors have to be committed to working with the Federal Government, Federal Ministry of Agriculture and Rural Development, supervision of the NEC, to make sure that wherever those grazing reserves are found that we are able to convert them into lush green models specifically for pastoralists, and pastoralists will not migrate anymore…" Kwasari said.
He further disclosed that traditional rulers like the Gbom-Gbom Jos had been consulted and they suggested that the low hanging fruit for federal and state governments was to ensure that pastoralists were settled in gazette grazing reserves.
The presidential aide also said that this would take away any notion of land grabbing or taking of land from communities and giving to herders as was feared with the government's stillborn Rural Grazing Areas (RUGA) programme.
It would be recalled that the NLTP was launched by Vice President Yemi Osinbajo in the Gongoshi Grazing Reserve, Mayo-Belwa LGA of Adamawa State, in September 2019. The plan was to run from 2019 to 2028 as part of the federal government's Green Initiative in collaboration with states, farmers, pastoralists and private sector investors under the auspices of the National Economic Council (NEC).
NLTP has a budget of N100 billion for the breeding of cattle and other types of livestock. Of this amount, the federal government would contribute 80% as grant only, while the participating states were expected to raise the remaining 20%, donate land, draw up the project implementation structure, and provide workers.
Besides Adamawa, the programme has also taken off in six other pilot states; namely Benue, Kaduna, Nasarawa, Plateau, Taraba and Zamfara. Others which were reported to have voluntarily joined the initiative include Anambra, Ebonyi, Edo, Ekiti and Ondo States.
Given the foregoing, any peace-loving Nigerian would be tempted to assume that a viable solution has finally been figured out for the perennial herders-farmers crisis in the country. But President Muhammadu Buhari's recent charge to his Attorney General and Minister of Justice, Abubakar Malami (SAN), to identify the country's gazetted grazing routes leaves one wondering if, indeed, he was acting from the same script as Osinbajo and Kwasari.
If there ever was any doubt as to the Presidency's rejection of the collective decision of the southern governors to outlaw open grazing in their respective states, such was cleared by the President himself in his recent exclusive interview on Arise TV.
"What I did was ask him (Malami) to go and dig the gazette of the First Republic when people were obeying laws. There were cattle routes and grazing areas…
"I asked for the gazette to make sure that those who encroached on these cattle routes and grazing areas will be dispossessed in law and try to bring some order back into cattle grazing," Buhari emphasised.
Honestly, I had wished that the President's directive to the nation's chief law officer was aimed at recovering only grazing reserves for the NLTP scheme as Kwasari did announce. But his inclusion of cattle routes suggests that Buhari is still not considering letting go of the now outdated nomadic grazing practice in Nigeria.
And just as the Miyetti Allah Cattle Breeders Association of Nigeria (MACBAN) wasted no time in rallying behind the man, so also was his position quick in drawing flaks from socio-cultural bodies like Afenifere, Ohaneze Ndigbo and the Pan-Niger Delta Forum (PANDEF) all of which insisted that the power to allocate land rested with the state governors and not the President.
Of particular interest was the reaction of Afenifere's publicity secretary, Jare Ajayi: "Who designated specific routes as exclusively belonging to those who would be grazing cows? If you are doing this kind of thing in their own area, it is understandable (because) that is in their own area.
"I have not read anywhere that our forefathers sat down and agreed that these particular routes, maybe from Ogbomosho to Saki or Badagry, are for grazing…"
Again, some analysts have expressed the fear that if Buhari insisted on pursuing the recovery of grazing routes, prominent buildings in many parts of the country, including the Federal Capital Territory (FCT), would be pulled down.
I still don't get why Mr. President is seriously reaching for the list of cattle routes in First Republic Nigeria even when the 1979 Land Use Act entrusted governors with the control of their states' lands years after the now sought-after gazette was published. With such power, can't a state chief executive reapportion any previously gazetted grazing route or reserve located in his domain?
Buhari should please focus on promoting sedentary animal husbandry through the NLTP scheme in order to reduce the existing tension in the land. A good leader should be able to ensure peace in his domain even if he has to bend over backward to achieve it.
By: Ibelema Jumbo
Short, Sharp, Shock-Treatment
There was a recent allusion from the Nigerian President, or the Presidency, about the possibility of some impending shock, meant to restore sanity in the country. It came as a warning to those who were alleged to be intent on destroying or destabilising Nigeria via insurgency, agitation and causing mayhem. Therefore, it has become needful to alert Nigerians about Nature's Standing Order of Short, sharp, shock treatment (SSST), as a mechanism of restoring order when humans allow disorder to grow too high. In truth, there is such mechanism in the scheme of things.
Those who are familiar with Jewish cosmogony via the Kabbalah, would know that there is a flow of Divine influx, also known as Zazahot or lighting flash, which is an up-building and a restorative system. The 5th anchorage of that Divine Circuit system known as Geburah or Judgement has the duty or responsibility of restoring order and bringing about a balance, when disorder and imbalance become overwhelming in creation or a section thereof. Disorder and imbalances usually come from humans.
Being endowed with a free will and the freedom to make personal decisions and choices, which are often mis-used, humans bring about disorders and imbalances which distort the beauty and harmony of creation. Accumulation of massive impurities would necessitate a cleansing process to reduce the results of human engagements in acts of impunity, shamelessness and irresponsibility. Before catastrophies come there are usually warnings.
In the case of Nigeria, the warning signals have been persistent and loud enough even for obtuse persons to be aroused to a state of alertness. Nature has a process of educating human beings through bitter personal and collective experiences. No one can say that such warning signals and bitter experiences have not been there for quite some time. As a process of ensuring justice, there are watchers and weavers whose activities in the 100m of destiny entail monitoring the deeds of everyone with utmost accuracy. There are also provisions for deep reflections and possible redressing of imbalances.
Nigeria has been brought to its current sad state of affairs through many follies and deliberate acts of mischief. From Ngozi Okonjo-Iweala's book Reforming The Unreformable, we are told that more than 5,000 board seats existed as sinecure, with political leaders having enormous patronage powers. We are told that a bad public service is certain to produce bad governance, even if the right accountability and other mechanisms are in place. Thus, there is a spiral of malfeasance.
From public service system, to tertiary education, we are told that "a systemic rot has befallen Nigeria", apart from "inflating the budget by doubling or tripling the allocations…" Even with the Nigeria Extractive Industries Transparency Initiative (NEITI) bill which was approved in May 2007, there was no transparency or accountability in Nigeria's oil and gas sector. In both physical and process audit there are deficiencies in management and utility.
Okonjo-Iweala advised that "special care be taken to ensure that oil revenues are spent wisely to build up durable long-term assets whose benefits can be shared with future generations". Nigeria's great dependence on oil and gas whose vulnerability to global volatility of commodity market are important factors in the country's need to reshape its economic structure and growth based on diversification. With regards to corruption, Okonjo-Iweala said that "cynicism about the fight against is greatest when allegations of corrupt acts on the part of the elite are not investigated with any vigour even when investigated …"
If human verdict is reflected in the dismal and sad score card available in the public domain, then the verdict of the watchers and weavers of human destinies must also be far worse. There are indications globally that visibly gathering dark storms would surely result in some catastrophes whose true nature no one can tell accurately. For Nigeria as an individual nation in the global family, it is obvious that the shock alluded to by the President is an omen of things to come.
However, no one is in a position to predict exactly the nature and intensity of the shock the president had in mind. Reacting to the President's statement, a number of Nigerians expressed sadness that it was a warning to agitators who allegedly are trying to destabilise and disunite Nigeria. But the situation obviously goes beyond current activities of political agitators and bandits.
Normally it takes a long time for storms to amass such power that would result in a destructive shock. Therefore, it would be myopic and wrong to judge the Nigerian situation from a one-sided perspective. Across the globe, Nigeria features as one of the delicate zones where some shocks are most likely to arise. Already harbingers of warning signals include activities of Boko Haran and other agitators for Islamic states and sharia laws, spate of kidnappings and demand for ransom, etc. The commando-rescue-style of an American farmer held hostage in Northern Nigeria placed Nigeria as a vulnerable nation.
Prelude to any coming shock usually includes complacence arising from gluttony over loots. The fact that a few highly-placed Nigerians tried to exonerate late General Sani Abacha of accusations of looting, despite exposures of such deeds, is another evidence of a nation which needs a shock to regain sanity. It takes the collaboration of humans through various activities, to serve as agents in the fulfillment of the mechanism of destiny. Such human agents rarely know that they are serving the course of Nemesis.
Unlike the Nigerian Civil War (1967-1970) with its attendant miseries and woes, SSST comes as mechanism of Divine intervention, to ensure that those who deserve to die, die the death they deserve. It is fast and thorough, with long-lasting effect. It is a weapon of sective elimination.
Dr Amirize is a retired lecturer from the Rivers State University, Port Harcourt.
Corporate Begging In Nigeria
I went to an office two days ago for a business transaction and at the gate was a well-dressed, cheerful security guard who zealously ushered me into the compound. I wanted to park my car at one end of the compound and he insisted that I should go another direction which truly was more spacious. And in my mind l was like, "what a dutiful staff".
He was not done yet.  As soon as I switched off my car ignition and was about to open the door to come out, he rushed and did it, smiling from one side of his mouth to another, offering unsolicited information and a guide on my whereabouts in the facility. I sincerely thanked him, hoping all the VIP treatment will not be a subtle way of begging for gratuity.
Behold, I was wrong. As l made to step into the building, he whispered "Madam, no forget the favour way l do you oo".  I had just encountered another corporate beggar. A day before, l had a bitter encounter with one, a pump attendant, at a petrol station who called me names for refusing to part with my hard-earned money. Having inquired about the well being of my family, admired my car and showered all unasked encomium on me, he expected a monetary appreciation which was not forthcoming and the next thing I heard was "stingy woman".
They are everywhere. At petrol stations, banks, offices, both public and private hotels, you see a lot of people begging while on duty. At the airport, train station and in practically all-important offices in the country, "anything for the boys, your boys dey loyal oo", seems to have become part of the official language.
Of course, this shameful attitude did not start today but it has taken a more serious, disturbing dimension in recent times. Many people, particularly the security personnel, front desk officers, customer relations officers have turned their duty posts to begging offices. They would always blame the current economic downturn for their unbecoming attitude which cannot be totally true because, at least, they are working and earning salaries no matter how little.
What about the millions of people who are jobless and have no means of livelihood? Have they all taken to the streets to beg?
One thinks it is a social malaise which has a lot to do with our ethical values. A lot of people in the country value money and other material things far and above integrity, self-respect and self-dignity and so, they will do anything, no matter how shameful, to acquire them.
A teacher once made an analysis of two families, one has four members and the other was a family of 11 people. Both families were given N200,000 each to spend for a month. According to her, half way into the month, the family of four almost exhausted their money and could hardly pull through till the end while the other family of nine comfortably made do with the amount they had and even had some balance. What was their secret? Prioritisation and prudent management.
Therefore, it is not so much about how much we make through our salaries, begging and other means but how we manage the money. There is hardly anybody in the country today that is not feeling the economic bite and the only thing that will help everybody both the low- and high-income earners is to set their priorities right and learn how to live within their income instead of hoping on tips from some "big men and women" and doing all kinds of ridiculous thing to attract their attention and the crumb. And we forget that the so-called big men most times also have loads of financial responsibilities.
On the national level, we also have to consider the damaging impact of officials begging and do something about it. Obviously, taking little tips from people would make officials skimp on their responsibilities, thereby making some unscrupulous elements have their way, exposing the country to avoidable vulnerability.
It is, therefore, imperative we must begin to build a new ethos that places emphasis on self-respect and dignity of labour. As part of the country's 60th Independence celebration, the National Ethics and Integrity Policy was launched. It contains the nation's core values of Human Dignity, Voice and Participation, Patriotism, Personal Responsibilities, Integrity, National Unity and Professionalism. All these values and how they will be practised to make for a better country and more cordial relationship among the citizens are thoroughly spelt out.
For instance, section 4.5.2.5, talking about Honour under Integrity states, "We shall at all times maintain uprightness of character, personal integrity and pride in ourselves as individuals, as one community, and as one nation. Therefore, in all spheres of life, we shall do what is demanded by our common values and laws that we hold to be true, in accordance with our national identity and in accordance with the values enshrined in our national laws and practices as one country. As Nigerians, we shall stand up to challenge those vices that impede the pursuit of our existence with uprightness. We shall celebrate those Nigerians who are upright".
But then the big questions are, how many Nigerians are aware of this policy? What efforts are being made to educate the citizens on these core values? We  have the National Orientation Agency, the Ministry of Information at various tiers of government, what are they doing to educate people about these code of conduct so that the people internalise it and it becomes a true guide for the citizens,
It is not enough that time, energy and resources were spent in packaging the booklet, let adequate sensitisation be carried out, using the media, both conventional and social media and other means of communication to reach to people at every nooks and crannies of the country because many Nigerians are losing it when it comes to integrity and the time to get them back on the right track is now.
By: Calista Ezeaku