Failed US Plane Attack: Second Nigerian Quizzed
A Passenger on board the same Northwest Airline flight that was attacked on Christmas day was taken into custody in Detroit, United States of America, on Sunday, after becoming disruptive upon landing, according to law enforcement officials.
An official who spoke on condition of anonymity as investigation was on-going, said the man was Nigerian and had locked himself in the airliner bathroom.
However, subsequent investigation revealed he was a businessman who took ill during the flight.
Reports said, security and airline personnel were on edge since the attempted terror attack on Christmas, adding that lesser incidents had been reported on other flights arriving Detroit but that incident with the Nigerian youth had sparked the most concerned.
Meanwhile, Nigeria on Saturday ordered a top-level probe after a botched attempt by a young Nigerian to blow up a US plane as it was preparing to land in Detroit, a government statement said.
"The Vice President of the Federal Republic of Nigeria, Goodluck Ebele Jonathan, has directed Nigerian security agencies to commence full investigation of the incident," the statement said.
Information Minister, Dora Akunyili said Abuja had learnt with "dismay the news of an attempted terrorist attack on a US airline.
"We state very clearly that as a nation, we abhor all forms of terrorism," she said in the statement.
Abdul Farouk Abdulmutallab, 23, was badly burned as he tried to set off a sophisticated explosive device on a Northwest Airlines Airbus A330 carrying 278 passengers and 11 crew as it began its descent into Detroit on Christmas Day.
He was overpowered by fellow passengers and arrested by US security agents on arrival on Friday.
Media reports said Abdulmutallab, who boarded the plane in Amsterdam, had flown to the Dutch city's Schiphol airport from Lagos.
"While steps are being taken to verify the identity of the alleged suspect and his motives, our security agencies will cooperate fully with the American authorities in the on-going investigations," the government statement said.
The would-be bomber is the son of a former chief of the United Bank for Africa and First Bank of Nigeria, Umaru Mutallab, an accountant and businessman.
There was no independent confirmation of the report.
According to other reports Mutallab used to study engineering in London.
Meanwhile, the US government has tightened airline security as it searches for answers to how a 23-year-old Nigerian man eluded extensive systems intended to prevent attacks like his botched Christmas Day effort to blow up a Northwest flight from overseas.
The suspect who claimed ties to al-Qaida was charged Saturday with trying to destroy a Detroit-bound airliner, just a month after his father warned US officials of concerns about his son's religious beliefs.
Airports worldwide tightened security a day after the passenger tried to detonate a device that contained a high explosive on a flight into Detroit. After that attack, passengers have had to contend with extra pat-downs before boarding, staying in their seats without blankets or pillows for the last hour of the flight and more bomb-sniffing dogs.
Aides to President Barack Obama are pondering how terror watch-lists are used after the botched attack, according to officials who described the discussions Saturday on the condition of anonymity so as not to pre-empt possible official announcements.
These adjustments came after the Justice Department charged that Umar Farouk Abdulmutallab willfully attempted to destroy or wreck an aircraft; and that he placed a destructive device in the plane.
An affidavit said he had a device containing a high explosive attached to his body. The affidavit said that as Northwest Flight 253 descended toward Detroit Metropolitan Airport, Abdulmutallab set off the device  sparking a fire instead of an explosion.
According to the affidavit filed in US District Court in Detroit, a preliminary analysis of the device showed it contained PETN, a high explosive also known as pentaerythritol. This was the same material convicted shoe bomber Richard Reid used when he tried to destroy a trans-Atlantic flight in 2001 with explosives hidden in his shoes.
The investigation stretched to London, where officers from the Metropolitan Police, the force involved in most of the major terrorism investigations in Britain, cordoned off the street outside a white stone apartment block in a well-to-do area of central London on Saturday. A police spokeswoman said the force was carrying out searches in connection with the incident in Detroit.
University College London said Abdulmutallab was enrolled at the school from September 2005 to June 2008. In Nigeria, the father of Abdulmutallab said his son had been a student in London, but had left the city to travel.
US authorities told The Associated Press that in November, his father, a prominent banking official in Nigeria, went to the US embassy in Abuja, Nigeria, to discuss his concerns about his son's religious beliefs.
Meanwhile, various Nigerian groups abroad have continued to denounce the botched bomb attack on a US plane by the young Nigerian suspect.
In its reaction, the Supreme Council of Islamic Affairs in Nigeria condemned the failed attempt by a Nigerian suspect to blow up a US airliner, saying it appeared to be an isolated case. "We are embarrassed by this incident and we strongly condemn the alleged action by this young man," Lateef Adegbite, secretary general of the Supreme Council for Islamic Affairs in Nigeria, said yesterday.
"But it should be seen as an isolated incident," he added.
"We do not think that there is any organized Islamic group in Nigeria that is inclined to such a criminal and violent act. We condemn such an extreme viewpoint and action."
In its view, the All Nigeria American Congress (ANAC) and its constituency of Nigerians in the international community, says it stand together in denouncing the attempted terror attack over the Christmas holidays by Mr Umar Farouk Abdul Muttalab, who according to reports happens to be a Nigerian engineering student in the United Kingdom.
Mr Muttalab's actions are in no way reflective of our feelings towards our host countries, in fact, we have assimilated well into our new communities and most of us have been model citizens in said communities, ANAC said.
The World Igbo Congress, on behalf of all Igbos in the Diaspora expressed shock by the attempted bombing of Northwest Airline Flight 253 by Umar Farouk Abdul Mutallab. World Igbo Congress condemns this act of terrorism and wishes to dissociate its people from all acts of terrorism and calls on the Nigerian government, the United States of America and all well-meaning peoples of the world to investigate this act in all its ramifications in order to forestall such occurrences in the future.
World Igbo Congress pledges its support for the war on terrorism and calls on all Nigerians to step up all efforts in their direction.
Justus Awaji, Abuja

COVID-19: Wike Slams Curfew On Parts Of State Capital …Suspends Obio/Akpor Council Chairman , Deputy … Grants Waivers To Categories Of Professionals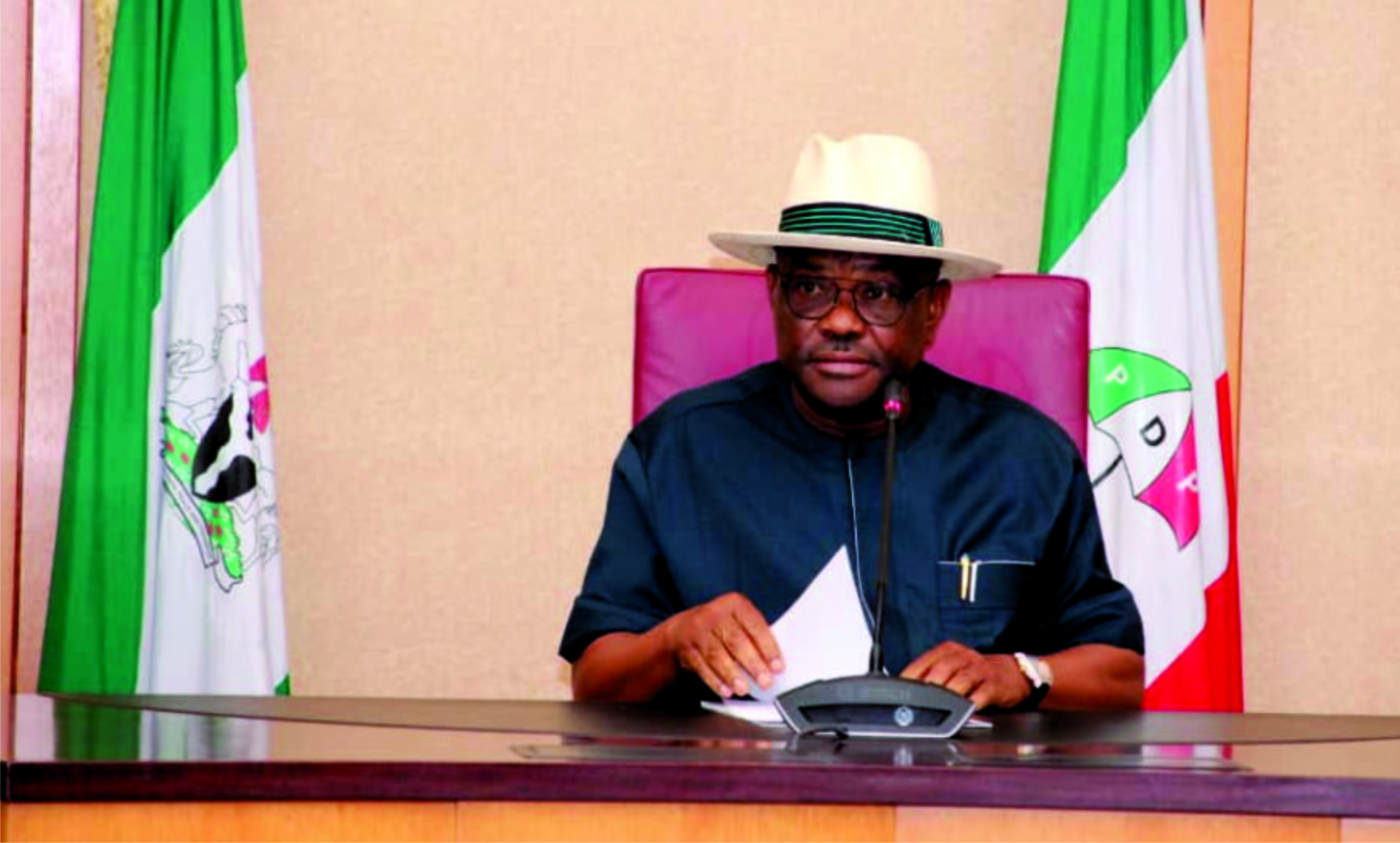 Following the violation of the market closure order, the Rivers State Government has imposed a dusk-to-dawn curfew on Obiri-Ikwerre Junction (Ozuoba, Rumualogu) to Choba and from Education Bus Stop to Agip Junction in Obio/Akpor and Port Harcourt City local government areas.
In a broadcast, yesterday, the Rivers State Governor, Chief Nyesom Wike said that the State Security Council reached the decision after it monitored compliance with the state government's directive.
He said: "With effect from Tuesday, March 31, 2020, there will be a dusk-to-dawn curfew from Obiri-Ikwerre Junction (Ozuoba, Rumualogu) to Choba and from Education Bus Stop to Agip Junction, Ikwerre Road.
"All beer parlours and public drinking joints are hereby closed because they have suddenly become an extension of night clubs that were earlier shut down.
"Any beer parlour or public drinking joint found to be open shall be acquired by the state government.
"All landlords are advised to warn their tenants who use their property as beer parlours or public drinking joints to adhere to this directive.
"Traditional rulers, youth leaders and Community Development Committees are to ensure that beer parlours and public drinking joints in their areas remain closed."
The Rivers State governor charged traditional rulers, youth leaders and Community Development Committees to ensure that all beer parlours remain closed.
He added: "Any traditional ruler who allows markets to be open in his domain will be deposed.
"Government is investigating the illegal operation of markets at night at Woji and Elelenwo communities. Further violation by residents of these two communities will attract declaration of curfew."
Wike said further violation of the directive for markets to remain closed will attract a state-wide curfew.
The Rivers State governor announced waivers to different categories of persons in view of the directive of the state government.
They include: Medical and pharmaceutical personnel, food and beverages, essential oil and gas staff, petroleum products and media workers and newspaper distributors. All these categories of staff must identify themselves with valid identity cards.
The governor declared: "My Dear Good People of Rivers State, based on suggestions by well-meaning Rivers people, government is looking into the setting up of food markets across the state."
The Rivers State governor announced the immediate suspension of the council chairman of Obio/Akpor Local Government Area and his deputy for failing to implement the state government's directive on the closure of markets.
He said: "Let me reiterate that this government will continue to do what is right no matter who is involved. As you are all aware, no conventional war has grounded global life and economy like Coronavirus has done.
"Everybody is affected. Therefore, all hands must be on deck to defeat Coronavirus. I want to sincerely express my heartfelt gratitude to our health professionals on the frontline of this fight. Let me also thank all the security agencies, individuals and organisations who are collaborating with us to make Rivers State safe.
"I am confident that with our collective resolve, our dear state will contain the spread of this virus."

Nigeria Earned $32.6bn From Oil, Gas In 2018 -NEITI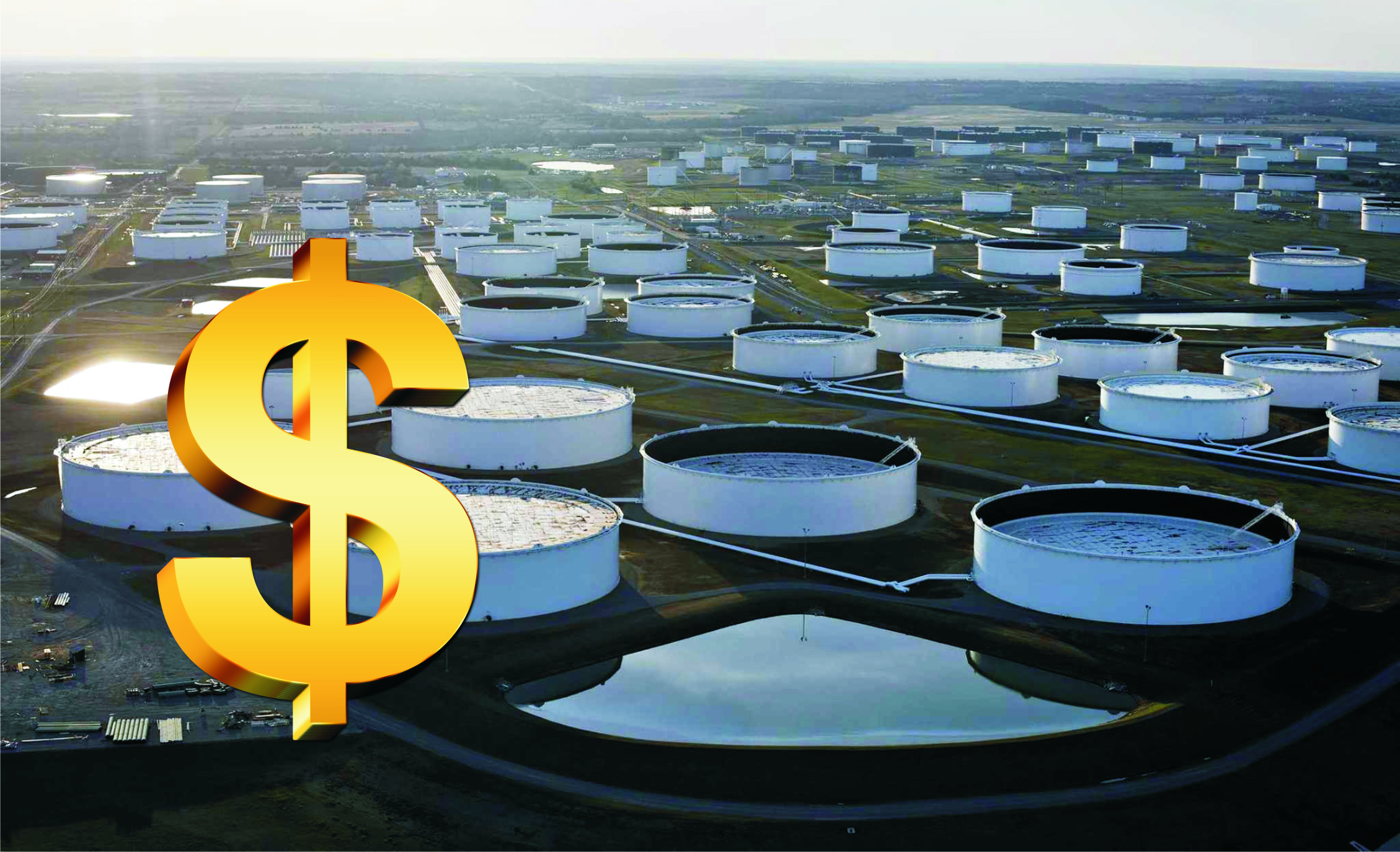 Nigeria Extractive Industries Transparency Initiative (NEITI), yesterday, disclosed that Nigeria earned a total of $32.63 billion from the oil and gas sector in 2018, a 55 per cent increase on the $20.99 billion recorded from the sector in 2017.
In a statement on the release of the 2018 oil and gas industry audit, NEITI also announced plans to release the 2019 audit report this year, effectively clearing the backlogs of the audits of the extractive sector and making the reports more timely and relevant.
Giving a breakdown of the $32.63 billion earned in 2018, NEITI stated that company-level financial flows into government coffers were $16.6 billion, while flows from sales of federation crude oil and gas accounted for $16.billion.
It said, "A five-year trend analysis of the earnings from the extractive sector showed a 54.6% drop from $54.6 billion in 2014 to $24.8 billion in 2015. The earnings further dropped by 31.2% to $17.05billion in 2016, but increased by 23% to $20.99 billion in 2017 and by 55% to $32.63 billion in 2018.
"Though the last two years bucked the trend of persisted decrease since 2014, the revenues from the sector in 2018 were still a staggering 40% below the $54.6 billion earned in 2014 when oil prices commenced a precipitous fall.
"The NEITI 2018 audit reconciled payments by seventy-one companies and the Nigeria Liquefied Natural Gas (NLNG) that met the materiality threshold set for the exercise. A total of eight government entities were also covered by the audit.
"Out of the $32.63 billion earned from the sector in 2018, the sum of $19.92 billion was transferred directly into the Federation Account, while $5.21 billion and $4.04 billion were transferred into the Joint Venture (JV) Cash Call Account and Nigerian National Petroleum Corporation (NNPC) designated accounts respectively.
"The NNPC designated accounts are the Naira and dollar accounts where domestic crude sales and the federation equity, royalty, petroleum profit tax and in-kind oil sales are paid into respectively before remittance to the Federation Account.
The report further disclosed that "$2.10billion was transferred into third parties project financing accounts and $1.37billion were recorded as subnational transfers."
On production, NEITI stated that the total crude oil production in the country within the period under review was put at 701 million barrels, representing a slight increase of 1.5% when compared to 690 million barrels produced in 2017.
Giving a breakdown of crude oil production, NEITI disclosed that Joint Ventures (JVs) contributed highest production of 315 million barrels, followed by Production Sharing Contracts (PSCs) which recorded 270.610 million barrels.
In addition, it noted that other funding arrangements like Sole Risk (SR), Marginal Fields (MF) and Service Contracts (SC) accounted for 92.2 million barrels, 22 million barrels, and 1.3 million barrels respectively.
NEITI said, "JV companies' production increased by 3.12% in 2018 compared to 2017, while PSC operators' production decreased by 10.90%. Similarly, SR operators' production increased by 58.72% in 2018 compared to 2017. Production from the SC decreased by 10.27% while production from MF operators increased marginally by 1.18%."
NEITI further disclosed that total crude oil lifted for both export and domestic sales in 2018 was 701 million barrels, representing a 1.9% increase when compared with total liftings of 688.3 million barrels in 2017.
In its analysis of the total lifting in 2018, NEITI stated that 255.6 million barrels or 36% was lifted by NNPC on behalf of the Federation, while companies lifted 445.5 million barrels or 64% of total liftings.
It said, "The liftings by NNPC indicates an increase of 5.95% when compared to 241 million barrels lifted in 2017. Further analysis showed that out of 255.6 million barrels lifted by NNPC in 2018, actual sales were 255.3 million barrels valued at $18.2 billion.
"Out of the 255.6 million barrels lifted on behalf of the Federation by NNPC, a total of 107.63million barrels was recorded as Domestic Crude Allocation (DCA) in 2018. Out of this figure, 94 million barrels or 87% of the DCA were utilized for Direct Sale Direct Purchase (DSDP), while the balance of 13.58 million barrels or 13% was delivered to the refineries.
"Ordinarily, 160.2 million barrels (or 445, 000 barrels per day) should have been allocated for domestic consumption but only 107.63 million barrels or 67% of the customary allocation for domestic consumption was allocated in 2018.
"The sum of N2.295 trillion was realized as proceeds from sales of domestic crude oil allocation in 2018, out of which the following deductions were made: N722.3billion for under – recovery of imported petroleum products, N28.3 billion for crude and product losses and N138.95billion for pipeline repairs and maintenance cost.
"In 2018, total crude oil losses due to theft and sabotage was 53.28million barrels, an increase of 46.15% when compared to 16.824million barrels recorded in 2017".
Similarly, the report put total products losses in 2018, due to pipeline breakages at 204,397.07 cubic meters.
"On gas production, the NEITI 2018 oil and gas report revealed that the total gas production for the year under review was 2,909,143.69mmscf, while total gas utilization was 2,909,143.55 mmscf.
"From the report, $307.20 million was realized from the sales of Federation gas of 633.55thousand metric tons in 2018. This represents increase of 7.10% when compared to 721.80thousand metric ton valued at $286, 85 million realized in 2017.
"The national gas reserve stood at 200.79tcf as at end of 2018. This is made up of 101.98 tcf of Associated Gas (AG) and 98.81 tcf of Non-Associated Gas (NAG). With the 2018 annual gas production quantity, the gas Reserves Life Index (RLI) was estimated at 92 years", the report disclosed."
On management of Joint Venture Cash Call, the report disclosed that aggregate cash call funding for 2018 amounted to $5.98billion.
In addition, the report noted that: "outstanding Cash Call Liabilities amounted to $3.66billion, comprising $3.41billion (93%) legacy liabilities and US$260million (7%) performance balance payable to JV operators". Another feature of the oil and gas report is on social expenditure.
"Total social expenditure (mandatory and voluntary expenditures) was $902.67million. This consists of voluntary contribution of $59.27million (6.57%) while mandatory contribution stood at $843.39million (93.40%)".
The mandatory contribution was made up of NDDC's 3% levy of $683.38million and NCDMB's 1% levy of $160.01million. Oil and gas industry contribution to the Gross Domestic Product (GDP) in 2018 was put at 7.8%.
"The flows in the industry accounted for $32.64billion in absolute terms. This represents 7.8% of the total GDP Current Basic Price of ($ 418.12billion)".

Lagos Discharges Five Coronavirus Patients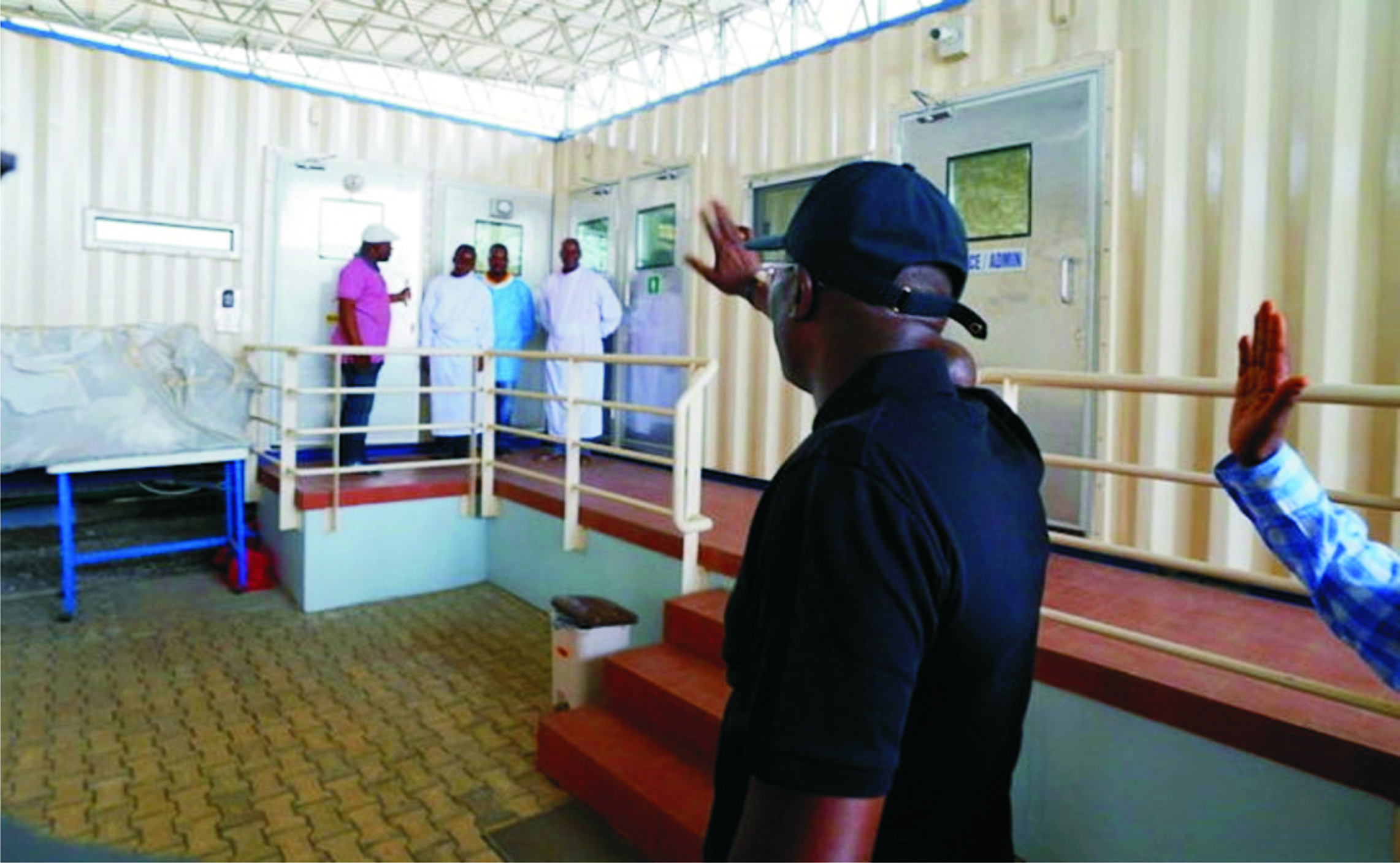 Lagos State Government yesterday discharged five coronavirus patients at Infectious Disease Centre, Yaba Mainland Hospital.
This brings to eight the total number of discharged patients from the centre.
The patients, who had been quarantined at the isolation centre for weeks, looked stable and unruffled.
Although, the discharged patients preferred annonimity, they expressed joy and satisfaction over the treatment they received.
While thanking the State Governor, Mr Babajide Sanwo-Olu for his support and proactiveness, they pleaded that the workers at the Centre should be given life insurance.
While speaking to reporters, one of the patients said: "I came in here on the 15th and after the test showed positive, I was asked to come back the next day. So I was admitted here.
"Initially, there were hitches but it later turned out fine. The health workers did fine, all our challenges were attended to. I'm a living witness together with my other colleagues."
He gave an impressive hope, saying people should not panic as the virus could be defeated.
"We can beat it. I want to assure others that this is not their resting place. Encourage yourselves, take your medications and in no distant time, you will get out of here.
"I want to appeal to the federal government and Lagos State government that, they should remunerate all those workers who have volunteered to work accordingly, so as to serve as encouragement to others, adding that, "If they are not here as first responders, many would have died."
Another patient saidL "I was admitted last Sunday. Initially there were challenges, the following day, they brought bed, mask and some equipment.
"Apart from what my colleague said, the workers should be insured. Proper insurance will let people do what they have to do.
He narrated a scenario where the workers could not attend to him because he tested positive, saying "they went back and I slept of. I woke up around 3 a.m. So they deserve life insurance to encourage them to do their job."