Burkina Faso Military Junta Foils Coup Attempt, Detains Four Officers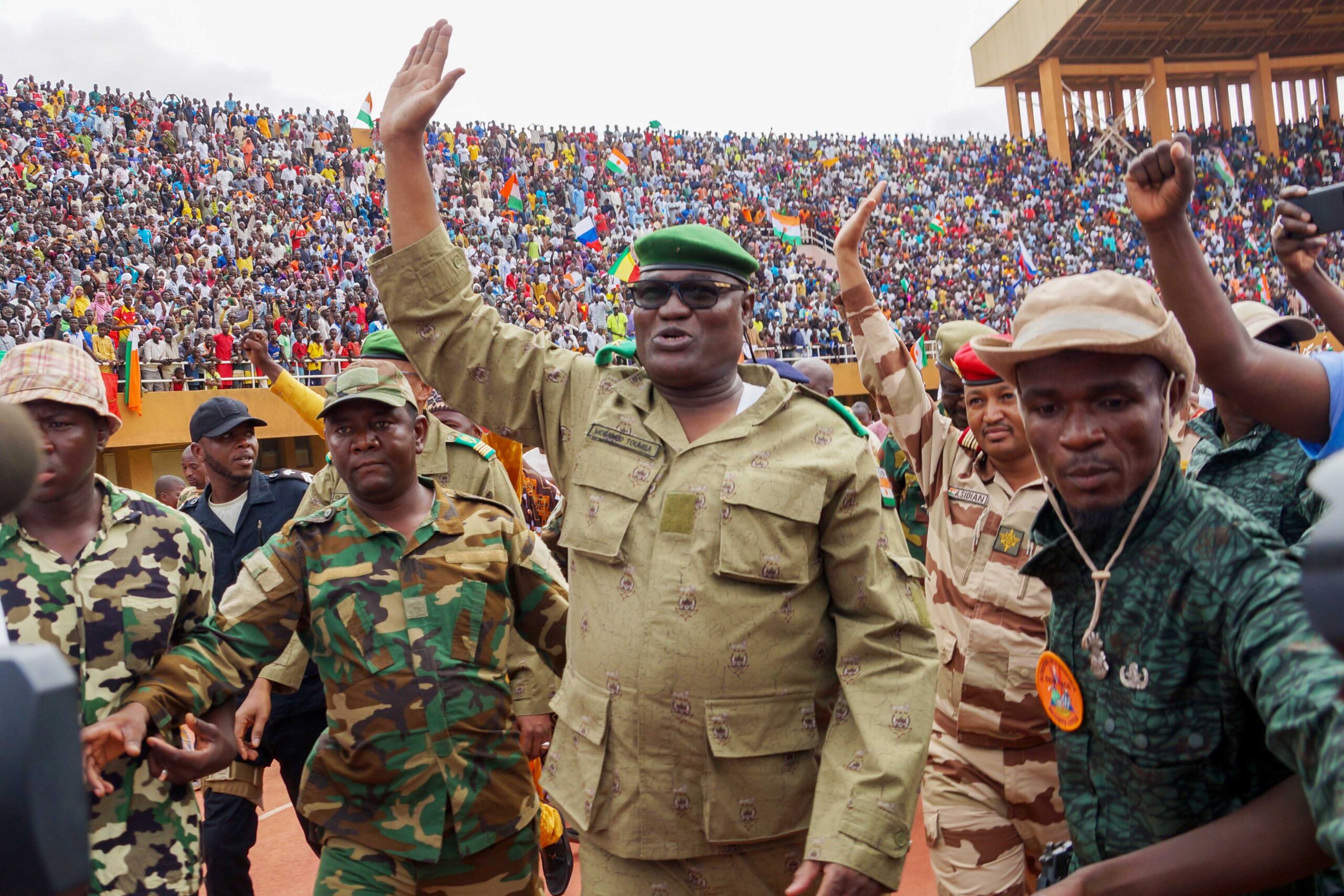 Burkina Faso said yesterday that four officers had been detained, a day after the military government announced it had thwarted a coup attempt.
The four are suspected of involvement in a "conspiracy against state security", military prosecutor, Ahmed Ferdinand Sountoura said in a statement yesterday.
Two others are "on the run" according to the statement.
The junta said late on Wednesday that the intelligence and security services had foiled a coup attempt the previous day.
The military government said it would seek to shed "all possible light on this plot".
The alleged coup attempt came nearly a year to the day the junta leader, Captain Ibrahim Traore, seized power in the West African nation on September 30, 2022.
His takeover was the country's second coup in eight months, both triggered in part by discontent at failures to stem a raging jihadist insurgency, which swept in from neighbouring Mali in 2015.
The military prosecutor has urged anyone with information that can "contribute to the manifestation of the truth to come to testify".
Late on Tuesday, thousands of people had taken to the streets of the capital, Ouagadougou, following a call from Traore supporters to "defend" him amid rumours of a coup on social media.
Traore took to X, formerly known as Twitter, on Wednesday to stress his "determination to lead the transition safely despite the adversity and different manoeuvres to stop our inexorable march towards assumed sovereignty".
French language news outlet, Jeune Afrique, which had recently published two articles about tensions within the military, saw its print and online operations suspended in Burkina Faso on Monday.
The Burkinabe government accused the news outlet of seeking to "discredit" the military.
Shortly after Traore's takeover, military prosecutors in December 2022 said there had been an attempt to "destabilise state institutions".
And earlier this month, the country's military prosecutor said three soldiers had been arrested and charged with plotting against the ruling junta.
Investigators had received a tipoff about "soldiers and former soldiers working in intelligence" who were scouting out the homes and other locations used by key figures in the junta, including Traore.
Their goal was to "destabilise… the transition", it said, referring to a term used to describe interim military rule before promised elections.
Burkina Faso, an impoverished landlocked country, saw Islamists sweep in from Mali in 2015.
More than 17,000 civilians, troops and police have since died, according to an NGO monitor.
Over two million people have been forced to flee their homes, creating one of Africa's worst crises of internal displacement.
Anger within the armed forces led to a coup on January 24, 2022, toppling elected President Roch Marc Christian Kabore.
On September 30, Kabore's nemesis, Colonel Paul-Henri Sandaogo Damiba, was himself overthrown by the 34-year-old Traore.
Traore has promised a return to democracy with presidential elections by July 2024.
Burkina's military leaders earlier this month signed a mutual defence pact with counterparts in Mali and Niger.
The Liptako-Gourma region, where the three countries' borders meet, has been ravaged by jihadism in recent years.
We're Determined To Achieve Rivers Of Our Dreams -Fubara …Tasks Rivers People On Peaceful, Harmonious Relationship
Rivers State Governor, Sir Siminalayi Fubara, says his administration is determined to enthrone an enviable Rivers that satisfies the dreams and aspirations of all residents.
To achieve the feat, Fubara charged all residents to embrace peace, exhibit mutual harmony among themselves and meaningfully contribute their quota to achieve designated developmental activities that will eventually benefit the State.
The governor stated this at the funeral service in honour of late King Theophilus J.T. Princewill, Amachree XI, the Amanyanabo and Natural Ruler of the Kalabari Kingdom, which was held at the King Amachree Square in Buguma Town, Asari Toru Local Government Area, yesterday.
A statement by the governor's Senior Special Assistant on Media, Boniface Onyedi, quoted Fubara as saying, "We are in a difficult period but just be peaceful. We cannot achieve progress in an environment of violence. We cannot grow our State to the level of our aspirations when there is trouble."
"We can only advance to our dream State in a peaceful environment. I urge every one of you to be peaceful. Peace is the only instrument that can bring development,"
The governor applauded the level of cooperation seen between the bereaved family and the entire Kalabari people through the various stages of preparations leading to the eventual burial of their late king to the disappointment of those who had predicted crisis.
He urged the Kalabari people to continue to live in peace even after the burial of their late king, adding that nobody in the State should lose hope because his administration is committed not to disappoint, regarding all their expectations.
In his sermon, the intercontinental Youth Pastor of the Redeemed Christian Church of God, Pastor Belemina Obunge, who represented the General Overseer of the Church, Pastor Enoch Adeboye, preached on the topic: "Don't wait until you're late", harped on the need for people to seek God fervently, serve him truthfully while also living peaceably with neighbours in their various community.
Senate Leader Faults N9.9trn Recurrent Expenditure In 2024 Budget Proposal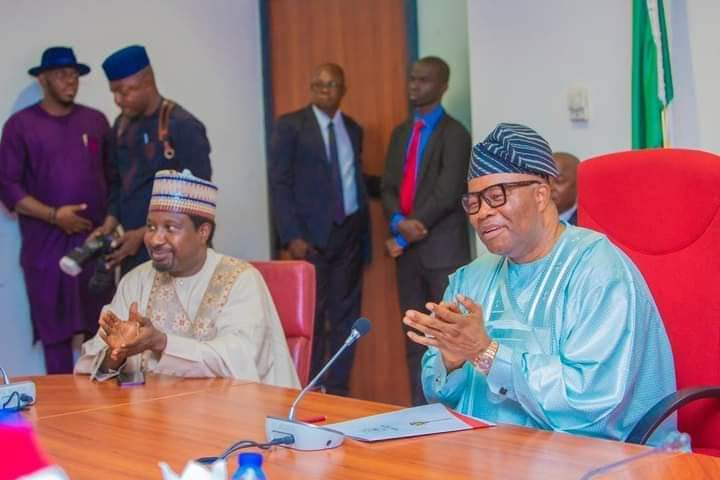 Senate Leader, Bamidele Opeyemi, says the N9.9 trillion recurrent expenditure in the N27.5 trillion 2024 budget proposal is too high, as it constitutes 43 per cent of the budget.
Opeyemi said this at the opening of debate on general principles of the budget at plenary in Abuja, yesterday.
He said that the total fiscal operations of the Federal Government would result in N9.8 trillion deficit, representing 3.88 per cent of estimated GDP, saying that this was above the three per cent threshold set by the Fiscal Responsibility Act, 2007.
Opeyemi listed highlights of the budget to include oil price benchmark of 77.96 dollars per barrel and daily oil production estimate of 1.78 million barrels of condensates of 300,000 to 400,000 barrels per day and exchange rate of N750 to dollar.
He said based on the fiscal assumptions and parameters, total federally-collectible revenue was N16.87 trillion in the budget, while total federally distributable revenue was N11.09 trillion
Opeyemi said total revenue available to fund the 2024 budget was N9.73 trillion, which included revenues from 63 government-owned enterprises, while oil revenue was projected at N1.92 trillion, with non-oil taxes at N2.43 trillion among others.
He said to finance the deficit would result in new borrowings totaling N7.83 trillion in addition to N294.49 billion expected from privatisation.
He said the deficit would also be financed from N1.06 trillion drawn from bilateral, multilateral loans secured for specific development projects programmes.
He, however, said there was a growing concern over continued borrowing, but the administration resorted to it to finance fiscal gaps.
"But let me state here that the debt level of the federal government is still within sustainable limits.
"Very importantly, these loans are used to finance critical development projects and programmes aimed at improving our economic environment and ensuring effective delivery of public services to our people," he said.
Contributing, Sen.Osita Ngwu (PDP-Enugu)said President Bola Tinubu had fulfilled his promises by capturing food security, poverty allivation in the budget.
He said there was need to ensure a review of Petroleum Industry Act(PIA) to ensure the continuous ramp up of oil production to fund the deficit in the budget.
Senators, who contributed to the debate, commended the President for the budget, saying it was a budget of renewed hope.
NDDC Laments Unpaid N2trn Allocation
The Managing Director of the Niger Delta Development Commission (NDDC), Sam Ogbuku, on Wednesday, said the interventionist agency is being owed remittances totalling over N2trillion by the Federal Government.
Ogbuku disclosed this when he appeared before the House of Representatives' Committee on NDDC, chaired by Ibori-Suenu Erhiatake.
According to him, the amount is the accumulation of 15 per cent of the allocation of the nine states that make up the region, due to the commission since 2000.
He noted that in spite of the passage of the agency's annual budget in 2021, 2022 and 2023; the funds were yet to be remitted.
"I want to raise an important issue. When we talk about funding, the NDDC Act says the monthly allocation from the Federal Government is 15 per cent of the allocation of nine states of the Niger Delta. But I can assure you that since the inception of the NDDC, it has not got that.
"The Federal Government only budgets what it wants to give to the NDDC for that year and they give it that year. If you look at the 15 per cent, we are not getting it. Even with the removal of fuel subsidy and with the increment of state allocation, the NDDC is still where it is. So, these are issues we want you to help us resolve and we have done our calculation that from 2000 to date we can say we are being owed over N2trn from what is supposed to be due NDDC.
"We also came in at a point when the NDDC never had a budget for 2021, 2022 and 2023. These budgets were before the National Assembly and we had to fast-track the passage of those budgets and those budgets were eventually passed in April this year. However, since the budget was passed, it has not been handed over to us up till now. We pray and plead with you to ensure that as fast as possible, you also facilitate the process for us to have the budget because the budget year is already coming to an end," he said.
In his own contribution, the Chairman of the NDDC Board, Chiedu Ebie, said the board would work together to reposition the commission in the interest of the oil-producing states and Nigeria at large.
Responding, Erhiatake said issues raised by the agency would be addressed in no distant time.
"It is very important we create a platform for synergy in the implementation of these policies and programmes for the general benefit of Nigerians and especially the people of the Niger Delta. I assure you that this committee is willing and ready to partner with you to make sure that the dividends of democracy are brought to the region and the narratives that had been set by the previous board are changed for the better."
Meanwhile, the Independent Corrupt Practices and Other Related Offences Commission (ICPC) has advised officials of the NDDC to be abreast of anti-graft laws so as not to step out of line.
The ICPC Zonal Commissioner for Rivers and Bayelsa states, Mrs. Ekere Usiere, gave the advice during a sensitisation programme organised by the NDDC at its headquarters in Port Harcourt.
A statement on Wednesday by the Director, Corporate Affairs of the NDDC, Pius Ughakpoteni, said Usiere spoke on the topic: "Understanding the Offences and Penalties Under the ICPC Act 2000."
It also quoted the Head, Legal Department of ICPC in Rivers State, Dr Agada Akogwu, as saying, "Every public servant should take the ICPC Act as a Bible and internalise all its tenets. That is why the NDDC deserves commendation for organising a sensitization programme for its staff."