Rivers Police Arrest One Of Five-Man Car Snatching Syndicate
The Rivers State Police Command says its operatives have arrested a member of a five-man car snatching gang who specialised in snatching cars from Rumuibekwe and its nebouring towns within the State.
The Commissioner of Police in the State, CP Emeka Nwonyi, disclosed this while briefing journalists at the command's Headquarters in Port Harcourt, on what he called "the latest modest achievements" recorded by the command in the ongoing onslaught against crimes and criminality across the state.
Cp Nwonyi said following a discreet investigation, a team of Police operatives trailed and arrested one Elvis Okirika of Bomadi, Delta State, but a resident in Abuja Town, Port Harcourt, in his hideout along Niger Street, Port Harcourt.
According to him, the suspect, a member of a five-man gang of notorious armed robbery and car snatching syndicate, recently terrorising residents of Port Harcourt, attacked some residents of Rumuibekwe Housing Estate, Port Harcourt, at Artillery Flyover and snatched a green colour Toyota Corolla salon car, collected gold necklace valued at N350,000 three smartphones valued at N390,000 and a cash sum of N300,000.
He further said the gang also attacked one victim at Elitor Road, Woji, Port Harcourt, and snatched a green color Toyota Highlander with eight smartphones, and Nokia Touch GSM phone, both valued at one hundred and fifty-two thousand naira, His Access and First Bank ATM cards, and stole a total of two million, one hundred and fifty thousand naira from his two bank accounts.
"The suspect and members of his gang also attacked one victim at Rumuodara, Port Harcourt, last Saturday along Obagi Street, GRA, Port Harcourt, and snatched a red colour Toyota Corolla salon car with Reg. No. LND 969 DJ, Samsung S21, and Samsung Note 10 lite smartphones, both valued at six hundred and twelve thousand naira, Samsung ear pod valued at N180,000 and a wallet containing bank ATM cards.
"Investigation is in progress as efforts are intensified in order to arrest other members of the gang who are still at large, to recover other stolen property and their operational weapons. Some of the suspects are in Police net", he stated.
The State Commissioner of Police, while giving a breakdown of the achievements, also said, sequel to frequent attacks by cultists along Ahoada East/West Local Government Areas, one General Worldwide of the Greenlanders cult group residing at Ugbulugbu Community, Ahoada East, based on pressure on him in his criminal hideout, surrendered to the Police operatives.
Nwonyi told journalists that the cultist surrendered one AK-47 rifle with breach number 1968 TH8150, with three rounds of calibre 7.62 x 39mm live ammunition and four empty magazines, adding that the onslaught on other cultists is seriously ongoing to mop up arms and ammunition in their possessions.
The CP stated that one paramount ruler of JK2 Community reported that one fisherman from Bayelsa State was macheted to death by one Double Chief/Dangerboy on a reprisal attack.
He said 10 persons were abducted, adding that the Command put more pressure on the kidnappers, from whom the victims were rescued and reunited with their families.
By: Amadi Akujobi
Gunmen Raze Man's House In Ahoada West
Gunmen in Army uniform on Saturday razed the bungalow of a popular youth in Idu, Ekpeye Community, Ahoada West Local Government Area of Rivers State, Chief Rufus Edhiwulu.
Chief Edhiwulu, who raised an alarm over the incident, said the gunmen were allgedly led by Comrade Andrew Nwabueze, who he recognised.
Edhiwulu said he escaped when the suspected Nwabueze-led gang of uniformed men drove in vehicles into his compound at about 6am, barged into his house, ransacked and carted away property and money before setting the house on fire.
According to him, property worth millions of Naira were destroyed in the ensuring inferno.
Addressing newsmen, Chief Edhiwulu said, "I thank God for my life today, the people came to kill me. I recognise one of them as Andrew Nwabueze, from ldu-Ekpeye, a sub-contractor to Mr Brown, who handles the surveillance contract of Agip.
"I sighted them immediately as they entered my yard, and I had to escape before they started destroying my house.
"What they had in mind was to kill me. Government and members of the public should ask Nwabueze what offence l have committed for him to be after my life", he pleaded.
Edhiwulu added that the suspected soldiers had stolen his Lister generator, and other property presented to his wife during their wedding.
When contacted, Comrade Nwabueze Andrew, an ex-youth leader of the community, denied the allegations.
He said, he had never thought of carrying out such massive destruction against Chief Edhiwulu who he described as his brother.
"As Ekpeye man he knows where to find out the truth; he should gather the jujus he knows and invite me to swear for him. I cannot do such a thing", Nwabueze said.
He stated further that if Edhiwulu had any issue with the surveillance team, he should not rope him in, "though I am the contractor in charge of the pipeline in my community".
The Tide gathered that the fire scared residents of the community, who were shocked that the unidentified soldiers were swift in the operation as they stormed into the house, picked up some property of their choice, threw up fire on the building and drove away.
By: Emenike Benson Agimo
PHCCIMA Partners RSG To Promote Conducive Business Environment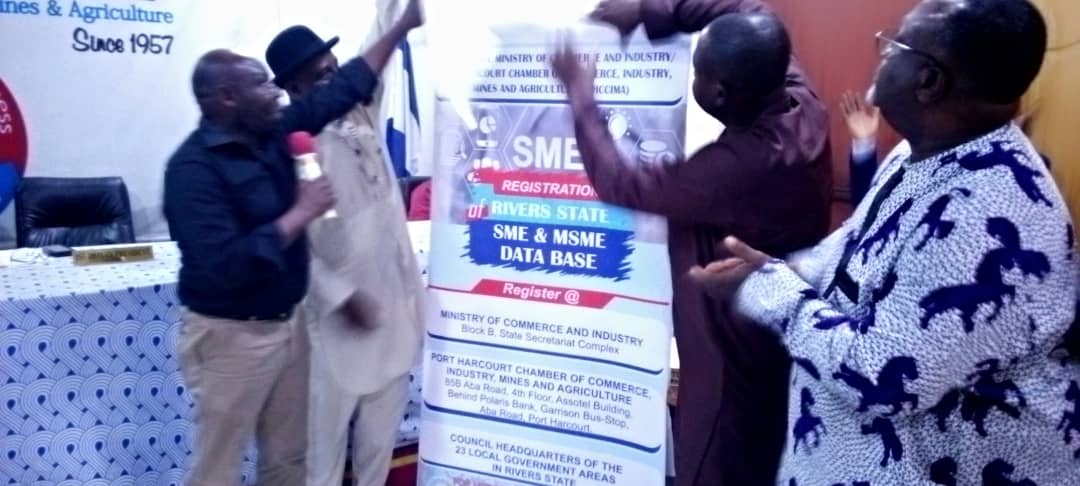 The President of Port Harcourt Chamber of Commerce, Mines, Industry, and Agriculture (PHCCIMA), Sir Mike Elechi, has said the Chamber is in collaboration with the Rivers State Government to promote condusive environment for business growth.
Elechi made this known during a Members General Forum that ushered in the newly inducted members and unveiling of the 17th Edition of The Port Harcourt International Trade Fair, 2023 at its Secteriat in Port Harcourt, Friday.
He charged the new PHCCIMA members on the need to uphold the laws of the state and those of the Chamber in order to enable them excel in business.
The PHCCIMA boss, who is the Managing Director of Vintage Farms and Products, further tasked the inductees to join three trade groups relevant to their business for a better networking.
"Your support has propelled us to achieve our aims and goals. Pay your taxes and dues through our platform", he said.
In his presentation, tagged "Accessing Nexim Bank Loans For Export", the South-South Regional Manager of Nexim Bank, Calabar, Mr. Soni Oseghale, cautioned against what he described as over realiance on oil, noting that it will be short lived.
Oseghale said such caution was part of the reasons the government established the Nexim Bank.
According to him, the target of the bank is to ensure that government earnings increase through the non-oil sector.
He explained that it was achievable through the increment of dollar earnings of the country, which can only be done through proper engagement of the bank.
"We can help you build a capacity that will make you a big exporter. Our loans are easy to access and are treated from the risk management point of view where things like issues of character and collateral are to be considered", he said.
He has also appealed to members of PHCCIMA to form collaborations that will lead to joint venture.
The Rivers State Government, which indicated interest to partner with the Chamber in general business development and SMEs in particular, was represented by the Ministries of Commerce and Industry and that of Agriculture.
Meanwhile, the 17th Edition of the Port Harcourt International Trade Fair is billed to hold between the 6th-20th of December, 2023 at Isaac Boro Park , Port Harcourt.
By: King Onunwor
Methodist Prelate Advocates For Nation's Moribund Industries
The Prelate of the Methodist Church of Nigeria, His Eminence, Dr Oliver Ali Aba, has advocated for the repair of Nigeria's ailing industries to cater for the unemployment challenges in the country.
He stated that the huge amount of money spent on palliatives by the Federal Government to ease the effect of petroleum subsidy removal would be more beneficial to the citizens if the monies are channelled to revive these moribound companies.
Aba stressed that the palliatives will further impoverish Nigerians and also increase corruption in the country.
He made this assertion recently in an exclusive interview with The Tide after the Recognition of Service and Awards of merit of Archdiocese of Ikot-Ekpene and Port Harcourt held at Banham Cathedral, Port Harcourt.
The Methodist Prelate therefore called on the Federal Government to ensure that they embark on policies that have direct bearing on the lives of the people.
"They should channel the huge funds earmarked for the palliative to the resuscitation of the various moribund industries across the country. Such measures would create employment and reduce the increasing wave of unemployment and insecurity in the country", he said.
Aba noted that the palliatives programme of the Federal Government will turn Nigerians into Almajiris who beg for food, saying that it would be better for government to evolve ways on how to teach people how they can feed themselves.
According to him, the palliative scheme will only make people to steal more money from the nation's treasury, and will make less positive impact on the lives of the people, noting that those entrusted with executing the policy will destroy whatever good intentions there is.
"How many bags of rice and money will they give to families of five and eight that will be enough for them? Will this be monthly or once?My advice is that if they want to formulate policy, they should study it methodologically and not be in a rush. What the people need now is not palliative but good governance", he stated.
By: Akujobi Amadi