Child's Rights And The Rest Of Us 
Children and young people constitute the greatest number of human beings on earth. In most parts of the world, especially Africa, some people live with the erroneous belief that children and young people are properties of their parents and relations. It is based on this erroneous assertion that certain basic human rights are denied them.
However, it is known that children and young people have the same general human rights as adults and also specific rights that recognize their special needs.
They are neither the property of their parents nor are they helpless objects of charity.  They are human beings and are the subject of their own rights.
It would be recalled that after the Second World War in 1945, the United Nations General Assembly accepted the Declaration of the Rights of the Child.  This declaration paved the way for the adoption of the Convention on the Rights of the Child in 1989. This became the first legally binding international text to protect children's rights.
Presently, children's rights are the legal, social, economic, political, physical, and spiritual rights bestowed upon them by the 1989 Convention on the Rights of a Child .
The United Nations Convention on the Rights of the Child is the most accepted standard on children's rights all around the world.
This has helped transform children's lives over the years around the world. Yet, not every child gets to enjoy a full childhood because many of them are cut short.
The rights of the child are specific rights to protect all young people under the age of 18. These rights include the right to health, education, family life, play and recreation, an adequate standard of living and  protection from abuse and harm. Children's rights cover their developmental age, appropriate needs that change over time as a child grows up.
It is for these reasons that the Convention on the Rights of the Child stipulate that all children's rights must come under four general principles that include; non discrimination rights, where all children have the right to develop their potential in all situations, equal access to education for all children, no matter the gender, race, disability or religion.
Furthermore, the Convention stipulates that the best interest of the child must be a primary consideration in all actions and decisions concerning the child. A clear example should be for the Federal Government of Nigeria to deliberately make national  budgetary  commitment to increase budget for primary education in 2023 and beyond.
Thirdly, the right to survival and development underscores the vital importance of ensuring access to basic services and equality of opportunity for children to achieve their full development. For example,  children with  disabilities should have effective access to education and health care to achieve their full potentials.
The views of the child must be heard and respected in all matters concerning his or her rights. For example, those in power should consult and listen to children before making decisions that will affect them. There used to be Children's Parliament, where they are given opportunities to air their views. Such views should not just be discarded, but sifted for the benefit of the children.
According to the United Nations International Children's Education Fund (UNICEF), children have the right to the best health care possible, clean water to drink, healthy food and a clean and safe environment to live in.
In our societies, children should be made to enjoy the same human rights as everybody  else, from the right to freedom of expression to the right to privacy.  This infers that all human rights laws apply equally to children and adults.
Children must rely on adults for the nurture and  guidance they need to grow towards independence. Such nurture is ideally found from adults in children's families but when primary adult caregivers cannot meet children's needs, it is up to the state as the primary duty bearer to find an alternative in the best interests of the child.
A recent report released  by UNICEF suggested that children in the Netherlands are considered the happiest in the world.
The United Nation's body prepared the report after analysing data from 41 high income countries based on children's mental well-being, physical health, and the development of both academic and social skills. The Netherlands topped the chart of all three wellbeing outcomes, followed by Denmark and Norway, respectively.
The report stated clearly that the country's earnings, education, housing and health status are some of the major reasons that make the country a better place to live for children, making it the best country in the world to raise children.
The Netherlands as a country focuses more on social security and social services. The  benefits that people get there are amazing and the way the government helps keep families together acts as a boost in keeping a 'family ' intact and in return a child  happy.
Here, in Nigeria, according to the Child's Rights Act 2003, which expands the human rights bestowed to children include the right to survival and development, to move,for freedom of association and peaceful assembly, freedom of thought, conscience and religion, to private and family life,freedom of movement, freedom from discrimination ,to dignity of a child, to leisure, recreation and cultural activities to health and health services, to parental care protection and maintenance.
Also, it includes, rights of a child to free compulsory and universal primary education, of a child in need of special protection against harm, contractual rights of a child, responsibilities of a child and parent to provide guidance with respect to child's responsibilities.
The Child's Right Act 2003 further provides for punishment for child marriage and betrothal, child trafficking, use of children in criminal activities, abduction, exploitative labour, forms of sexual abuse and exploitation, tattoos and skin marks, harmful publication, exposition to narcotic drugs and psycho – tropic substance, recruitment of children into armed forces, amongst other exploitations and unlawful engagements of a child.
The law also provides for the immediate provision of safe foster care and shelter for a child  endangered  in his or her immediate environment.
Unfortunately, the Federal Government and most state governments are not enforcing the Act, as children are still exposed to most of the activities that are detrimental to their wellbeing.
Meanwhile,Rivers State and several states including  the Federal Capital Territory (FCT) have adopted the Child's Right Act. However, it is even most unfortunate that some states in Nigeria are yet to adopt the Act and make it functional in their states.
Rivers State has gone a step further by international protection of children in developing a Safe Home for vulnerable children.
The Safe Home Project is intended to provide effective institutional support for the Rivers State Child's Rights Law 2009 and Violence Against Persons (Prohibition) Law 2020.The  Home which provides temporary accommodation for victims of  sexual and  domestic violence will not only provide citizens of the state protective custody but would also afford them a good opportunity at getting justice.
By: Ibinabo Ogolo
Youth Empowerment And Positive Change
It is imperative that empowerment and development in all spheres of life must be pursued by governments at all levels to realise the potentials of the youth.
For statistical purposes, the United Nations (UN) defines Youth as those persons between ages 15 and 24 years.
Currently, there are 1.2 billion young people known as youth globally. They will be accounting for 16 per cent of the global population by 2030, the target date for the Sustainable Development Goals (SDGs) that make up the 2030 Agenda.
Apparently, the number of youth is projected to have grown by 7 per cent to nearly 1.3 billion.
The UN has long recognised that the imagination, ideals and energy of young people are vital for the continuing development of the societies in which they live.
It also recognises the young people as rights- holders and has over the years promoted and facilitated transparency, international organisations and others towards young people.
This had led to the identification of fifteen fields of action by the International Community which include, education, employment, hunger and poverty, health, environment, substance abuse, juvenile justice, leisure- time activities, girls and young women and the full effective participation of youth in the life of society in decision making.
Youths globally are increasingly demanding more progressive opportunities and solutions in their societies. The need to address various challenges faced by young people such access to education; health and employment have any more pressing than ever.
Another recognition of young people's wellbeing, participation and empowerment of key drivers of sustainable development and peace around the world by the UN was the adoption of the 2030 Agenda involving Member States and civil society, including youth organisations in the development of goals and targets.
The responsibility for finding solutions to the challenges affecting young people lies largely with governments, it must seek to create an environment in which youth from different socio- economic backgrounds enjoy access to youth rights, quality education, employment opportunities, health services and youth work, among others.
Today, the world is home to the largest population of young people in history- 1.2 billion people. Meanwhile, close to 90 per cent of the world's youth live in developing countries where they make up a high proportion of the population.
According to United Nations Educational Scientific Cultural Organisation (UNESCO), young people are also facing major challenges in both the developed and developing world. While many developed countries have seen prospects for younger generations increase, many developing countries struggle to create enough employment to absorb their demographic youth bulge.
Across the world, today's youth are three times more likely to be unemployed than other adults with the global youth employment rate standing at 13 per cent.
In Pakistan, young people comprise 36. 9 percent of their population, but their share as entrepreneurs is very less. High illiteracy, low education, lack of skills training and scarce facilities and resources are some of specific challenges young people encounter there.
India has its largest ever adolescent and youth population in the world. Around 66 per cent of the total population (more than 808 billion) is below the age of 35. According to United Nations Population Fund (UNFPA) projections, India will continue to have one of the youngest population in the world till 2030. However, unemployment is a major social issue in India.
According to reports, Africa's population as a whole is very young, with 60 percent of the entire continent aged below 25, making it the youngest continent in the world, relation to its population makeup.
Subsequently, African youths are facing many challenges, including poverty, inadequate education, unemployment, and lack of opportunity. African youth are also at the risk of becoming victims of crime, HIV/ AIDS and other diseases.
One big challenge is that African youth are often not given the opportunity to learn and grow. This is often due to poverty or poor education. Most often, families do not have the money to send their children to school, thereby not giving the African youth the opportunity to learn component life skills.
Another challenge was that the African youth were often not given a voice. They are often too afraid to speak out because they do not have any power or representation. This means they are not able to change their situation or advocate for themselves.
From statistics, Nigeria has the largest population of youth in the world, with the median age of 18.1 years. About 70 percent of the population are under 30 and 42 percent are under the age 15.
As of August 2022, youths account for 70 per cent of the 217 million of Nigeria's population which indicates 151million youths.
The size and youthfulness of the population can offer great potential to expand Nigeria's capacity as the regional economic hub of Africa.
However, in Nigeria, youth face several challenges including unemployment, limited technical and vocational skills, limited inclusion in social and political space and lack of financing for ventures and businesses.
According to an African Research Review by Beatrice Ifeoma Ajufo, unemployment has become a major problem affecting the lives of Nigerian youth, causing increasing militancy, violent crimes, kidnapping, restiveness and socially delinquent behaviour.
"Youth unemployment is devastating to both the individual and the society as a whole both psychologically and economically", she said.
A Nigerian Economist and President of the African Development Bank, Akinwumi Adesina stated that the youth are not the problem of Nigeria; the youth are the assets of Nigeria.
He also stated that Nigeria must embark on bolder measures to grow its youth into a well trained globally competitive workforce, noting that, "Nigerian government must invest and empower young people by offering innovative policies, this will guarantee their global competitiveness".
The youth must be empowered to play a vital role in their own development as well as
in that of their communities, helping them to learn vital life-skills, develop knowledge on human rights and citizenship and to promote positive civic action is key.
To participate effectively, young people must be given the proper tools, such as information, education about and access to their civil rights.
Young people are a major human resource for development and key agents for social change, economic growth and technological innovation.
Participation in decision-making is a key priority area of the UN agenda on youth. In 1995, on the tenth anniversary of International Youth Year, the United Nations strengthened its commitment to young people by adopting the World Programme of Action for Youth (WPAY), an international strategy to more effectively address their problems and increase opportunities for participation in society.
The international community has reaffirmed its commitment to youth participation through UN General Assembly resolution 58/133, which reiterates the "importance of the full and effective participation of youth and youth organisations at the local, national, regional and international levels in promoting and implementing the World Programme of Action and in evaluating the progress achieved and the obstacles encountered in its implementation". Subsequent resolutions have also dealt with policies and programmes involving youth as well as promoting youth participation in social and economic development.
This boils down to youth empowerment and helping the youth to succeed in all areas of their lives. It is the responsibility of all governments to assist the youth in any form.
Governments should involve youth by recognising their needs. Allowing them to participate in implementing youth programmes will enhance the empowerment and development process. This responsibility does not only fall on the government but on all of us.
By: Ibinabo Ogolo
How To Prevent Heart Damage Among Children
Experts have identified constant mobility as a key way of preventing heart damage in children.
They have come up with a study that indicates that the accumulation of inactive time is related and results to heart damage, even if the weight of the body and blood pressure is normal.
The study which was presented at the European Society of Cardiology Congress in 2023 and published by Science Daily in August 2023, also indicates that, hours of inactivity during childhood could be setting the stage for heart attacks and strokes later in life.
According to the study author, Dr. Andrew Agbaje of the University of Eastern Finland, Kuopio, Finland, long hours before screens by young people may add up to a heavier heart which leads to heart attack.
" All those hours of screen time in young people add up to a heavier heart, which we know from studies in adults raises the likelihood of heart attack and stroke. Children and teenagers need to move more to protect their long term health", he said.
This study was conducted as part of the Children of the 1990s study, which began in 1990/1991 and is one of the world's largest cohorts with lifestyle measurements from birth.
For the study, at 11years of age, the children wore a smart watch with an activity tracker for seven days. This was repeated at 15 years of age and again at 24 years of age. The weight of the heart's left ventricle was assessed by Echocardiography, a type of ultrasound scan, at 17 and 24 years of age and reported in grams relative to height (g/m 2.7).
The researchers analysed the association between sedentary time between 11 and 24 years of age after adjusting for factors that could influence the relationship including age, sex, blood pressure, body fat, smoking, physical activity and socio economic status.
The study included 766 children, of whom 55% were girls and 45% were boys. At 11years of age, children were sedentary for an average of 362 minutes a day, rising to 474 minutes a day in young adulthood (24 years of age).
This meant that sedentary time increased by an average of 169 minutes(2.8 hours ) a day between childhood and young adulthood.
The study also indicates that each one minutes increase in sedentary time from 11 to 24 years of age was associated with 0.004 g/m2.7 increase in left ventricular mass between 17 to 24 years of age which could lead to increased risk of heart disease.
Dr. Agbaje said that, "Children were sedentary for more than six hours a day and this increased by nearly three hours a day by the time they reached young adulthood".
He said that this development can lead to heart damage during adulthood.
He, however, advised parents to encourage children and teenagers to move more by taking them out for a walk and limiting time spent on social media and video games.
Other reports indicated that this development is more with children in urban centers, who rarely go out to play or engage in physical activity.
It analysed that, with the growing dependency on technology and change in lifestyle, children are less active as compared to the earlier generation.
This, according to reports poses risks to their health that may not be noticed immediately. The adverse effects may show up later in life and can be a long term, if changes are not made easily.
According to the World Health Organization (WHO), a sedentary lifestyle could very well be among the 10 leading causes of death and disability in the world.
Another study by Kaiser Family Foundation found that, the average child in the 8-18 years age group is spending an alarming seven hours in front of the screen (television, mobile, laptop) every day.
Yet, in another study, "Physical activity in childhood may be the key to optimizing lifespan skeletal health", published by the National Center for Biotechnology information in 2013, an hour of outdoor play or engaging in a physical activity everyday is extremely important for children. It also stated that this may not be at a time but can be beneficial when done in stages. It however, helps them burn energy, tone the muscles and also help stimulate the brain.
It added that the human body is meant to move, so any lack of physical activity deteriorates and weakens the body, sags the muscles, stiffens the joint, and causes pain.
Other studies suggested that there is a relationship between inactive lifestyle and the increased risk of cancer. The risk is not different in children as in adults. It is associated with an increased risk of more than 10 types of cancer.
It is also linked to 25% higher chance of feeling low and depressed, thereby displaying mood swings leading to depression. When active, the body releases endorphins and serotonin which leads to the feeling good factor and in turn reduces the risk of depression and anxiety too.
Many recent studies have shown an incremental decline in children's physical activity over the last two decades with the digital world playing a major part by replacing the physical time for children to play before now.
A research done at Essex University comparing the results of children now with results from children 30 years before indicated that it takes 90 seconds longer for children today to run a mile than it did before.
It also indicated that 95% of children years ago can run more than children today. Also, children before had a 26% greater arm strength, they also had a 7% stronger hand grip. And that children 30years ago could do 27.1% more sit ups.
Another research indicated that just 24% of children aged 6 to 17 participate in 60 minutes of physical activity every day, which is optimum for that age group.
These upsetting results indicate that children are indeed becoming less active and this issue carries certain risks for their health.
It is , however, important to note that a developing child grows their cells much faster than an adult. Some cells form only when we are young and science shows that physical activity is one of the most important factors in determining how both our bodies and minds develop.
Once we get older, the core muscle and bone structure will remain similar to what we have developed at young age. Therefore, when children lead unhealthy lifestyle, they set a bad foundation that leads to health issues in the future.
It is the duty of parents to set examples as positive role models for their children to follow. Planning regular family trips to places close to nature which may lead to running, swinging, swimming and climbing is important. This would help the child get sound sleep at the end of the day and get healthier.
Also, enrolling the child in a sport that he or she enjoys or activity like dancing is a great way to get the body moving and learn more things as well.
By: Ibinabo Ogolo
Businessman Gives Out Daughter In Marriage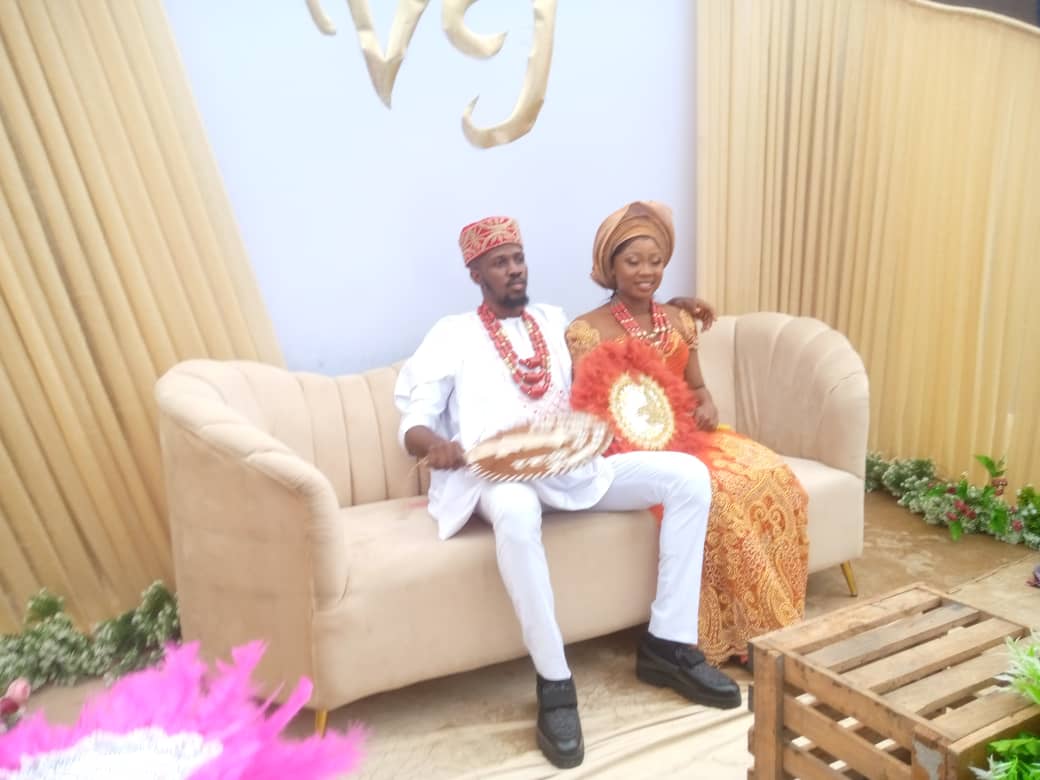 It was celebration galore in Choba Community in Obio/Akpor Local Government Area of Rivers State, on Saturday, August 12, 2023, as business mogul and Chairman of the University of Port Harcourt Choba Park, Sir Ihua Anele successfully gave out his beloved daughter, Victoria in marriage to a dashing youngman, Mr. Jehosiphat.
The traditional marriage which was aptly described as a rich blend of culture, attracted people from all walks of life.
This culminated in the white wedding, holy matrimony the following day at the Dominion Ministries along NTA Road, Port Harcourt, with family members, friends, well-wishers, in-laws, Choba community leaders, business associates and the academia trooping out in their numbers to celebrate the couple.
In his speech, the chief host, Sir Anaele expressed joy over the success of the marriage ceremony.
He said his joy knew no bounds, considering where he is coming from.
The Choba Park chairman urged the couple to tolerate, endure and love each other, as these are the recipe for a successful marriage.
He noted that peace and mutual understanding are also essential ingredients for a successful marriage, and thanked everyone for coming to celebrate with his family.
As it were, the wedding ceremony and the reception were described as one of the best in the Port Harcourt metropolis, as it became the talk of the city at the end of the day.