Debarment Allowance: Irabor Urges Military Retirees For Patience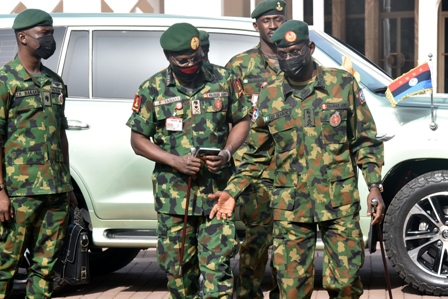 The Chief of Defence Staff (CDS), Gen. Lucky Irabor, has urged retired military officers to show understanding with the Federal Government in the effort to pay them the Security Debarment Allowance (SDA).
Irabor made the call at the 42nd Anniversary Dinner of the Nigerian Defence Academy (NDA) 28 Regular Course Welfare Association on Saturday in Abuja.
President Muhammadu Buhari had in 2017 approved the payment to the military retirees who retired before Nov. 9, 2017.
The deceased military retirees who were alive when the Manual of Financial Administration (MAFA) 2017 was signed, and non-pensionable retirees who retired before Nov. 9, 2017 but were only paid gratuities, are also to benefit.
The SDA, according to Military Pensions Board, was calculated as a function of 10 per cent of the retirees' annual basic salary as at the time of retirement, multiplied by the number of years served in the services.
The CDS cautioned those who had made unpalatable comments about the SDA to desist from misleading the junior ones, adding that the efforts of the government in that regard should be commended.
According to him, "there are a few toxic commentaries that have been made, which I believe are misrepresented and I think that those of us that are here hearing from me and those who actually know the right thing.
"While appreciating you for changing the orientation of those who have been passing those toxic comments, I need to also encourage that perhaps, they need to go to their creator for forgiveness.
"The reason I say this is, the policy that brought SDA into being was signed on Nov. 9, 2017 and the provisions made therein, caters for those who retired from that day onwards.
"There are issues around policies generally which certainly might not be the best but there will always be room for correction.
"It took the magnanimity of the Commander in Chief, of course a representation that was made to him by the minister, and he was magnanimous enough to look at it again and made the approval that everyone who once served the military should be catered for.
"I think that it is something that I believe is legendary and must be commended rather than having to vilify those who are making effort to ensure that entitlements as enunciated by virtue of that approval is made," he said.
Irabor further said that the resources disposition of the government should be considered, taking into cognisance the issues of military operations and issues surrounding its Table of Organisation and Equipment (TOE).
"It takes resources to be able to bring our TOE to a reasonable level, to be able to increase the military's fighting capacity," he said.
He added that greater attention must be paid to ensure that the tools needed to be able to perform optimally should be given attention.
"And so it was not an easy thing to now muster a total of N132 billion just to pay at once because there are other commitments of government.
"And so approval was given for it to be handled within the period of three to five years, which recently has also been modified for it to be covered in three years.
"So if some of us that should know now go to incite a few others to now to want to take up some kinds of demonstration, that perhaps needs some form of reconsideration
"The first tranche was made early this month, which of course we must continuously appreciate it and of course, the government for this feat.
"So I will like to use this medium to appeal to us, especially on that matter, for it to be put to rest, believing and trusting those who are implementing to faithfully implement it," he added.
Irabor also commended the retired officers for their invaluable contribution to the peace and stability of the country and urged them to continue to offer their quota even in retirement.
The President, 28 Regular Course Welfare Association, retired Rear Adm. Ndidi Agholor, thanked God for making it possible for them to remain in good health and be able to reunite to celebrate.
Agholor said the association was at its consolidation stage, having made impact in the society, adding that welfare of its members was its main focus at present.
On the debarment allowance, Agholor commended the Federal Government and the Ministry of Defence for being magnanimous in expanding the scope of SDA to cover all retired military personnel.
He said those of them who retired before 2017, when the SDA policy was formulated, were initially excluded, adding that reasons were advanced as to the use of their competencies and skills in retirement.
The president urged the veteran community to exercise patience while government continued to implement the debarment policy, which according to him, will have positive impact on them.
He assured the military authority of the readiness of the veterans to continue to help to secure the nation, especially in ensuring peaceful 2023 general elections.
Fubara Dedicates Victory To Rivers Unity …As INEC Declares Guber Election Results …PDP Wins 31 State Assembly Seats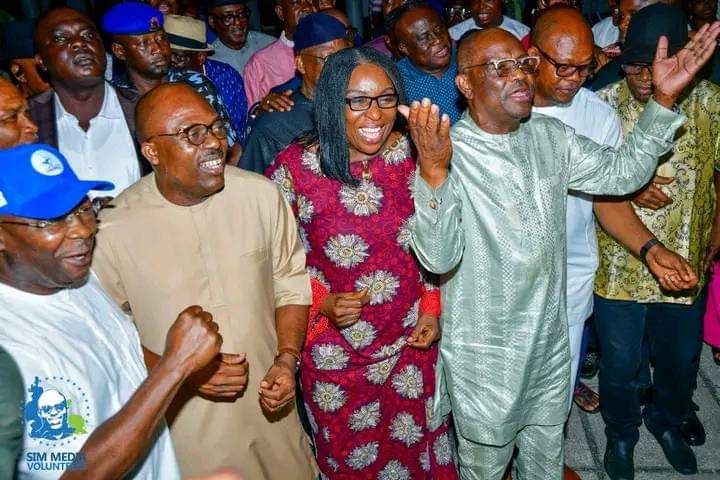 Rivers State governor-elect, Sir Siminialayi Fubara, has dedicated his victory at the March 18 governorship polls to the unity of Rivers people.
Fubara noted that the determination of the people to sustain development gave him the victory as he described the giant strides of Governor Nyesom Wike as a big shoe that he would learn to wear.
The governor-elect who reacted to his declaration as the winner of the governorship election in the state on Monday, assured Rivers people of sustaining the tempo for the betterment of the state, adding that he is prepared to work with Rivers people who believe in the new Rivers vision and with innovative ideas.
He thanked Wike for his encouragement and for finding him worthy to carry on from where he will stop, describing it as a great privilege.
He glorified God as the foundation of his accomplishments in life and further assured the party leaders and Rivers people that he would not let them down but work in same spirit that has been passed on to him by Wike.
Fubara had scored 302,614 votes to beat his closet rival, Tonye Cole of the All Progressives Congress (APC) and Magnus Abe of the Social Democratic Party (SDP) who trailed behind with 95,274 and 46,981, respectively.
In same vein, the Peoples Democratic Party swept all the State House of Assembly seats except for Ahoada West that is pending a rerun in some wards.
The State Returning Officer, Prof Akpofure Rim-Rukeh, who announced the result late Monday night at the end of the two-day collation at the Independent National Electoral Commission (INEC) Head Office in Port Harcourt, had declared Fubara as the winner of the governorship election.
The PDP candidate polled 302,614 votes to defeat his closet rival Tonye Cole of the All Progressives Congress (APC) who scored 95,274 votes while the Social Democratic Party (SDP) candidate, Senator Magnus Abe, and Labour Party (LP), Beatrice Itubo came a distant third and fourth with 46,981 and 22,224 votes, respectively.
Rim-Rukeh, who is also the Vice Chancellor of the Federal University of Petroleum Resources, Delta State, said a total of 496,852 were accredited for the March 18 governorship election out of the 3,537,190 registered voters in the state.
He explained that of the 494,604 total votes cast, 483,934 were valid while 10, 670 were rejected votes.
Fubara was anointed by the incumbent Governor Nyesom Wike who is in the last weeks of his two-term of eight years.
Fubara's Victory Reaffirms Rivers As PDP's Stronghold -Wike …We'll Sustain NEW Rivers Vision -Fubara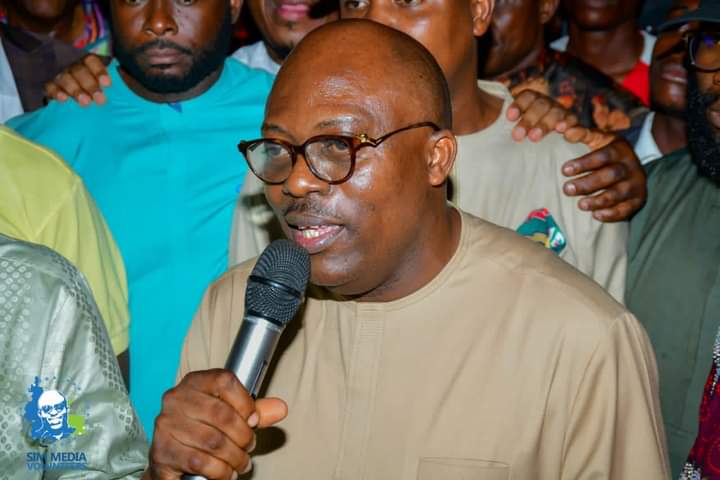 Rivers State Governor, Chief Nyesom Wike, says the State has once again reasserted itself as one of the premier strongholds of the Peoples Democratic Party (PDP) in the country following the victory of Sir Siminialayi Fubara as the governor-elect.
The governor noted that despite evil machination of the opposition, the PDP has consistently won all the governorship elections in the State since 2015.
Governor Wike stated these shortly after the Independent National Electoral Commission (INEC) announced Fubara as the winner of the 2023 governorship election on Monday night.
Fubara, who was the PDP candidate polled 302,614 votes to defeat his closest rival, Mr. Tonye Cole of the All Progressives Congress (APC), who had 95,274 votes and the Social Democratic Party (PDP) candidate, Senator Magnus Abe who came a distant third with 46,981.
Wike, who was visibly excited by Fubara's resounding victory, told PDP leaders at the Government House, Port Harcourt that the State would continue to remain pivotal to the successes of the PDP.
"Whom God has blessed, no one can curse. There is nothing anyone can do about it. God at this time has said Siminalayi Fubara will be the next governor, and we give God the glory today that, that has happened.
"We won 23 local governments, 23 over 23. It has never happened. Out of the 32 State constituencies, we have won 31, it is remaining one that they said we will go for bye-election. We are ready and we will take that one.
"So, we have said to anybody who cares, Rivers State is PDP. When you annoy us, we do another thing. When we wanted to vote for the unity of the country, we showed it. We didn't do anti-party, but we voted for unity of the country and that is what we did for one Nigeria."
Governor Wike, who dedicated the electoral victories of the PDP in the just concluded general elections to God and the people of Rivers State, commended party stalwarts for remaining steadfast in defence of the State since he assumed office in 2015.
"Let me thank all of you for the support you have given us, how you stood firm to make sure that we defend what is Rivers State. In 2015, we did it, in 2019, we did it and in 2023, we have done it again. So, it is not surprising, God has always been with us."
Governor Wike said he would remain eternally grateful to God because when he first contested for the office of the governor in 2015, his predecessor, Chibuike Amaechi, was the incumbent, and was antagonistic to his political aspiration.
The governor while mocking his predecessor for restoring to divisive and disgusting politicking during the electioneering period, said the resounding victory of the PDP has further diminished his political relevance in Rivers State.
"When we came out in 2015, we were not in government. There was a governor (Amaechi) then in 2015. He was the Director General (DG) of (Muhammadu) Buhari campaign. In 2019, he was a super Minister and was also DG of Buhari campaign. He never gave him (Buhari) 25 percent. 2015, he never gave him 25 percent."
"This is 2023, and they cannot get 25 percent vote in the State, we have also defeated him. You were a super governor, we defeated you. You were a super minister, we defeated you, now, you are a super nobody, we defeated you."
Governor Wike, has however, cautioned PDP members not to be complacent because the opposition which he likened to "enemies" are still prowling around.
In his acceptance speech, the governor-elect, Fubara, who was accompanied by his deputy, Prof. Ngozi Odu, thanked God for his electoral victory and assured that his administration would consolidate on Wike's New Rivers Vision.
"We are going to work with everybody who believes in the New Rivers Vision to continue to build better lives, good services, protection of the dignity of every Rivers man and woman, protection of the integrity of this state in all phases and to make sure that we continue to defend our party in this state.
"Our vision is simple, it is anchored on the New Rivers Vision. We are to continue, to improve and to develop more on it. I want to thank the leadership of the party and the good people of Rivers State who believed in the New Rivers vision and ensured that the vision is the right vision. On the 18th of March, 2023, they supported us, they came out in their large numbers and voted for the unity and progress of this State".
The governor-elect assured the people of Rivers State and the leadership of the PDP that his administration would not disappoint them.
"We give God all the glory and our foundation has always been God, and we believe He is going to give us the wisdom to carry this crown, its a big one. My principal will be leaving a very big shoe, I will need a lot of stockings so my leg can fit in properly.
"So, I need to start working on it. I need all of you to continue to support us, for us to achieve and maintain the standard that the governor has already laid and established for us", he said.
Wike Congratulates Makinde, Mohammed, Sanwo-Olu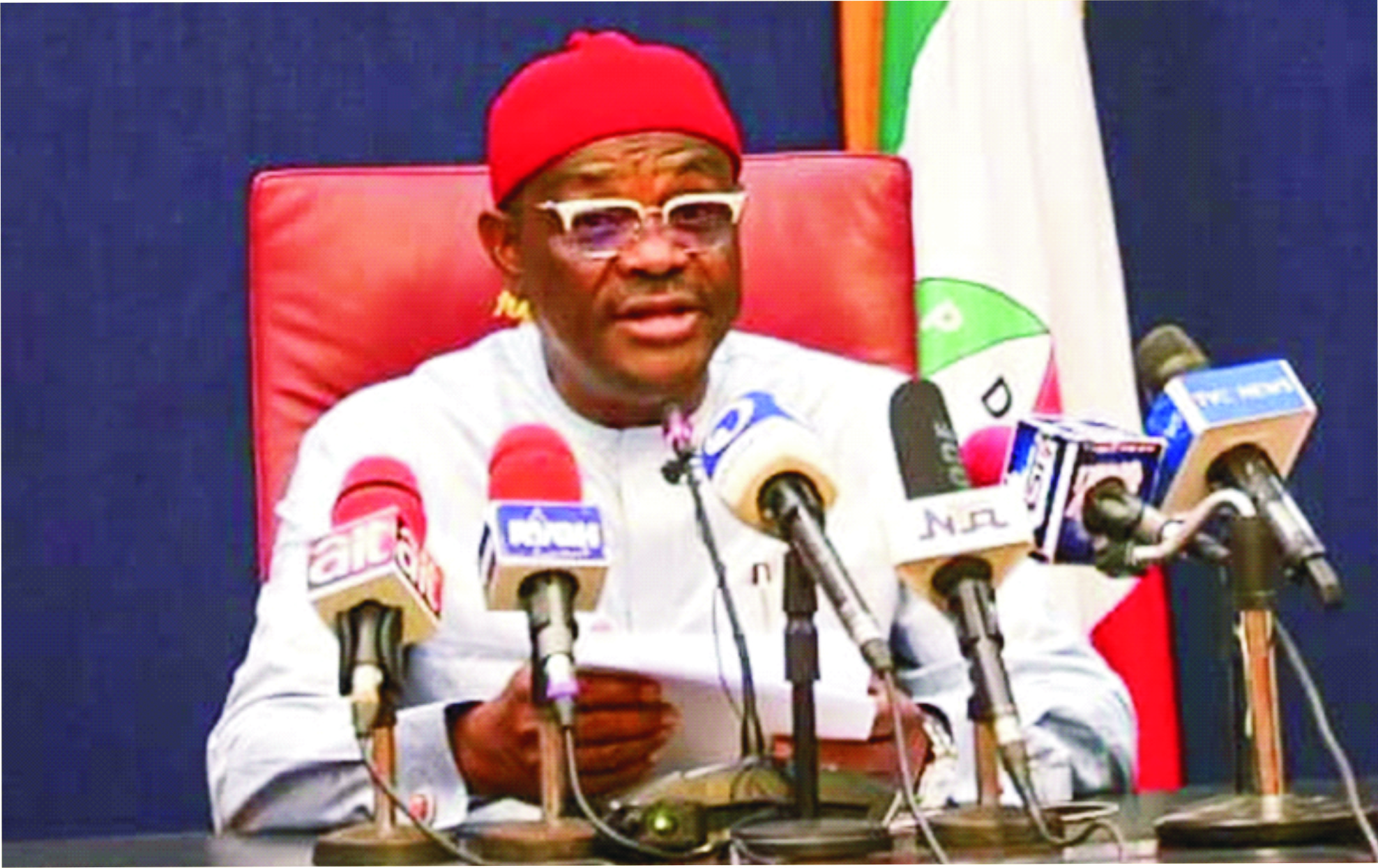 Rivers State governor, Nyesom Wike, has congratulated Governors Seyi Makinde (Oyo); Senator Bala Mohammed (Bauchi) and Babajide Sanwo-Olu (Lagos) on their re-election.
Wike said the re-election of Makinde, Mohammed and Sanwo-Olu through free, fair and credible elections in their respective States, is indeed a triumph for Nigeria's democracy.
"I am excited by the cheering news of the resounding re-election of governors Makinde, Mohammed and Sanwo-Olu. I am pleased to express to Your Excellencies the most sincere fraternal congratulations.
"I look forward to us consolidating the bonds of brotherhood and friendship between our States and peoples", he said.
Wike urged the governors to use the election for their second tenure in office to continue to create a better life, and prosperity for all their peoples.