Wike Threatens To Challenge Ekiti PDP Exco Dissolution In Court …Says PDP Action Tyrannical, …Again, Dares Ayu To Suspend G-5 Govs …As Fubara Pledges To Prioritise Education, Security, Others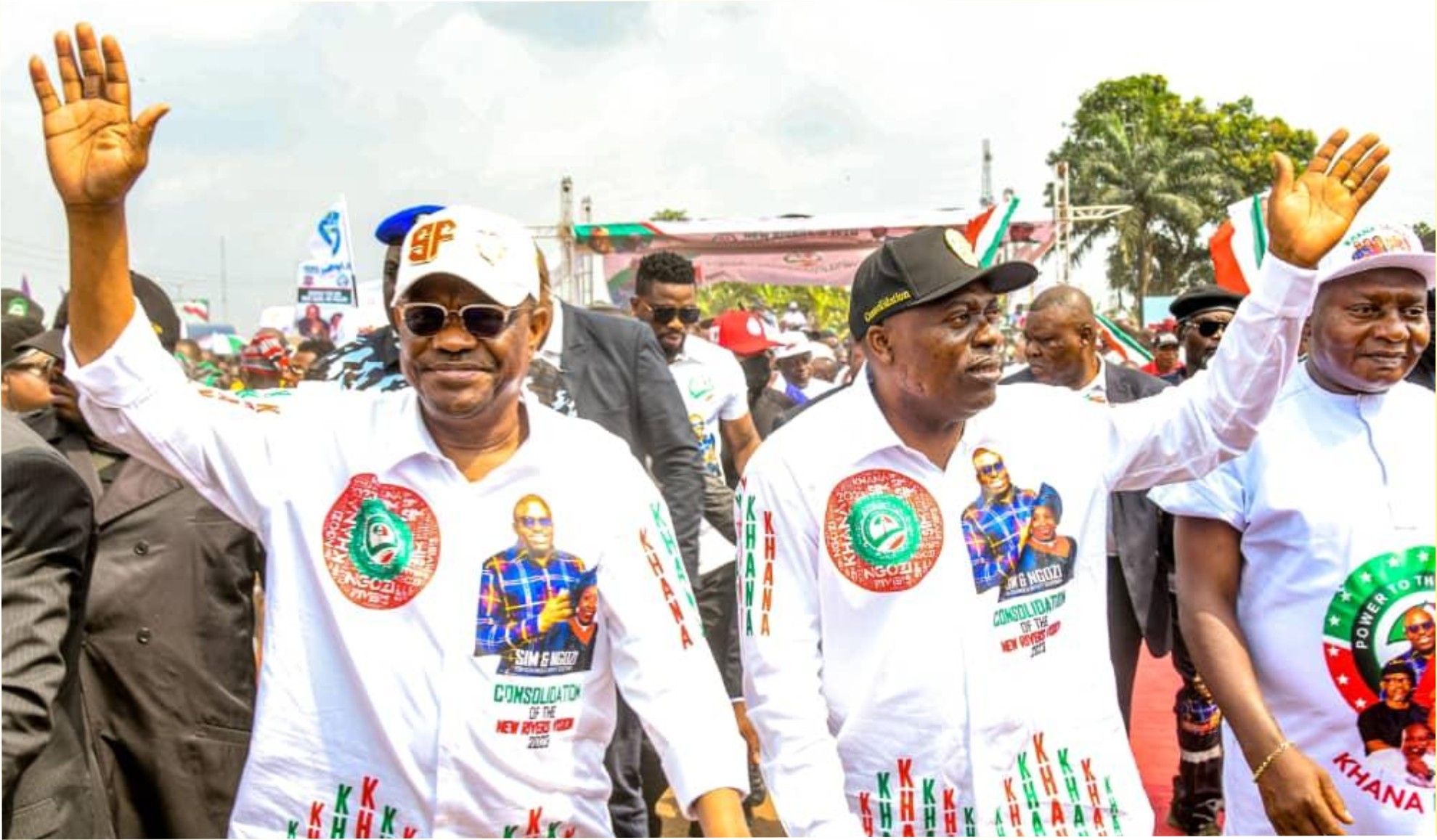 Rivers State Governor, Chief Nyesom Wike, has described the dissolution of the Ekiti State Executive Committee of the Peoples Democratic Party (PDP) by the Dr Iyorchia Ayu-led National Working Committee (NWC) of the party as an act of tyranny that would be challenged in court.
The governor, who dared the PDP national chairman, to suspend him or any of the G-5 governors, warned that the resort to despotism by the NWC would not do the PDP any good in the forthcoming general election.
The Rivers State governor stated this while speaking at the campaign flag-off rally by the state PDP Campaign Council in Bori, Khana Local Government Area, last Saturday.
Wike explained that the reason why the dissolution of the Ekiti State Working Committee would be challenged in court was because there were still members of the PDP who believe in the rule of law,warning that the party should respect its constitution.
"Let me also use this opportunity to say to Iyorchia Ayu and his team, your dissolving Ekiti State Exco will not help you in anyway. Your suspending people will not help you in anyway. The battle line has been fully drawn. As I speak to you, we will do everything legally possible to challenge any decision we know is illegal."
He stressed that the Ayu-led NWC's resort to tyranny ould do more damage to the PDP as far as the 2023 general election was concerned.
"So, don't think you can threaten people by saying so, so persons have been suspended. Rubbish! Completely rubbish! We are above that level that you think you can threaten anybody, intimidate anybody with whatever illegal decision you have taken."
The Rivers State governor dared Ayu and his cohorts to extend the despotic tendencies to the G-5 governors, and see if they would withstand the repercussion.
"So, we are waiting for you to announce my own and any other of my friends. Like I have said, when a man says you will not sleep, he too, will he sleep? Will Ayu sleep? Will those his cohorts sleep? So, don't worry, we have the capacity to pay back. We have the capacity to tell you that enough is enough."
Wike urged Rivers State electorate in Khana to vote for the PDP governorship candidate, Sir Siminialayi Fubara, as well as all national and state legislative candidates in the 2023 general election in order to consolidate on the achievements of his administration.
The governor cautioned the people not to vote for the All Progressives Congress (APC) governorship candidate, Tonye Cole, who was facing alleged criminal charges for his role in the sale of Rivers State Government assets by Chibuike Amaechi-led administration.
"Some people are shameless. A man who colluded with his master to strip Rivers State of its resources, sold our gas turbines which were constructed, installed by Dr Peter Odili's administration. It was sold at the cost of $308million. So, we have filed criminal charges against Tonye Cole."
The governor described Cole's claim that all the flyovers constructed by his administration were mainly in Port Harcourt and Obio/Akpor local government areas as hypocritical, since he lives in Port Harcourt.
"Ask him how many flyovers did his boss, the former minister do. It shows you he does not know about governance in Rivers State. His mentor told his people that he was going to construct Trans Kalabari Road. Did he do it? Today, we are at the verge of commissioning the first phase of the Trans Kalabari Road.
"Again, we have agreed with Julius Berger to dualise from Emohua to Tema junction. So, ask him, rather than to siphon Rivers State Government money, what did they do? What has he contributed to the people of the state? Nothing!"
Wike announced that the state government has awarded contract for the reconstruction of internal roads in Bori in fulfilment of his promise during the recent commissioning of the dualisation of the Bori-Kono Road.
Addressing the mammoth crowd at State School 1, Bori, the venue for the state-level campaign rally, the gubernatorial candidate of the Peoples Democratic Party (PDP) for the 2023 general election, Sir Siminialayi Fubara, said PDP government in the state has done tremendously well in Khana.
It is on that basis, Fubara stated, that the consolidation team was soliciting votes from the electorate in order to engender continuity and consolidate on the gains made already.
"We are not asking for your votes, for your support without a reason. We are here to ask for your votes because we have performed. Our party has performed, our leader has performed, and we are taking up from there. We are not here to say support us because it is our own turn.It's not a business of turn;it is a business of performance."
He promised to build on the gains recorded in education, security, and other critical sectors to bring more development to not just Khana but the entire Ogoni.
"My dear Khana people, we are here to ask for your votes because we have performed very well in this local government area. Governor Nyesom Wike has, among other things, given you a super-highway linking three local government areas of Tai, Gokana, and Khana. I believe this calls for celebration!
"We are now here to tell you to support us because it is our own turn, it is not a business of turn.It is a business of performance and competence. Our leader has performed very well, and we will be taking it up from where he will stop.
"We are going to touch the remaining places yet to be touched.He constructed several schools here, we are going to construct even more. We are going to invest massively in security in Khana Local Government Area to usher in more development to the LGA," the guber candidate added.
Presenting flags to the two House of Assembly candidates in Khana, the Chairman of the Peoples Democratic Party, Rivers State Chapter, Amb. Desmond Akawor, commended Governor NyesomWike for championing the inclusion of women in elective positions in the state.
"Your Excellency, you have given the female gender a sense of belonging. You do not just talk, you work the talk. No governor in Nigeria has included women in governance like you have done," he said.
The Director-General of the New Rivers Vision Consolidation Campaign Council, Bro Felix Obuah, expressed confidence that, PDP would win convincingly in the governorship, National Assembly, and state House of Assembly elections in Khana Local Government Area.
In his goodwill speech, the member representing Khana/Gokana Federal Constituency in the Green Chamber, Hon. Dumnamene Dekor, said Khana people would vote massively for Sir Siminialayi Fubara because Wike has done well in the LGA.
"We have 359 electoral units in Khana, and close to 200,000 votes. We are going to give maximum votes to Sim Fubara because you have done well for the people of Ogoni, particularly Khana people," he added.
In his remarks, the senator representing Rivers South-East Senatorial District,Barry Mpigi, said the crowd was made up of real people of Khana with PVCs, and not like the people from neighbouring states that APC paid N200 for their rally in Etche.
"The people here are Khana people with PVCs, they are not like the people that were paid N200 by APC and taken to Etche. Governor Nyesom Wike's legacies are Sim Fubara's blueprints, this is why we are campaigning with the slogan:'Continuity and Consolidation'," he stated.
President of KAGOTE, Hon. Emmanuel Deeyaah, said in the last 24 years that democracy has endured; Khana people have continued to support the PDP.
He stressed that the people would show their voting strength on Election Day because they trust the leadership that has been provided to them.
Empowering The  IDPs Out Of Poverty 
Internally displaced persons (IDPs), according to the United Nations Guiding Principles on Internal Displacement, are persons or groups of persons who have been forced or obliged to flee or to leave their homes or places of habitual residence, in particular as a result of or in order to avoid the effects of armed conflict, situations of generalized violence, violations of human rights or natural or human-made disasters, and who have not crossed an internationally recognized state border. There are a lot of IDPs in different parts of Nigeria. These groups of persons are entitled to all the rights and guarantees as citizens and other habitual residents of their country. As such, national authorities have the primary responsibility to prevent forced displacement and to protect IDPs.
However, IDPs, due to their forced displacement, are inherently vulnerable to deprivation, further displacement and other protection risks, such as lack of access to basic services, family separation, sexual and gender-based violence, trafficking, discrimination and harassment. There is, therefore, the need to empower the IDPs and help them face their challenges with every sense of responsibility. This was the case with The National Association of Nigerian Traders (NANTS) which in its four-year programme empowered 300 Internally Displaced Persons (IDPs) and their households with agricultural inputs in Kuje and Durumi camps, in the Federal Capital Territory (FCT) Abuja, which helped to improve their livelihoods and stepped them out of the poverty line.
The IDPs stated this when the Spanish Cooperation Agency in Madrid, led by its Director, Mr Anton Leis visited the NANTS office in Abuja where NANTS and ECOWAS shared their success story. Added to this, a delegation of the Spanish Government led by its Minister of Foreign Affairs, Jose Manuel Albares visited Nigeria and signed a Development Cooperation and Financial Agreement with the Economic Community of West African States (ECOWAS) Commission to continue on this path of development and regional economic integration. It will be recalled that in 2019, NANTS in collaboration with ECOWAS under the Regional Agency for Agriculture and Food (RAAF) and the Spanish International Development Agency (AECID) embarked on an empowerment programme aimed at providing succor to the IDPs spread around Abuja.
Through this project, the association selected 300 households among the worst hit and poorest IDPs (who were originally farmers) in their various localities in the North East from where they were displaced.
Agricultural inputs ranging from hoes, improved seeds, particularly maize and groundnuts, fertilizers, chemicals such as pesticides and herbicides, spraying machines, and some back up cash were thereafter given to the beneficiaries to enable them to get engaged in farming. This ultimately got them back to a means of livelihood and moved them out of the streets where they were begging and depending on arms.
NANTS also provided technical backstopping by engaging experts on agronomy who trained and followed up the beneficiaries through the setting up of demonstration farms from where they were learning daily for improved agricultural practices. The association further intervened and negotiated with community leaders in Kuje and Kosso communities who provided farm lands for the selected IPDs. Recounting their experiences and benefits from the project, some of the representatives of the beneficiaries testified that the project had built their capacity for improved productivity in selected crops such as maize and groundnut.
According to them, about 1,800 tons of maize was produced as an aggregate harvest at 6 tons per hectare per beneficiary using best practices adopted by NANTS. Similarly, about 1,000 tons of groundnuts were produced as an aggregate harvest by the end of the season at 3 ton per hectare per beneficiary. In the end, about 74 (project) beneficiaries exited the IDPs camp for better accommodation, with 13 currently living in their own houses while 18 of them acquired land to start the process of building their own houses. Added to this is the fact that over 100 youths in the IDP camps and in the community got attracted and were absorbed into farming, while 43 beneficiaries whose children were out of school sent them back to school after several years of drop out owing to poverty.
Also, 31 of the beneficiaries acquired and renewed their mobile phones, with 61 identifiable thriving farming businesses contributing incomes to the beneficiaries. Ironically, over 66 per cent of the beneficiaries are women. In all, the IDP project significantly contributed to increased food production and reduction in the incidences of hunger and malnutrition among the IDPs. Indeed, the NANTS project contributed to the protection and rehabilitation of the vulnerable population displaced from their homes and means of livelihood; strengthened their social security system; created agro markets and enhanced food security and sufficiency. Mr. Chiroma Isaiah, the Chairman of the IDP Camp in Kuje said that the IDPs were traditional farmers who were displaced from their communities. He disclosed that the project rekindled their hopes and improved their livelihoods by fostering access to agricultural tools.
Hear him: "By the time I came to Abuja I had nothing and I was begging all around, but this programme has facilitated the return of my eight children to school. Currently, three of them have finished secondary school while one has graduated from the college of education.
"Now I have built my house and I have bought another piece of land. Through this project many of us have motorcycles that they use for commercial purposes.'' On his part, Malam Umar Gola from Durumi IDP Camp, commended NANTS, ECOWAS-RAAF and the AECID for the support.Gola who lost his wife and two children to insurgency said that the project improved his capacity beyond what he originally knew about farming by providing training on improved technology that resulted in improved productivity. "Now I have gone beyond maize and groundnut production and have about two tonnes of beans produced and stored to be sold when the price increases. I have procured two plots of land in Karshi to build my own house.
"This project has positively impacted so much on us; it provided us with seedlings and funds that helped us to diversify apart from farming,'' Gola said. He, however, expressed concern that they were still faced with the challenge of herders' attack on their farms. Similarly, Mrs Rufkatu Peter, said that the project promoted her gradual exit from IDP status. She described the NANTS project as a landmark approach towards ensuring that food security was taken to the next level in terms of sustainability. In her words, "I ran away from Goza pregnant and delivered twins in Abuja when the project started. I zealously joined the project with my children to make ends meet, and was later joined by my husband.
"Today, from this project, we are living in our own house and all our five children are in school and well taken care of."   Earlier, the National President of NANTS, Dr Ken Ukaoha said that research showed that over 90 per cent of people in IDP camps were traditionally farmers before they were displaced from their communities. He observed that the project had enhanced food and nutrition security mechanisms for IDPs and brought peace among households in the host communities through regular interface, negotiation strategies as well as agronomic training and agriculture extension services. "We provided farm inputs, procured and developed demonstration farms and training manuals, took them there where we trained them in crop agronomy and 300 households regained their livelihoods. They were originally farmers before they were displaced, so we needed to buy everything they needed to start life so as to move them from the roads where they were begging," he stated.
Ukaoha, however, solicited continued support for the project to capture more IDPs. He said that records indicated that there are about 6, 348 IDP households in Abuja and the project only captured 300.He commended ECOWAS and the AECID for remaining profoundly resilient in assisting the poor IDPs. The Director, Spanish Cooperation Agency, Mr Anton Leis said that Spain would continue to strengthen its cooperation with Nigeria and ECOWAS. This, according to him, will enable them to finance and support more similar projects.  "This is one of the best and most important projects implemented with our support. We thank everyone involved in making a difference in the project as we have seen and the opportunity to hear from the beneficiaries,'' Leis said.
While recalling some challenges faced by the world in the last four years, Leis urged the beneficiaries not to lose hope. "Nigeria is a country of hope. Your personal experience expresses some hope and it is not just in Nigeria or this part of the world that we have internally displaced people, we have a hundred million people all over the world that are refugees or IDPs. "Your stories depicted hardships and difficult times, but with some help from us, ECOWAS and NANTS you are able to pull through. Your kids are in schools, you have built your houses, you can make a living and that calls for congratulations for everybody supporting this work,'' he said.
By: Calista Ezeaku
Wike Justifies Why Rivers PDP's Not Campaigning For Atiku …We'll Invest In Infrastructure, Security, Shoreline Protection In Bonny, Fubara Assures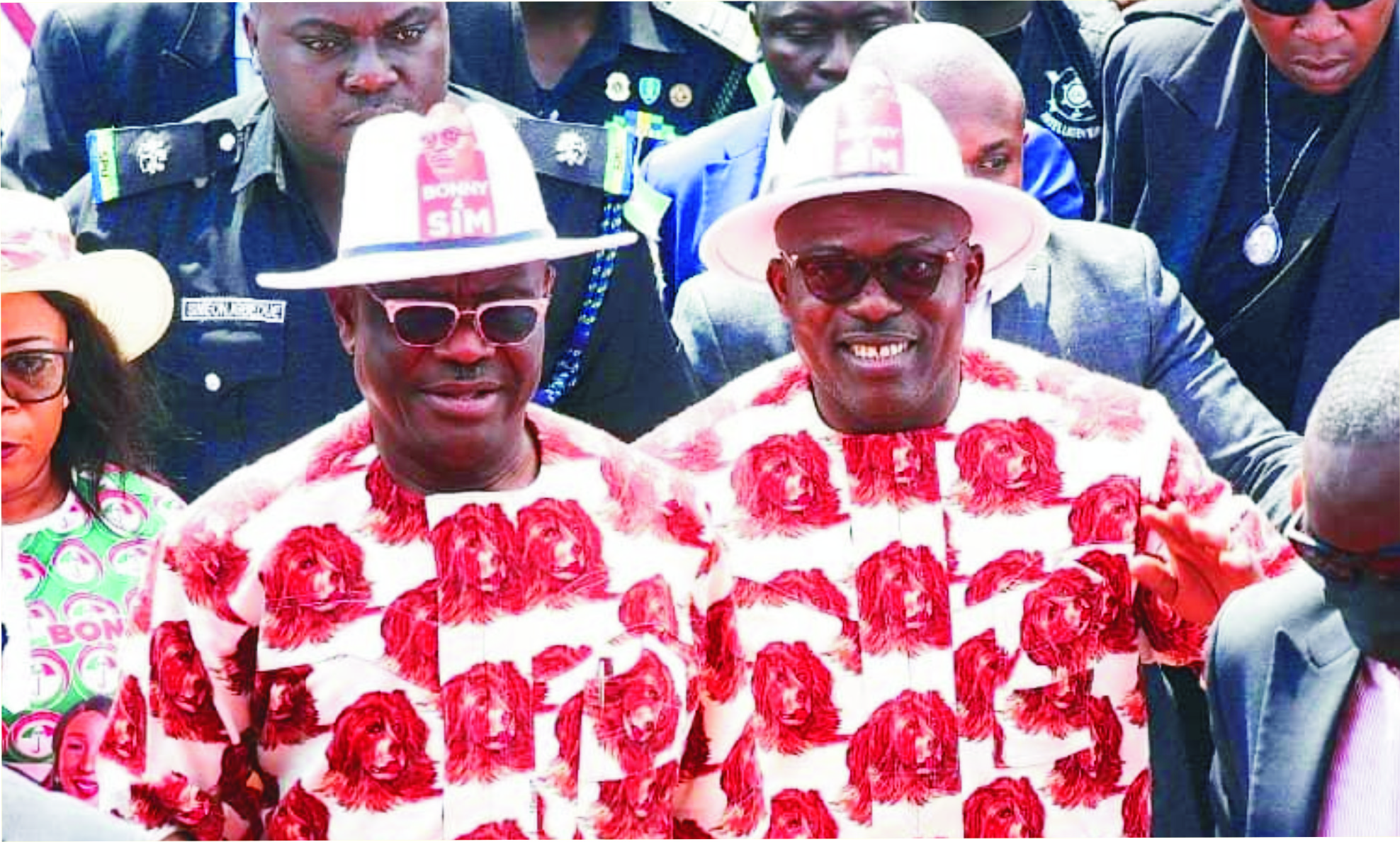 Rivers State Governor, Chief Nyesom Wike, has said the ongoing campaigns for candidates of the Peoples Democratic Party (PDP) in the state do not include the party's presidential candidate.
The reason, Wike gave, was that there was yet no understanding brokered for such level of support to be given by the state.
Wike spoke during the local government campaign flag-off rally organised by the Rivers State PDP Campaign Council, yesterday, in Bonny Town.
The Rivers State governor told Bonny people: "Go home and have it on your mind that the PDP in Rivers State, we have taken governorship, we have taken the senatorial, we have taken the House of Representatives, and we have taken the House of Assembly.
"That is the election we are doing here. These are the ones (candidates) who told me to come and campaign for them. No other person told me to campaign for him.
"I can't force myself to campaign for you when you have not asked for it. These ones (candidates) have told me, so, I've come here to campaign. If somebody asks you to work for him, you'll work for him. But if they don't want you to work for them, will you force them?"
Wike pointed out that anybody who says Rivers State was inconsequential, would suffer repercussion for ignoring the state.
The governor enjoined all residents in the state to be rest assured that no intimidation and propaganda that can cause distraction from the political path that has been so chosen.
"Any person who says Rivers State is not important, we will pepper him. Anybody who says he doesn't regard Rivers State, we will not regard such person.
"There's nothing like propaganda, nothing like intimidation because nobody can intimidate us. We are very, very solid. We are very strong.
"No state can point at us to determine what will happen here. Nobody can do such. So, be bold to say, 'I'm from Rivers State, I live in Rivers and I am happy with Rivers'. What is important is our state, which we have collected."
Wike said it was ludicrous for the All Progressives Congress (APC) to campaign in the state based on the fact that President Muhammadu Buhari, who was their leader, had already adjudged PDP in Rivers as the best in infrastructure delivery in the country.
He said because his administration believes in practical demonstration of governance, 12 flyovers were executed within four years, in addition to other development projects that have been delivered.
"All these people who say they are campaigning, what are they campaigning for? President Muhammadu Buhari, the leader of APC, said I am the best as far as development is concerned. What nature of campaign will they be doing again?"
Speaking further, Wike recalled that during the courtesy visit to the Amanyanabo of Grand Bonny, King Edward Asimini William Dappa Pepple III, before coming to the campaign ground, his contributions to the eventual flag-off of the Bonny-Bodo Road were recounted by the monarch.
Wike assured that the ongoing shore protection work at Long John in Abalamabie community would be completed.
He also explained that the contract for the much-desired Ring Road in Bonny Town would be signed by him, and completed within the lifespan of the administration of his successor.
The governor, who frowned at the pace of work at the Bonny National Grammar School being reconstructed, for which 100percent of the contract sum had been paid, assured that it would be completed and formally handed over before the end of his tenure.
Wike urged them to keep faith with the PDP, consider the opportunity they have now as the best time to deliver bulk vote to ensure that Sir Siminialayi Fubara and his running mate win the governorship election in the state.
"This is the closest time and period an Ibani son is getting to the throne of the governor of Rivers State. Now, who is the man that will decide what will be here and what will not be there. Is it not your son? What project is bigger than that project?"
Addressing the people, the governorship candidate of the Peoples Democratic Party in Rivers State for the 2023 general election, Sir Siminialayi Fubara, pledged to construct Bonny internal roads, and carry out further shoreline protection in the ancient kingdom.
The governorship candidate also promised to invest in the security architecture of Bonny Local Government Area to consolidate on the security efforts of the administration of Governor Nyesom Wike in the area, in a bid to make the kingdom more attractive to multinational companies and even SMEs.
Fubara made the pledge at the Rivers PDP state-level campaign rally for Bonny Local Government Area, held at Industrial Unit Field, Bonny, yesterday.
"Our campaign here has been made easier with the crowd I am seeing here. We fought George Tolofari in Bonny in 2015 and 2019, but today, he is on our side, he joined us because we have performed very well, he joined us because we work our talks.
"The present administration in Rivers State has always supported anything that will bring development into Bonny Local Government Area, and distance itself from anything that tends to disorganise the kingdom. This is why you have security here.
"We are going to put in place mechanism that will sustain the peace you are currently enjoying. Anything that is needed to maintain peace and ensure security here will be done. The companies operating here will feel safer to do business. This LGA is very important to Rivers State and Nigeria in general. We will also protect lives and properties of our people.
"We will address the issue of bad roads in Bonny Local Government Area, we are going to construct your internal roads. We will also ensure that your shorelines are protected. We will do all these to curb the issue of flooding that you always encounter in this area," he added.
The guber candidate appealed to the people of Bonny Kingdom to support the candidates of the Peoples Democratic Party in the forthcoming general elections in February 25 and March 11, respectively.
"We need your continuous support, the king has already blessed me so I am very sure of your vote, but we need you to also vote our senatorial candidate, our house of reps candidate, and our state house of assembly candidate.
"This is not a matter of our brother nor our turn, it is a matter of performance. The current PDP government in the state has performed excellently well. You need to elect us to continue with this good governance.
"A vote for us is a vote for a better Bonny Kingdom, a vote for us is a vote for your own security, a vote for us is a vote for consolidation and continuity of the New Rivers Vision that has brought tremendous development to Rivers State," the guber candidate stated.
They are issues of security, construction of internal roads that would further address perennial flooding in the area, and protection of the traditional institution.
"We have protected your traditional institution to show that we are people who understand, recognise and appreciate institutions.
"So, our campaign here today is very simple. We will ensure that we sustain the peace that is in Bonny. Everything we need to do to make sure that you continue to enjoy peace, we will do,so that the international oil companies (IOCs) operating here will continue to operate."
Fubara solicited massive votes from the people of Bonny, and assured that his administration would consolidate what the Wike-led administration has achieved and continue to deliver services that would make living pleasurable in the state.
"PDP has performed in this state, and PDP is asking you for your support to continue with the performance. We are not saying we want to perform. We are saying that we will be performing and continue to perform".
Rivers West Senatorial District candidate and Deputy Governor of Rivers State, Dr Ipalibo Harry Banigo, who spoke on behalf of House of Representatives and House of Assembly candidates from Bonny, assured the people of qualitative representation.
Earlier, Wike paid a courtesy call at the palace of the Amanyanabo and Natural Ruler of Grand Bonny Kingdom, King Edward Asimini William Dappa Pepple III, the Perekule XI.
The revered traditional ruler gave his blessings to Sir Siminialayi Fubara, and urged him not to forget the kingdom when he becomes governor.
"We prayed in 2014/2015 and God heard us, I can say that Governor Nyesom Wike has not failed me. He has continued to support Bonny Kingdom. He played a major role in making Bonny-Bodo Road a reality, he supported the project and Bonny at large in terms of provision of security and other commitments.
"We thank God Almighty for the choice of an Ibani son as the governorship candidate, this is the closest Ibani Kingdom has ever gotten to that seat of power. Siminialayi Fubara is our own; we pray God should give him the grace to conquer.
"You are going to succeed by the grace of God. I say this with all amount of seriousness. You will become the governor of Rivers State because God has decided that this time, Bonny will be favoured. Please don't forget us when you get there," the king added.
FG's Panel Vows Tough Action On Oil Theft
The Federal Government's Investigative Panel on Oil Theft and Losses, headed by Major-General Barry Ndiomu (rtd) has, again, vowed to fish out and decisively deal with oil thieves.
Ndiomu, who is also the interim administrator of the Presidential Amnesty Programme (PAP), gave the assurance, yesterday, when he led members of the panel on a strategic courtesy visit to the Delta State Government.
He disclosed that members of the panel had begun visiting sites, oil platforms, and engaging key stakeholders that would provide useful information to aid their task.
The PAP boss, while soliciting support, also assured that the recommendations of the panel would not go the way of other committees and panels set up by previous governments.
Ndiomu noted that there have been remarkable improvements in crude oil production in the country, attributing it to the recent engagement by the Federal Government of Tantita Security Services Limited.
According to him, the security firm owned by an ex-agitator Government Ekpemukolo, a.k.a Tompolo, has been able to track oil theft and pipeline vandalism.
In his response, Delta State Governor, Dr Ifeanyi Okowa, called on all stakeholders in the oil and gas industry to work together to curb crude oil theft and pipeline vandalism.
The governor, represented by his Deputy, Kingsley Otuaro, commended the Federal Government for setting up the panel and admitted that the nation was losing billions of naira due to oil theft and pipeline vandalism.
He noted that the losses incurred by the nation due to oil theft and pipeline vandalism were alarming and is grossly affecting the country's mono-economy which is highly dependent on proceeds from crude oil.
Okowa recalled that several committees and panels have been set up in the past by successive governments without any positive outcome.
He, therefore, expressed hope that the panel on oil theft and losses would not go the same way, as its recommendations if implemented, would help unravel the effects, causes and proffer lasting solutions to the menace.
The vice presidential candidate of the People's Democratic Party (PDP), promised to furnish the panel with relevant information that would assist in carrying out its assignment.
He added that his administration had taken deliberate steps by providing structures to help curb the phenomenon of pipeline vandalism and crude oil theft.
He listed the Delta State Waterways and Land Security, and the Delta State Committee Against Oil Assets Destruction, among others, which are aimed at deepening engagements with stakeholders in the sectors to prevent oil theft and pipeline vandalism.
The Investigative Panel on Oil Theft and Losses was inaugurated in December last year by the National Security Adviser (NSA), Major General Babagana Monguno (rtd).