Insecurity: Kudos To Wike For Use Of Technology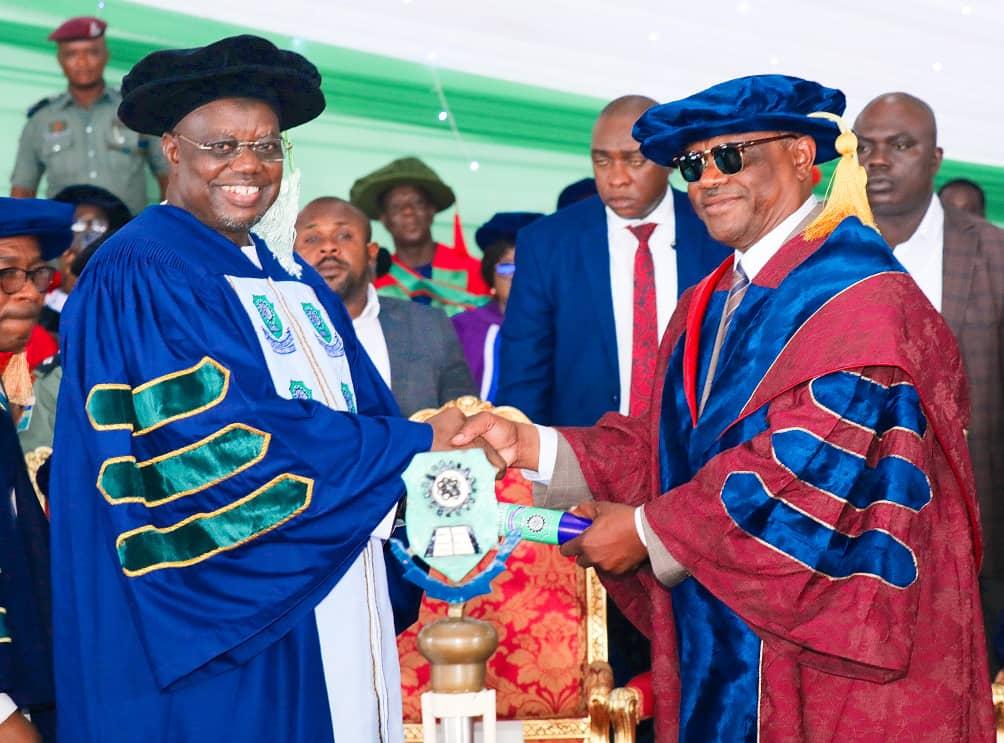 Concerned about the growing rate of crime in Rivers State, an Intelligence and Surveillance Centre built
by the state government was handed over to the Nigeria Police. It was done with the sole aim of boosting the efforts of the security agencies in crime-fighting in the state. The inauguration was performed by the Inspector-General of Police (IGP), Usman Alkali Baba.
Speaking at the ceremony, the state governor, Chief Nyesom Wike, said the centre was fitted with the latest technology and added that it would help in improving the crime-fighting capability of police officers and make the state safer. He noted the need to create a more conducive climate for people to go about their various endeavours and encourage the business community to operate their investments with a greater sense of security.
"Let me say clearly, this is our contribution to making sure we have peace, fight insecurity, and that those who do business and reside here sleep with their two eyes closed. Let me commend our special guest of honour for the support you've given to this command to fight crime. I want to say it on good authority that since you came, we have had peace, we have had good relations with the police command, unlike what used to happen before when, in one year, we had over eight commissioners of police. I thank you for not bringing politics into security issues. That is why, today, Rivers people can count this as one of the safest states."
The IGP thanked Wike for providing the centre that would enhance the police's capability to perform according to international best practices. "Your Excellency, this project is a main boost to my agenda of policing Nigeria in this contemporary time, which is in tandem with providing international best practices of using technology and ICT to police with ease."
Baba noted that the services to access at the Intelligence and Surveillance Centre would be combined with the police Cyber Crime Unit to render improved policing to Nigerians. "You can sit and police Rivers by getting a live-time incident report, and you can also have the opportunity to send a team that is on standby at the station. I think this is the international practice we will encourage, and also appeal to other state governments and other stakeholders to repeat such projects that will make human factors not an issue, the IGP said."
Recall that the Rivers government had earlier installed about 150 CCTV cameras in strategic places across Port Harcourt, and connected to the centre to keep the city under the surveillance radar on a 24-hour basis. The governor has also graciously approved the installation of cameras in all the major cities in the state. With the help of the Intelligence and Surveillance Centre, the entire state will come under surveillance radar that will be active every minute of the day.
Governor Wike also pledged to donate 10 armoured vehicles to strengthen the performance of officers. He further promised to build another Intelligence and Surveillance Centre in the next six months from November. The donation is in addition to many others earlier made by the state government, including over 250 patrol vehicles, 40 gunboats, bulletproof vests, helmets, and other critical requirements of security agencies, the military and paramilitary formations in the state to advance their efficiency and effectiveness.
We commend the Rivers State governor for his logistics support that has energised security outfits to achieve notable success in the state. We urge him to continue to work harder towards keeping Rivers safe, in line with his constitutional responsibility of protecting everyone living in the state. The state's security agencies are applauded for cooperating with the state government to check the activities of criminals.
At this time of the year when residents of the state are preparing to celebrate Christmas and New Year while gearing up for electioneering campaigns culminating in the 2023 elections, we think that the police and other security agencies urgently need to deploy every resource available to them to curb crimes and criminality to make the state safer for people and investments. We believe that the uptick in violent crimes, particularly cult-related incidents, must be nipped in the bud to ensure that the state remains the safest among the comity of states in Nigeria.
We challenge the Commissioner of Police and commanding officers of other sister security agencies to work in synergy with the state government to guarantee the peace and safety of residents at this critical moment in our lives. We caution politicians not to take undue advantage of the convivial mood of the people by instigating crises and stoking unnecessary tension as a means of achieving their goals in the state.
With the constant support of the Rivers governor, the police should be challenged to deploy technology in all areas of its operations to ensure a holistic check on new waves of banditry and kidnapping in the country. Crime and criminality are dynamic, not static. Therefore, the force must work with modernity by training and retraining its officers and men to cope with the contemporary demands.
Over the years, insecurity and crime have been significant issues in Nigeria. While the country successfully dealt with the past security challenges conventionally, it failed to contain the new security and crime obstacles, especially that of the well-known insurgency and banditry. This is due to various reasons, mainly the use of the same outdated, futile strategy. To tackle insecurity more effectively, a more technological approach is imperative.
Other state governors should emulate Governor Wike's model of using technology in the crime fight. This model is meant to support the effort of the Federal Government and security personnel in combating all forms of crimes. Through the use of modern technology, the menace of banditry, cattle rustling, kidnapping, and other vices bedevilling the country will be put behind within the shortest possible time. The insecurity facing the country in recent times is a national challenge that demands a collective effort.
Governors should collaborate with the Federal Government in making Nigerians feel safe and secure. The Rivers State Government is fighting crime in and around the state by providing necessary assistance to security agencies, and the state is now safer than it was in the years before Wike's government took office.
Need To Sustain Pipelines Security
The security agreement which the Nigerian National Petroleum Company (NNPC) Limited entered with Tantita Security Services Limited seems to be yielding positive results as the country has started experiencing an increase in crude oil sales at the international market.
This disclosure was made when the Deputy Majority Leader, House of Representatives, Hon. Peter Akpatason, commended the NNPC Limited and non-state actors for ensuring the security of oil facilities in oil-producing states. He stated this in Abuja after leading a delegation alongside the Chairman of the House Committee on Petroleum Resources (Upstream), Mr Sariki Arda, on an oversight function to riverine areas of Delta State.
Akpatason said the security of oil facilities in the region had increased the volume of crude oil production. He commended the Federal Government, the Navy, and Tantita Security Service Nigeria Limited for its success and urged the government to look into offshore oil theft. He attributed the successes recorded in the crude oil production a result of the signing of the pipeline surveillance contract with Tantita Security Service, owned by Government Tompolo.
On August 13, this year, NNPC signed a contract with Tantita Security Service for pipeline monitoring services. Before the contract was awarded, NNPC Limited's Group Chief Executive, Mele Kyari, and the Minister of State for Petroleum, Timipre Sylva, had warned that more than 700,000 barrels of Nigerian oil were being stolen each day.
About 90 per cent of Nigeria's foreign exchange comes from crude oil sales, which have been thwarted by oil thieves. The knock-on effect of this crude oil theft is that foreign exchange reserves are under considerable pressure, and the shortage of U.S. dollars causes the Naira to depreciate. Security contracts have become a priority because Nigeria also relies on crude oil and gas revenues to fund much of the Federal Government's budget.
Cumulatively, Nigeria's national oil production has recovered to an average of more than 1.47 million barrels per day in November from an all-time low of 1.1 million barrels per day before the contract was signed in August 2022, according to documents released by the NNPC. This translates to an increase of over 300,000 BPD.
Likewise, the findings further suggest that oil production continues to improve significantly as more and more wells and associated surface facilities, hitherto shut down by ongoing theft and vandalism, reopen. Specifically, narrowing down on the Joint Venture assets, mainly onshore which were mostly affected by the security challenges, the NNPC had witnessed a slump in production from a monthly average of 800,00 BPD in January 2022 to about 500,000 BPD in August 2022.
But after the mobilisation of production sharing contracts, the country's average joint venture oil production in August – November 2022 period increased by about 190,000 barrels per day. A breakdown of the joint venture's increase showed as of August, oil production averaged 502,759 barrels per day, which is the lowest this year.
According to the document, production rose to 521,834 BPD in September this year following the signing of the safety contract on August 13, before rising further to an average of 590,431 BPD and 668,147 BPD in October and November. The findings further suggest that gas production has been similarly impacted since the pact was signed. Specifically, before the agreement, disruptions to major arterial lines severely affected gas production and evacuations, depriving gas-fired power plants and industrial feedstock operations.
However, over the past four months, NNPC Limited has recovered an average of approximately 500 million standard cubic feet per day of gas production. This added over 230 MMSCFD to export via Nigeria Liquefied Natural Gas Limited (NLNG), and an additional volume of about 205 MMSCFD for power generation and other domestic uses.
It is for these reasons that we lend our voice to the commendation from the Representatives because the country has indeed seen a significant increase in its capacity to produce hydrocarbons, which is our main foreign exchange earner. Consequently, all stakeholders in the oil and gas industry should cooperate with the government to end crude theft and pipeline sabotage.
Security personnel must apprehend and prosecute criminals involved in the despicable act. All collaborators in the NNPC, whether regulators, supervisors, or managers, should be arrested and prosecuted, as they have shown themselves to be enemies of the nation. Sadly, there are reports accusing some international oil companies (IOCs) and national oil companies (NOCs) of economic sabotage in the Niger Delta. That is why security agencies must reinforce their efforts to break off the ill. The involvement of private security is imperative.
The Niger Delta communities and their leaders should spare no efforts to combat oil theft in the region. Bunkering, sabotage of pipelines and illegal refineries are criminal acts that not only threaten Nigeria's economic security but also damage the environment and aquatic life. This fight requires a joint effort. Therefore, youth in the region must work hand-in-hand with the Joint Task Force (JTF), giving them the support they need to neutralise the threat.
As we applaud the efforts of various security agencies working alongside existing private security arrangements, there is good reason to maintain a constant crackdown on these criminals. Affected government representatives, including security operatives involved in the ongoing war against oil thieves in the Niger Delta, should be aware that this war will not end with the mere publication of photos in the national dailies. The Federal Government must make inclusive policies, exercise stronger political will, and provide security personnel with the proper guidance to end the hazard.
Combating Food Crisis In Nigeria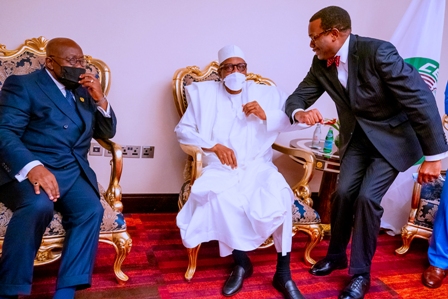 Dire economic conditions have been exacerbated by severe shortages in food supply in Nigeria. Therefore, the government should do all it can to ensure that the country is not hit by food depletion by promoting local production rather than resorting to the usual food imports. Immediate steps should also be taken to combat the threat of destructive pests.
Over the years, Nigeria has spent billions of dollars importing basic food items from other countries. Not long ago, former Minister of Agriculture, Audu Ogbe, revealed that Nigeria spent as much as $20 billion a year on food imports. This is an infamy for a country with 99.9 per cent arable land that has huge potential for agricultural development.
It can be seen that policy and institutional obstacles are the main stumbling block to Nigeria's agricultural development and agro-related industries. In addition to the lack of commitment, there has been no policy push for agro-processing and value-added tool manufacturing. Furthermore, epileptic power is a major barrier. Nigerians would not be importing food or going hungry if the right policies and structures were in place.
Reports show that more people are falling into extreme poverty daily. Some live on less than a dollar a day and are unable to eat three meals a day. About 7.1 million people in Nigeria are currently in need of humanitarian assistance, and another 1.8 million people are still living in camps for internally displaced persons in conflict-affected areas. Their main need is food. We must identify the problems associated with food production and distribution to overcome the looming hunger and food crisis.
Insecurity is a major concern currently plaguing food production, supply, and distribution. The killing of 43 rice farmers in Borno State by Boko Haram militants is still fresh in farmers' memories. Similar killings by bandits or herder/farmer conflicts have occurred across the country. Insecurity also hinders the free movement and distribution of agricultural products. These events create great fear among farmers, who are forced to abandon their farms.
Low agricultural product quality and inputs are also identified as one of the threats to food production. At a 2019 national workshop analysing agricultural input supply chains in West Africa and the Sahel sub region, agricultural experts agreed that despite population growth in Nigeria and West Africa, agricultural inputs and productivity were declining. Their position was that most farmers did not understand improved seeds and how to obtain them. Farmers' awareness in this regard must be improved.
Lack of storage is another issue in the food value chain that contributes to hunger. Sadly, more than 60 per cent of our produce perishes before it reaches the final consumer. This is because the country lacks sufficient storage facilities to keep perishable goods. Tomatoes, peppers, onions, and others are the hardest hit. These products are prone to spoilage soon after harvest.
Consequently, we call for the speedy re-introduction of various marketing boards, especially for cash crops such as cocoa, cashew, rice, and maize. The defunct marketing boards were emplaced to scale agricultural hurdles of poor financing, fluctuating prices and inability to access markets. The agricultural boards were of great help to farmers with relevant information and capacity building towards stabilising production and marketing of farm produce.
Poor transport systems and road networks have also been identified as a factor hindering an effective and efficient food distribution system. Currently, most produce is transported across the country by road on trucks. Food distribution and delivery to their respective destinations are greatly hampered by poor roads and general insecurity.
The current rice revolution policy of the government is applaudable, but not adequate. That is why the price is still on an upward swing. The availability of alternative food to rice must be the priority of governments at all levels. A situation where rice is given so much priority almost to the neglect and exclusion of other food crops the country is equally blessed with is not in the interest of the nation.
Our federal lawmakers should enact a law to compel all tiers of government to regulate prices of food and other items, guarantee food security and lessen the economic hardship on Nigerians. The legislators should meet with critical stakeholders in the country to address the frightening rise in the prices of goods. These should include captains of industry and other promoters in the economic sector on ways for a drastic reduction in prices of goods and services.
From the onset of COVID-19, global food prices have rocketed, putting pressure on the world's most fragile countries. In Nigeria, especially, soaring prices and growing insecurity are deeply felt and could foment protests and social unrest. The pain is unusually acute because purchasing power and social safety nets are virtually absent in the country, and discontent with underperforming governments is simmering.
Since local production of food is not getting the required boost, the Federal Government should reopen more borders to address the food shortage in the country. This will be a step in the right direction. Food importation could arrest Nigeria's food inflation to an extent. Making food available and taming hunger that could escalate conflicts should be the focus of our country rather than protectionism. This measure would help reduce the surging cost of food items and other necessities.
Besides the insecurity that daunts farmers, the poor state of infrastructure in rural areas where most of the farming population lives is a major impediment to Nigeria's efforts to ensure food security. State governments should correct this. The need to provide good rural roads and off-grid electricity using solar energy to improve the lives of rural residents cannot be overemphasised. States need to prioritise rural infrastructure and agriculture with strong private-sector.
Address Looming Genocide In Nigeria
Last Friday, January 27, was designated by the United Nations General Assembly as International Holocaust
Remembrance Day (IHRD). Since 2005, the UN and its member states have held commemoration ceremonies to mark the anniversary of the liberation of Auschwitz-Birkenau and to honour the six million Jewish victims of the Holocaust and millions of other victims of Nazism.
The purpose of International Holocaust Remembrance Day is two-fold: to serve as a date for the official commemoration of the victims of the Nazi regime and to promote Holocaust education throughout the world. Since 2010, the UN has designated specific themes for the annual commemorations that focus on topics such as collective experiences and universal human rights. In addition to Holocaust Day, many countries hold national commemoration ceremonies on other dates connected to the Holocaust.
Resolution 60/7 not only establishes January 27 as "International Day of Commemoration in Memory of the Victims of the Holocaust", but it also rejects any form of Holocaust denial. Drawing from the Universal Declaration of Human Rights, the resolution condemns all forms of "religious intolerance, incitement, harassment, or violence against persons or communities based on ethnic origin or religious belief" throughout the world.
The first commemoration ceremony was held on January 27, 2006, at the UN Headquarters in New York City. Each celebration has a specific theme. The 2022 theme was "Memory, Dignity, and Justice." It explored how preserving the historical record and challenging distortion are elements of claiming justice. However, the theme of 2023 is "Home and Belonging." It reflects on what these concepts meant to persecuted individuals during the Holocaust and in its aftermath.
Holocaust,  like genocide, is the deliberate and systematic destruction of a group of people because of their ethnicity, nationality, religion, or race. Genocide has been practised throughout history. In Bosnia-Herzegovina, the conflict between the three main ethnic groups – the Serbs, Croats, and Muslims – resulted in genocide committed by the Serbs against Bosnian Muslims. In the late 1980s, a Serbian named Slobodan Milosevic came to power. In 1992 acts of "ethnic cleansing" started in Bosnia, a mostly Muslim country where the Serb minority made up only 32% of the population.
In 2003, violence and destruction raged in the Darfur region of western Sudan. Government-sponsored militias known as the Janjaweed conducted a calculated campaign of slaughter, rape, starvation, and displacement in Darfur. It is estimated that 400,000 people died following violence, starvation, and disease. More than 2.5 million people were displaced from their homes and over 200,000 fled across the border to Chad. The then United States Congress and former President George W. Bush of the United States recognised the situation in Darfur as "genocide."
Beginning on April 6, 1994, groups of ethnic Hutu, armed mostly with machetes, began a campaign of terror and bloodshed that embroiled the Central African country of Rwanda. For about 100 days, the Hutu militias followed a premeditated attempt to exterminate the country's ethnic Tutsi population. The killings only ended after armed Tutsi rebels, invading from neighbouring countries, managed to defeat the Hutu and halted the genocide in July 1994. By then, over one-tenth of the population, an estimated 800,000 persons, had been killed.
Between 1975 and 1979, Pol Pot led the Khmer Rouge political party in a reign of violence, fear, and brutality in Cambodia. An attempt to form a Communist peasant farming society resulted in the deaths of 25% of the population from starvation, overwork, and executions.  By 1975, the U.S. had withdrawn its troops from Vietnam, and Cambodia lost its American military support.  Taking advantage of this opportunity, Pol Pot's Khmer Rouge seized control of Cambodia and murdered intellectuals, former government officials, and Buddhist monks.
There have been a series of dastardly acts that suggest ethnic cleansing in Nigeria. Kaduna is increasingly the epicentre of violence, rivalling Borno State, the home turf of Boko Haram. Kaduna has long been a place of political, ethnic, and religious violence. The city has undergone ethnic "cleansing," with Christians now concentrated in the south and Muslims in the north. Since the end of military rule, Kaduna has seen election-related violence that turned into bloodshed along ethnic and religious lines.
The growing attacks reportedly by armed Fulani herdsmen in Nigeria have left villages previously occupied by Christian farmers desolate. The attacks propose "an Ethnic cleansing agenda" in the country. They have become so frequent that some families have suffered multiple displacements. The Fulani herders are systematically killing the local population and occupying their territories. The killings have a motive of religion behind them. The Fulani killers are Muslims, and the conquering of the territory is paramount to large Muslim populations in the country.
Many other states in Nigeria, especially in the country's South East region, Makurdi, Gboko, Otukpo, and Katsina-Ala in Benue State including Ogun State, Cross River, Ebonyi, Imo and Anambra continue to experience attacks by Fulani militants. Thousands of lives have been lost, property destroyed, and communities left in disarray, with the population of internally displaced individuals totalling over a million in Benue State alone, to say the least.
President Muhammadu Buhari must personally lead the peace resolution efforts based on a bilateral and multinational approaches to end needless ethnic and religious-based killings and armed violence in many parts of the country. If the violence continues unchecked, Nigeria may slip into a killing field where the government and security agencies will become increasingly helpless.
Though the responsibility to protect populations against genocide, war crimes, ethnic cleansing, and crimes against humanity lies primarily with individual States, the principle also underlines the responsibility of the international community to take collective action, in a timely and decisive manner, to protect populations from those crimes when States manifestly fail in their responsibilities. There is a need for a collective response that would protect populations by either stopping the escalation of ongoing atrocities or accelerating or prompting their termination.
Being able to recognise the signs of genocide is only the first part of how to end the crime. It is also important to act when any of these steps are underway to prevent the progression to full-blown mass killing. Genocide usually takes place during wartime, so to prevent a massacre, it is essential to find the causes. Many conflicts stem from racism, intolerance, discrimination, dehumanisation, and hatred of others. Addressing these issues should be a primary goal because it can prevent armed conflicts.