Cooking Gas Price Increases By 0.21%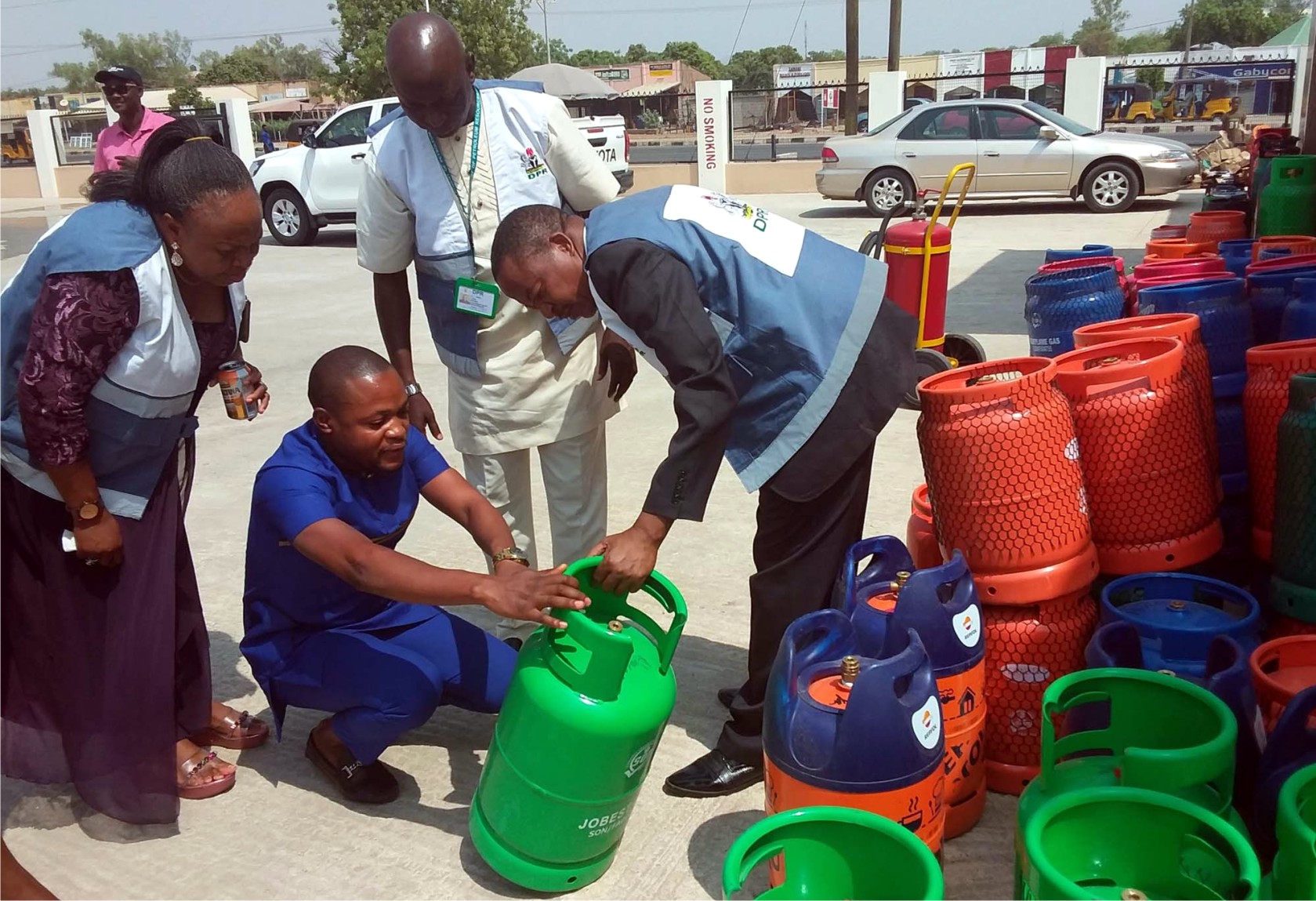 The average price of 5kg cooking gas rose by 0.21 per cent from N4,474.48 in September to N4,483.75 in October.
The increased price is contained in the National Bureau of Statistics 'Cooking Gas Price Watch' for October, 2022 issued on Monday in Abuja.
It stated that on a year-on-year basis, the increase was 70.62 per cent from N2,627.94 in October 2021 to N4,483.75 in October 2022.
On state profile analysis, the report shows that Kwara State recorded the highest average price at N4,955 for 5kg of cooking gas, followed by Niger State at N4,950 and Adamawa State at N4,940.29.
It states that Abia recorded the lowest price at N4,045.45, followed by Kano State and Delta State at N4,100 and N4,139.29, respectively.
An analysis by geopolitical zones shows that the North-Central recorded the highest average retail price at N4,726.07 for 5kg cooking gas, followed by the North-East at N4,577.86.
"The South-South recorded the lowest average retail price at N4,275.92,'' the NBS stated.
The report showed that the average retail price of 12.5kg cooking gas increased from N9,906.44 in September to N10,050.53 in October, indicating a 1.45 percent increase on a month-on-month basis.
"On a year-on-year basis, this showed an increase of 51.4 percent from N6,638.27 in October 2021 to N10,050.53 in October 2022,'' it added.
On state profile analysis, the report showed that Cross River State recorded the highest average retail price at N10,986.11 for 12.5kg cooking gas, followed by Oyo State at N10,826.56 and Kogi State at N10,783.33.
It said the lowest average price was recorded in Yobe State at N8,533.33, followed by Sokoto and Katsina State at N9,100.00 and N9,202.86, respectively.
Army Chief Lauds NIMASA Boss Over Performance
The Chief of Army Staff (COAS), Lt Gen Faruq Yahaya, has commended the Director General of Nigerian Maritime Administration and Safety Agency (NIMASA), Dr. Bashir Jamoh, over his efforts in transforming and promoting the transportation sector as president of the Chartered Institute of Transport Administration of Nigeria (CIoTA).
He gave the commendation recently, during the 4th National Transport Summit of the Institute in Abuja.
Yahaya, who was represented by Maj. Gen. E. Akerejola, commended the President and members of CIoTA for the many economic sectors it touched: from facilitating international trade, through supporting food security, to enabling industrial and infrastructural development.
In the same vein, the Nigerian Army and other security agencies pledged their support to the growth and improvement of the country's transportation sector to international standards, expressing their willingness to collaborate with CIoTA to achieve this feat.
The COAS stated that the theme of the summit, "Transport Safety and Security Administration in Nigeria", was also timely, saying it is "an important aspect of the Transportation sector which has often been overlooked by many, including the transport professionals and academia.
"Over the years, the transportation sector has witnessed series of issues and challenges ranging from poor infrastructure, poor regulations, limited specialised professional training institutions, lack of effective and efficient transport policies, intra industry squabbles among transport professionals, to unethical behaviours, poor working condition amongst others," he said.
He reassured the Institute of the Nigerian Army's resolve to support the transportation sector wherever necessary.
On his part, President CIoTA and DG of NIMASA, Dr. Bashir Jamoh, whose speech was read by Prof Samuel Odewumi, noted that the theme for this year's summit is focused on safety and security of the transportation sector in Nigeria.
In his words: "We were able to achieve the Chartering of the Institute, Renewed Advocacy, Vigorous Membership Drive and Certification. This year's summit focuses on Safety & Security on all modes of transportation, hence we must all work together as stakeholders and custodians of the transportation sector of Nigeria.
"Safety and security are paramount to achieving a robust and intermodal transport regime in Nigeria.
"CIoTA as the only statutory professional association in charge of the Transportation Industry in Nigeria, therefore, deserves to be accorded its place in nomination of members into relevant agencies and in consultations for policy formulation and implementation strategies. It is the right thing to do.
"As a Chartered Institute, our role is very huge; with great opportunities and challenges. Let's focus on the job at hand".
By: Nkpemenyie Mcdominic, Lagos
Revenue Challenges: DMO Sues For Efficient Tax Administration
As part of efforts to tackle revenue change in the country, the Debt Management Office (DMO) has called for the operation of an efficient and effective tax administration in Nigeria
Director-General of the agency, Ms Patience Oniha, who made the call in a statement made available to journalists, stressed on the need for Nigeria to operate such efficient tax administration system, that will tackle loopholes in revenue generation of the country.
According to her, a lot of loopholes are noticeable in the current tax system, which has given room for evasions and all sorts of sharp practices, causing hiccups in the public revenue management system.
She said revenue challenge remains one of the most critical policy issues of the Federal Government which is currently threatening the nation's debt sustainability.
"The country needs to operate an efficient tax administration that would ensure greater compliance to remittances devoid of all forms of evasions in the system," she said.
Recall that the current revenue problem is compounded by leakages such as an increase in oil theft and petrol subsidy, both of which have significantly reduced the revenue from oil sales that used to account for the bulk of government revenue.
Oniha noted that the outlook of both the local and international markets was becoming tighter with rising interest rate.
The DMO boss, therefore, stressed the need for the country to urgently moderate its new borrowings and ensure that public debt is sustained by accelerating its revenue base to shore up non-oil revenue and rationalising expenditure of the nation.
By: Corlins Walter
214m Persons Subscribe To Telecoms In Nigeria
Active telecommunication subscribers in Nigeria have now increased to 214.35 million as at October this year, according to data from the Nigerian Communications Commission (NCC).
The latest NCC statistical records so far obtained shows that this is the highest number of recorded telecoms subscribers in the nation since the total number of subscribers peaked at 207.58 million in October 2020, some months before the SIM-NIN linkage.
The record has revealed that more subscribers were getting new SIMs in a bid to circumvent restrictions on SIMs that had not been linked with their National Identification Numbers, which was the major reason for the growth in 2022.
One of the major service providers in Nigeria, MTN, in its  third quarter release through the Chief Executive Officer, Karl Toriola, said the average daily gross connection was 48.1 per cent above the pre-directive level, partly driven by the cohort of subscribers who were initially restricted and opted to register new SIMs.
"Combined with increased usage from the existing base, these have supported an acceleration in the service revenue growth recovery and mitigated the impact of churn on the base", he said.
Also looking at the predictions in the industry among the global industry's stakeholders, Nigeria has a sizeable number of its population under the age of 18, which is indicating that its subscriber growth would remain strong for the foreseeable future as more young consumers crossed into adulthood and subscribed to mobile services.
Given the growing population, it is expected that 18 million new Nigerians will become unique telecoms subscribers even by 2025, and as Mobile connectivity is at the core of connectivity in Nigeria, with the majority of online services accessed through mobile channels in the nation.
Records have shown that mobile ecosystem also supported more than 3.2 million jobs (directly and indirectly) and made a substantial contribution to the funding of the public sector, with $16bn raised through taxes on the sector, and this will grow in coming years.
However, inspire of this growth, many will not have access to telecom service, just as the Federal Ministry of Communications and Digital Economy had said that about 31.6 million Nigerians live in areas without telecoms coverage.
The absence of such coverage, according to the ministry, had enabled criminal activities and insecurity in these unserved areas to thrive.
By: Corlins Walter