FG Distributes Rice Production Inputs, Starter Packs To Farmers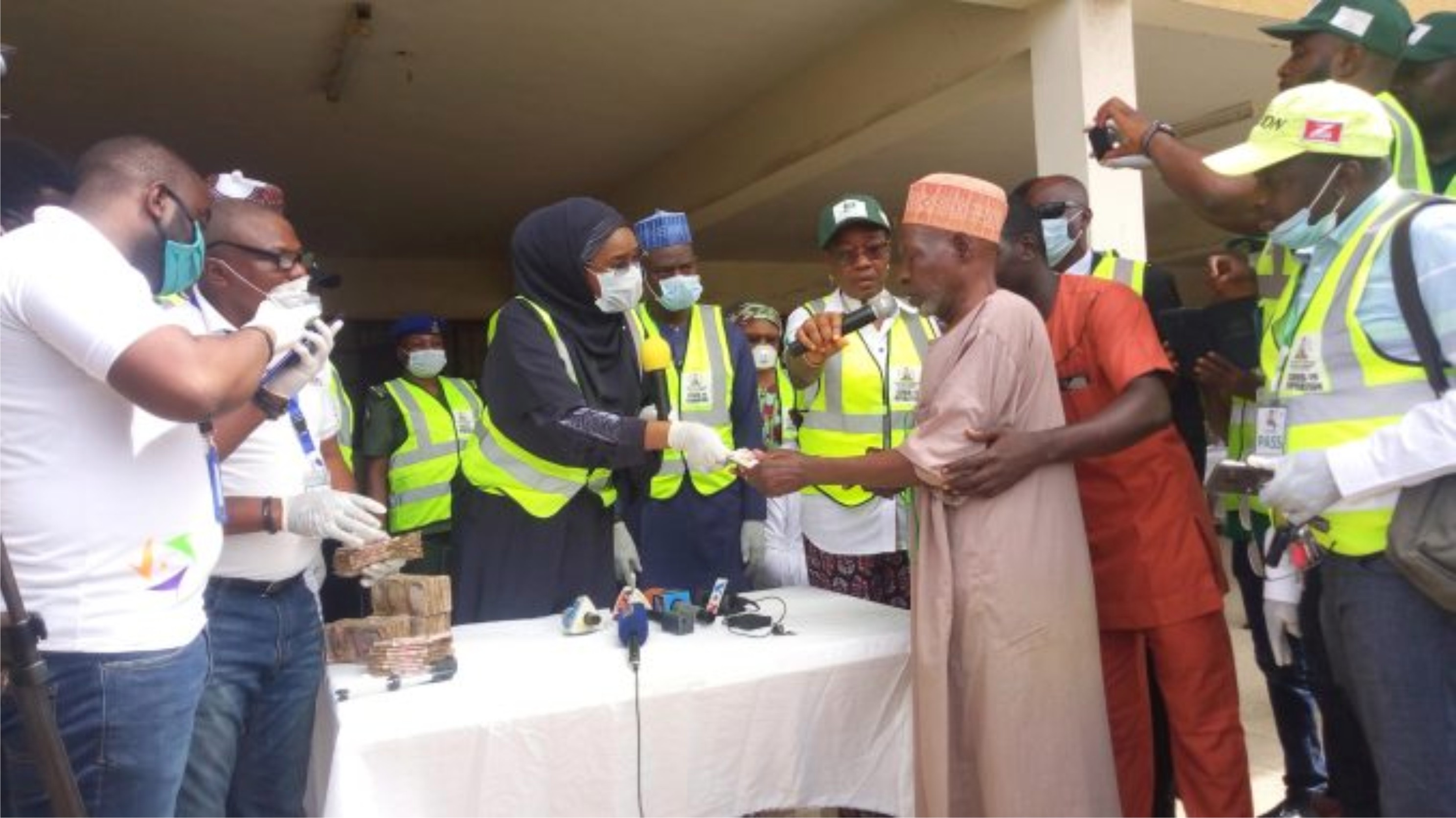 The Federal Government, through the Federal Ministry of Agriculture and Rural Development (FMARD),  has distributed rice production inputs to farmers in the South-West zone of the country.
The event, which took place at Moor Plantation, Ibadan, had farmers' representatives from Oyo, Ekiti, Ondo, Ogun, Osun and Lagos States.
The Minister of Agriculture, Dr Mohammad Abubakar, who was represented at the event by Alhaji Bashir Usman, Deputy Director and National Coordinator for Rice Value Chain, presented the items to the farmers.
According to him, the Federal Government, through the ministry, has introduced an array of agricultural programmes and projects to ensure food security and long term economic growth of the nation.
"The Nigerian agricultural sector has been focusing on the conventional paradigm of harnessing resources over the years to sustain food security.
"Presently, the Federal Ministry of Agriculture and Rural Development is committed to making the sector a pivot for economic stabilisation in diversifying, generating employment and creating wealth in the country.
"One of the ways in which the ministry is working to achieve its objectives is through the promotion of various value chains,'' he said.
According to reports,  the ministry also organised a two-day training for rice farmers across South-West states on 'Good Agricultural Practices and Safe/Effective Use of Agrochemicals to increase Rice Production.'
The Minister said the best agricultural practices were voluntary guidelines for farmers to reduce risk of microbial contamination related to food-borne illness on their farms.
Abubakar said the voluntary guidelines are expected to be observed at each stage of agriculture, such as in soil preparation, sowing and manure application, harvesting and processing.
The Minister noted that plants could only yield well and resist pests and disease if they were grown under the most suitable conditions.
"It, therefore, becomes necessary to sensitise farmers and other stakeholders along the rice value chain through this workshop to spread the basic concept of agricultural best practices in rice production.
"To also sensitise them on effective/safe use of agrochemicals to increase rice production,'' he said.
In her address, the Oyo State Coordinator, FMARD, Dr Kakulu Omonele, enjoined the participants to make the most of the training and step it down to others in their various associations.
LASG Moves To Prevent Hoarding, Sells Rice, Others  
The Lagos State Agricultural Inputs Supply Authority (LAISA) has started selling rice and other food stuffs at reduced prices to prevent hoarding and overpricing during the yuletide.
Assistant General Manager, Commercial, LAISA, Mr Jide Ajenifuja, made this known to The Tide's source  in Lagos.
He said the sale is aimed at stabilising the market prices and not to take over businesses from traders in the market.
"In agribusiness, the moment government comes with the price, the suppliers and also those who are hoarding rice will want to increase the price.
"Now, the state government says a bag of rice is N37,000; we know that Christmas and also election are approaching, therefore, nobody will want to hoard it more than necessary.
"Long grain local rice cost N37,000 per 50kg bag, three litres of Soya bean oil cost N5,000 while one liter of Soya bean sells for N1,900,'' he said.
The assistant general manager said that there was substantial products in stock and that LAISA would purchase more commodities with availability of funds.
He further said the commodities would be available till 2023 next year because of the election.
He stated that LAISA started the sale of  products at Oko-Oba, Agege, on Monday.
"We want to create the awareness that people can purchase rice and oil for the festive period at our office.
"People have started making orders, and we will start delivering them from Wednesday," he said.
Ajenifuja, however, pointed out that the price of agricultural commodities is fluctuating due to inflation and other crisis globally.
"Last year, we sold rice between N24,000 and N26,000; even early this year, we sold rice  at N28,000. But now, it is N37,000 per 50kg.
"The price of agricultural commodities is fluctuating. Fertiliser for instance sold  for N7,000 between February and March, but it rose to N27,000 in June and July.
"We knew that there is a looming food crisis. It has already started happening in Egypt, Kenya and other developed countries than Nigeria.
"We sell fertiliser, agro-chemicals, cages and many more. Our primary responsibility is the sale of agricultural produce. We normally sell rice during Christmas", he said.
Agriculture, Tool To End Poverty – Dep Gov 
The Kwara State Deputy Governor, Mr Kayode Alabi, has said  agricultural development is one of the most powerful tools to end extreme poverty in the country.
According to a statement issued  by Mrs Modupe Joel, his Chief Press Secretary, Alabi stated this in his office during a courtesy visit by the Pig Farmers Association of Nigeria (PFAN), Kwara State Branch, led by Mr Lekan Oyedepo, the Chairman.
Noting that food security is essential to all citizens as food is required for a healthy and active life, he said agriculture beyond food production and animal husbandry play other important economic, cultural, social roles and provide multiple functions and services.
Alabi, however, explained that focusing on women and the youth is key to transforming agriculture in the country.
"Africa is a continent of young people, about 60 per cent of the population is under 24 years old while women make up half of the population.
"With tremendous capacity to innovate and engage meaningfully and lucratively in the agricultural sector, youth should be empowered and attracted into agriculture with focus on service provision in the value chains of key commodities," he said.
In his goodwill message, Mr Oyedepo, the Chairman of PFAN and Kwara Pork Festival, explained that their main focus is to promote pork consumption and the development of the value chain associated with the Pig farming industry.
He requested that the pig and pork value chain should be better recognized in the economy of Kwara, noting that currently the industry transaction figures are averaging N30 to N35 million monthly.
Edo Distributes Irrigation Equipment To 516 Farmers
Edo State Government has inaugurated this year's dry season farming by supporting over 516 small holder farmers with irrigation equipment to boost farming in Udo community, Ovia South West Local Government Area.
The items were distributed under the COVID-19 Action Recovery and Economic Stimulus (N-CARES) code named EDO-CARES.
N-CARES is a World Bank-assisted project designed to ameliorate the adverse effect of COVID-19 pandemic on the poor and vulnerable people.
The State Commissioner for Agriculture and Food Security, Stephen Idehenre, said government was encouraging all year round farming by empowering farmers with irrigation equipment to boost production
"Today, over 500 farmers will be empowered with the 171 units of small irrigation equipment; 139 units will go to Auchi, Etsako West Local Government and 32 units here at Ovia South West.
"At the present, this programme has installed rice processing mills with destoners that have the capacity to process three metric tons per day in Iguoriakhi (Ovia South West) and Agbede (Etsako West).
"Others are Eme-Ora (Owan west), Illushi (Esan South East), Warake (Owan East) and Oshomegbe community (Etsako Central), thereby empowering over 360 rice processors.
"The cassava processors are not left out as 8HP Cassava processing mills with hydraulic press, have been installed in Ojah community (Akoko Edo), Ewossa (Igueben), Ikhide (Esan North East) and Ogba (Oredo) among others.
"The project has rehabilitated six wet markets in Okhokhugbo community in Egor, Ugoneki, Okokhuo community in Ovia North East and Ivbiaro community in Owan East among others," he said
Idehenre explained that the project had also rehabilitated 10 tons capacity cold room in Usen, Ovia South West Local Government for 40 beneficiaries.
According to him, the project has empowered more than 2,200 beneficiaries
The state Project Co-ordinator, EDO-CARES, Edward Izevbigie, said the project sought to improve livelihood, increase food security and revive SMEs in the state.
Izevbigie said that the eneficiaries were selected from the state social register of the poor and vulnerable.
He noted that the state government also put in place programmes in agriculture, agroforestry, fisheries, livestock husbandry and other related small-scale industries that would facilitate production.
"In the state agripreneur programme for year 2020 and 2021, about 444 hectares were cultivated for rice production in Agenebode, Warrake and Iguoriakhi.
"The programme also empowered 329 fish farmers to produce over 400,000 catfishes," he said.
A beneficiary,  Mrs Glory Orji,on behalf of other beneficiaries, thanked the state government for the gesture and promised to put the irrigation equipment to use.